Original URL: http://www.theregister.co.uk/2010/08/23/games_review_kane_and_lynch_2/
Kane & Lynch 2: Dog Days
Enough to keep you out the heat?
Posted in Personal Tech, 23rd August 2010 16:07 GMT
Review Remember Whac-a-Mole? Mole pops out of hole, bash with rubber mallet; mole pops out of hole, bash with rubber mallet; mole pops out... well, you get the picture.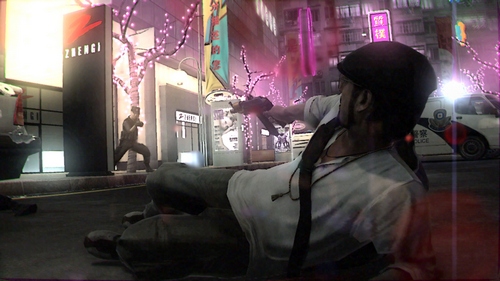 Roadkill
I must have walked past the game a thousand times, but I only ever played it once. Like all Whac-a-Mole players, I think I smiled momentarily, in some bizarre infantile regression, as I chased the moles around the board. But then the game's inanity overcame me, and I continued to bash away only in a futile attempt to dislodge my 50p from it's all-too-secure resting place within the machine.
I vowed I would never play Whac-a-Mole again. And, until a couple of days ago, that promise remained intact. That was until I played through the six-hour campaign in Kane & Lynch 2: Dog Days.
OK, so there are no plastic moles popping up and down in IO Interactive's sequel to Kane & Lynch: Dead Men, but the gameplay is no less one-dimensional: enemy pops out of cover, shoot with gun; enemy pops out of cover, shoot with gun, etc, etc. Replace rubber mallet and mole with gun reticle and AI, repeat the mechanic over six hours ad nauseum, and the unflattering comparison with Whac-a-Mole is complete.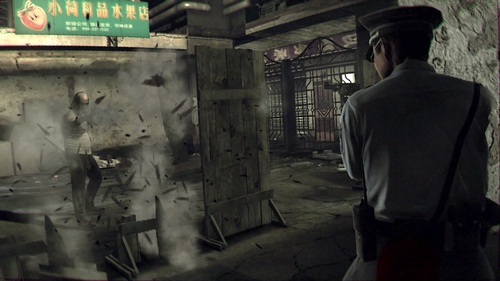 Fence his anger
Which is a real shame, as Dog Days' other qualities are exceptional. Its lo-fi shaky cam aesthetic, its depiction of sprawling Shanghai and, most importantly, its eponymous anti-heroes all deserve better than the lacklustre, repetitious central mechanic.
Michael Mann-erisms
Of course, these qualities are a continuation of Kane & Lynch's unadultareted homage to Michael Mann's films. One side of Shanghai's diurnal canvas is daubed with Heat's bleached smog and lens-flare, the other drenched in Collateral's blinding neons; both are saturated with the crowded desolation of the director's vision of modern megatropolis.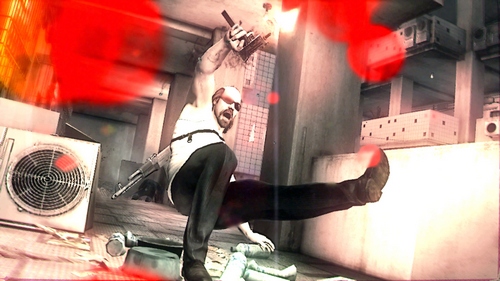 Bloody slippery
Kane and Lynch are themselves unchanged as archetypal Michael Mann protagonists. Kane reprises his role as reluctant career criminal, still deluding himself that he's just one last job away from penitent retirement. And Lynch... well, Lynch remains the same loveable sociopath of old, all the time muttering to himself incoherently as he goes about his murderous rampage.
Perhaps too great an homage to Michael Mann's films, however, Dog Days' narrative is firmly style over substance. A standard job-gone-wrong plot frames the relentless two-day bullet-sprint across Shanghai, even justifying an hour-long section in which a completely starkers Kane & Lynch flee their torturers. But, even when butt naked, neither character is truly fleshed out, with Kane's being particularly reticent throughout. And the plot never side-steps and never surprises.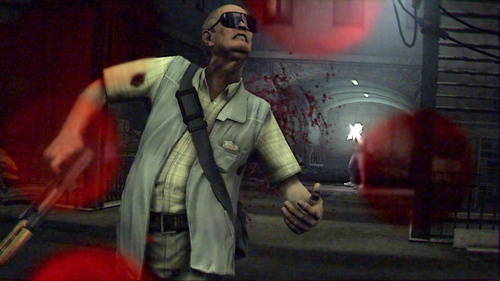 Neck a couple shots
The only real surprise is how the visuals and a misguided hope of novelty ahead propel you through the drudgery of mole-hitting combat. When novelty does eventually arrive it proves illusory, as you quickly realise the helicopter-mounted machine gun near the end of the game is simply a bigger, louder mallet.
Friends and networking
Even company fails to elevate the experience, although two-player co-op at least allows for more satisfying flanking manoeuvres, which the single-player game's limited AI always struggles to provide.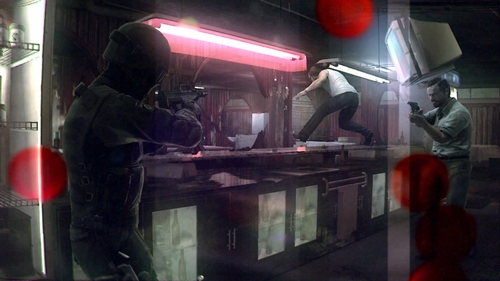 Counter strike
Online multiplayer fares little better. Dead Men's Fragile Alliance returns, but unchanged retains some of the original's problems. While it remains an interesting concept, in which teams carry out a heist, and individuals can turn murderous traitor to increase their booty, its delicate balance is all too often spoiled by the gung-ho tactics of players who simply don't care for the rules, or by groups colluding to outgun individuals.
These structural weaknesses also plague the new Undercover Cop mode. Playing a cop masquereding as gang member until the heist has taken place, the mode is further hampered by open level designs, which make it extremely difficult to break cover and take down gang members surreptitiously.
The last of the multiplayer modes, Cops and Robbers - a quasi team CTF mode – is the best. With simple rules and infinite re-spawns, it isn't as open to abuse. And its fast, definite gameplay complements the well constructed multiplayer maps.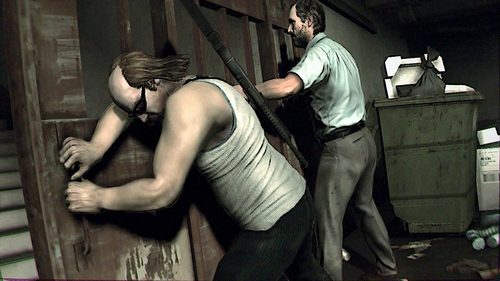 Holding it together
Verdict
Kane & Lynch 2: Dog Days feels like the developers assembled a crew to pull off one last job: to create the greatest crime shooter in gaming history. Perhaps it is testament to IO Interactive's beautiful realisation of Shanghai, and the game's alluring aesthetics and characterisation, that even though the job went horribly wrong, Dog Days feels more bungled heist than criminal catastrophe. ®
More Games Reviews

Lara Croft and the
Guardian of Light
Monday Night
Combat
Castlevania:
Harmony of Despair
Starcraft
II