Original URL: http://www.theregister.co.uk/2010/08/19/lara_croft_guardian_of_light/
Lara Croft and The Guardian of Light
Reinvented and revitalised
Posted in Personal Tech, 19th August 2010 14:05 GMT
Review Whether you regard her as female icon or sexual fantasy, and whatever your thoughts on the Tomb Raider franchise itself, you have to hand it to Lara Croft.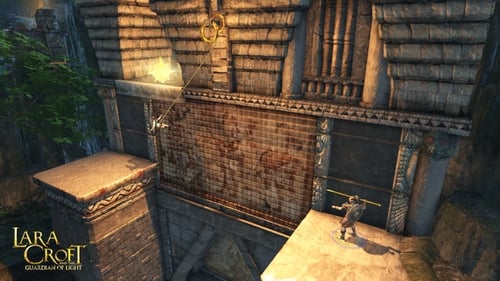 Let me throw you a few pointers
Videogame's greatest femme celebre, Lara smashed through gaming's glass ceiling to become global cultural phenomenon, making millions in successful games and movies, and furthering the modelling careers of numerous booth babes.
But things haven't been so good of late. As digital delight, Lara may be impervious to the ravages of age and gravity, but she isn't immune to the law of diminishing returns. Despite the acclaimed efforts of new developer Crystal Dynamics and increased input from creator Toby Gard, Lara's stock has continually dwindled, with recent titles failing to convert critical success into the commercial success enjoyed in her heyday.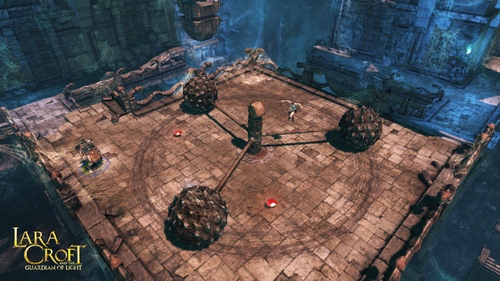 You spin me right round, baby, right round...
No surprise, then, that Lara Croft and The Guardian of Light is a complete reinvention for the franchise. A download-only multiplayer, isometric, twin-stick shooter-cum-adventure game, Guardian of Light makes a bold break from the series' defining traits.
Aztec ruins and mythical creatures
It's not a complete departure from the canon, though. Lara Croft treads her usual path as globetrotting archaeologist and adventurer - this time in Mexico exploring Aztec ruins and combating mythical creatures in a hunt for a powerful artefact known as the Smoke of Mirrors. And she's still still wearing her trademark garb and drawing those dual-pistols from that waist-hugging holster. But this time she's lost all her sex appeal in her new diminutive form.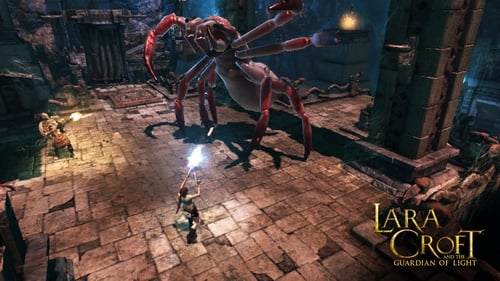 Not for the arachnophobic
As in Alien Breed and Alien Swarm, the isometric viewpoint provides the panoramic playground for myriad enemies, meaning this Lara is more Thumbelina than Angelina. Fortunately, any loss to Lara's exaggerated curves is made up for by the gorgeous graphics elsewhere. Ancient temples come alive in the warm glow of oil lamps, vegetation bounces and sways as you brush past, and you can almost feel the searing haze rising from the rivers of molten lava.
Enemy models and animations are robust and organic, from the smallest lizards and spiders to gigantic golems and fire-breathing T-Rexes. Bullets and rockets dazzle as they streak from weapons and enemies explode in firework neons.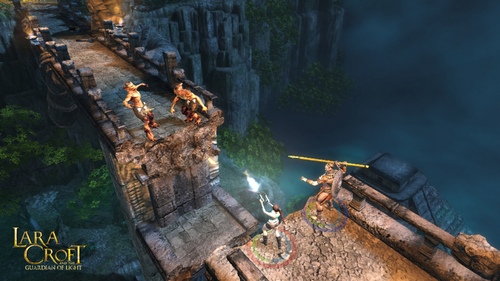 Overkill
With so much going on, it's a good thing Crystal Dynamics introduces co-op 'buddy' gameplay. Playing with two players sees Lara joined on her quest by Totek, an Aztec deity and guardian of the Smoke of Mirrors. The perfect complement to Lara, Totek carries a shield and spears as weapons or as tools for solving puzzles.
Teamwork tactics
The combination of shield, spears and Lara's grappling hook allows for interesting and varied puzzling throughout, forcing teamwork as the strategy for success. For example, Totek throws a spear into a wall to create a stepping stone for Lara to surmount an otherwise unreachable height; or Lara casts out a grappling hook and Totek walks the tightrope across a wide chasm.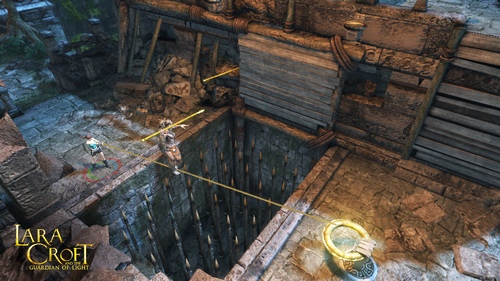 A fine line between life and death
In addition, all the usual Tomb Raider puzzles are present, involving collapsing platforms, switches and levers, and pressure pads - the latter often requiring you to roll around stone balls which look remarkably like giant Ferrero Rocher chocs.
Even though Crystal Dynamics has cleverly adapted The Guardian of Light so it can be played through - and thoroughly enjoyed -in single-player mode, co-op is the recommended approach. Puzzles and combat are more enjoyable when close co-operation and combined thinking is required, and you'll often find yourself laughing together when things go hilariously wrong.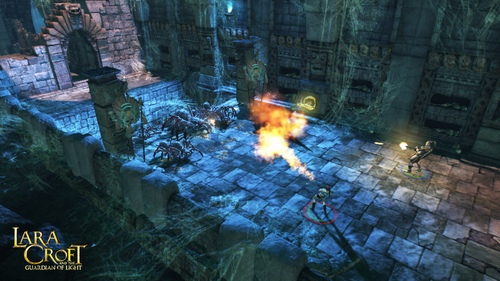 Singey wincey spider
It's galling then, that the Xbox Live Arcade version has been released without online co-op. Rushed to coincide with Microsoft's Summer of Arcade promotion, The Guardian of Light's online co-op is still under development at Crystal Dynamics, and will be released as a patch simultaneously with the PSN and Steam versions. So if you can't get a mate over, you might want to wait until next month to play the game, when you can enjoy the full experience in the comfort of your own homes.
No more gaming botox
Another slight disappointment is the pacing of combat. Whereas puzzle difficulty steadily increases throughout, combat remains easy until the last couple of chapters, even with difficulty turned up. It's a real shame, because when it really kicks off, as tougher, more numerous enemies combine with environmental hazards, combat is exhilarating and moreish.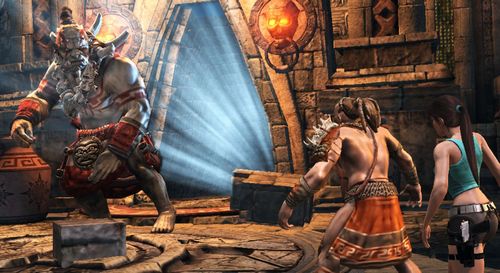 Mickey Rourke - what's he doing here?
Still, Crystal Dynamics includes an excellent system to ensure replay. Much like the Tony Hawks' series, levels come with a list of achievements. Ranging from score and time attack to hunting collectibles and completing set objectives, it's impossible to achieve all in a single play, forcing several replays to accomplish them all.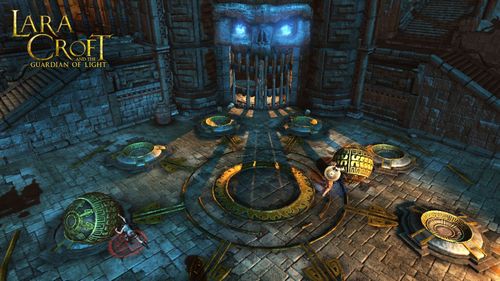 Roll a big one
Verdict
Recent attempts to revitalise Lara's flagging appeal have only smoothed over her careworn lines like gaming botox. But The Guardian of Light's isometric perspective, twin-stick twitchery and focus on co-op finally provide Lara with a long-overdue makeover that should attract new and old fans alike. ®
More Games Reviews

Monday Night
Combat
Castlevania:
Harmony of Despair
Starcraft
II
3D Dot
Game Heroes