Original URL: https://www.theregister.co.uk/2010/08/19/group_test_satnav_apps/
Group Test: smartphone satnav apps
We look at all the options
Posted in Personal Tech, 19th August 2010 07:02 GMT
Product Round-up Unless you spend serious time behind the wheel of your car and regularly need to drive to places you have never been before and couldn't locate on a map if your life depended on it, a satnav application for your mobile phone may well be all the guidance assistance you will ever need.
Apart from being cheaper than a standalone PND - Personal Navigation Device, natch - a GPS-equipped phone has the benefit of always being with you when you need it rather than sat in a box at home.
I've regularly set off into the wide blue yonder without my satnav only to need it down the road, but I have yet to ever drive away sans phone. And let's not forget that satnav is not a purely automotive issue - most of us can get just as lost on shanks' pony.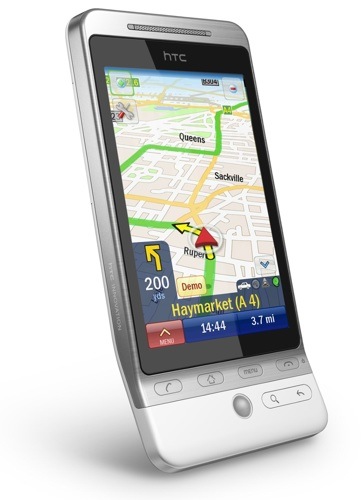 Of course there are downsides to having your phone double up as a satnav. All but the latest generation of monster Android handsets have screens frankly just a little too small for easy satnav viewing. Even the iPhone's 3.5 inches is a bit marginal when the handset is fixed to your windshield. I did actually manage to get from A to B using a Sony Ericsson X10 Mini with a 2.6in screen and Google Maps Navigation recently, but it's not something I'd recommend.
Secondly, you generally don't get a windshield mount bundled, though I manage perfectly well with a £5 no-name bracket that fixes solidly to the vents on my Mercedes, looks far too cheap to attract the attention of felonious urban youth and will accommodate everything from the above mentioned X10 Mini to a Dell Streak, if only in portrait orientation. Some Nokia handsets come with a free screen mount, including the X6 which Nokia kindly lent me for this round up.
I also used an HTC Hero, an HTC Desire and an iPhone 3GS.
Price can vary hugely, with a set of maps for the UK and Ireland costing anything up to £50 or more, though several of the applications on test have the magic price tag of zero and, as you'll see, free doesn't automatically mean useless.
It's a testament to the evolution of the breed that not once during testing did I actually encounter an error in navigation. In fact, 95 per cent of the time, the various systems chose exactly the same routes. With the remaining fiver per cent, the two alternate routes really had nothing between them in terms of ease, distance or speed.
Of course, that's allowing for the fact that certain locations don't yet exist in the user-contributed Skobbler's map archive. That aside, all the points-of-interest databases present found my nearest ATM, Subway, Asda and petrol station easily enough, and they also found the Trafford Centre by name.
If you're wondering why your favourite satnav app didn't make the final dozen, I found amAze GPS too slow, TeleNav too American and Blackberry Maps too dull. Nav4All rather inconsiderately ceased to exist earlier in the year, while AndNav proved too buggy by half. Navdroyd, which as the name suggests is an app for Android, uses the same free community maintained maps as Skobbler but isn't as developed.
Destinator 9
Sadly, the list of what's wrong with Destinator 9 - apart from the silly name - is rather a long one. It doesn't support full UK seven-digit post code searching; the 30-day iPhone free trial - Android and WinMo users get 14 days - only applies to customers in North America; the menu buttons are too small; live traffic data isn't an option in Blighty; and the junction turn guidance arrow is far too big and obscures too much of the screen when it pops up - and it replicates a graphic already shown in the top left of the screen!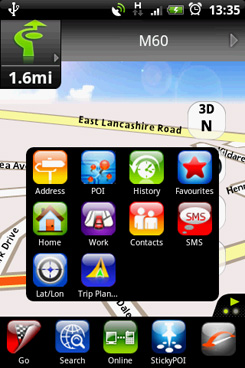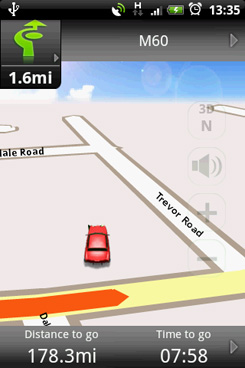 On the plus side the maps - using Navteq data - are very clear, and you get lovely weather-related sky graphics on the horizon in 3D mode. I'm not entirely sold on the way the display swaps between close up 3D and distant birds-eye-view mode when in use, though.
When you choose a destination from your contacts you can see if said contact actually has an address assigned to it from the main view which is a useful feature. The vocal guidance isn't bad though the female voice is a bit barky for my tastes. The iPhone app is significantly cheaper than that for other platforms and you get maps for all of Western Europe for your money rather than just for the UK and Ireland. Makes some sense for American iPhone users but not to the rest of us.

Reg Rating 60%
Price £30 (iPhone, Western Europe) $69.99 (£46.44) Android, WinMo (UK & Ireland)
Platforms iPhone, Android, Windows Mobile
More Info Destinator
Skobbler
An ad-supported free satnav system from Germany - where apparently it's the most popular satnav app around - Skobbler found its way to the UK iPhone App Store in May and has just arrived on Android too. The problem with Skobbler is the user-created map data pulled from OpenStreetMap. Coverage of the UK being a bit patchy. Everything was fine when I looked at the area around my old gaff in Highgate, but scroll up to my current abode in west Manchester and Monton seems to have vanished.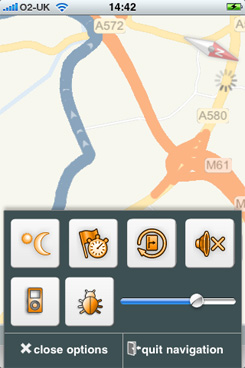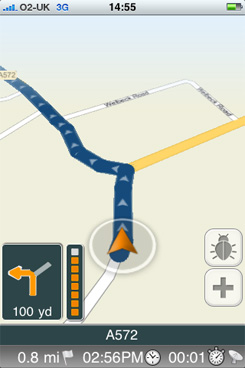 Coverage aside - and it's a big aside, I grant you - Skobbler works well at a basic level, with clear graphics and very good voice guidance - road numbers are read out in the style of A-five-seventy-two, which I like. Destinations can also be chosen on the Skobbler website and then appear in the mobile app when you sign in.
Sadly, there is no searchable POI database, and if you run out of data connectivity you run out of map. Of course, rather than moan about mapping errors in my neighborhood what I should do is register, log in and fix them. That's half the point of Skobbler: to get involved. All in all, an interesting idea but hard to recommend over Google or Ovi until the UK maps become more comprehensive and full seven-digit post code searching is implemented.

Reg Rating 65%
Price Free or £1.19 for the ad-free version
Platforms iPhone, Android
More Info Skobbler
Wisepilot
Wisepilot is a server-based system with all information being downloaded on demand rather than stored on your phone - so you'll need a good data bundle to start with. This approach is tied to a subscription model which you can renew either daily or weekly via SMS, or for three, 12 and 24 months online. The benefit is that all the map, speed camera, POI and traffic information is always bang up to date, though the last feature only seems to work for Sweden, Germany and a few other areas of northern and central Europe at the moment.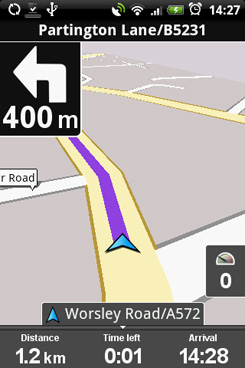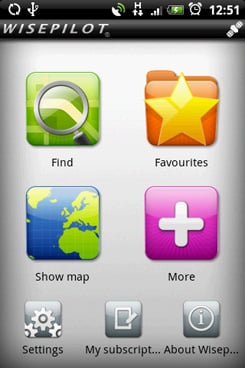 Map and data downloads proved speedy enough even at 2G data rates, helped by the sparse but functional map graphics. The UI is very clean and logical and the driving instructions are faultless. The map data is sourced from Navteq, so no worries on that score, but the synthetic voice is a rather robotic affair that makes Google Navigation sound like Helen Mirren. Wisepilot offers a full five-day trial before you have to part with your first £1.50 and when live UK traffic information arrives - I asked Wisepilot when this would be but received a rather obscure answer - it will be a worth a more thorough recommendation.

Reg Rating 70%
Price £1.50 per day, £3.00 per week, €19.95 (£16.72) for 3 months, €69.95 (£58.65) for 12 months, €99 (£83) for 24 months
Platforms Most handsets bar iPhone
More Info Wisepilot
Google Maps Navigation
The best-known free navigation system that works with any Android handset running version 1.6 or better. You need a data connection which may not be a problem for most British Android users on contract tariffs with bundled data, but will raise issues if you are on PAYG or roaming abroad. There are a few other shortcomings too such as no speed limit or speed camera site information, and the congestion indication system is a bit primitive and lacks an automatic re-routing facility.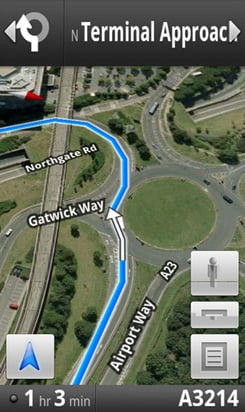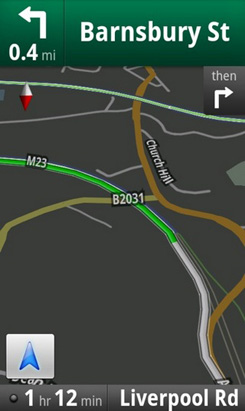 On the road, the overly synthetic voice guidance is just about acceptable and the map orientation can get a bit wayward. Some of the place name pronunciations are a little strange too. One feature that other satnav apps will never be able to copy is Street View, which presents a genuine photographic image of the roads you are driving along - covering the final yards of your trip with an actual picture of the destination in front of you can be quite handy. Other useful features include voice search and a finger friendly Car Dock control panel.
Google Maps lacks a conventional POI database instead relying on the wisdom of the Googleverse. Officially still in beta, expect Google Navigation to develop apace.

Reg Rating 75%
Price Free
Platforms Android 1.6 and above
More Info Google
iGo My Way
iGo May Way, from Hungary-based NavNGo, is the software that sits on many Motorola Milestone handsets under the MotoNav name and on some European Samsung devices. The first thing that will grab your attention is the way the system represents terrain in 3D as well as plonking traditional 3D representations of landmarks into view. The problem with all those fancy graphics is the size of the app: 34MB once installed on an Android handset. Of course, that's not a problem for iPhone users nor will it be for Android users come version 2.2.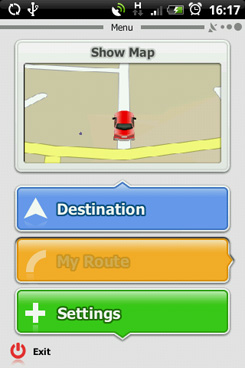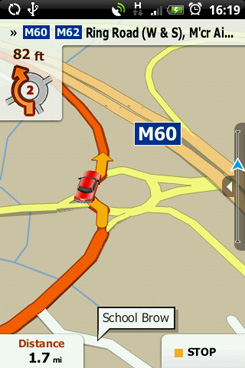 Graphically, the system is a good looker and the maps - based on Navteq data - are among the best here. Like Sygic 10, it's not the speediest system when running on less powerful Android handsets but any tardiness vanishes once a route is plotted. Once installed on an Android handset, the app can be launched from the address panel in your contacts book which is a nice touch, but finding locations using their post code was a puzzle until I noticed the blue Alt key in the corner of the virtual keyboard and the coin dropped. iPhone users get full text-to-voice support and free map updates until the end of 2010.

Reg Rating 75%
Price £30
Platforms iPhone - Android and Windows Mobile coming soon
More Info NavGo
Navmii
A simple and affordable - for iPhone users at least - satnav app, Navmii doesn't break any new ground but it does a perfectly decent job of getting you from A to B. One of it's main selling points is its GeoFriend feature, which is similar to Google's Latitude and CoPllot's Live Link, and depends on your pals having GPS phones running Navmii too.
Menus and maps are attractive and clear though the over use of colour makes things look a little too cartoonish for my tastes, though apparently new system skins will soon become available which should cure that problem. Voice guidance is timely but the voice isn't quite as clear as some of the others on test here. Speed camera information comes from Pocket GPS World but contains rather too many mobile sites clearly not in use, perhaps with the belief that its better to be safe than sorry.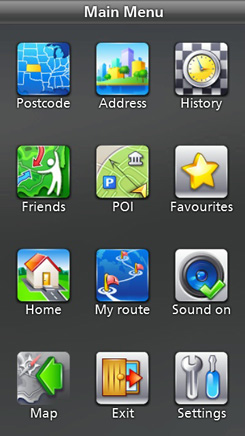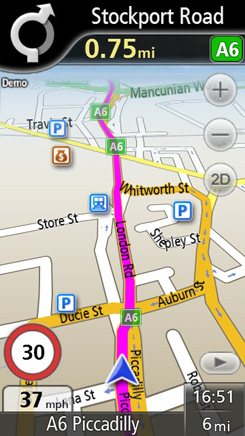 TMC traffic data is listed as a feature coming soon along with 3D landmarks, device tracking, local search and, to quote Navmii, "social networking features", which I take to mean the GeoFamily and GeoPet applications.
Navmii is also available for laptops and netbooks running Windows XP, Vista and 7. More interestingly, you can pick up the same app but running maps provided by AND rather than TeleAtlas for each individual US state for only £7.49 a go, and for Germany, France, Belgium and Spain for only £2.99 per country, which is cracking value.

Reg Rating 75%
Price £20 (iPhone) £30 (Symbian, Windows Mobile)
Platforms iPhone, Symbian - Windows Mobile, Android coming soon
More Info Navmii
NDrive
One of the only satnav apps that works on Samsung's new Bada platform as well as the usual smartphone suspects, though the text-to-speech feature only does its bit on the iPhone and Windows Mobile handsets. Map data comes from TeleAtlas which is always a good sign, but the voice guidance can be a bit obscure sometimes, especially at roundabouts, when it's not always as clear as it could be where you need to go - a fact not helped by the system sometimes treating junctions and roundabouts as the same thing.
I also don't like being told to "turn right" when the road I am on is simply bearing to the right.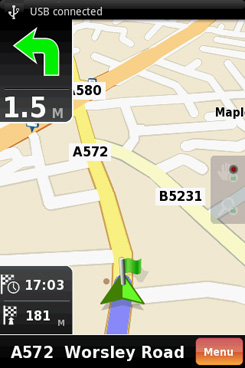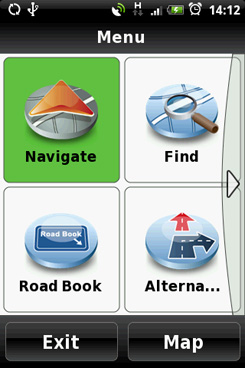 On the plus the side the screen graphics are clear and precise with useful lane indications.
One feature I quickly came to appreciate was the very simple option to review a route by every road used and remove as many of them as you want and then recalculate your journey avoiding them. It's not a feature unique to NDrive - CoPilot and TomTom have it too - but the execution is the best and it's very handy if you want to avoid motorways or any other stretch of road you just don't like. The virtual keyboard is also very good making this one of the easier systems on test to actually use day-to-day.

Reg Rating 75%
Price £15.00 (Samsung Apps) €39.99 (£33.53) for other platforms
Platforms Android, Symbian, Bada, Windows Mobile. iPhone versions not currently available through the UK Apps Store
More Info Ndrive
Sygic Mobile Maps 10
An extremely comprehensive system but one with occasionally curious voice guidance foibles. "Go straight over the roundabout and take first exit" surely means don't go straight over, or am I being too literal? You also have to put up with "A-one-thousand-and-forty-seven" style text-to-speech malarkey.
It's not the perfect app for lower powered handsets either. While it ran perfectly acceptably on an HTC Hero, it wasn't as quick or slick as the likes of CoPilot, though things improved on a Desire. I also noticed the occasional pause in re-plotting its location when I deliberately left the chosen route.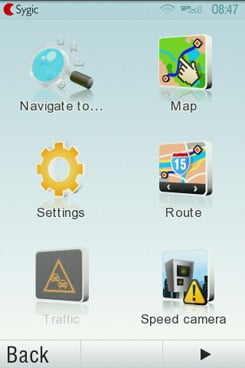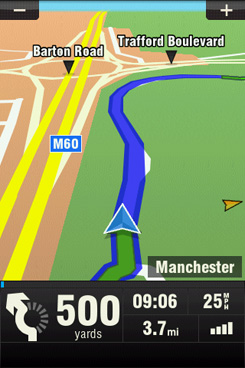 Roundabouts aside, the vocal guidance is good and the maps are very clear. You also get lots of handy extras like key driving information for nearly every country on the planet so you can check the speed limits for A roads and motorways and what side of the road you should be on to begin with. And you have the option to let the system run a full route simulation before you drive away. The menu system takes some getting used to, not because it's bad but because it's a little idiosyncratic, and you need to learn what a random tap on the screen does in various instances.
Live traffic data is a feature listed as "coming soon", while iPhone users can plumb for a turbo charged all-singing-and-all-dancing 3D version of the system, called Aura, for £43.

Reg Rating 75%
Price £30 for iPhone, €40 (£34) for Android
Platforms iPhone, Windows Mobile, Android, Maemo, Symbian
More Info Sygic
Navigon Mobile Navigator
Navigon offers a free 30-day trial of its system, but don't download the demo from the Android Market or it will try to suck down all 1.8GB worth of European Maps not just the 131MB of UK mappage you're probably after.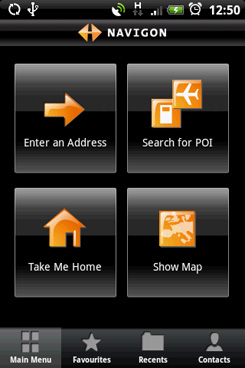 Mobile Navigator is a more feature-laden system than CoPilot Live - I particularly like the at-a-glance colour-coded route options you can chose from, the A-one-two-three-four text to voice system and the ability to select address destinations from your phone book but within the app. It's not quite as easy to use on a small screen as CoPilot due to some rather small buttons and it's also nearly twice the price - the current iPhone special offer notwithstanding - making it less than spectacular value for money.
The maps are excellent, though, and quite the equal of any of the others on test. The Reality Pro junction views are handy for those so dim they arguably shouldn't be behind the wheel of a car to begin with. Confusingly for a major name system, features vary from platform to platform: for instance, live traffic is an iPhone-only option.

Reg Rating 80%
Price £20 iPhone (limited time), €50 (£42) Android, €69 (£58)                           Symbian, Windows Mobile
Platforms iPhone, Android, Windows Mobile, Symbian
More Info Navigon
Ovi Maps
Neck and neck with Google Maps as the best known free navigation app, Ovi Maps currently covers 180 countries, with voice guidance available for 74 of them. With its local services information sourced from Expedia, Time Out and Qype, as well as Michelin and Lonely Planet guides, Ovi Maps has all the POI bases covered and because it loads maps onto your phone's internal storage you don't have to worry about roaming charges as you do with Google Navigation and Wisepilot.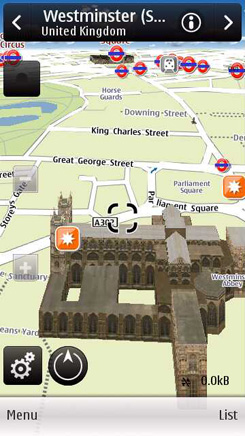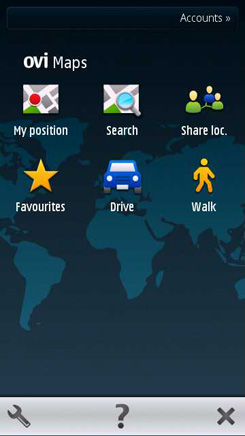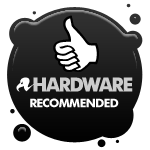 3D landmarks, multiple route points, Facebook integration and free traffic information all call into question the non-existent price tag. In fact, the only downside is with the hardware, with Nokia not currently punting a smartphone OS to match iOS4 or Android, though the arrival of MeeGo handsets will hopefully change that.
With map data from Navteq, which Nokia owns, accuracy is seldom an issue and the Own Voice feature, which lets you record your own voice guidance prompts, is the cherry on the cake. Several Nokia handsets now come with bundled screen mounts and if you don't like smartphones you can even get Ovi Maps on the C5 candybar.

Reg Rating 85%
Price Free with the majority of Nokia handsets
Platforms Symbian, Maemo
More Info Ovi
TomTom Mobile Navigation for iPhone 1.3
The latest update of TomTom's iPhone app brings it more or less up to par with its standalone PND units. The app now features HD Traffic, IQ Routes and Advanced Lane Guidance, though the first of those is an extra-cost subscription. You also get text-to-voice for road names and numbers but like all TomTom kit it reads them as hundreds and thousands which I find hugely annoying. Still, the Tele Atlas maps are hard to beat for clarity, accuracy and reliability.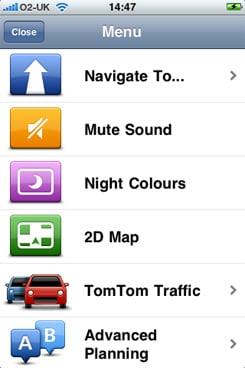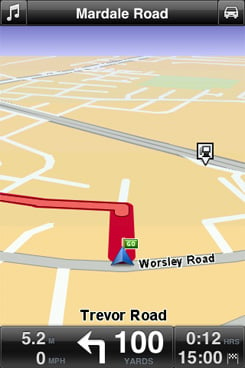 TomTom will also sell you an all singing, all dancing screen mount which boosts GPS reception and has a built-in speaker. Handy, but at £100, expensive too. The app itself, at £43 for UK and Ireland mappage, is more expensive than Navigon's comparable offering, and more than twice the price of ALK's CoPilot. Of course, TomTom hasn't got to where it is today by selling tat and for drivers who have a need to dodge the gridlock, HD Traffic and IQ Routes are both worth having and usefully can be purchased within the app for £1.19 a day, £5 a month, or £23 a year.

Reg Rating 85%
Price £30-60, depending on region covered
Platforms iPhone
More Info TomTom
ALK CoPilot Live 8
I have to confess to a having a fondness for CoPolit for the simple reason I've been running it as my day-to-day satnav on an HTC Hero for nearly a year and it has never once steered me wrong. It's quick to fire up and very easy to use, with a simple, finger friendly and twit-proof menu system. It's also one of the few systems that doesn't ask an annoying "are you sure?" when you exit the programme.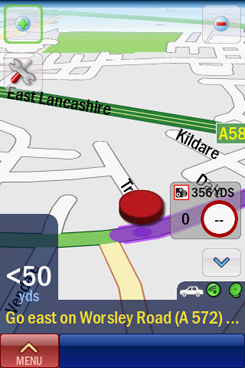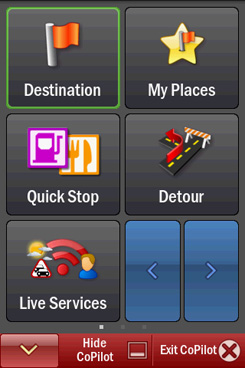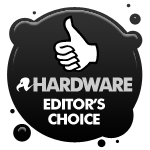 Navigation is free of unnecessary frills. Text-to-speech, for instance, is only available for Windows Mobile as a £3.95 extra. Live traffic information is an extra-cost option, but the thing CoPilot does have in its favour is price: at either £19 or £27 a pop for maps of the UK and Ireland depending on platform and with all the live services such as traffic data only costing £20 a year, it's a tough act to beat.
For my money, it also has the most pleasant voice guides - the instructions themselves are excellent, while the calming female tone gets the majority of place name pronunciations correct. ALK has also been quick out of the blocks with a version specifically for the iPad, though how you mount that on your dash is any one's guess.

Reg Rating 90%
Price £20 iPhone, £27 Android and Windows Mobile
Platforms iPhone, iPad, Android, Windows Mobile
More Info ALK