Original URL: http://www.theregister.co.uk/2010/08/17/review_smaetphone_android_acer_liquid_e/
Acer Liquid E Android smartphone
Dripping with features?
Posted in Personal Tech, 17th August 2010 07:02 GMT
Review Acer has been a bit of a late starter in the smartphone game but has been working hard to catch up and gain a similar reputation to what it has with computers – decent quality machines that deliver the specs without excessive prices.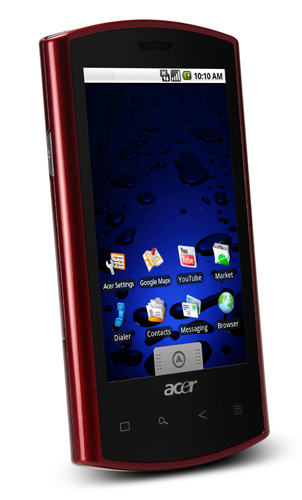 Flooding the market? Acer's Liquid E
Among Acer's most advanced handsets yet is the Liquid E, which goes some way to close the gap with other better-known Android brands. It's an advance on the previous Liquid with an upgrade to Android 2.1 Éclair, plus a Snapdragon processor, 5Mp camera, GPS and Wi-Fi.
The Liquid E has its own distinct look, with sleek shiny black plastic all over and a gently curving top and bottom with tapered sides. It's fairly hefty at 115 x 64 x 13mm and 135g, yet there's a certain cool caché in the way the uniform black blends into the screen in repose.
However, it doesn't feel quite as sturdy as its Android rivals from HTC, Samsung and others, thanks to its cheapish plastic casing, untroubled by metal adornments. Incidentally, it's available in black, red or white varieties, as well as a limited edition Ferrari version.
The touch screen sits above four touch-sensitive buttons for home, search, back and menu, while the sides feature hard buttons for volume, camera shutter and power. On top is a 3.5mm headphone jack plus flashing LED icons to tell you when you have messages or an incoming call or need to recharge the battery.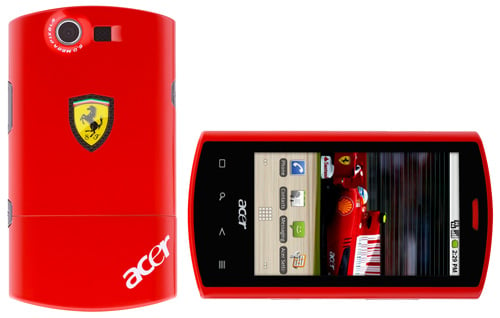 Ferrari branded incarnation, if you must
The large 3.5in screen is a multi-touch one, so you can do the pinch-to-zoom thing in your Android browser, Google Maps and pictures, and it offers a reasonably sharp 800 × 480 resolution.
There are five home screens that you can populate with various widgets and shortcuts from the menu. There are a few unique ones from Acer too, including two carousels, one for your media, the other for your web bookmarks. Spinlets offers several hundred tracks available for free streaming. It's not great for choice, but there are a few big names and, since it's free, it's a promising feature.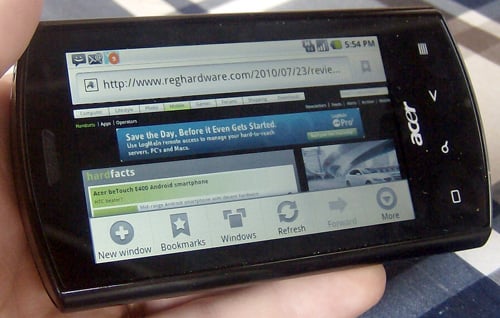 Nifty browsing even with its underclocked CPU
There's also Fooz Creator, which allows you to create a cartoon avatar for yourself for use in social networking. And speaking of which, Facebook and Android Twitter app Twidroid are preloaded, though there's no Motoblur-style app to pull all your messages and updates together.
Unlike several other big-name Android users of late, Acer has gone ahead and installed Android 2.1 Éclair, which means a host of handy updates including voice control, five (as opposed to three) home screens, a phonebook that automatically pulls in your social networking contacts (once you've opened the relevant accounts of course) and the ability to have more than one Gmail account working from one inbox.
It's all powered by a Qualcomm Snapdragon 8250 processor which has been underclocked from 1GHz to 768MHz to help preserve battery life. The underclocking doesn't seem to have obviously affected speed or power, since I didn't notice any significant lag when switching between apps, viewing video or browsing the web.
Acer Sync offers Windows users the chance to synchronise contacts, calendar, photos and video clips using Picasa, Youtube and Google's cloud, so you're always up to date. It's not an option open to Mac users at the moment though, so you'll be stuck with drag and drop when you connect using USB.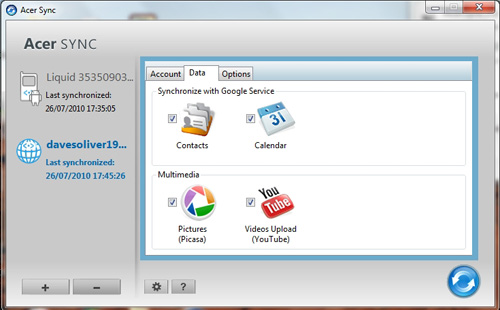 Acer Sync for Windows PC users
The on-screen keyboard is well spaced and sensitive, though the predictive text – which prompts you with alternatives over the letters you're actually typing – takes a bit of getting used to.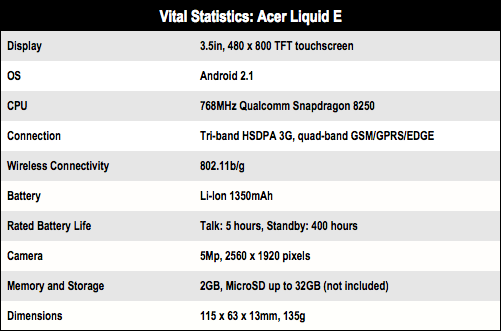 The camera has a few options, but it's certainly not up with the best we've seen. There's an anti-flicker setting and geo-tagging, but nothing in the way of special features such as smile detection or macro modes. Pictures are reasonably sharp but you'll need to be mindful of its limitations, as it doesn't handle excessive light too well and the lack of a flash hampers shooting in low light conditions.
Sample Shots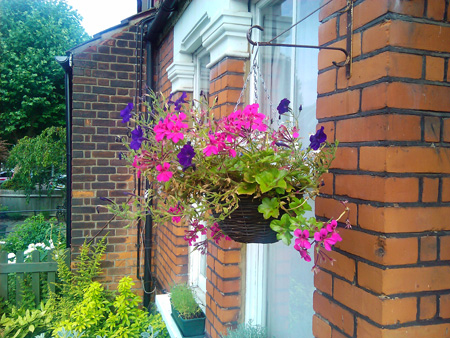 Click for a full-resolution image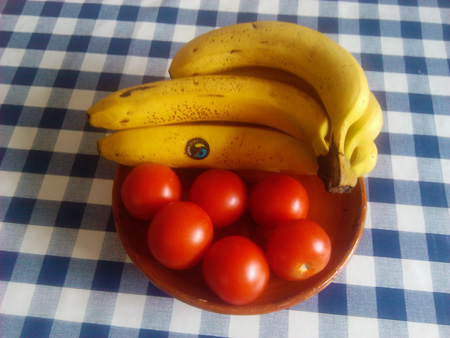 Click for a full-resolution image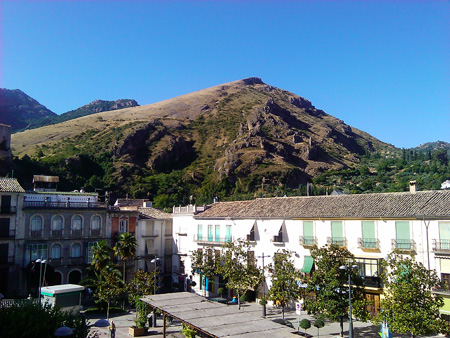 Click for a full-resolution image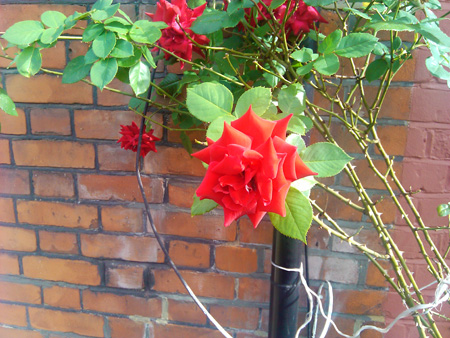 Click for a full-resolution image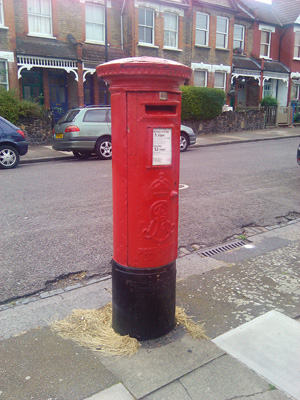 Click for a full-resolution image
Video recording is okay, but not particularly impressive with a maximum resolution of 640 x 480 pixels. Camphones offering 720p HD are fast becoming common these days, which puts the Liquid E at a disadvantage here. Videos look good on the 3.5in screen and while doesn't quite match the iPhone for clarity, it's fairly sharp and quick to respond.
There's 2GB of memory on board but you can boost that by 32GB with a MicroSD card, although one isn't supplied. Even so, the Liquid E delivers where it counts, namely voice calling. The speaker is actually excellent – loud and clear without shrillness or rasping – even with the volume cranked up. Battery life wasn't bad for a smartphone with this sort of spec and I got a good day and a half of fairly heavy use out of it.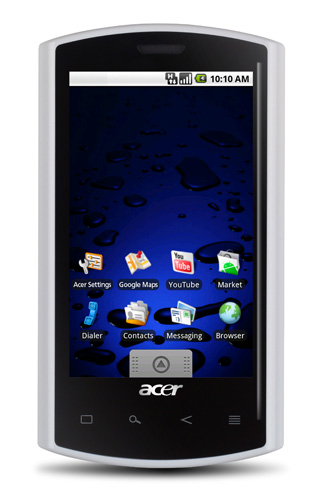 A welcome addition to the Android pool
Verdict
With the Liquid E Acer really shows it can deliver the goods by offering a strong Android 2.1 spec with a fine multi-touch screen, browser with Wi-Fi and HSDPA 3G, social networking apps, excellent call quality and pretty good battery life. The camera is quite useable too, and although the handset is let down a little by its cheap-feeling construction, nonetheless, it offers a good range of well-implemented features at a decent price. ®
More Android Smartphone Reviews

Samsung
Galaxy S
Motorola
Milestone XT720
HTC
Wildfire
Sony Ericsson
Xperia X10 Mini