Original URL: http://www.theregister.co.uk/2010/08/14/ipad_apps/
119 iPad apps for admins, coders, and geeks
Tools, training, and tips for sysadmins
Posted in Software, 14th August 2010 16:42 GMT
Part one: Apple's "magical and revolutionary" iPad is not just a toy for Jobsian fanbois — and The Reg has 119 tech-savvy apps to prove it.
Today we launch our first installment of a Reg roundup of iPad apps that provide more utility than do fart-sharing, bubble-popping, and "Yo Mama!" joke-telling apps. We'll focus on items that can ease your sysadmin chores — and in coming weeks another installment will provide help for coders, and a third will share an assortment of tools for engineers, web monkeys, and other assorted geeks.
A few ground rules: first, we weren't able to test all the apps, so caveat, Mr and Ms emptor. Check out our overviews and recommendations, read each app's description in its App Store blurb, peruse users' comments, then make your choices.
Second, we've included user ratings when an app has received enough of them to sufficiently satisfy the App Store police to allow a rating's inclusion — but don't take those evaluations too seriously, since it appears that reviewers of utilitarian apps are an uncommonly cranky lot.
And finally, be realistic in your expectations. Most of these apps are one-trick ponies that are either free or cost just a few bucks. You're not going to find the equivalent of, say, VMware vCenter in the App Store for a buck ninety-nine.
Tools
One tedious chore with which admin staffers are often tasked is to keep track of what machines a company or department has, how they're configured, and so on. We tracked down three apps that can help.
The developers of Computer Inventory ($1.99, four stars) didn't waste any effort on fancy graphics, but their app can manage a relatively small company's computing stock in reasonable detail, and can export its data in XML format via email.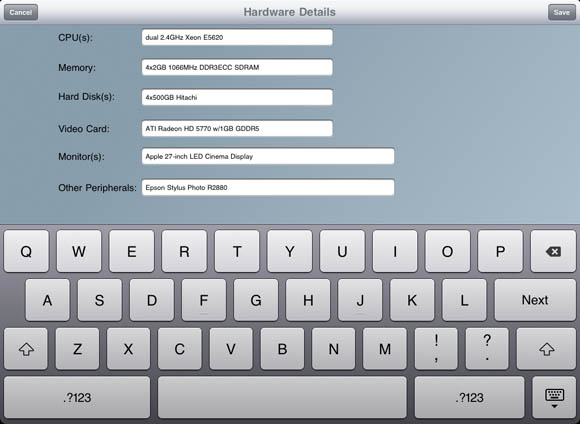 Computer Inventory may not be pretty, but it gets the job done
Computer List (free, two stars) is more rudimentary than Computer Inventory, but the price is right. Our third keeping-track-of-everything app, my Geek Things Pro ($1.99), can be password protected, includes fields for passwords, software licenses, and more, outputs CSV and PDF summaries, and links up with the developer's desktop/laptop version for Macs and Windows PCs.
A different problem is attacked by intraWebPub ($4.99), which claims to turn a normally single-user iPad into a device suitable for multiple users. For reasons we confess not to fathom, this app has a "17+" age rating, a designation normally reserved for apps that involve sex, drugs, violence, and other fun stuff. Possibly Apple's worried that one user could hack into another user's photo collection to see - well - you know.
If your office has a stock of iPads that move from one user to another after, uh, "rightsizing", ShredIt HD ($9.99) will overwrite free space in storage memory so that purportedly deleted files can't be recovered.
Although zipThat ($1.99, two stars) isn't strictly an admin tool, it can help if you've been emailed or downloaded a ZIP file, and don't have a laptop or desktop conveniently available to unZIP said ZIP.
Note, however, that zipThat is currently at version 1.0, and the developer admits: "Some issues have been reported to us, and we're working to correct them now." You might want to wait until version 1.0.1.
Password utilities
For a single user, password creation and management is enough of a hassle. If you're setting up a 50-PC office, that chore expands to become a total pain in the arse. As of today, the App Store had at least four password helpers.
The top-rated — and most expensive by far — is 1Password Pro ($14.99, four and a half stars), the iPadification of what its developer refers to as "the award-winning 1Password application with more than one million users worldwide" — meaning the app's desktop/laptop incarnation. Not just a password creator, 1Password securely stores and organizes password collections.
At the other end of the price curve — and feature list — is Blasphemous Password (free, three and a half stars), which merely creates randomly generated passwords after you select a few simple parameters.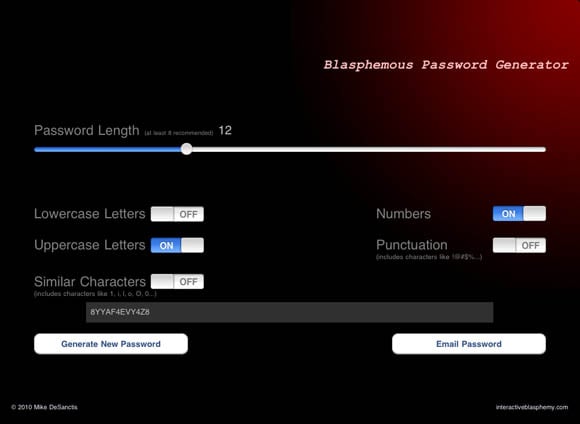 Blasphemous Password doesn't do much, but doesn't cost anything
iPassGen ($1.99) generates and ranks passwords based on five different character types (upper and lower case alpha, numbers, punctuation, and accented Roman characters), and has an email feature. The simple pwdGen (99¢) generates straightforward passwords, plus time-stamped keys.
Network
You may already be aware of the enterprise-level snort and syslog intrusion-detection app Aanval, but you may not know that there's an Aanval ($9.99, five stars) client for both the iPad and iPhone, as well. Before you bag a copy, though, know that the mobile version requires an installation of the Aanval Intrusion Detection and Correlation Console to, as the developer says, "properly function".
DHCP Options (99¢) is a handy reference tool "for anyone administering, configuring or troubleshooting DHCP services on a network." Sort the references in a variety of ways, and choose IANA, ISC DHCP, or Microsoft representations.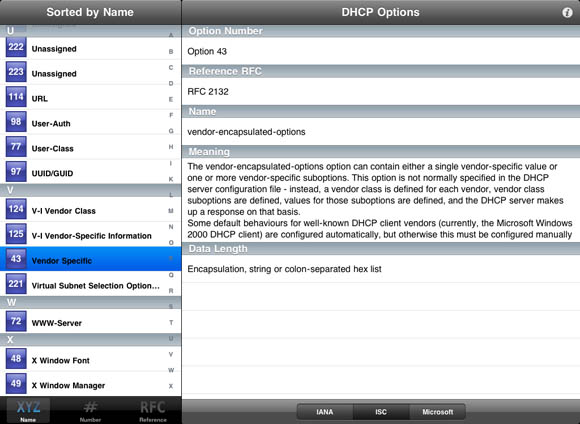 You may not remember all your DHCP options, but DHCP Options does
If you're testing and designing UDP applications, the developer of UDP Tools ($7.99) calls his app a "simple yet powerful way of sending and receiving UDP data messages. And speaking of UDP, Syslogger (99¢) lets you send log messages using the UDP syslog protocol to remote syslog servers. Check out RFC 3164 for more info.
If not merely a one-trick pony, NetTools ($3.99, three stars) is, well, a three-trick pony: DNS lookup (NsLookup), ping, and traceroute. Connection types include Wi-Fi, 3G and EDGE — the latter two, of course, only if you use the pricier Wi-Fi + 3G iPad.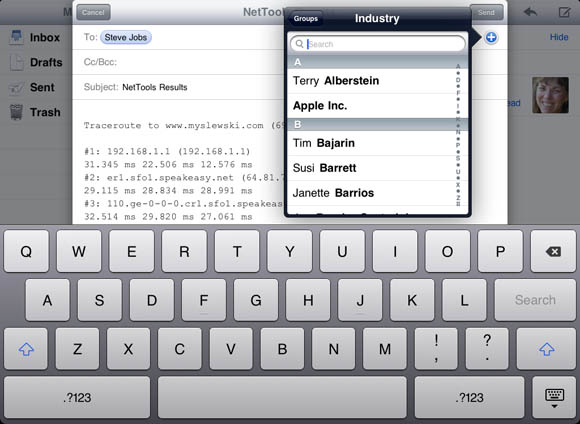 NetTools lets you email your traceroute results to your favorite CEO of the Decade
SSH Terminal (99¢, two stars) is, as might be guessed, an SSH client, and one that allows you to connect to multiple servers and save their login info. A history list of recently used commands adds to its convenience. While we're on the SSHubject, Turbosh ($9.99, three stars) is an SSH project manager. With it, you can launch tasks, view and edit files, work on those files offline, then sync 'em back to the server when you next log on.
The developer of SubNet Star ($1.99, five stars) claims: "It's the first and only subnet calculator for the iPad!" That's their exclamation mark — and whether or not you decide that level of exuberance is warranted may depend on how much you need to calculate a variety of subnet-related functions. As with many of these admin tools, you can email your results.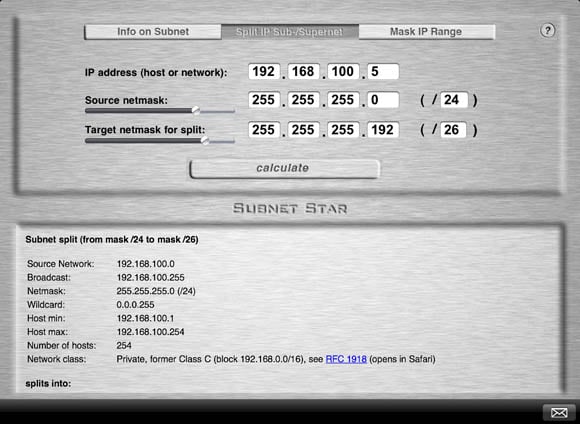 SubNet Star's developer is proud of his app's "appealing aluminum design"
Straightforward Linux server monitoring is the raison d'être of QNotifier Linux Server Monitoring (99¢, two and a half stars). Install a "simple agent" on your Linux-based servers, and they'll push up-to-date notifications to this app reporting on performance, status, and problems.
Essentially a collection of router-config info from PcWinTech.com, Router Helper (free, two and a half stars) contains info on a goodly amount of common routers, plus the ability to identify connection type and IP addresses.
Training
You, Reg reader, are of course at the top of your game, plugged into each and every new development, and past the need of training apps. You might, however, be tasked with bringing an intern up to speed — or, if you're honest, you may want to slip away somewhere private and surreptitiously refresh you encyclopaedic knowledge.
An entertaining place to start might be by spending a buck on DBA Q&A (99¢). This app presents a collection of Oracle-centric questions and their corresponding answers — written by an author who apparently has studied English as a second language — designed to mimic what a prospective candidate might be asked in a typical DBA job interview. Sweaty palms optional.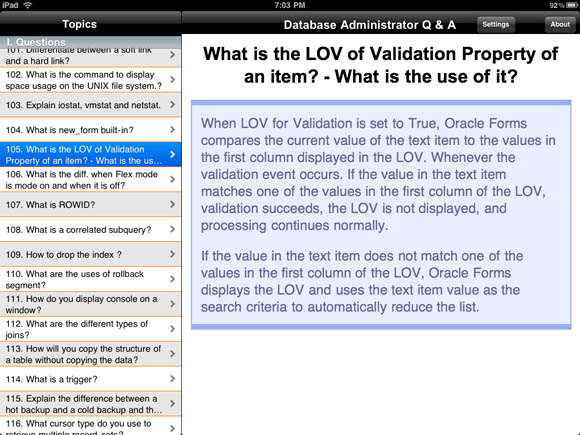 Think you're so smart? Put your 99¢ where your mouth is — if you can decode DBA Q&A's wonky English
The Newcomer's Guide to Linux HD ($3.99) is pretty much what its title indicates. In a series of videos, a Linux noob is led through an overview of the OS, its advantages, and its nooks and crannies. Just remember that when its developer says "Newcomer", they mean it — show this app to that aforementioned intern.
Amazing eLearning LLC takes a equally traditional approach to training with its three-part Windows 7 Video Training series, though its offerings move beyond the basics. Using a combination of videos, screenshots, and interactive quizzes, the series leads you through levels from Basic ($9.99) to Intermediate ($19.99) to Advanced ($29.99).
After all, says Amazing eLearning: "Just because you think you have mastered Windows Vista does not automatically make you a pro at Microsoft's latest operating system." The Windows 7 Video Training series should help you or your troops brush up not only on single-system intelligence, but also network-infrastructure integration — and, as the pricing of the series indicates, the more you know, the higher you're paid, and the higher you're paid, the better you can afford more-expensive training apps.
Reference
Although we are all, of course, well-versed in our individual areas of expertise, even the most deeply steeped PC pro may need help when confronted with, say, an aging, ailing Mirrored Drive Doors Power Mac G4. Hmm, 168-pin or 184-pin DIMMs? Reference apps can help.
If you enjoy mixing the whimsical with the übergeeky, A Computer Dictionary (99¢) might entertain you. In addition to computer and telco terms, hex-to-ASCI conversion, and file-extension definitions, the Dictionary also includes a full list of emoticons and chat/IM abbreviations — a searchable total, the developers claim, of "over 10,000" items. Navigation is wonky, but the wealth of file types alone makes it well worth a dollar.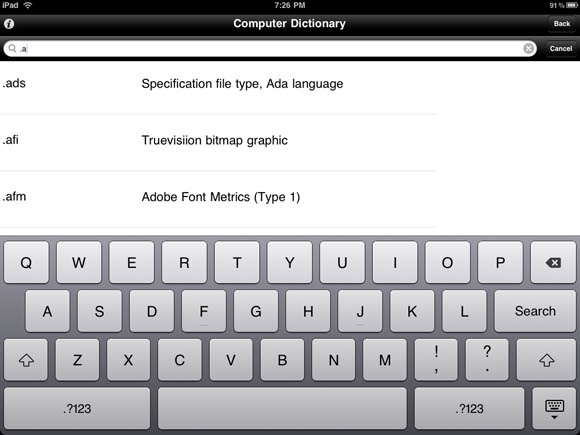 With A Computer Dictionary, you'll put up with some UI pain to get the info you need, but the info is worth the hassle
Dare we say that most error codes remain opaque to all but the most experienced admins? Well, in our experience, that is indeed the case — especially on foreign platforms. Code Sleuth PC (99¢) lets you look up system error and device manager codes for Windows XP and Vista, and Code Sleuth Mac (99¢) does the same for Mac system error codes.
Unfortunately, both versions are a bit lame in that they give you only minimal info on each error code, then prompt you to Google for the rest — as if you couldn't do that anyway without the apps. Still, even a hint is sometimes better than nothing, and is quicker than Googling if you're on a congested (read: AT&T) 3G network.
Info-Tech Mobile (free, three stars) is a window into the Info-Tech Research Group's wealth of research, advice, and tools, including information on apps and infrastructure, and, as Info-Tech puts it, "IT strategy & governance".
Finally, here's the app you can use to find out what DIMMs to bring along when you when you perform a service call on that Mirrored Drive Doors Power Mac G4 we mentioned above: The Non-PC World - A Field Guide ($1.99, three stars) contains info on all Mac models, plus Apple retail store addresses, Mac OS X keyboard shortcuts, and a glossary. Quick: what's the difference between Rendezvous and Bonjour?
Fine Dining
There's not an admin in the western world who hasn't called out for pizza when laboring though a past-closing-time assignment. We've got two iPad apps to help.
The less-than-concisely named Call a Pizza - Two Clicks Away From Eating Hot Pizza Anywhere, Anytime! ($1.99, two-and-a-half stars) is available for both the iPhone and the iPad, but the iPhone version has the distinct advantage of its one-click "call to order" capabilities.
Still, CaP-TCAFEHPA provides a great location-based pizza-parlor search, a Google Maps link with directions, and the ability to read or write reviews. Unfortunately, the number of reviews currently available is vanishingly small — if non-existent. We gave up our search for even a single review after trying a dozen restaurants.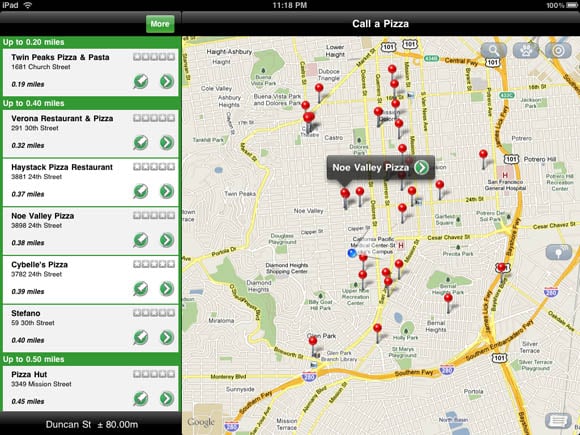 Call a Pizza's More button lets you choose to display a varying number of parlors in your locale
The developer of Order Pizza for iPad (free, two stars), claims that his app won the prestigious title of "Best developer and pizza apps at the 2010 International Pizza Expo". The Reg was unable to confirm his assertion, but we can see why it might: the app lets you define your pizza on the iPad (from a limited set of options) and place your order online — not merely call it in, as does CaP-TCAFEHPA. But whether or not your pizza will actually arrive, of course, depends upon whether or not the restaurant is willing to play along.
We've tested neither pizza-provisioning app to the point of actually ordering a pie, but both made us hungry — so we're going to make a phone call and order up a linguiça, anchovy, jalepeño, and black olive thin-crust from our local fave, Mozzarella di Bufala, and call it a day for this first installment of 119 iPad apps for admins, coders, and geeks.
Next time we'll cover three dozen more apps in a collection aimed at coders — from C++ to PHP to Java to Python. Bonus: the geekiest iPad desktop clock you've ever seen. Or, for that matter, ever imagined. ®