Original URL: https://www.theregister.co.uk/2010/08/13/review_hd_tv_lg_50pk990/
LG 50PK990 Infinia 50in plasma TV
Looks a picture, even when it's off
Posted in Personal Tech, 13th August 2010 07:02 GMT
Review With edge lit LCD sets redefining what slim means when it comes to TVs, many of today's plasmas are starting to look rather chunky in comparison. Or at least they were until LG's 50PK990 put in an appearance. Despite packing in a FullHD 50in panel and oodles of features, its chassis is a mere 52mm deep making it one of the slimmest plasmas on the market right now.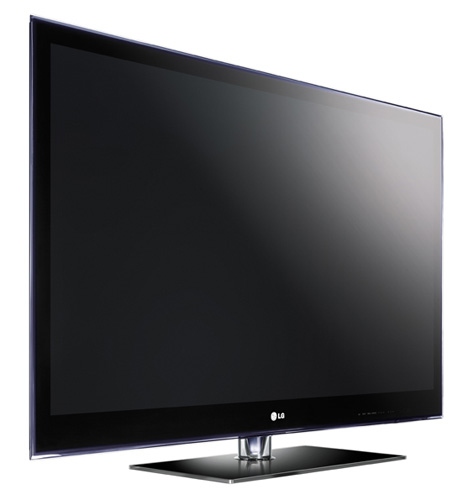 LG's 50PK990: all the trimmings, right out of the box
But it's not just the svelte chassis that impresses, as the set's Infinia design also means that the front of the TV is made from a single sheet of glass, so that the edge of the screen blends seamlessly with the outer bezel. Simply put, this set looks absolutely gorgeous.
Around the back you'll find plenty of connections for hooking up your AV gear. Alongside the four HDMI ports, you find a set of component sockets and a Scart input. There's also a CI slot, two USB ports and a digital audio output for feeding audio from the Freeview tuner to a surround sound system. Naturally, Ethernet is present too and, as LG includes a Wi-Fi USB dongle in the box, you can also hook the set up to your router wirelessly, if you like.
The 50PK990 puts the Ethernet port to good use as it features built-in DNLA media streaming, so you can stream photos, movies and videos from a connected PC or Nas drive. Unlike many of its rivals, it actually has good format support and will happily play high definition MKV files as well as Divx and Xvid videos.

For a plasma set, this is certainly about as slim as they come
The set also includes LG's Netcast Internet enabled widgets. However, there are only three widgets for Accuweather, Youtube and Picassa and although they are nicely designed and easy to use, LG needs to offer more of them if it's to keep pace with rivals like Panasonic's VieraCast system. Another interesting feature is the presence of Bluetooth, which lets you stream audio from the TV to any stereo Bluetooth headset.
The menus on the 50PK990 are beautifully presented with large icons and generous use of colour. The sensible layout also makes them easy to navigate and there are some neat features including a picture set up wizard that includes test cards to help you calibrate the set. That said, unlike a lot of its rivals, the picture presets on the PK990 are actually very good and include a THX Cinema mode that tweaks the set's contrast and colours for movie viewing.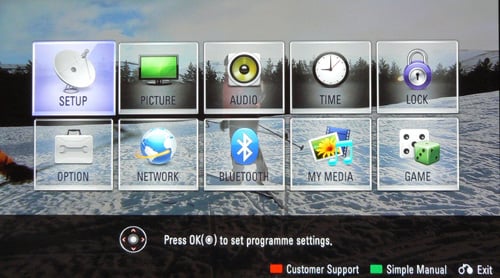 With icon styling akin to LG mobiles, the menus are beautifully presented
LG has followed Samsung's lead by providing two remotes. The main remote is quite long (and a little bit awkward to hold), but also has nice big buttons and includes a switchable backlight that can come in handy when you're watching a movie with the lights turned down. The second remote is a much smaller, stripped down affair with just the basic buttons for changing channel and controlling the volume level.

The main remote is a tad long, but has a handy backlight
To make the most of the 1080p resolution, the set has a Freeview HD tuner so it can pick up the HD services from ITV, Channel 4 and BBC, as long as HD signal are being broadcast in your area. These channels are tuned alongside the usual standard definition Freeview stations and also appear alongside them in the easy to use eight-day EPG. Be warned though, the LG tuner isn't particularly sensitive, so if you live in a marginal signal area you may have problems with reception.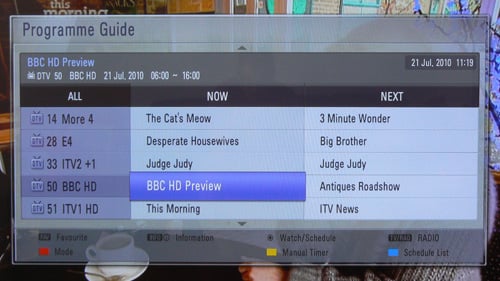 The EPG is fast and easy to find your way around
Some LG's plasmas have appeared to struggle to deliver really deep blacks, but the 50PK990 is noticeably better in this department. The screen has LG's TruBlack filter which, as well as reducing some screen glare, also helps to deepen the apparent black level. What's also impressive is that it manages to work its magic without any apparent loss of shadow detail or brightness.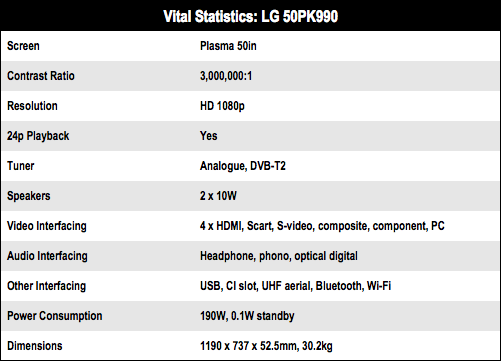 In fact, on the brightness front the set could give many an LCD a run for its money. Colour reproduction is also excellent and more natural looking than some of LG's previous plasma offerings. Motion is also silky smooth and the set's impressive scaling means it flatters standard definition material rather than drawing out its weakness, as some lesser models do.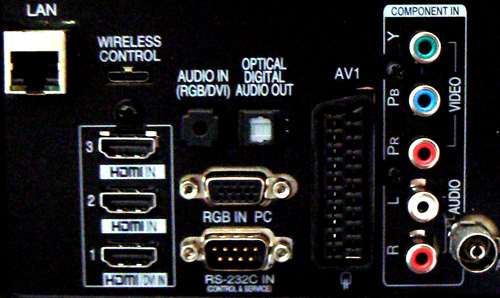 Hooking up is simple with four HDMI ports, in total and Wi-Fi connectivity thrown in
However, there are a few downsides. Despite the improved performance of this panel in terms of black levels, I still don't think it delivers quite as deep blacks as on Panasonic's latest G20 range. Also, the set sometimes seems to over sharpen edges, as if picture sharpening is always active, even when you've got it switched off and it suffers from some image retention too. For example, you can sometimes see a subtle ghost of a bright channel logo remain on screen for several seconds after you've switched to another channel.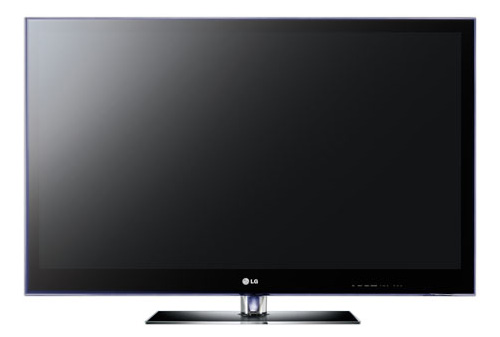 The screen looks great, in more ways than one
And perhaps predictably, given its slender frame, the 50PK990's audio performance is just so-so. It's fine for news and soaps, but it lacks the bass punch needed for action movie set pieces or booming music tracks. As it's a plasma display you'd expect the 50PK990 to be a bit more power hungry than LCD models, but it's not too bad in this regard. It draws less than one watt in standby, around 240W in the THX Cinema mode rising to approximately 370W in Sport mode, which drives the panel harder.
Verdict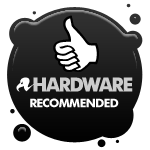 The 50KP990 is a highly impressive set at it delivers beautifully crisp and vivid pictures with both HD content and standard definition Freeview channels. It's also got good PC streaming support and the presence of both Wi-Fi and Bluetooth is a boon. My only real reservation is that Panasonic's P50G20 is now available for much the same price – 46in review here – and offers slightly deeper blacks and a Freesat tuner alongside the Freeview HD one for much the same price. However, it's looks nowhere near as stylish as this LG model. ®
More HD TV Reviews

Group Test
Freeview HD TVs
Samsung
UE46C8000
Panasonic
Viera TX-P46G20
Group Test
3D TVs