Original URL: https://www.theregister.co.uk/2010/08/11/game_reviews_castlevania_hod/
Castlevania: Harmony of Despair
Monster monster, there's a screw in my neck
Posted in Personal Tech, 11th August 2010 12:59 GMT
Given that Dracula is so often the star of Castlevania games, it's ironic that Konami has whipped up something of a Frankenstein's monster with Harmony of Despair.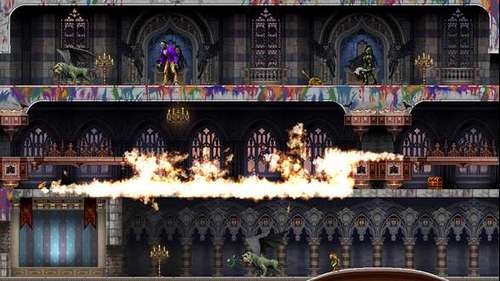 Higher burning
You see, Frankenstein was so obsessed with whether he could bring his abomination to life, he neglected to question whether he really should. And in Harmony of Despair, its first experiment in multiplayer vampire hunting, Konami is guilty of the same disastrous conceit.
Just as Frankenstein used galvanism to breath new life into old body parts, Konami has stitched together old assets from GBA and DS titles (without so much as an HD makeover), and infused multiplayer gaming into Castlevania's tried-and-tested single-player structure. The result is a shambling, discordant, ugly monstrosity that fails to compel in either co-operative or competitive modes.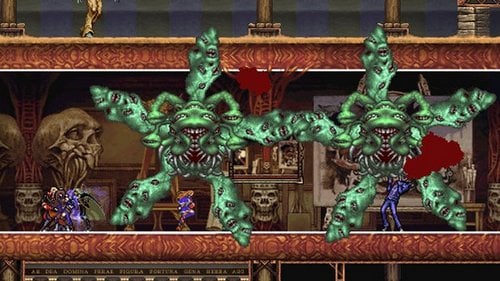 Stars in-jure their eyes
It's an experiment that didn't need to happen. All Castlevania fans have ever really wanted is simply more of the Playstation classic Symphony of the Night. For a while, Konami understood this, and in its GBA titles, Circle of the Moon and Harmony of Dissonance, it proved happy to oblige. But in more recent titles, such as the DS's Portrait of Ruin and Order of Ecclesia, Konami tinkered with the successful Metroid-vania formula, seemingly dissatisfied with continued regurgitation of SotN clones.
Multiplayer mode..
Harmony of Despair's main multiplayer mode marks the latest attempt to broaden the series' gameplay. In co-op, up to six players work together to clear one of six castle maps. Instantly recognisable as condensed versions of previous Castlevania realms, the objective is to reach and vanquish each castle's boss within a 30-minute time limit.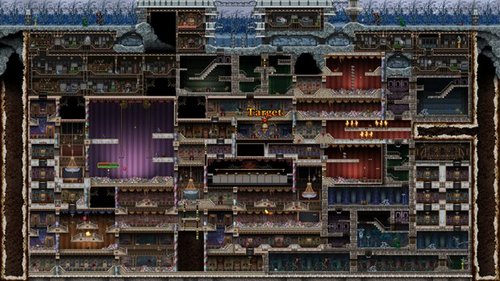 Wheres Wally?
Along the way it's all standard Castlevania stuff, with platforming and combat held in equal regard. But while navigating castles and combating the trademark array of ghouls, monsters and demonic maids with possessed vacuum cleaners never fails to entertain, the experience is let down by a lack of co-operative elements.
Aside from boss encounters, in which demoniacal health bars demand combined attrition, the only hint at co-operation comes in the form of occasional shortcut-opening levers. But with every map structured to allow for completion in single-player mode, there's always a path of least resistance, which reduces co-op to a simple race to kill enemies and collect treasure first.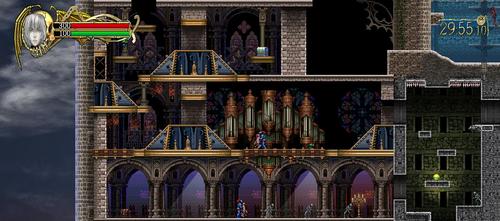 Attack in the attic
With enough enemies to go around this wouldn't be such a problem. But enemies are neither stronger nor more numerous in multiplayer, so even a moment's delay can see inexperienced players fall behind the action. And with no reason to co-operate other than when fighting end-of-level bosses, noobs quickly become spectators as veterans steam in to collect all the spoils.
Grindtime
Worse still, noobs can often find themselves far away from boss encounters. Even with the impressive zoom system, which displays the whole castle on screen in real-time, it's often impossible to find the correct route and arrive in time to join the combat. Fortunately, there's enough treasure to be found off the beaten track to reward exploration, and any gold picked up is duplicated in every player's purse.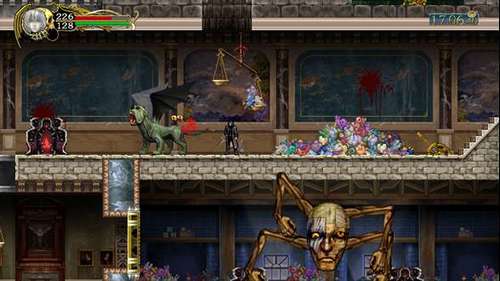 Daddy longlegs
As in other Castlevania titles, grinding is absolutely necessary to upgrade abilities and weapons at the game's shop. But even though the range of upgrades is impressive, none really adds to the experience, instead reducing an already easy game to simplistic dash-and-slash.
Indeed, grinding proves Harmony of Despair's only true replay value. Once mastered, castles can take less than 10-minutes to complete in multiplayer, and soon become as familiar as they are easy. Only hardened collectionists and leaderboard junkies will find reason to revisit stages more than a couple of times.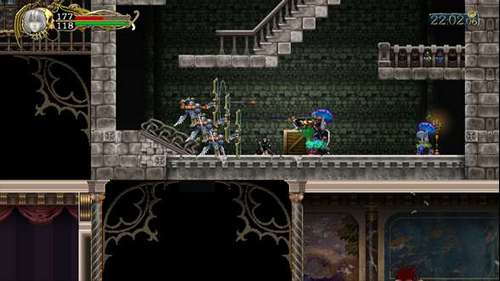 Step it up
Elsewhere, a perfunctory competitive mode does little to extend the experience, offering last-man-standing combat so uninspired it's often impossible to find another five players online willing to endure it.
Glimpses of the real Castlevania
And so, paradoxically, it's the single-player mode that adds meat to the bones of this multiplayer cadaver. Going solo injects the game with much needed challenge, where grinding comes into its own to offer any hope of success. But while there are occasional glimpses of the real Castlevania, the popular Metroid-vania formula of adventuring and levelling-up is always sorely missed.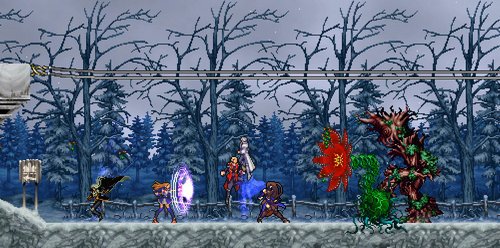 Chemical free weed killers
Verdict
The game's true harmony of despair comes not from Dracula's evil minions, but from the groans of players as they realise the dismal gameplay and paucity of content on offer.
True fans may find a morsel or two to tide them over until the October release of the much anticipated 3D re imagining Lord of the Shadows, but even they will find the full XBLA price of 1200 MS Points questionable, especially given last year's vastly superior Metroid-vania homage, Shadow Complex was released at the same price.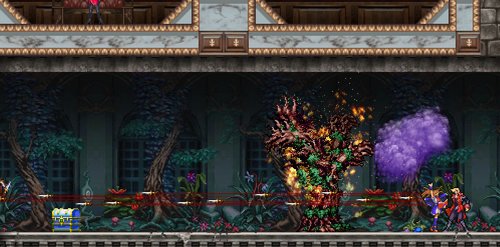 Every cloud has a purple lining
More Games Reviews

Starcraft
II
3D Dot
Game Heroes
Limbo
Blacklight:
Tango Down