Original URL: http://www.theregister.co.uk/2010/08/10/review_smartphone_garmin_asus_nuvifone_m10/
Garmin Asus Nüvifone M10
Satnav meets smartphone
Posted in Personal Tech, 10th August 2010 08:02 GMT
Review Smartphones and satnav are a pretty good combination, and there are plenty of configurations to choose from. You can use a free service like Google Maps or Nokia's Ovi Maps, or buy an add-on like CoPilot Live. Typically, smartphones often come with at least one option pre-installed, but there is a third way.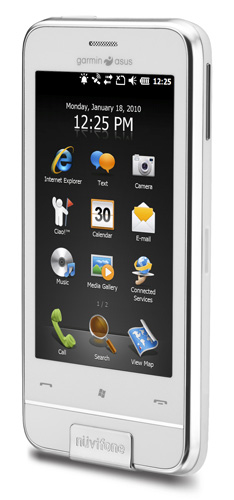 Charting success? Garmin Asus' Nüvifone M10
GPS specialist Garmin has dipped in and out of the smartphone satnav waters in the past with fully integrated devices. Its most recent entry into the sector involves a partnership with Asus, which has resulted in two new devices. The Garmin Asus Nüvifone M10, on review here, is a Windows Mobile handset. The other, the A10, runs on Android but isn't available yet.
In both cases, satnav is integrated deep into the heart of the device, rather than being an extra like any other application. The integration occurs in both software and hardware. On the latter front the Garmin Asus Nüvifone M10 comes with a very good car mount that is small and solid and includes the usual vehicle charger.
The M10 comes with maps covering most of Europe pre-installed and, while some countries have only major roads mapped, most offer detailed coverage. Like other satnav makers, the map data is in the hands of a third party, in this case Navteq. The maps reside on 4GB of on-board flash storage, leaving just over 1GB free to boost the 512MB of ROM. There is a MicroSD card slot too, though it is awkwardly located under the battery.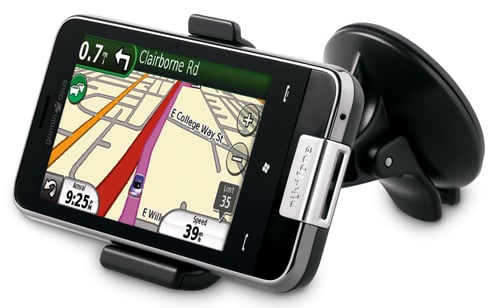 Comes kitted with in-car trimmings
The smartphone specs are solid: HSDPA, Wi-Fi, Bluetooth and a 5Mp camera are all here, as is automatic screen rotation and, of course, GPS. In use, the M10 handles much like a standard smartphone. At 116mm x 58mm x 14.3mm and 150g it is slightly chunky but not intolerably large.
Windows Mobile 6.5.3 has been tweaked a little with a skin provided by Garmin that offers 18 personalisable shortcuts over two screens, with three permanent shortcuts to the dialler, to a map view of your current location and to a search utility.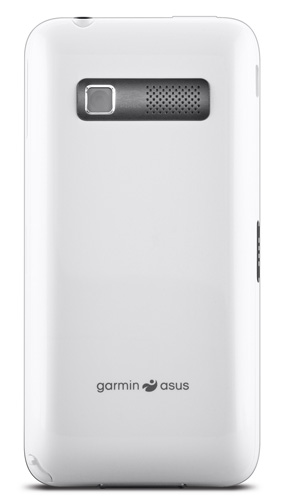 Features HSDPA, Wi-Fi and a 5Mp snapper
The search utility opens up a screen with lots of options. The usual satnav favourites are here, such as searching for addresses and points of interests, going to favourites and recent places. You can find a contact and automatically search for their location, and there is also a Google Local Search option and Panoramio, which finds photos near to your current location. Handy if you are looking for something to do while on a trip.
Live traffic data can be downloaded and the Nüvifone M10 tells you whenever you are going online, so that you can decline to do so if you are worried about the cost. It can also pick up locations to go to from emails, the Web and SMS messages. It is a bit convoluted, as you need to make a selection, then choose 'location search' from the menu, wait while the M10 finds matches. You then choose from these to decide what you want to see on a map and make a destination – but it does work.
Locations can be sent to other people as an MMS with map, SMS with latitude and longitude and with a URL to a Google map, or using e-mail with a map or URL.
The 3.5in, 480 x 800 screen is resistive, which means no pinch to zoom. Running Windows Mobile 6.5.3 also means you some pretty small bits and pieces to prod at. So, in a very retro but quite welcome way, Garmin Asus provides a stylus to help with touchscreen accuracy.
Performance was surprisingly good. Voice instructions on the navigation side of things are loud – though dedicated satnav devices I've used tend to be louder.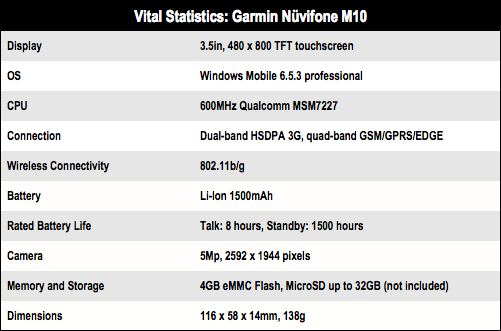 More generally, I liked the 3.5mm headset connector on the top of the device, and the processor despite being slow on paper at 600MHz, coped well. Battery life was pretty good too, managing to get through a day of average use including some GPS without needing a charge, but a daily boost, as with all smartphones, is going to be required.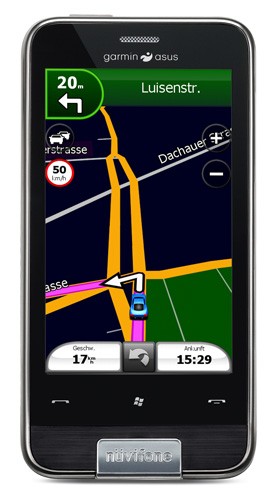 A capable phone, just a bit late to the WinMo party
Verdict
With Windows Phone 7 now very close to release, the timing of this Garmin Asus collaboration does seem a bit tardy. I'm holding my breath to see the A10 Android alternative, but if you're more interested in having a dedicated satnav phone than the latest fashion in smartphones, then the Nüvifone M10 certainly offers more than most for this task. ®
More Phone Reviews…

Samsung
Galaxy S
Apple
iPhone 4
Ten Essential
iOS Travel Apps
Nokia
X6