Original URL: https://www.theregister.co.uk/2010/08/09/review_iphone_app_imovie/
iMovie for iPhone 4
Video editing on the Judas phone
Posted in Personal Tech, 9th August 2010 07:02 GMT
Review Let's get one thing straight: this is not a port of Apple iMovie from the Mac OS to the iPhone OS. Rather, think of the iMovie iPhone app is a massively cut-down version with a handful of editing functions and even fewer options.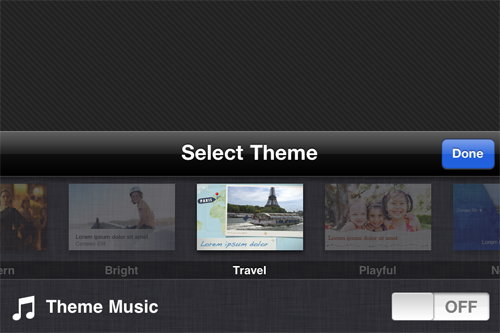 Getting started in Apple's iMovie for iPhone 4: Pick a theme from a generous choice of er... five.
Also be warned that it has been designed exclusively for the iPhone 4. Yes, boo-hoo for those 3GS owners out there: your phone is not powerful enough. Annoyed? After the piss-taking I have had to endure from all and sundry over my signal-fade, I really couldn't give a monkey's.
Right, now that I've swept away any unrealistic expectations, you might just be prepared to give this smart little app a fair hearing. Alas, it's not free with the handset, but is a £2.99 download from App Store and is designed to take advantage of the iPhone 4's 720p video recording capability.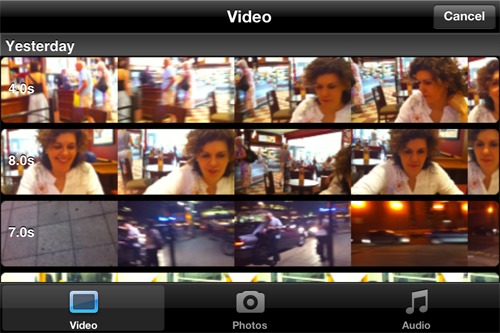 Tap the Insert Media button to bring your own video, photos and music into the project
When you first create a new project in iMovie, it insists you to choose a 'theme'. All this does is make a bunch of transition, titling and music presets available to the project, which you can choose to ignore, and you can always change your mind later. There are only five themes: three cheesy ones and a couple that are more restrained.
Once the project opens, you add videos and photos from your iPhone's camera roll, or you can switch to camera mode to record video directly into the project. Each clip appears as frame thumbnails in a single-row timeline under the movie preview area. At this point, I find it easier to work in landscape mode by turning the handset by 90 degrees, but you can keep working in portrait mode if preferred.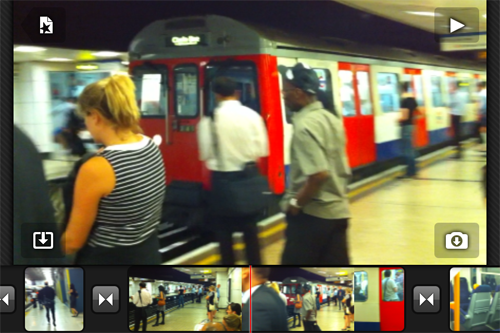 Drag clips around the timeline to put them in order
Re-arranging video clips in the timeline is a simple drag-and-drop action. To remove a clip, drag it away from the timeline altogether and it vanishes in a puff of smoke. You drag the timeline left and right to scrub and set the play point, and you can play back a full movie preview instantly at any time.
When you tap on a clip in the timeline, trim pins appear at either end of the clip, letting you drag inwards to crop out as much as you like from the beginning and end. Given the small size of the clip thumbnails and the even tinier pins, trimming a clip with my fat fingers is imprecise to say the least, bordering on the haphazard.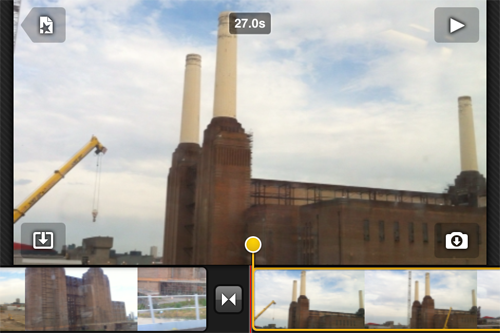 Trimming clips is a bit fiddly and imprecise but it does the job
A more troublesome challenge is that there is no indication of how much time you have trimmed, or even that you have trimmed the clip at all. So if you want to adjust the trim to bring some frames back by dragging on the trim pins again, you have no idea whether there's a minute, a few seconds or nothing at all available for retrieving. It is not possible to split a clip, but you can add the same clip to the timeline as often as you like, then trim each instance as necessary.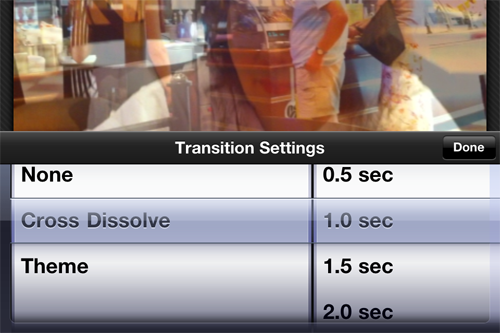 There are only two clip transition effects – three if you count 'None'
Photo images use the trim pins slightly differently. After adding a photo, you have to drag on the pins to extend its duration – the default is just one second. You can then set a custom zoom and crop – by pinching and dragging the preview – for the opening pin and another for the closing pin, thus producing a rostrum zoom and pan, or what Apple still keeps calling a 'Ken Burns effect'. Ken Morse would be more appropriate on this side of the pond. Do you have to be called Ken to be good at rostrum techniques?
A transition icon appears between every clip in the timeline. A double-tap calls up an options panel in which you can apply a cross dissolve or the current theme's (invariably ghastly) transition effect, lasting between half a second and two full seconds. If you don't like the theme's preset transition effect, you can switch theme by scrubbing all the way to the beginning of the timeline and tapping on the Preferences button.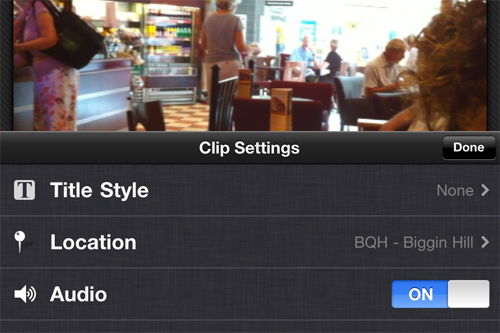 Each clip can have a small amount of customisation
The theme can also play background music over any clip or photo: you choose on a clip-by-clip basis, and the music seems to fade in and out with acceptable grace. You can pick your own background music from tunes on your iPhone handset. You cannot, however, trim the track or choose which clip it begins at, nor adjust the volume.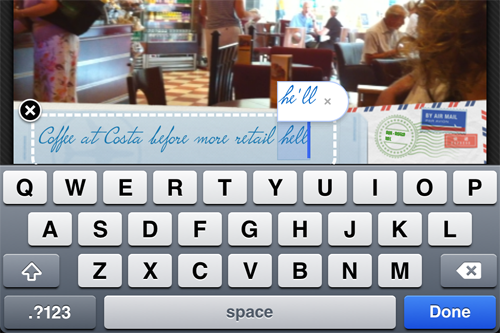 Add onscreen text to a clip using the predesigned titles from your current theme
Double-tapping on a clip allows you to add titles, and their design is based on presets according to your theme. Once a title style is added, you can type the text you want directly from the iPhone's visual keyboard. Now there's a problem here. What if you want the transition effects of one theme, the titling designs from another theme? Answer: you can't. The only part of a theme that can be used independently with any other is the background music.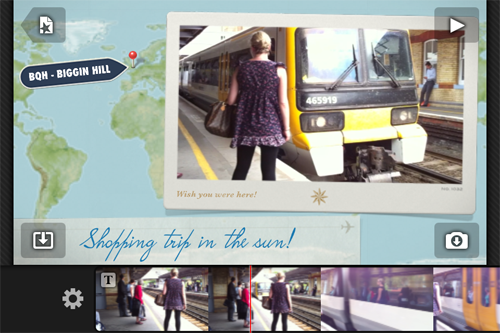 The animated opening title for each theme can show the location of your clip, although I wasn't in Biggin Hill
When your project is ready, iMovie lets you export it to one of three preset size options: Medium (640x360), Large (960x540) or HD (1280x720). This can take several minutes, depending upon the length of your movie, but I was very impressed with the quality afterwards. The final movies can be quite big, though: a two-and-a-half minute epic can occupy in excess of 70MB when exported using the Large option, or 200MB+ as HD.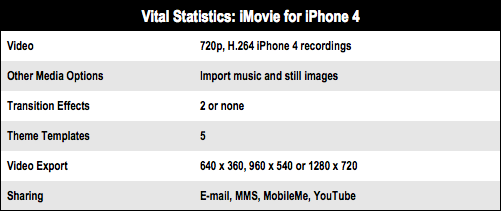 Movies can be synced using USB from your iPhone's Camera Roll to your computer, just as you would with other videos and photos. Just remember that if you try to 'share' your movie wirelessly from your iPhone to e-mail, MMS, YouTube or MobileMe, the iPhone OS will scale it down to 568 x 320 pixels first.
While fairly unproblematic, iMovie, alas, is not intuitive. Apple's failure to provide a user guide, is supposedly on the basis that its apps are intuitive. However, if you need convincing of the general bafflement among early iMovie buyers, read the Customer Reviews for it on the iTunes App Store.
Verdict
Overall, iMovie for the iPhone 4 is pretty basic and doesn't really do that much. However, it makes the process of compiling multiple video clips taken with your iPhone into movies – with transition effects, titles and an auto-duck/fade background music track – quite easy, and fun too. That's well worth £2.99, as far as I'm concerned: I've spent more on a good cup of coffee. ®
More iPhone Apps...

Ten Essential
iOS Travel Apps
IK Multimedia iRig
with AmpliTube
Top Ten
iPhone Games
Opera
Browser