Original URL: http://www.theregister.co.uk/2010/08/06/games_review_starcraft_2/
StarCraft II: Wings of Liberty
After 12 years, the Zerg return...
Posted in Personal Tech, 6th August 2010 13:12 GMT
Review Starcraft II has been a long time coming and regardless of whether you're a real-time strategy fanboy or not, Blizzard's newest release for PC and Mac has generated quite a buzz. It promises to fill a void that has been sorely felt in the console-based wars of recent years.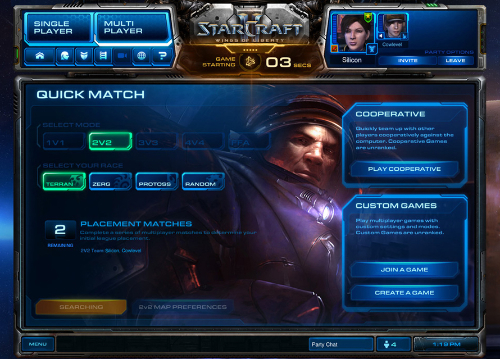 Get started with a quickie
The first thing that becomes apparent is that Starcraft II is a faithful hound and builds nicely upon the original experience. Blizzard hasn't changed the core game play, but that's not saying there isn't an evolution in the overall architecture.
Base construction and the collection of resources are the guts of this game and fans will be pleased to see that the solid backbone of this hasn't changed. What is new is the amazing amount of customization, which helps you build a totally unique and complex anatomy upon this veritable backbone.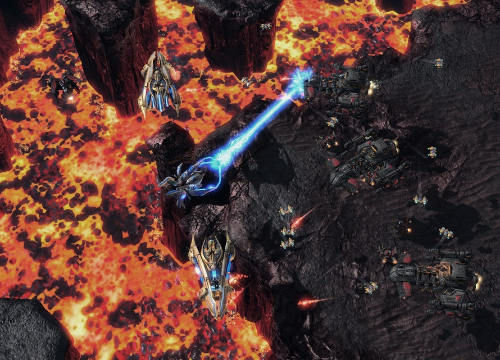 Fire in the hole
Veterans, fanboys – who will, after that epic wait, no longer be boys – and those who have played before, will be familiar with the galactic events on which the narrative is based. The rest of us get a general synopsis during the installation, so don't worry if you were only six the first time round.
Campaign mode
Starcraft II focuses on Jim Raynor and the Terrans as they attempt to stick it to the man by throwing off the yoke of the Dominion. However, soon the Zerg show up looking for some artifacts. In campaign mode there are 29 single-player missions and Blizzard shows its skill and experience by refining and streamlining the missions, so there is very little repetition.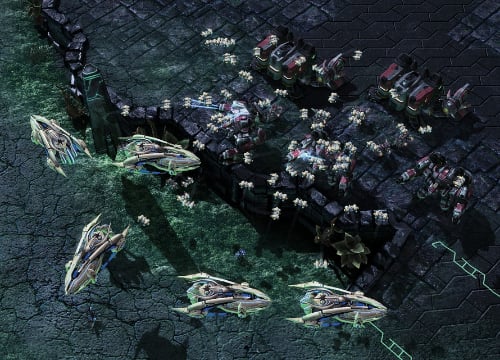 Get lost in the gameplay
Before getting to grips with Starcraft II, I would have been cynical if someone were to suggest that RTS games can elicit emotions from players in the same way MMORPGS or FPS can, as they are often almost detached and sterile to play. But Blizzard allows you to become emotionally immersed in this game by showing that it has really spent development time on the variety and depth of the campaign missions.
Whether collecting resources in beautiful lava-based environments, destroying propaganda tools of the Dominion or controlling big fat mechs on rides of destruction, the dynamic change in tempo and object switching mid-mission allow you to decide how long to get lost in the game play.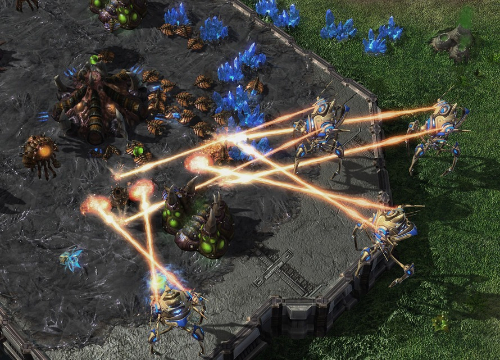 Cross fire from angry shooters
Campaign mode is truly compelling; while offering a gradual learning curve for newbies it is peppered it with opportunities for exploration and tactical strategising to keep veterans engaged. Blizzard has set a pace diehard players will appreciate and one which might mark this out as a genre defining game.
Multiplayer..
I really enjoyed the campaign single player game but we all know the next few months of our lives are going to be swallowed by the on-line multiplayer experience on Battle.net. Blizzard's on-line service is the deal breaker because, based on what I have played so far, it is going to be worth the sacrifice. But sorry, no LAN parties here, you'll just have to add friends in-game or set up a list. Friends not online? I'm finding the map editor a lot like crack: quick, easy and leaving you coming back for more.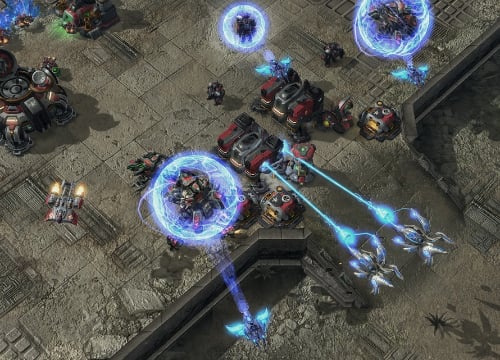 Running rings round them
The first thing I noticed in multiplayer was that – although there are strengths and weakness in all the three playable races – there is an amazing balance, correcting the previous game's tendency for Zerg to overpower the others. The Protoss rely on their technology, the Terrans are a uniform organization and the Zerg are a smothering swarm.
If you haven't played before you might find multiplayer, and its ebb and flow, hard to get to grips with, but man up, stick it out and you will start to notice the attention to detail that Bizzard has put in to make it the experience that could convert a new generation to RTS.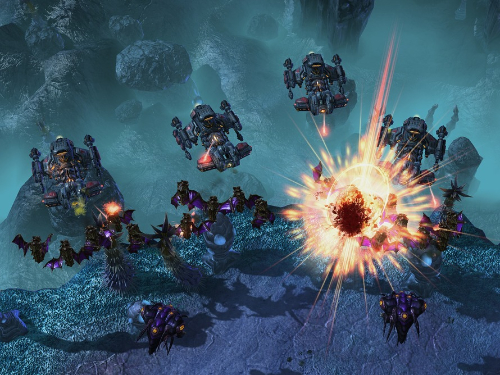 Booooom!
We all like to know our rank in the scheme of things – to find out how good you really are and get into ranked matches – so you play a series of games to determine which league you'll be placed in. But don't get scared, you can play around 50 preparatory games before being dropped into Zerg-infested waters.
Graphics..
I'm all about the graphics and they are pretty good but, again, even playing on my XPS they don't quite compare to some of the console titles I have reviewed recently. They are sturdy and handsome, but after a 12-year wait, I am a bit disappointed with a game that doesn't take my breath away visually. That's not to say that the maps and environments aren't ravishing and the characters well rounded, because they are; I just hoped for something devastating.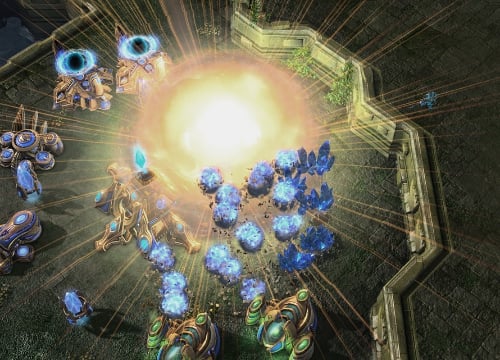 Light the way
The interactive environments such as Rayor's starship – the Hyperion – add to the game as a whole. Want to hear a song about shooting Zerg? Check out the jukebox in the cantina. But again, the sound is pretty generic and, like the visuals, I would like to have been blown away.
All this of course won't matter to die-hard fans, who will probably be getting teary-eyed over the familiarity of some of the soundbites. As for newcomers, if their expectations aren't too high, it's unlikely they'll be disappointed with Starcraft II.
Gushing aside, Blizzard wouldn't be Blizzard without wanting to fleece us for a bunch of cash and its decision to split Starcraft II into three titles is a clever business move. Starcraft II: Wings of Liberty only focuses on the Terran campaign and, while the campaign is broad and gratifying, it is also just one-third of the story. Blizzard has promised that the Zerg and the Protoss campaigns are coming soon, but guess what? You're going to have to pay for them.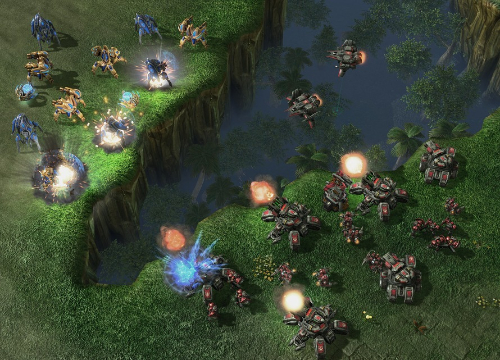 The grass is always meaner
Verdict
After fighting off the swarm, only you can decide whether you think you want a long-term relationship with the Starcraft franchise, but from my own experience of this game, I know I do. It's been a 12-year wait Starcraft II to emerge, but play it and you can understand why it has taken so long; it is truly a glorious experience and changes this game from a potential meh, to W00T. Is it going to be a classic? I'll tell you in another 12 years.
More Games Reviews

3D Dot
Game Heroes
Limbo
Blacklight:
Tango Down
Crackdown
2