Original URL: https://www.theregister.co.uk/2010/08/05/review_phone_nokia_c3/
Nokia C3
Budget Qwertyphone that looks the business
Posted in Personal Tech, 5th August 2010 07:02 GMT
Review It might look like Nokia's high-powered, business-centric E72, but the C3 offers a stripped-down spec with a price to match and the emphasis on social networking with a full, hard-key Qwerty keyboard.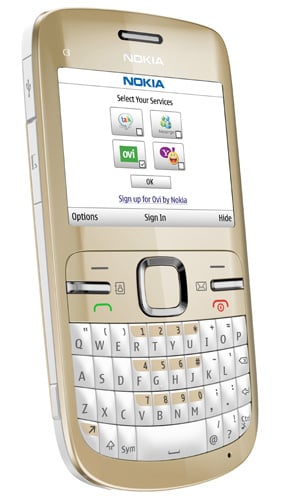 Key feature: Nokia's C3
The Nokia C3 isn't exactly tiny at 116 x58 x 14mm and 114g but its tapered edges mean it slides easily into the pocket. The front is made of a glossy plastic with a 2.4in screen atop an old-school five-way navpad which is surrounded by two soft keys, two hard keys for social networking and chat services, plus call start and stop. Beneath those is the full Qwerty keyboard with 37 well-spaced keys that respond nicely to touch.
It's very similar to the keyboard on Nokia's pricier E-series handsets and therefore something that the company has already proved itself very good at. The keys are made of a tactile rubberised plastic and raised in the middle, making them very easy to find under the thumbs.
Handy punctuation like @ and the full stop have their own keys and the sizeable space bar is bigger than the E72's but at a cost, the loss of two keys – exclamation mark and apostrophe, but that's no big deal.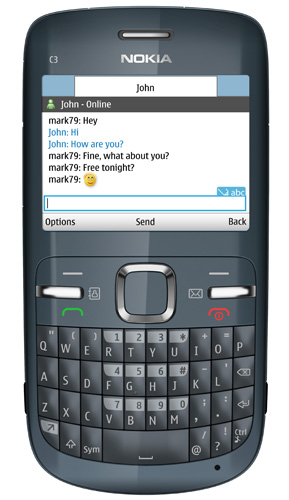 No 3G connectivity, but Wi-Fi is on-board to broaden its reach
The 2.4in LCD screen offers a less-than riveting 320 x 240-pixel resolution, but it's perfectly fine for displaying icons, text and web pages, less so when it comes to delivering pics and video.
The home page is divided into the familiar panels, with one at the top of the screen featuring your contacts, the middle one shows your social networking and email updates, and the bottom one with icons for music player, FM radio, 2Mp camera, Internet and Wi-Fi.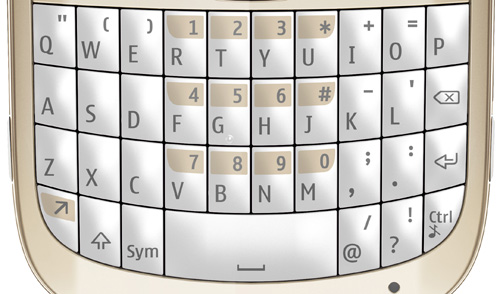 E72 keyboard knowhow migrates to the entry-level handsets
You can add Facebook and Twitter accounts and the chat services on-board include Google Talk, Microsoft Messenger, Nokia's own Ovi and Yahoo Messenger. All are easy to set-up, as is e-mail, requiring just an address and password in most cases.
There's no 3G connection on the Nokia C3, just GPRS, which limits its effectiveness for web surfing on the move, though it will normally be fine for low-bandwidth activities like checking your e-mails. There is Wi-Fi however, so broadband surfing is possible if you can get a connection. The Opera Mini browser is fast and efficient too.
The C3 relies Nokia's Series 40 platform, a step down from the Series 60 we've seen on its fancier handsets. It's not bad, really, but it does look rather dated, and isn't always as intuitive as it might be. It ain't no Android.
The camera barely meets the basic spec for a phone these days. Just 2Mp, with no flash or autofocus, though there is a 4x digital zoom. Pics don't look too bad on the C3's screen but they won't bear much blowing up when you transfer them to a computer. No GPS means there's no geotagging option but it starts up very quickly in about two seconds, so it could come in handy for quick snaps.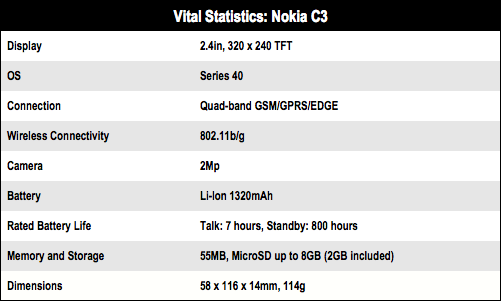 Unfortunately, the same speed doesn't seem to apply when switching between apps, and there can sometimes be a wait of several seconds, especially when you're opening the Communities app.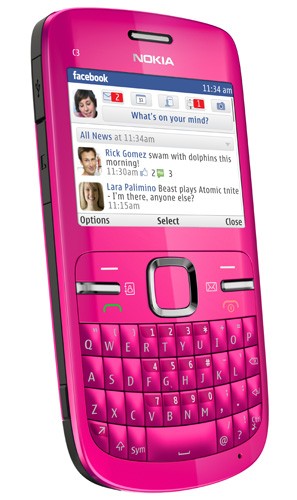 Also available in pink - shocking
Movie watching isn't great on the small screen, though it can show H.263, H.264, AVI or MPEG-4 formats. The music player isn't bad at all (MP3, AAC or WMA formats) though the supplied headphones feel very cheap and bass-light. Fortunately, it's easy to add a better pair using the 3.5mm headphone jack or stereo Bluetooth. There's an FM radio on board too with ten presets.
There's only 55MB of memory on board for storing your media but Nokia provides a 2GB MicroSD card in the box, which you can bump up to 8GB if needs be. Battery life is pretty good though, and we got a good three days out of it before we needed to recharge.
Verdict
The Nokia C3 is a decent little communicator with a good set of features at a low price. It might lack the sophistication of the better touch screen smart phones and is let down by the lack of 3G and that laggy processor, but it has a great keyboard and some pretty good social networking integration as well as decent battery life. ®
More Mobile Phone Reviews

Alcatel
OT-808
Motorola
Flipout
Nokia
C5
Sony Ericsson
Yari