Original URL: https://www.theregister.co.uk/2010/08/03/ten_essential_symbian_apps/
Ten Essential... Symbian Apps
Software for your Nokia
Posted in Personal Tech, 3rd August 2010 07:02 GMT
Product Round-up Nokia may have come a little late to the app store party, but it's Ovi Store now has plenty of software to choose from, whether you're looking for games or utilities, productivity, comms or entertainment apps.
Not sure where to start? Well, you can start by downloading the following ten apps that will help you get the most from your handset.

Battery Extender Pro
By the time you've taken your phone off its charger at seven in the morning, left it polling your email server all day and checked Facebook during your commute, it's a minor miracle if it lasts all the way back to the charger at night. Battery Extender Pro actually works, piling all of the factors that might affect battery life into one handy screen, then allowing you to change how quickly your phone's features are turned off depending on how full your battery is. For instance, if your battery is running down, you can limit the brightness of the screen, or decrease how long the GPS chip is left running. The same goes for Bluetooth, and you can even choose specific applications to shut down. The app comes with a number of profiles. Max Battery is the most aggressive, but rendered my phone's screen sadly illegible thanks to the backlight turned down as far as possible. Improved Battery gives a good blend of performance and power-saving, though, and you can customise the settings to your liking. This flexibility - which allows you to find your own balance - is Battery Extender's best feature.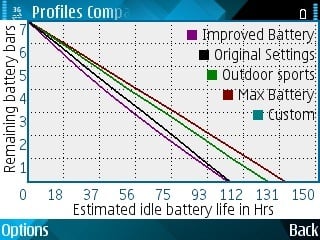 BBC iPlayer
You can't help but love BBC iPlayer. All that lovely Beeb content, all free, and all the time. But if like most people you've got a commute, you'll want to be able to watch the first half of Top Gear - or, indeed, something good - over breakfast, before finishing it off on the train. A tiny app - under 1MB - iPlayer is a small but well-formed piece of software, giving you access to all of iPlayer's content, and even adding the option to watch TV channel live over a data connection. Video quality varies depending on the speed of your connection, which is handy, and even over a 3G connection things are reasonably smooth, albeit with frequent "Buffering…" messages. If you'd rather watch high-quality video – or don't have a data connection on your commute – there's a download option. I'm shocked to report getting DRM permission works flawlessly, and you get video optimised for mobile a one-hour programme should occupy no more than about 100MB – perfect for downloading over your home network and watching later.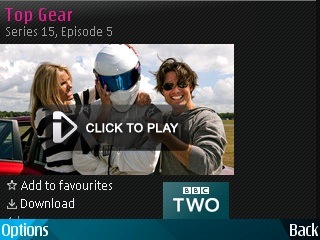 eBuddy Mobile Messenger


We at Reg Hardware would argue that text messaging covers virtually all the bases when it comes to getting in touch with people, but instant messaging is the way to go when it comes to chatting with people in other countries. eBuddy does a simple trick, but does it well, tying multiple IM accounts into one slick interface. It supports the big three: MSN, Yahoo and AIM, as well as Facebook, Google Talk and ICQ - remember that? Adding a new account and downloading your contact list is quick - it certainly makes Skype's application feel clunky by comparison. There are only a few drawbacks: you can't send or receive files, and eBuddy doesn't recognise your phone's camera for any purpose other than changing your profile image. It would also be ideal if it supported Skype, allowing you to resort to Skype's own application for calling rather than instant messaging. As it is, as a way to quickly get in touch with your IM contacts, eBuddy comes well recommended.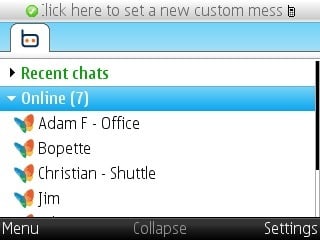 JoikuSpot Light
If you have one of those new-fangled iPads, you'll be acutely aware that the 3G version is rather expensive. Alternatively, if you've ever tried and failed to locate the data cable for your phone to share its 3G connection with your laptop, you'll be tempted by JoikuSpot, which turns your phone into a MiFi-style device, minus the 40-quid up front charge and accompanying bill. The free version is rather pared-back: you can't set a passcode or choose the name of your network. That's fine if you're not within range of anyone with a laptop also looking for an internet connection, but less than ideal if you want to hop online in a busy cafe. The full version costs just £8, though, and allows various handy tricks besides security: VPN tunnelling, IMAP and POP3 connections are all missing from the free version. Setting your phone up as a hotspot is easy - just choose the data connection you want to use and it starts automatically. There were no problems connecting a MacBook to the web, and this neat little app could be a godsend the next time you find yourself wanting proper desktop browsing when you're outside the range of a wireless connection.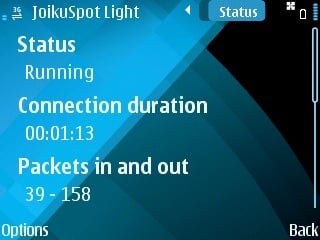 Maps Booster
You can't argue with the benefits of location-aware applications and map apps on mobile phones, but GPS has its drawbacks: it's slow to get a location, next to useless indoors and in crowded cities, and the kiss of death for an almost-flat battery. Maps Booster aims to speed up getting a location fix by tying together GPS data, cell-tower data and a database of over 100 million Wi-Fi networks to tell you where you are, fast. Coverage is restricted to the less adventurous, with Western Europe and the US enjoying the most data, but impressively, Maps Booster really works. It cuts down the amount of time you're waiting around for a fix, and is a relative no-brainer for anyone frustrated by their phone's maps performance at just a quid.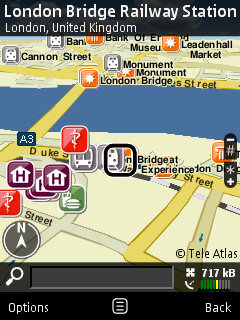 Reg Rating
80%

Price
£1
Download
Ovi
More Info
Skyhook Wireless

Opera Mini
You don't have to use it for long to realise that Symbian's default browser is a pretty dull piece of software, even for a web browser. Opera's choice is much more fully-featured: tabbed browsing and a handy dashboard with your favourite sites ready to go at startup are both useful new features. It's also a tad faster on image-heavy sites: Opera pre-compresses images at its end before sending them over the internet, making downloads faster on slow cellular connections. By default it attempts to load the desktop, rather than mobile, version of sites, which is useful if you want a page as its designer intended, and you can opt for the mobile version if it's faster, though. Other niceties, such as offering to remember your passwords, are also handy. There aren't many drawbacks – its initial loading time is on the long side, but you can always run it in the background until you need it.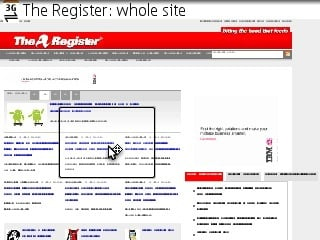 PDF+ Basic
Symbian comes with a PDF reader, of course, but it's fair to say it isn't much cop for those who deal with incoming PDF attachments every day. Costing just £3, PDF+ Basic expands on Symbian's built-in options, offering document reformatting to get your documents to fit on-screen, as well as touchscreen support. Of course, there's the ability to search within documents and add bookmarks. It's not perfect, though - while some Symbian apps run beautifully quickly, PDF+ Basic isn't one of them, and if you're attempting to view a large PDF, prepare yourself for some frustrating delays between choosing to zoom in and it actually happening. If you work with PDFs every day, PDF+ Basic adds some excellent new features.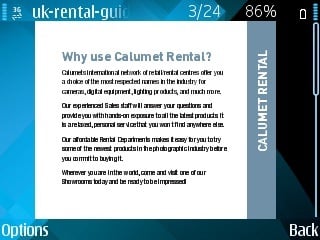 Reg Rating
70%

Price
£3 

Download
Ovi
More Info
mBrain Software

Qik
Recording a video, editing it and uploading it hours - or even days - later is a relic of the last decade. Live streaming is where it's at, and it's hard to name a candidate that does a smoother job than Qik. Set up the free app and an account to go with it and you'll be broadcasting in seconds. Unless you create a private channel your videos are streamed to the internet - the only thing left to do is think of something interesting to film. Predictably, streaming video over a 3G connection was ropey at best, with the connection dropping out frequently. If this happens, your video is cached locally and uploaded when your connection recovers. Streaming by Wi-Fi worked superbly, though, with an impressively short delay of around a second and a half between filming something and it arriving online. Your videos are automatically saved by Qik as well so you can watch them later.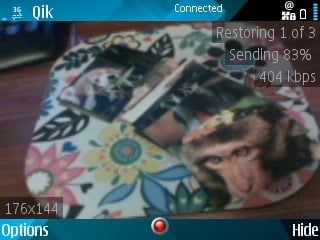 Snaptu
A jack of all trades is the master of none, goes the saying, so you could be forgiven for being a bit apprehensive of Snaptu, which ties together Facebook, Twitter, an RSS reader, The Boston Globe's Big Picture archive, and a few more faintly random-feeling apps. It looks like a bit of a mish-mash, but the bits you'll use the most - Facebook and Twitter, and possibly the Transport for London travel planner - work superbly. The applications are exceedingly quick - they scroll smoothly and are a vast improvement on their mobile web versions. Best of all, it's free. Snaptu is supported by a few unobtrusive ads, which are well worth the minor hassle for such an impressive application.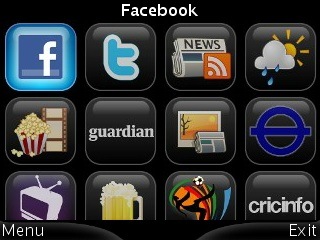 Skype
Any application that takes advantage of Skype's API is obviously hostage to the fortunes of Skype's own servers, and that means performance of this slow-to-start app is a bit variable. For instance, I've had it work perfectly when calling my bank over a ropey Wi-Fi connection in India, and I've had long (almost a second) delays when calling my wife's mobile when we've both been in virtually the same postcode. But the benefits are undeniable: if you have a Skype-in number your mobile will ring when someone calls it, and you get access to voicemail, instant messaging, and your Skype contact list from wherever you are. The ability to make calls for pennies from anywhere with a Wi-Fi connection is a definite plus for anyone who frequently finds themselves out of range of a decent GSM signal, or out of the country.