Original URL: https://www.theregister.co.uk/2010/07/31/review_hd_tv_sony_bravia_kdl_32nx503/
Sony Bravia KDL-32NX503 32in LCD TV
Smaller sized set with big screen extras
Posted in Personal Tech, 31st July 2010 08:02 GMT
Review Monolithic is a desirable word, unless it's applied to small things like a mobile phone, a peanut, a shrew. So does it fit a flatscreen TV, especially one at the lower end of screen sizes deemed suitable for a living room?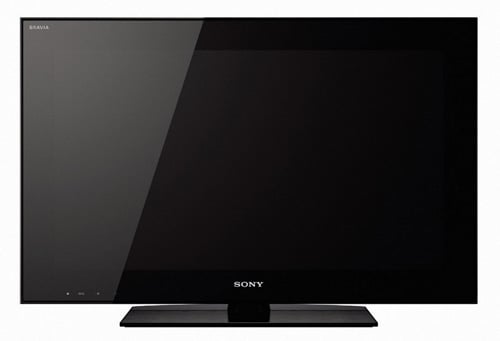 Leaving space in your living room: Sony's Bravia KDL-32NX503
Monolithic is the name of the design applied to Sony's latest Bravia TVs and really just means that instead of a screen surrounded by a raised frame, this TV has a completely flat front – see-through for the most part – with a black edge. Or, to put it another way, there's a sheet of plastic stretched across the front of the screen to give it its frame.
Me, I don't like it, especially on this Bravia KDL-32NX503. Being a smaller TV size, it has the effect of making the whole thing look cheaper and where the extra level of screen makes it pretty reflective, which isn't good.
I should add that I think I'm in the minority with this view, as the Monolithic series has met with much critical success. It also suits living rooms, where the TV is mounted on a low coffee table, say. You can choose between a perfectly vertical TV or fix the stand so it's tipped back by 6 degrees.
This is an affordable TV, even though it's not super-cheap. Even so, don't expect it to be super-thin. At over 4ins deep it's certainly acceptable, just not as slim as some rivals. And given its low price, it's worth pointing out that this TV is well-connected, from its four HDMI sockets to Ethernet to USB among others. Also, although it's a relatively small screen size, Sony has squeezed in a full 1080p resolution.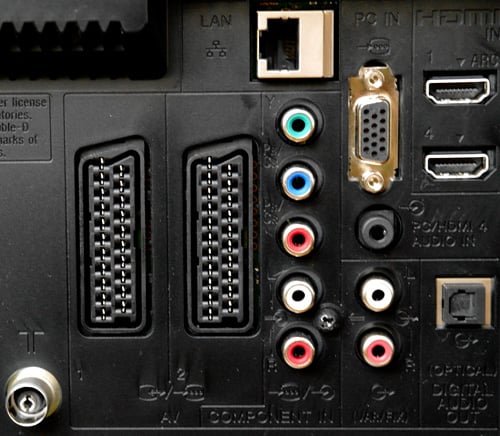 Ethernet for Bravia's Internet Service – a Wi-Fi dongle is optional
Power up the TV and it pings into life very quickly, with Sony's logo front and centre. The first time you turn it on, set-up is simple. Auto-tuning is fast on the normal settings, around 2 minutes, or flipping endless if you want the TV to search every frequency on the Full setting. In fact, the normal search yielded everything, including three HD channels – BBC HD, ITV1 HD and Channel 4 HD, for those in a Freeview HD-enabled area. Image quality on these channels is, unsurprisingly, very good.
The Ethernet port is to access the Bravia Internet Service, which includes YouTube, LoveFilm and a virtual concert hall from Berliner Philharmoniker and music from America's National Public Radio. Some of this is paid-for content, but the good news is it's extremely easy to configure. There's no Wi-Fi built in, although a dongle can be bought separately. For tests, I connected the TV to the router via HomePlug connectors, and it worked well.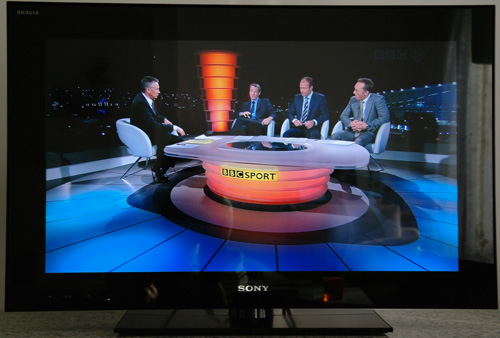 Only a 50Hz set, but little to complain about with the picture
The range of programming is decent and includes HD video streaming – a data buffer helps streamline this. All the programming is accessed using a dedicated Internet Video button or from the main menu. The TV uses the same crossbar styled menu system familiar from the PlayStation 3, which is straightforward enough. The manual is pretty thin because an electronic manual is built into the TV, accessed through a button on the remote marked i-Manual. This isn't bad, but if your query is why the TV isn't working, it won't help much.
The remote is a curious, but largely pleasing gizmo, slightly concave on the front with a flat back that's principally noticeable because it has the on/off button built into the underside. This is obviously just a cute gimmick, and the power button is on the front as well. Other dedicated buttons include one that switches subtitles on and off and a screen format changer. The remote has a Guide button so you can choose channels from the now-and-next list with a thumbnail of the current station.
As for the picture, it's sharp, colourful and realistic. The 1080p resolution and the Sony Bravia Engine 3 on-board – which does a great job with upscaling – means you don't feel shortchanged with any standard-def material which is strong. This is a 50Hz set, not 100Hz or above, so good though this picture is, it can't quite match top-of-the-range models.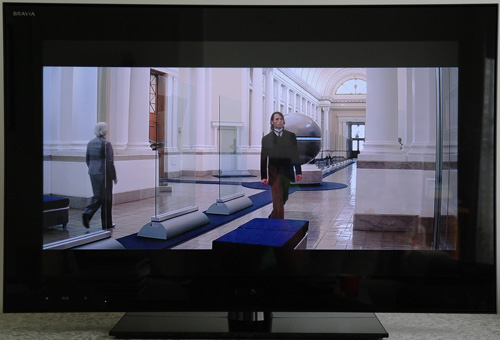 Built-in Freeview HD tuner
Switch to Sky's HD channels or Freeview HD and things get markedly better. The Sky Movies screening of Night at the Museum 2 found detail in the tiniest areas, with variety even in the shadows of Ricky Gervais's largely dark suit – levels of black tone were particularly impressive. Skin tones were subtle and natural, and even action scenes were largely artefact-free. Not perfect, but certainly respectable.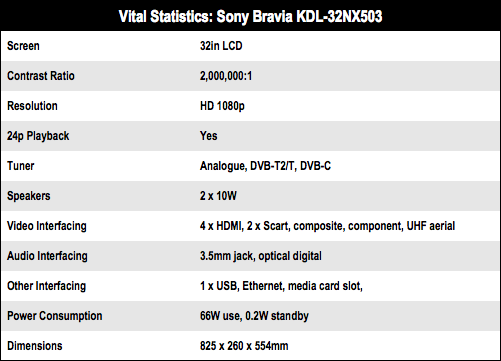 There are easy tweaks to improve things – a dedicated Scenes button on the remote lets you choose between Sport, Cinema, Game and other settings. These were subtle differences on the whole, though the variations in audio were more pronounced.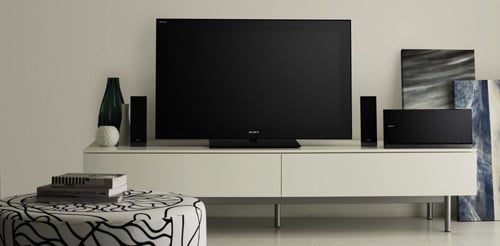 Ticks a lot of boxes, so worth shopping around for
Sound, as usual on flatscreens, was decidedly average, lacking much bass or power. Not enough to spoil things, but not enough to wow you. Power consumption tests revealed the following: 72W cinema mode, 69W general mode and 13W in the relatively thirsty Quick Start standby, with normal standby being in line with Sony's 0.2W claim.
Verdict
If you like the styling of the Monolithic series of Sony TVs, this is a decent and affordable TV. It's a shame there's no 100Hz refresh rate but, for the most part, it's not something you'll notice, especially if you can tune into one of the HD channels. Blu-ray discs and HD content from Sky are similarly effective. Even standard Freeview has a warmth and precision that SD broadcasts sometimes lack. And those Internet extras are attractive too. There are better LCD TVs in terms of picture quality, but Sony's set scores for strong connectivity, ease of use and reasonable – though far from outstanding – value. ®
More HD TV Reviews

Group Test
Freeview HD TVs
Panasonic
Viera
TX-L32S20B
Sharp
Aquos
LC-52LE700E
Group Test
3D TVs