Original URL: https://www.theregister.co.uk/2010/07/30/rillington_place/
Street View spooked by 10 Rillington Place?
Orwellian black Opel scoots past infamous murder site
Posted in Bootnotes, 30th July 2010 09:14 GMT
Until now, we at El Reg have assumed that Google's Street View spymobiles are as fearless as they are all-seeing, but it appears this may not be entirely true.
We direct readers to strange and somewhat spooky goings-on at 10 Rillington Place - the infamous west London house where between 1943 and 1953 John Reginald Halliday Christie strangled at least six women.
The case is surrounded with controversy to this day. In 1950, Timothy John Evans confessed to having killed two people at the house - his wife Beryl and daughter Geraldine. Christie appeared as a prosecution witness at the trial, and Evans was convicted and hanged for the killing of Geraldine.
No one knows if Evans or Christie killed Beryl, but Evans was granted a posthumous pardon in 1966 on the grounds that Christie almost certainly killed the daughter. The case proved key in the final abolition of the death penalty in 1969.
What is certain is that Christie strangled six women at the house, including his wife Ethel. After he left the property in 1953, another tenant discovered the remains of three of his victims in an alcove in the ground-floor kitchen. A police search unearthed two further bodies in the garden and that of Ethel, which the murderer had hidden under the front room floorboards.
Christie was hanged in 1953 at Pentonville Prison, on the same gallows as Evans. There's more background on the case here.
Rillington Place was renamed Ruston Close in May 1954, and finally demolished at the end of 1970, shortly after it served as the location for the Richard Fleischer film in which Richard Attenborough is a convincingly creepy Christie.
Pathe was on hand to capture the street's demise, as this (soundless, sadly) piece of archive shows. Number 10 is the house with the white door at about 30 seconds in. Note the excellent health and safety practices:
It's surprising, given the location's notoriety, that there's some confusion as to where Rillington Place used to be. The residents of nearby Ruston Mews make it clear that their surviving street is not the original Rillington Place, as many visitors apparently believe.
In fact, here's where Rillington Place was, indicated by the parallel lines. Number 10 was on a spot now occupied by 22-29 St Andrew's Square (arrowed).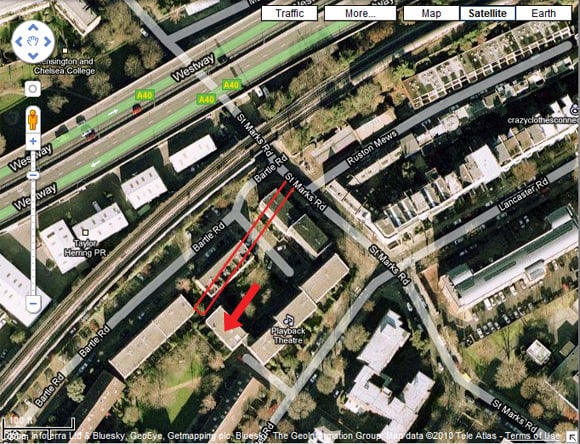 The location is definitively nailed by this fine cartographical detective work, and we've overlaid the house and garden onto a closer Google Maps sat view: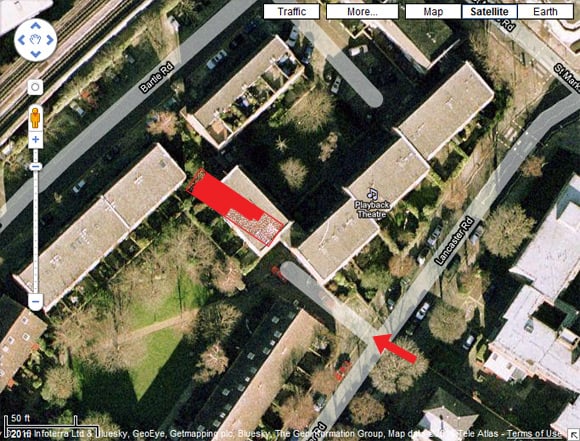 So, you're asking - what's the score with Street View? Well, just where 10 Rillington Place was is visible from Lancaster Road, specifically from the entrance to Wesley Square (arrowed above). But while there's a photo of that here, this is as close as you can get on Street View: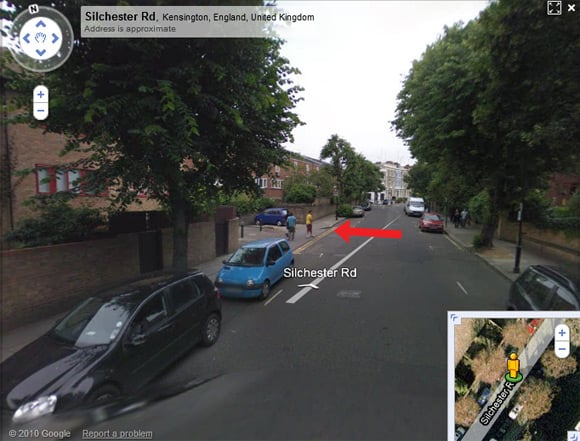 Try advancing towards Wesley Square (arrowed), and you're whisked briskly to safety down Lancaster Road. Give it a go for yourselves here.
Well, you might argue that the square has been removed from Street View on the grounds of privacy, or to discourage those Rillington Place tourists who actually know where the real site is.
Alternatively, a technical glitch could be to blame, but since Friday is silly tinfoil hat day and we're feeling a bit black helicopterish, we're going to insist that Google spymobiles also get the willies.
In this case, it could be that in the process of slurping unprotected Wi-Fi networks, the black Opel's sensitive snooping equipment picked up disturbing vibrations of past murder most foul, and simply gunned it down the street in panic. ®