Original URL: https://www.theregister.co.uk/2010/07/30/review_hd_pioneer_bdp_330_blu_ray_player/
Pioneer BDP-330 Blu-ray player
Pure and simple
Posted in Personal Tech, 30th July 2010 07:02 GMT
Review If a recent survey for HP is to be believed, Britons remain committed to packaged media, with 75 percent wanting hard copies of films in a box. So despite the advance of video streaming and downloading, perhaps it's not yet time to write off conventional disc players, like Pioneer's latest Blu-ray offering, the BDP-330.

Minimalist in more than just appearance: Pioneer's BDP-330
A mid-level machine, for which read: quite expensive, the BDP-330 has a glossy black finish with a minimalist outline and a front display that can be turned off during playback. The accompanying remote control borders on the plain. Main playback controls are easy to find but many buttons are small and it's overloaded compared to players that hide lesser features in on-screen options.
Speaking of which, the user interface is disappointingly dull, more like an early DVD player than a 21st-century HD deck. Although it's clear enough to navigate, I expected more eye-candy given the price.
It's a BD-Live Profile 2.0 player, so you can connect to the Internet from Ethernet or to a wireless LAN with the optional AS-WL100 dongle that plugs into one of the two USB ports. Wired is best because you'll also need to attach a USB stick of at least 1GB if you want to use the BD-Live on-line extras that certain discs offer. As with numerous BD players, there is no internal memory allocation for this.
You can also play MP3 tracks and JPEG photos from USB sticks but no other multimedia. As expected, the player handles pre-recorded CDs and DVDs as well as nearly every recordable type for home-made footage, including the AVCHD camcorder format, which can be burned onto DVD. However, there is no SACD and DVD-Audio support or media streaming over the network.

HDMI 1.3 only on here, so no 3D titles support
Compensating for the underwhelming menu graphics is the nifty iControlAV remote controlling application for the iPod Touch and iPhones – if you run a Wi-Fi router and connect this player to the network.
The Internet link means that firmware updates can be 'pushed' automatically, or you can use a USB stick to copy them from a PC. While some recent players can access plenty of on-line content – including the BBC iPlayer in HD in Sony's case – options are limited to just YouTube with the BDP-330. It's not so much a 'walled garden' approach, more of a window box. That said, its YouTube playback looks fine, even enlarged on a 42in TV, though it plods through the menu options compared to Panasonic's speedy rival players.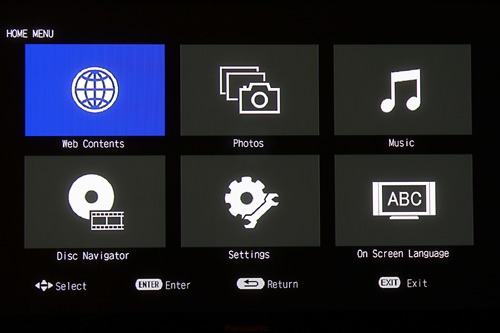 No iPlayer support as yet, but will play MP3s, photos and BD-Live content
The roster of other features is not huge and some are straightforward conveniences. The quick-start option uses 7W of power in standby (instead of virtually zero) and merely speeds up the player's readiness rather than accelerating Blu-ray disc loading times, which can still clock up between 30 and 60 seconds.
The player's HDMI output is version 1.3, which means, among other reasons, that it's not 3-D ready. However, it does bring some refinements, including Deep Colour (improved colour gradations) and x.v.Colour (wider colour gamut) as long as your display and the source material are compatible too.
Blu-ray's digital audio formats – DTS-HD Master Audio, Dolby Digital Plus and Dolby TrueHD – can be output as a native bitstream or decoded internally by the player and piped through HDMI as multi-channel Linear PCM. It lacks analogue multichannel sockets for feeding non-HDMI amps with uncompressed audio, but you'll at least get basic flavours of Dolby Digital and DTS from the optical port.
The BDP-330 boasts the latest iteration of Pioneer's Precision Quartz Lock System (PQLS) for jitterless transmission of all sound over HDMI, including multichannel LPCM and bitstream. Previous versions of the technology only worked with two-channel LPCM, making it ideal for CDs but not for films.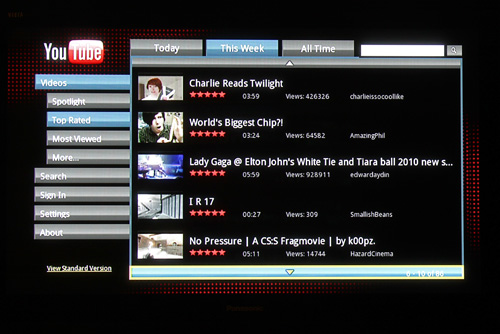 YouTube playback is included, along with Wi-Fi support with an optional dongle
PQLS removes jitter (clock timing errors) that could cause distortion during the final digital-to-analogue conversion in an AV receiver before outputting to loudspeakers. You'll also need a compatible higher end Pioneer receiver, such as the £700 VSX-LX52, to use it in more than stereo mode, though.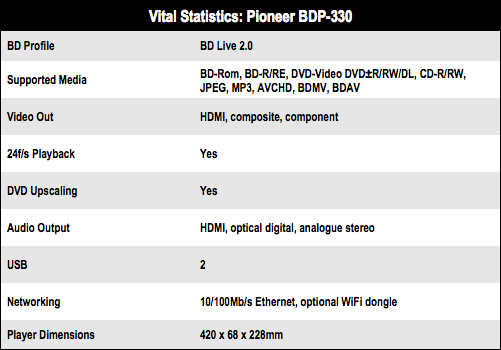 Either way, the audio performance is strong. I partnered the player with a Pioneer VSX-1019AH. The 2009 Star Trek movie's busy soundtrack packs an appreciably weightier punch in Dolby TrueHD compared to traditional Dolby Digital. Meanwhile the CD playback is enjoyably smooth. Whether the PQLS makes anything more than a subtle difference is debatable but it's reassuring to have such tweaks available.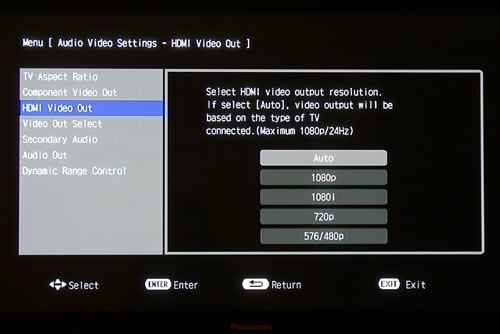 Playback menu options to suit your setup
The Blu-ray picture is good, with vivid quality from the likes of District 9 and The Hurt Locker. The Road, while still dark, appears clearer than on the Panasonic SC-BT735 I reviewed recently – so this Pioneer player is either doing something better or leaving the source as untouched as possible.
Motion is impressive, even if you switch away from progressive scan to 1080i resolution. Panning shots show less of the frame-rate judder that sometimes affects Blu-ray Discs, which is desirable if you don't have access to film-friendly 24-frame modes – Pioneer calls its edition Pure Cinema Progressive Scan – which, of course, this model also offers alongside 720p and 1080p at 50/60Hz.
The DVD upscaling adds decent levels of detail to DVDs without making a pig's ear of the overall picture in the process. You wouldn't mistake it for proper HD but it does a reasonable job in sprucing up your existing library.
Verdict
In the marketplace it seems to be essential for disc players to have a features list longer than a rear-surround speaker cable. Although this one falls short on the kind of trimmings found even on cheaper players nowadays, this model's purpose is to deliver a solid piece of technology that plays Blu-ray Discs very well. If that matches your main reason for buying one, then the BDP-330 fulfils the role admirably. ®
More Blu-ray Player Reviews…

Cambridge Audio
Azur 650BD
Toshiba
BDX2000
HDI
Dune BD Prime
Sony
BDP-S760