Original URL: https://www.theregister.co.uk/2010/07/30/review_camera_instant_print_polaroid_300/
Polaroid 300 instant print camera
Fun retro-snapper revived
Posted in Personal Tech, 30th July 2010 12:08 GMT
Review The news that Polaroid has a new instant camera, after we thought it was done with all that frivolity, is likely to be greeted with squeals of nostalgic joy. While digital is superior in almost every sense there's a real warmth about those 80s prints that we remember adorning fridges and noticeboards. The Polaroid 300 (tsk, these unwieldy techie names) takes you straight back to your childhood, making a spontaneity-encouraging break from all that DSLR refinement.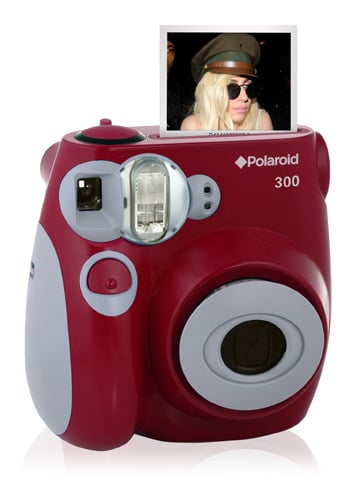 The antidote to a plain fridge door: Polaroid's 300
The 300 is about as basic as cameras get without being made by Fisher-Price. Available in blue, red or black, it's a pleasingly curvaceous and chunky design. It's big, but fits nicely into the hands. There's a dial on the top with four settings - indoor/dark, cloudy, fine and clear. With no manual shutter or aperture controls to be found – what you've got is what you get.
It takes four AA batteries and power-on is achieved when you gently pull the lens casing outwards, push it back in and it's off - all the operation is satisfyingly car-door simple. The shutter button is on the front beneath the flash - which fires with each shot taken, like it or not.
The print slot is at the top, next to the setting dial. At the back there's a counter to let you know how many shots you have left – essential when you've only got 10 per film. The film cartridge slots into the back with ease and is ready to go after one click of the shutter button to process the first blank sheet.
A tiny green light provides the only evidence that you're ready to go - there's just a basic optical viewfinder to peer through, and no LCD screen to guide you. You realise pretty quickly that this is a different way of taking pictures to the one you're used to. Frame your shot as best you can without your usual digital crutch, press the button and lo and behold, with a familiar whirring whine, a rectangular white-framed print emerges.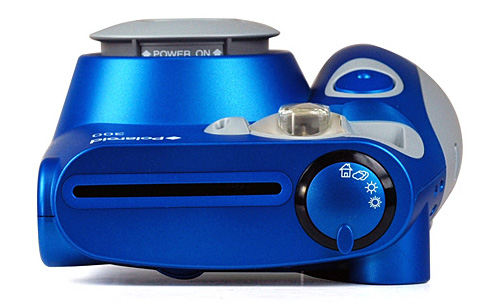 Basic controls, but aesthetically pleasing results
This is the Polaroid 300's raison d'être, and it's an undeniable little thrill to see and hear the print pop up. It may not be the classic fat square of old, which is a small disappointment; but by gum it's an instant photographic print (still with room for a caption at the bottom - although my biro doesn't seem to like it), and for a moment it feels like the unwieldy, impractical, expensive future.
In terms of handling, it's a little awkward. It's good to hold but tricky to position and inevitably a little heavy, and there's some fumbling around to find the shutter button. There's a bit of a parallax issue - the angle between viewfinder and lens is rather steep, making shots quite tricky to frame. I found shots came out with considerable amounts of spare space above my subject's head, or to the side.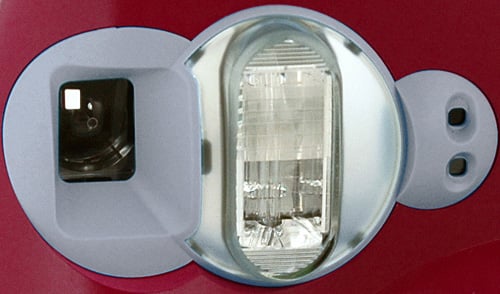 The simple optical viewfinder can take some getting used to
Still, it's easy enough to use, and you'd have to be remarkably uncoordinated to mess up shots completely. I quickly realised I had to forget all my usual digital habits and just point and click with abandon. That's how the camera is meant to be used – it's for snapshots, not pictures. Once you lose your exacting inhibitions, it's fun - like clacking away on a typewriter after years of PC use.
After you pluck the virginal undeveloped print from the top of the camera, it's very hard to resist taking the OutKast route and flapping it wildly to and fro - that was always part of the fun. But the instructions sternly tell you that this isn't a good idea. Boo.
However, it's still hugely enjoyable to watch the image develop, turning from smudges and blotches into a fully-formed photo within about 90 seconds. Each shot comes out with that delightful desaturated look, with the muted colours making every photo appear to have been taken in 1983. It's a lovely side-effect of the process – who needs Hipstamatic?
I tried out all four settings, but it quickly became clear that the default setting - indoor/dark - is the one the 300 was built for. Taking party snaps in darkened pubs or clubs is usually an unfulfilling endeavour, beset by red-eye and white-out. But this is where the 300 is in its element.
Indoor shots taken during the day came out beautifully, and some taken at night - in the extreme conditions of a very dimly-lit basement bar - came out a treat, with none of the usual pesky issues. The flash setting is apparently just right, and the focus was spot on.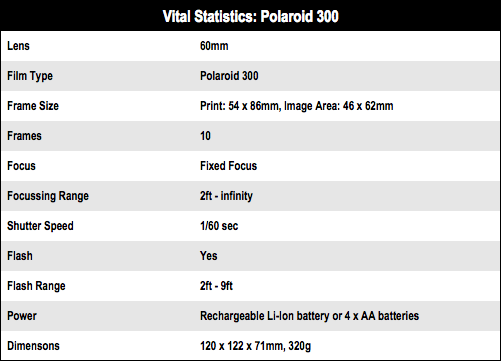 I had varying results with the outdoor settings. The only difference is a damping-down of the flash (used indoors, the 'clear' setting gave a very moody-looking dark shot). I took a picture of a willing model in full morning sunlight on the 'fine' setting and found he almost disappeared into the white wall background.
I got a better result with the 'cloudy' setting - same model by the same wall the next day, when it was overcast. But there was still a lot of bleaching in evidence. There isn't much to choose between the 'fine' and 'clear' settings - the former is for 'bright' conditions, says the manual, and the latter for 'very bright'. It seems superfluous to have both, and I would have been happy enough with just three settings - indoor, cloudy, and bright.
The camera by its nature requires a lot of trial and error, but I'd suggest night shots are going to have the most consistent results while outdoor will be more hit-and-miss. Results are good whether you take vertical or horizontal shots (vertical is the default), and focus is always good; close-ups don't come out so well (and you run the risk of blinding your subject - risky when your subject is a large, irritated dog), but this will surely provide plenty opportunity for comedy.
I got good results in general from a trip to a festival, where the appearance of the 300 was always greeted by a chorus of "oh, I thought they'd stopped making them". To say it's a conversation piece is an understatement. A shot of a gig taken in a shady tent with the indoor setting came out well, and one shot of some festival-goers on the same setting in a very dark tent later came out perfectly.
A couple of daytime shots proved that the fine and clear settings don't always lead to a bleachfest if you avoid full sunlight (one shot taken from the top of a ferris wheel in the middle of the day was unusable because of this). And yes, the Thelma & Louise-style arm's-length self-portrait is possible too.
The counter did let me down once, cheerfully informing me I had six shots left when in fact the film was spent, necessitating a lot of bothersome clicking before I could change it. It may be best not to rely on it, and instead remember to count to ten - although it worked fine for the second film I used.
Individual Sample Images
Scans From Prints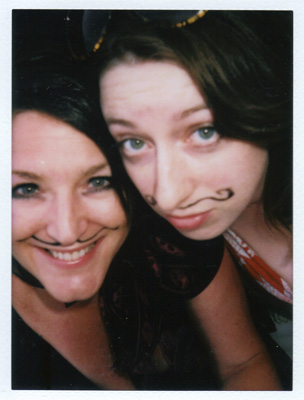 Click for a larger image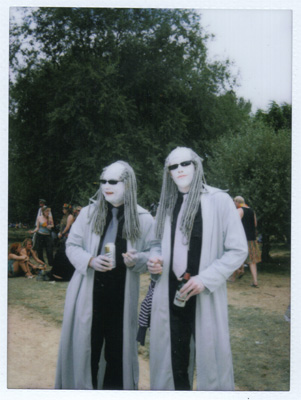 Click for a larger image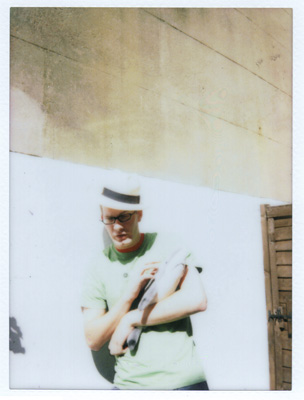 Click for a larger image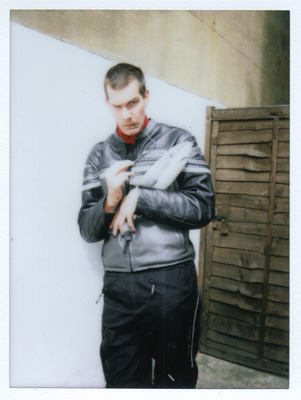 Click for a larger image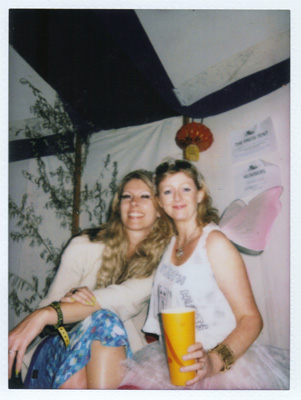 Click for a larger image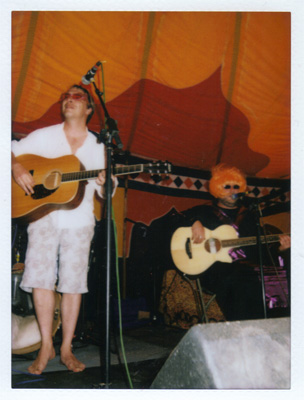 Click for a larger image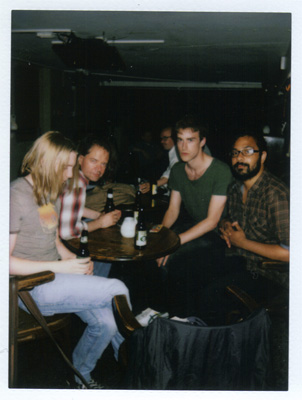 Click for a larger image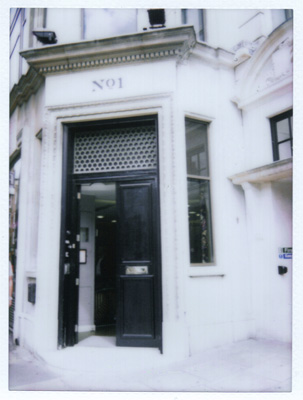 Click for a larger image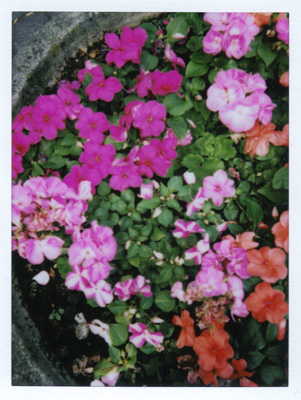 Click for a larger image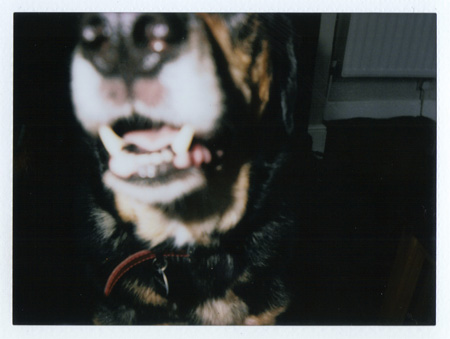 Click for a larger image
It's futile to criticise the scant number of shots in a film - it's the nature of the beast, and must be accepted - but of course it's a pain. Battery life is surprisingly good - remember to turn the camera off between shots and you should have no problem getting through a bunch of films.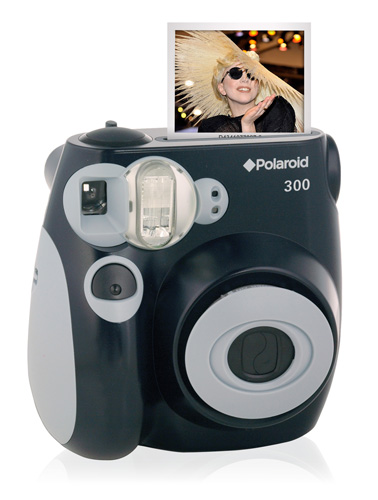 An indulgence maybe, but it's not without its charms
At £13 per film your happy snaps will cost you over a quid a go, and there's a certain conflict between the spontaneous joy of using the 300 and the challenge of taking a quality shot. Buy it for your kids and you may find yourself grabbing it off them before they can take a whole film of wonky pictures of their own shoe. Likewise, you may find yourself being a killjoy in the pub with your tipsy friends as the camera gets passed around and those precious ten shots tick by in a blur of unidentifiable body parts.
Even so, Polaroid is a brand icon, and the 300 is the kind of gadget that will prompt complete strangers to come up and ask you questions - it's an excellent ice-breaker, and brilliant fun on a night out with mates. It's the polar opposite of your usual digital snapper – which allows you to cock up as many times as you like – and while that's restrictive, it can also be liberating.
There are obstacles to taking a decent shot, but you can can work with them, and while seasoned photographers will obviously get bored quickly with the lack of flexibility, it's missing the point to expect subtlety. Almost anything that comes out framed in that instantly-recognisable white margin looks good, even if it's a bit crap. It's a unique way to take pictures, and the results are often delightful.
Verdict
The Polaroid 300 is a social animal, happiest in the pub or at a party late at night, and (ahem, presumably) easy to operate inebriated. It's a novelty item, of course, but while you might not be able to produce art, you're guaranteed to have fun with it. Even if you do have to scan everything in to put it on Facebook. ®
More Camera Reviews…

Ten Essential
Budget Compacts
Pentax
Optio W90
Olympus
Tough 8010
Veho
Muvi Atom