Original URL: http://www.theregister.co.uk/2010/07/30/3d_dot_game_heroes/
3D Dot Game Heroes
The closest you'll get to Zelda without dusting off your NES?
Posted in Personal Tech, 30th July 2010 16:04 GMT
Review Feeling nostalgic for 8-bit gaming? Then 3D Dot Game Heroes will, no doubt, satisfy. There's no need to drag out your NES as this square-edged upstart hails from the land of Sony and is exclusive to Playstation 3. With fervour for the 1980s increasingly present in popular culture (Hot Tub Time Machine, anyone?), 3D Dot Game Heroes buys into this sentimentalism and looks, plays and sounds like nothing else around since 1986.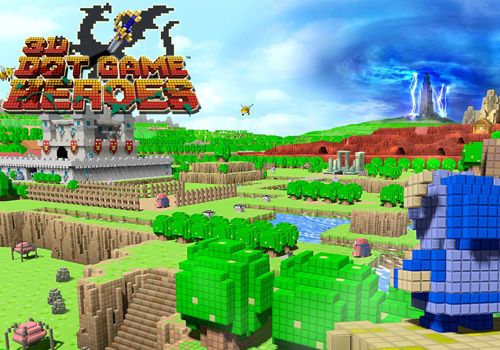 In the merry old land of Dot
Being an Alias Maya convert, 3D Dot Game Heroes encourages me to dabble with its unique character design options, where you can rearrange cubes to make your very own pixel powered hero. It looks a lot like Atlus has taken 2D 8-bit and 16-bit game sprites from the 1980s and added a 3D effect for you to play with. No NURBS here though, boxy rules!
If you've got the time to waste, this is a fun way to add some 3D modelling skills to your retinue. Going down the ready-made character route also gives you a pretty good variety: want to be an assassin, a dragon or Father Christmas? Done. Apparently you can also trade designs with friends with USB storage.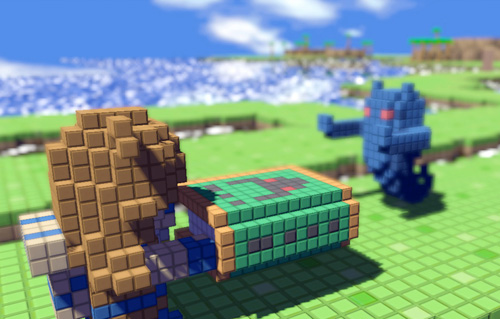 "I'm gonna knock your block off!"
Your hero's blade is also upgradeable as you progress through the game, letting you add length and width to create a sword that fills the whole screen. Killing everything in sight is satisfying, but only an option if you're fully powered up.
The story begins...
The narrative starts off with the land of Dotnia being 2D and slightly old-fashioned. All changes thanks to the King, who recruits a nasty religious type with some black magic to spice things up, thereby giving Dotnia some much-needed perspective and making it 3D! This does not go well.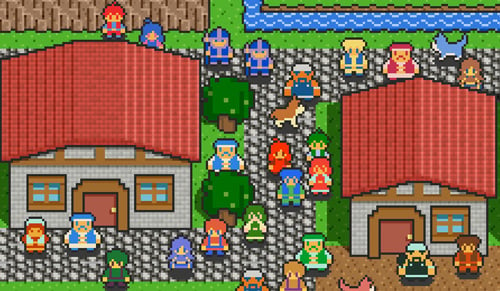 Bit nostalgic
Fuelle, your not so friendly local Dark Bishop, steals a powerful orb and plunges Dotnia into 3D hell. Dungeons ahoy! All dressed up in my dragon outfit, it is up to me to save 3D Dotina – and that involves sucking up to six sages while trying not to die too often in the six dungeons full of puzzles and overflowing with beasties. Loving the bats!
Ever played Zelda? If so, you'll find some of the game play spookily familiar. As soon as 3D Dot Game Heroes loaded I couldn't get over how much it mimicked Zelda in terms of game play, structure, story and even music. I like the post-modern self-awareness that 3D Dot Game Heroes takes in its inspiration from a classic and its references to others like Final Fantasy and Pokemon. Yet, considering the game most likely targeted a younger audience, all this clever referencing will, no doubt, be lost on them.
I love Zelda and commend 3D Dot Game Heroes for not trying to pretend it's something completely new. The cube-based visual style allowed me to feel nostalgic while not forgetting I was playing a present day console. Yes at times I did crave for the visual depth of Heavy Rain or the eye-popping colours of Final Fantasy but I get the impression that 3D Dot Game Heroes is trying to be clever and innovative, rather than beautiful. The smile on my face as I died over and over pays homage to this triumph of sentimentality over visual content.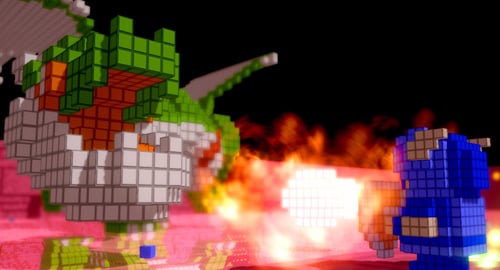 Shot blocked!
Trekking across Dotnia to any of the several dungeons takes several hours of rabid bunnie bashing and getting lost in a multitude of mazes. Each time you dispatch a baddie, there is a cool explosion of cubes followed by a windfall of health and cash, if you're lucky. Use your monies to upgrade your kit later in the game.
Minigames..
Any game giving a nod to the NES stable would be incomplete without our old friend the mini game to unlock new weapons, shields and various goodies for your blocky heroes. The three main mini games you come across are insanely hard, but break up the narrative of the game in a clean and compelling way.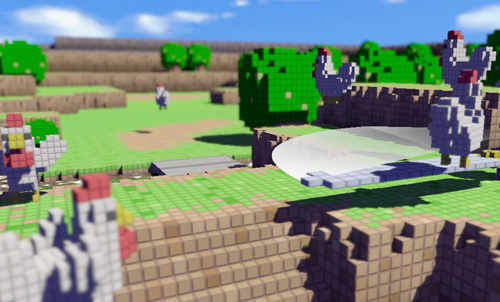 Where square eggs come from
Dash Circuit is a time trial racer where you have to avoid hitting any walls; then there is Blockout, a kind of Pong style game in where you fire a ball at bricks to smash them up, while trying to keep the ball rolling. Finally there is Block Defense, a tower protection game.
The main game most definitely hits its stride when you make it to a dungeon. The dungeons are based on the elements; fire, water, nature and wind. As you fight your way through each room you'll solve puzzles and traps to release keys. It is all about hunting down the helpful weapon of the dungeon, be it a bomb, boomerang or bow and arrow, because these will give you access to the boss key, which gives you access to the boss fight!
Without giving too much away the bosses are a high point in this adventure. Their pattern-based movements demand much chopping and fancy footwork, and they are the most gripping and hair-raising combat sections in the game.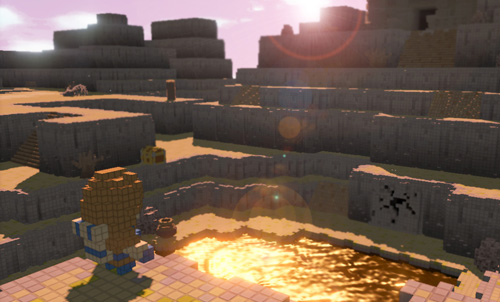 Beam me up Blocky
Verdict
Is 3D Dot Game Heroes nothing more than a self-referential retro title or is it a good exclusive to buy for a present gen console? This title will certainly appeal to younger gamers, as the game does look great and allows lots of creative interaction, but doesn't give you the dazzling hi-res graphics we've seen from the recent PS3 exclusives. But before dismissing it, keep in mind there are seven dungeons to delve into giving most players around 10 hours playing time. Take your time and you will realize there is a wealth of funny and exciting content to explore and uncover. ®
More Games Reviews

Limbo
Blacklight:
Tango Down
Crackdown
2
Sniper:
Ghost Warrior