Original URL: https://www.theregister.co.uk/2010/07/29/review_laptop_acer_aspire_ethos_8943g/
Acer Aspire Ethos 8943G 18.4in laptop
Full HD desktop replacement with plenty of poke
Posted in Personal Tech, 29th July 2010 12:02 GMT
Review Stylish and powerful, the new 18.4in Aspire Ethos 8943G will appeal to those looking for a desktop replacement that doesn't hold back on performance. Each of the four cores on the Core i7-720QM purr along at 1.6GHz, while ATI's Mobility Radeon HD 5650 is on hand should you want to indulge in a bit of gaming. Throw in a Blu-ray drive, and the cost of the components starts to rise, pushing the laptop's price well over the £1,000 mark.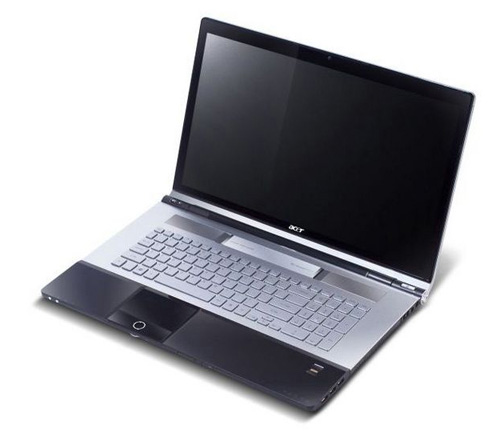 Acer's Aspire Ethos 8943G: fancy design, powerful components
First impressions were soured ever-so-slightly by the lid being awkward to open – with no indent to welcome your fingers, it takes a bit of grappling. However, once prised apart, you're greeted by a rather eye-catching keyboard. Like the lid, it's all decked out in silver and follows the popular chiclet design.
As ever, exactly how easy you find it to type on will depend on your style of key bashing. The flat keys won't suit all tastes, having a slippery texture it is a little too easy to tumble onto neighbouring keys.
That said, there's good distance between them and there are no odd key placements. Disappointingly, I noticed a fair amount of flex on the keyboard, which is never pleasing to discover when you're splashing out well over a grand.
The 18.4in screen has a Full HD resolution of 1920 x 1080. Yet, despite the glossy coating, the colours aren't as vibrant as on other laptops I've seen. Plus, of course, having a glossy coating on such a large display turns it into a portable mirror if used near a light source.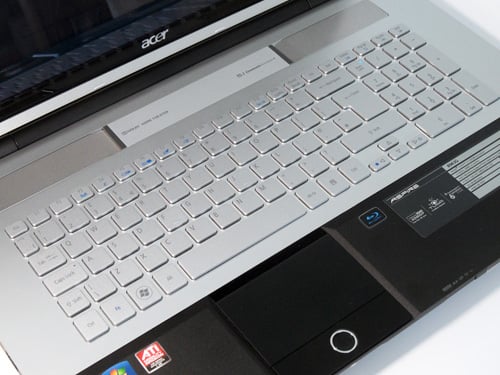 An attractive, but somewhat slippery keyboard
One slight concern was that after leaving it in direct sunlight for an hour or so, I noticed a small patch of what looked like condensation on the display. This soon cleared up, but it's not something I've noticed on other laptops.
Acer's opted to give the touchpad a glossy finish – this might make it look good, but I'm always in favour of a bit of texture on a touchpad. A rather curious circular button sits just between the touchpad buttons.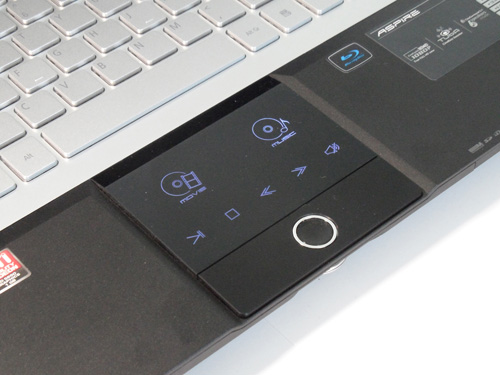 With the press of a button, the touchpad magically turns into a media control panel
Give this a prod and the touchpad transforms into a touch-sensitive media control panel. Another press returns it to standard touchpad duty – thankfully this button requires a deliberate push, so you won't be activating the media control panel by accident. It's an interesting idea, but not one that adds a great deal in terms of usability.
Two elongated speaker grilles dominate the section just above the keyboard, while another pair is found lurking underneath the front lip. Although reasonably loud and able to conjure up a decent surround sound effect, I was left somewhat underwhelmed by the tinny nature of the audio.
According to Acer, there's also a rear-facing sub woofer. Sure enough, closer inspection revealed a tiny circular grille on the underside of the chassis. However, even with an ear pressed right up against it I couldn't detect any sort of bass. Sub-standard woofer, more like.
Continuing the media theme, Acer's seen fit to furnish the Ethos with its very own Blu-ray player. Given the style-led nature of this laptop I was expecting it to come with a fancy slot-loading optical drive, but the LG CT21N drive is of the standard pop-out tray variety. HD movies looked good, but the slightly lacklustre colours and tinny audio let them down.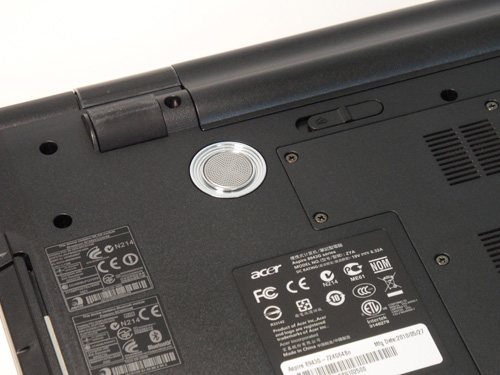 No doubt this is where the softly spoken sub woofer resides
No less than five USB ports adorn the chassis; three on the right, two on the left. One of the USB ports also doubles-up as an eSATA port. Mini Firewire is also present, as are the obligatory HDMI and VGA outputs.
Thanks to the Core i7 processor and HD 5650 graphics, gaming is a real possibility on the Ethos. The HD5650 isn't ATI's fastest laptop graphics core – that moniker belongs to the 5800-series – but it's still very capable.
Benchmark Tests
PCMark Vantage Results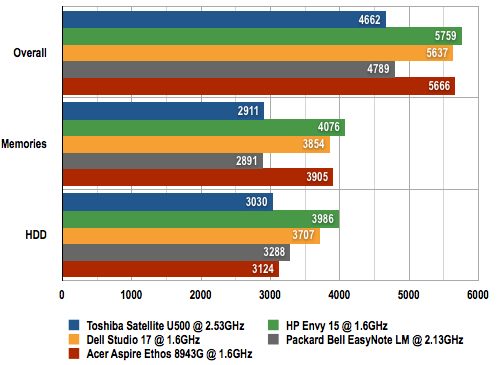 Longer bars are better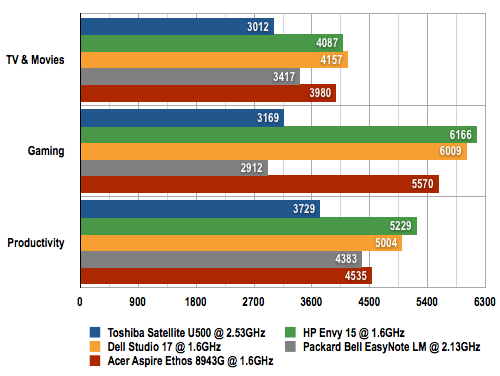 Longer bars are better
Battery Life Results

Battery life in minutes
Longer bars are better
At the laptop's native resolution and with 4x anti-aliasing activated, Call of Duty 4 ticked along nicely at 22.7fps. Under the same settings and with detail set to medium, Crysis also performed well at an average of 24.95fps.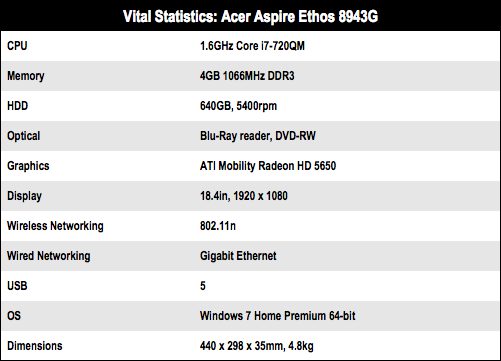 With the large screen taking its toll on the eight-cell 55Wh battery, the Ethos managed 1hr 45mins when looping PCMark Vantage. Considering the laptop weighs a hefty 4.8kg, portability isn't high on the agenda and this relatively short battery life is to be expected.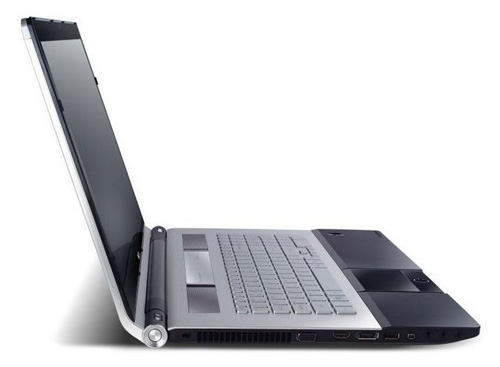 Shininess aside, certainly a worthy contender as a desktop replacement
Finally, it's worth mentioning that the Ethos isn't averse to a bit of upgrading. Unscrewing the two back panels reveals two spare memory slots and a 2.5in drive bay.
Verdict
Acer's done a good job with the Ethos – it looks great and performs well. Of course, the fast processor, large screen, Blu-ray drive and fancy design don't come cheap, and many will baulk at the price tag Acer's slapped on it. That said, it's in line with similar 18.4in offerings, such as HP's dv8-1110ea that retails for around the same price. If you want to ditch your desktop and can afford it, Acer's Aspire Ethos 8943G is definitely worth a close look. ®
Thanks to SaveOnLaptops for the loan of the review sample.
More Notebook Reviews...

Packard Bell
EasyNote LM 17in
Apple
MacBook Pro 15in
Dell
Studio 17
Samsung
R580 15in