Original URL: http://www.theregister.co.uk/2010/07/28/review_smartphone_android_samsung_galaxy_s_gt_i9000/
Samsung Galaxy S
The Android iPhone clone that has it all?
Posted in Personal Tech, 28th July 2010 12:04 GMT
Review The Galaxy S is Samsung's hero handset for 2010 and one the company clearly has high hopes for. It's the closest thing to an iPhone the Korean firm has yet produced, and packs in Android 2.1 OS, multi-touch screen, powerful 1GHz processor, 5Mp camera, GPS, an updated TouchWiz UI, social networking and Samsung's own App store in addition to Android's Market.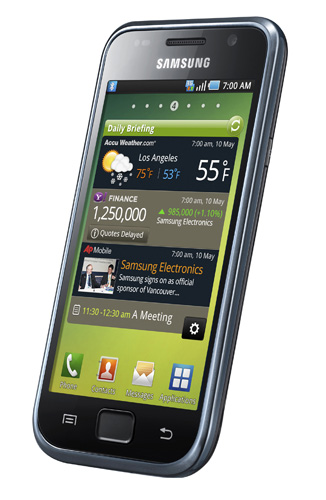 More than an iPhone lookalike: Samsung's Galaxy S
It's a very smart, and indeed, very iPhone-looking handset, though its screen is a little larger at 4in and there are three, rather than one, discreet buttons beneath it. These consist of touch-sensitive back and menu buttons surrounding a home button. On the sides are the power button and volume rocker, with a 3.5mm headphone jack and micro USB power/sync slot covered by a plastic slide on top.
Back and sides are black gloss with a chrome-look trim and on the back is the 5Mp camera lens and a little chin at the bottom, which serves to lift the handset a few millimetres off the surface to protect the lens. It measures a sizeable 64 x 122 x 10mm though the curved sides offset the bulk a little and it's a surprisingly lightweight at 119g – a trade-off with the plastic back, which feels a little cheap.
The screen is another Samsung Super AMOLED similar the one we last saw on the Wave with WVGA (480x800 pixels) resolution and 16million colours. It is beautifully sharp and clear, with excellent contrast, and it's multi-touch too, so you can do the pinch to zoom thing when you're browsing the web or viewing photos or maps. Resolution isn't quite as high as the new iPhone 4's 960 x 640 resolution, but you'd be hard put to tell the difference if all you've got to look at it with is eyes.
The TouchWiz interface looks very similar to that of the recent Samsung Wave with its shiny new Bada OS, which is clearly familiar with the work of Android. A crucial difference, however, is that you can add menu shortcuts to the various home pages. Less crucially, there are seven home pages rather than the Wave's maximum of ten, which is still ample. Android's pull-down notifications menu now includes a Wi-Fi toggle, which is handy, as are the music player controls that you can access easily from the tray, no matter what else you're doing – all useful examples of multitasking integration in action.

The slight bump will help reduce scratches on the plastic back and protect the camera lens
The TouchWiz widgets are very much in evidence and they're getting more sophisticated with each new handset. The trouble here is that they don't really seem to reach their full potential. There's a nice daily briefing widget, for instance, which shows top line weather, finance and general news. Yet it's a shame you're limited to a feed from AP, rather than being able to use your favourite news source. The Buddies Now widget features a rolodex with social networking updates from your friends, but you'll need to add them individually, and scroll through to find individual updates, rather than highlighting the latest.
On a similar theme, Social Hub is an attempt to pull together your various social networking apps in one place. It allows you to sync your Facebook, Twitter and MySpace contacts and calendars but, strangely, your contacts pics seems to get a bit squashed in the process. Also, it won't link your updates together like Motorola's Motoblur or Sony Ericsson's Timescape and you'll need to access each social networking app individually. Details like this matter, and it's only because so many aspects of this handset are great that elements like this just drag it back a little from the winner's podium.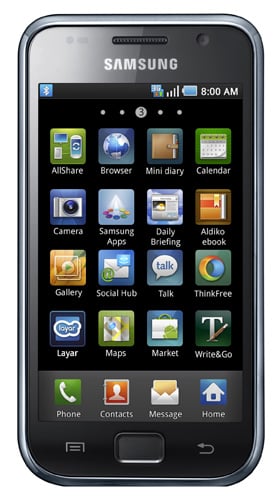 Social networking apps could link up more effectively
One new element on the Galaxy S is Samsung's adoption of Swype. It's a text entry technology designed by Cliff Kushler the co-inventor of T9 predictive text and Randy Marsden, the developer behind the Windows on-screen keyboard. The way it works is that you can type faster by dragging your fingers over the keys of the Qwerty keyboard, like 'joining the dots' with letters to make a word.
Swype works surprisingly well, though there's a little bit of a learning curve to train your finger to remain on the screen. You can capitalize letters by dragging your finger off the keyboard and insert double letters by tracing a small circle on them. It's really quite intuitive, easy, and yes, fast.
The browser is quick and efficient with high-speed Wi-Fi (b/g/n) access or HSDPA network access. It doesn't have full Flash, just Flash Lite, which will get you YouTube, but not BBC iPlayer, though this may be upgraded at a later date. E-mail is easy to set up and the onscreen keyboard works fine, due in no small part to the size and sensitivity of the screen.
For syncing with Windows it uses Samsung's Kies software, which is easy to set up and one of the more versatile and intuitive syncing packages I've come across. And while you're connected, the Galaxy S has tethering capability so you can link your laptop to the Internet using its 3G connection.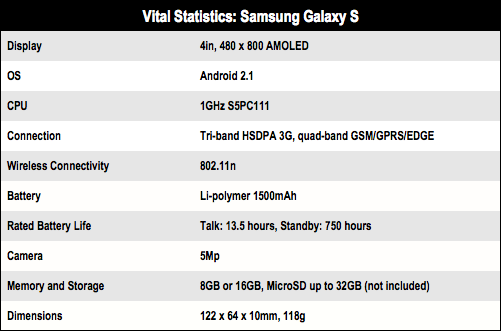 There's no dedicated shutter button to fire up the 5Mp camera but you can include the camera icon on your home screen, and it's ready to go in about three seconds once you press it. Pictures are decent quality in good light but there's no flash, which is a shame.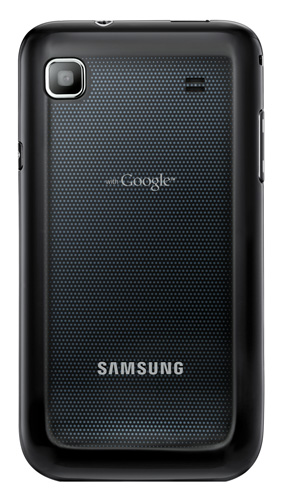 5Mp camera, but no flash, surprisingly
There's a good range of picture options though, including an extremely wide 180-degree panorama shot, 4x digital zoom and smile detection. The action shot option will combine several shots into a single image – the results can be a bit uncertain, but can be fun – and multi-shot offers up to nine pics in quick succession.
Sample Shots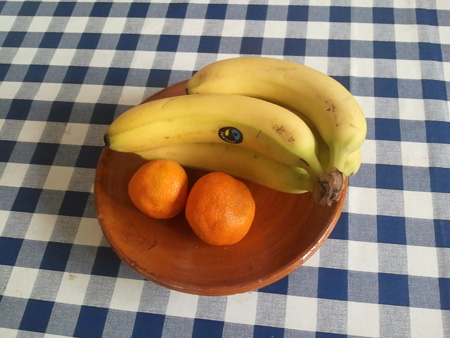 Click for a full-resolution image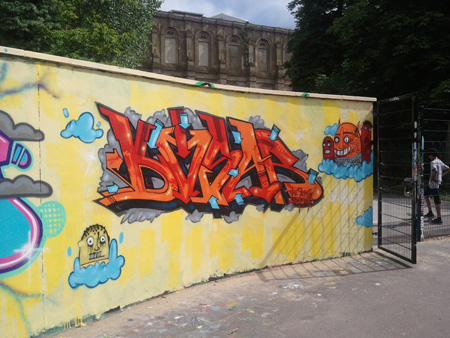 Click for a full-resolution image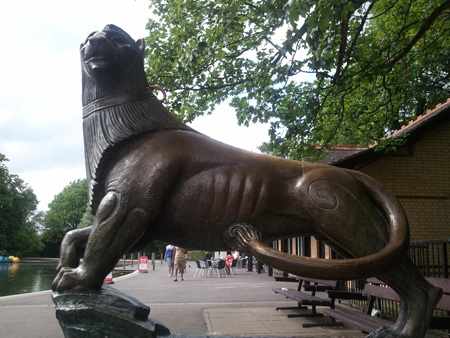 Click for a full-resolution image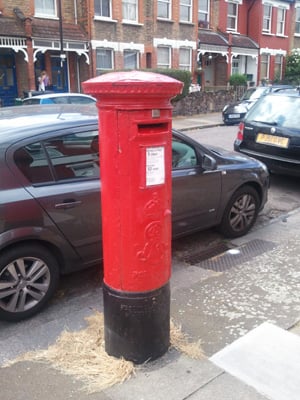 Click for a full-resolution image
Sample Video
You can record video in 720p HD with a maximum resolution of 1280x720 pixels and it looks pretty good, with smooth transition a minimum of jerkiness. There's a VGA camera on the front too for video calling. I had no problem with ordinary audio calls, the quality was always clear and never seemed to get muddy or distorted from the Galaxy S's speaker.
Incidentally, video playback looks terrific, with the option to stretch videos to fit the screen's dimensions. You can also adjust brightness, colour tone and even outdoor visibility (an on/off setting which just seems to make the screen brighter). There's TV out support plus DLNA, so you can watch your vids on the bigger screen and an extremely broad range of video formats offered, including DivX, XviD, MPEG4, H.263, H.264, WMV, VC-1, AVI, MK and FLV.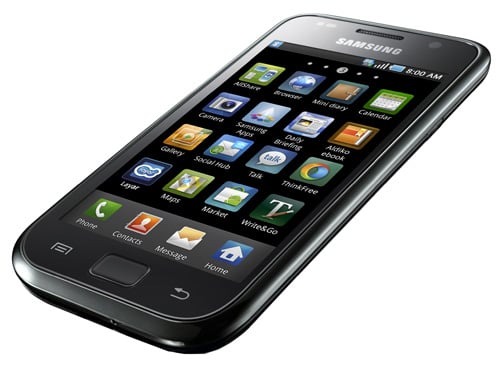 Arguably, the most fully-featured Android handset you can buy
The headphones are quite good quality, with noise-isolating grommets, which deliver a fairly detailed midrange with no shortage of controlled, not boomy, bass. There's a 5.1 surround setting which broadens the sound stage a little as well as eight audio presets and an eight-band graphic equaliser so you can get the sound just how you want it. Like the video options, the music player has plenty of audio codecs on offer, including MP3, AAC, AAC+, eAAC+, OGG, WMA, AMR-NB, AMR-WB, WAV, MID, AC3, IMY, FLAC and XMF.
There's 16GB or 8GB of memory on board – you'll need to get your handset from Vodafone for the former – and if you really need more, you can add up to 32GB with a MicroSD card. You'll need to remove the back to get to it by the way, but not the battery. As we'd feared, despite the presence of a large 1500mAh battery, the Galaxy S is still a thirsty beast, and we barely got a full day of, admittedly, heavy use out of it.
Verdict
The Galaxy S has a lot of great things going for it, not least that marvellous screen, the latest Android OS and wealth of apps, plus the quality and range of the 5Mp camera. But it's let down, if only a little, by a few inconsistencies. The camera's good, but why no flash? A little more thought could have gone into the widgets available with more promised, such as iPlayer access. Also the social networking functions could be more tightly integrated. That said, it's still a terrific handset and well worth considering if you haven't bought into iPhone fandom. ®
More Android Smartphone Reviews

Motorola
Milestone XT720
HTC
Wildfire
Acer
beTouch E400
Sony Ericsson
Xperia X10 Mini