Original URL: https://www.theregister.co.uk/2010/07/28/review_media_player_sony_nwz_a845_walkman/
Sony Walkman NWZ-A845 media player
Thinnest Walkman yet
Posted in Personal Tech, 28th July 2010 07:02 GMT
Review If you can live without support for FLAC or Ogg Vorbis, then Sony's Walkman PMPs have long been the obvious choice for anyone concerned about sound quality but not wanting to chance lesser known players from Cowon or iRiver.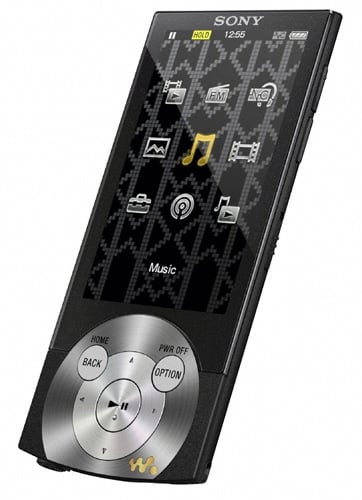 Thin sound? Sony's NWZ-A845 Walkman
Sony also tends to bundle decent earphones which is another reason I rated the S Series Walkman so highly. Sony boasts that the NWZ-A845 – the 16GB model in a range that runs from the 8GB A844 to the 64GB A847 – is the thinnest Walkman to date at only 7.2mm. It's also the nicest looking.
Previous Walkmans have been plain to the point of deliberate perversity but the 845 is altogether more attractive. Serious thought has clearly gone into the control bezel that, while following the traditional Walkman layout, is now finished in a two tone brushed metallic effect rather than dull old plastic. Away from the fascia the only controls are the volume rocker and lock slider on the right hand side.
Sony claims the new A series are the first MP3 players to support the BBC iPlayer's full 720 x 404 resolution downloads rather than the mobile 320 x180 sort. I'll take its word about it being the first but it certainly works, BBC Alba's coverage of the Hebridean Music Festival looked superb on the 400 x 240 2.8in OLED screen.
As well as WMV the 845 also supports H.264 video, MP3, AAC, WMA audio and JPEG image files. iPlayer downloads aside, all other video files must be at or below the screen's native resolution to play. As with all Walkman players Windows users can drag content directly from iTunes using the extremely handy Music Transfer Tool but playlists can only be set up using an MTP media player. There is no facility to compile even a simple favourites list on-board.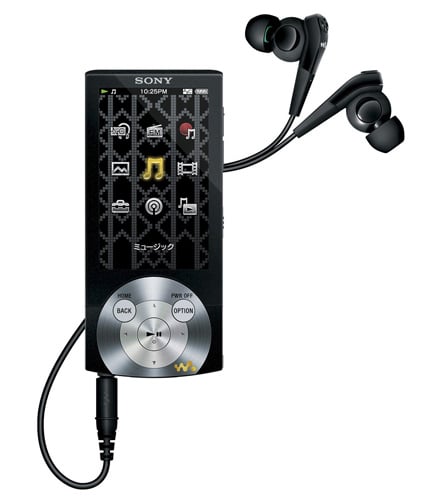 Noise-cancelling headphones are part of the package
Once your media is in place, navigation follows the well worn Sony path of access from nine menu icons – a classic case of, if it ain't broke don't fix it. In fact the only changes are a much improved menu colour scheme with equally improved fonts making the UI far more pleasant to the eye and the option to scroll through video files using scene thumbnails.
The last is something Cowon's PMPs have been doing for a while but Sony has added some funky floating 3D slide show effects that also come into play when you navigate through your albums using its answer to Cover Flow.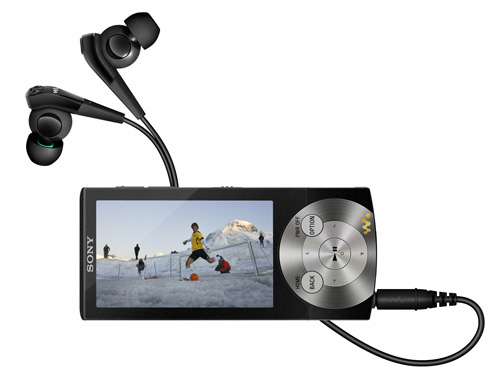 Hi-res BBC iPlayer content is supported
I'd have been shocked to the core if the A845 sounded anything less than excellent and happily I wasn't. Coupled with my reference Sennheiser earphones, the sound was firm, punchy and very well balanced. There was also a lovely sense of clarity and space in the upper ranges which puts the A845 right up with the very best personal music players I have used.
Sony has gone the whole hog with sound modification, equipping the 845 with Clear Stereo, VTP Surround Sound, DSEE Sound Enhancement, a five band equalizer and S-Master Digital Amplifier technology which all sounds most impressive both figuratively and in use.
The A845 also has another couple of tricks up its sleeve. Firstly the bundled earphones are not only comfortable but also musically very competent. Secondly it has built-in adjustable active noise cancellation which, apparently, can cut out up to 98 per cent of background noise. I'm not sure I'd go as far as 98 per cent, but it does make one heck of a difference when used in a train, plane or automobile.
In the box, you will also find an adapter cable that lets you connect any sound source with a 3.5mm audio jack to the A845s proprietary USB port, as a line-in feed. This means you can continue to enjoy the noise cancellation feature when, for instance, hooked up to the AV suite on an airliner using the also supplied airline adapter. That's a nice idea.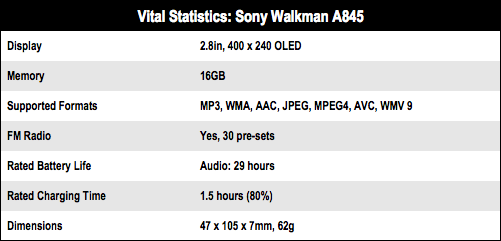 The system also has a Quiet Mode which runs the sound suppression feature without any accompanying audio output, so you can take a nap. Even though the noise cancellation tech is in the player itself you still have to use Sony's earphones to get the benefit because the ambient microphone is part of the headset.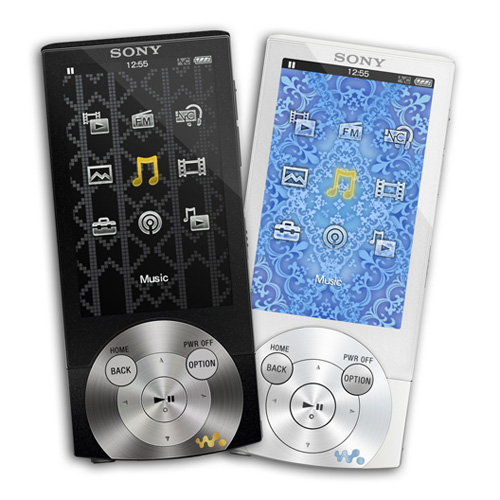 Currently 16GB-only, with other capacities due soon
As for battery life Sony reckons 29 hours of audio or nine hours of video on a full charge. I managed just shy of 28 hours of continuous audio playback and seven hours of video. That's less than the S-Series, but still not too shabby.
Buy the A845 from Sony and it will set you back 149 notes though I have found it for a tenner less with little effort. That's 8GB iPod Touch money, but keep in mind a stand alone set of good noise cancelling earphones will set you back round £60 and the Walkman is far easier on the ear than the Touch. If music quality is what you are worried about, the A845 can be highly recommended.
Verdict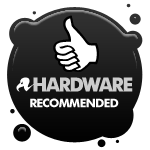 Another quality PMP from the Walkman stable the A845 excels at the job in hand. Yet, as always, support for FLAC audio and AVI video would have been welcome. Factor in the cost of a pair of noise cancelling earphones as a stand alone item and its quite good value too. ®
More PMP Reviews

Cowon
iAudio J3
Speedo
Aquabeat
Samsung
YP-R1
Sony Walkman
NWZ-S544