Original URL: https://www.theregister.co.uk/2010/07/27/review_smartphone_android_motorola_milestone_xt720/
Motorola Milestone XT720
First xenon flash Android camphone
Posted in Personal Tech, 27th July 2010 12:02 GMT
Review Motorola's original Milestone, along with the Dext last year, proved to the world that Motorola was back, back, back after a period in the wilderness when it was struggling to keep up with the innovations of other manufacturers. Building on those phones' success, this Android 2.1 device has a distinctive new look and includes an 8Mp camera with HD video recording and a xenon flash.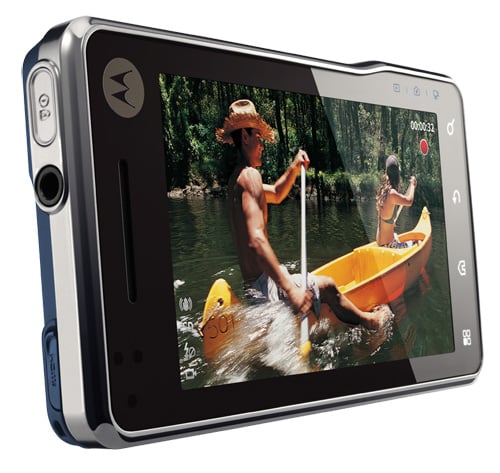 Photo finish: Motorola's Milestone XT720
At 116 x 61 x 11mm and 160g, the Milestone is a big phone, and a little out of shape. It has a distinctive bump at one end, which, at first glance, looks like it could have something to do with the camera lens – except that it's at the other end of the phone. It's actually more of a cosmetic feature intended to help the handset feel more like a camera when you're holding it horizontally. I suppose it does, but it's hardly an essential feature.
On the sides are a volume rocker and a micro USB power/sync slot with a large camera shutter button and dedicated media gallery button atop that bulge, which also includes three indicator lights: gallery, still camera and video camera. On top is a mini HDMI port for sending 720p video directly to your TV, as well as a 3.5mm headphone jack and recessed power button.
The 3.7in TFT touch screen offers 480 x 854-pixel resolution and generally looks lovely, though it does seem extremely prone to reflections – not a great phone when used in direct sunlight. Nice to see the screen's capacitive though, and it responded well to brushes and presses.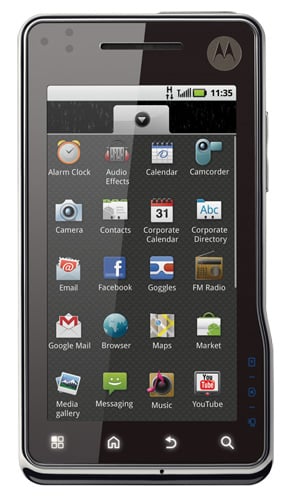 Runs Android 2.1 with some Motorola enhancements
The Android 2.1 OS receives minimal additional styling from Motorola, but very nice it is too. It has five home screens which you can populate with the usual shortcuts and widgets. There's no Motoblur to pull all your notifications together, though Google's drag-down notifications menu will do a similar if less stylish job of it and there are Facebook and Twitter widgets to keep you up to speed on a single home page.
E-mails are easy to set up, with most requiring only address and password, plus there's support for Push Gmail and Push Exchange, so you're always up to date. The on-screen Qwerty keyboard proved fine for messaging and the suggested words, as you type, are generally relevant and useful for speed. You can pull in your Facebook contacts and pics to your phone book and call quality was generally fine.
Sample Shots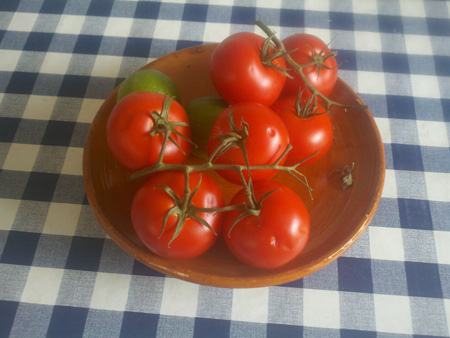 Click for a full-resolution crop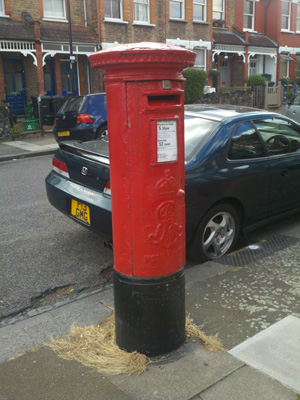 Click for a full-resolution crop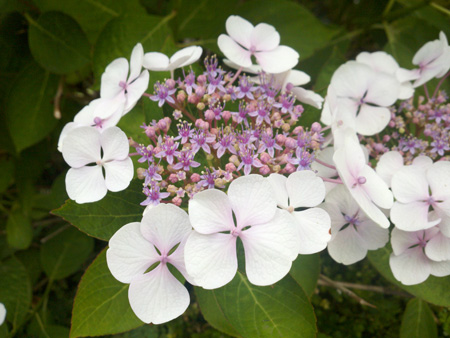 Click for a full-resolution crop
Click for a full-resolution crop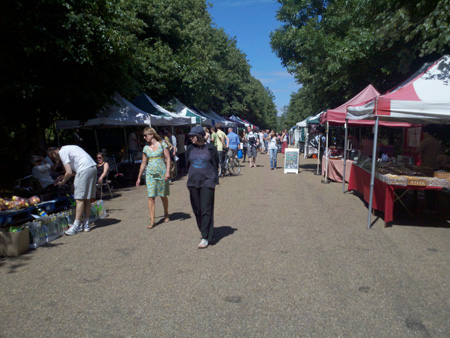 Click for a full-resolution crop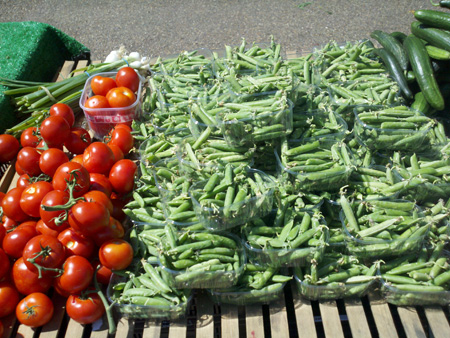 Click for a full-resolution crop
So far so good, but then we get to that enticing 8Mp camera. It comes with a proper xenon (as opposed to LED) flash, the first Android phone to have one. The camera offers an extremely wide panorama mode that automatically stitches together six shots but not very well, alas. Other features include a six-pic multi-shot function and macro setting, face detection and image stabilisation, as well as a claimed 10x digital zoom.
Despite its impressive looking spec however, the camera didn't quite live up to its promise. Edges didn't look as sharp or clearly defined as we'd expect from a camera with 8Mp on its spec sheet, and colours too often appeared saturated, without as much detail as we've have liked. So it seems to be business as usual as far as Android imaging goes.
Sample Video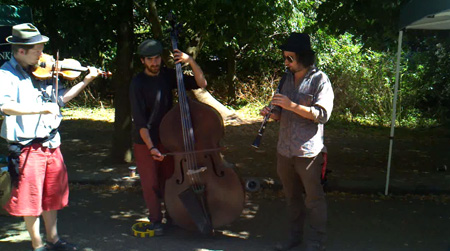 Click for a full-resolution video
Furthermore, the 720p HD video records at 24fps but still tended to look jerky and juddery, rather than delivering the smooth, detailed performance I was hoping for. Pre-recorded H.264, MPEG4 and WMV video clips looked pretty good though, and there's an option to expand the video to fit the screen, which is always useful.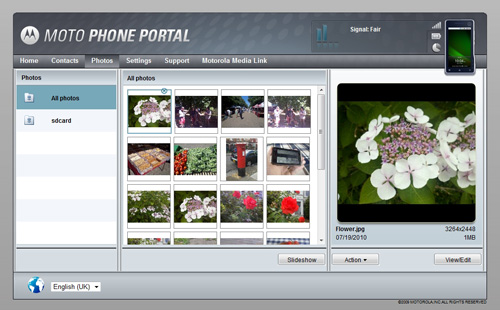 Moto Phone Portal
Motorola didn't supply us with the dedicated headphones for the XT720, but sampling the sound with a few others I had to hand showed it to be decent enough, albeit suffering a little too much from compression effects, such as woolly bass tones. Points lost too for no option to adjust the sound from the track you're playing though the FM radio with its 20 presets worked very well. Audio formats include MP3, AAC, WMA and WAV.

A big screen, but only 11mm thick
The Milestone comes with an 8GB MicroSD card as standard, though you can bump this up to 32GB if you feel the need. Syncing for media, messages and contact info is achieved using Motorola's rather clunky but serviceable online Moto Phone Portal or simply drag and drop. The Moto service has the advantage of allowing you to sync your data from multiple locations, but it's not particularly intuitive to use.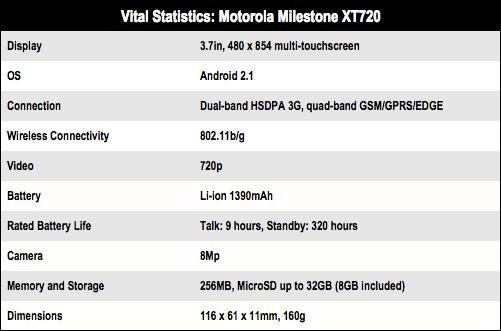 The Android browser – with high-speed Internet access courtesy of HSDPA or 802.11b/g Wi-Fi – is efficient, if unspectacular. The screen's multi-touch capability offers the benefit of pinch to zoom, but there's no Flash support – although this may happen later with an update to Android 2.2. Still, the YouTube player worked fine. Battery life was noticeably poor. Despite the processor being clocked back to 550MHz – it's actually capable of 720MHz – I never managed to get a full day's use out of it.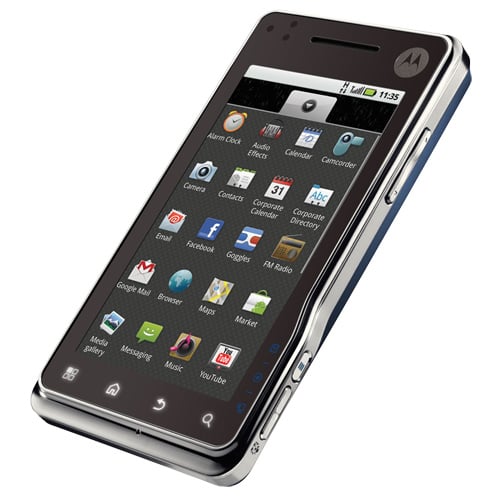 A lot to like, but the battery life is a drawback
Verdict
There are certainly things to like about the Motorola Milestone XT720, including the large multi-touch screen, endlessly configurable interface and the 8GB of memory it comes with. But while the 8Mp camera is far from rubbish, it never quite lived up to its promise, offering so-so pictures rather than really impressive ones, and though I had high hopes for the HD video recording, in use its tendency to be jerky was disappointing. I'd have liked to have seen Motoblur on there but perhaps the poor battery life would have meant I'd have to disable it to make it through the day in any case. ®
More Android Smartphone Reviews

HTC
Wildfire
Acer
beTouch E400
Motorola
Flipout
Sony Ericsson
Xperia
X10 Mini