Original URL: https://www.theregister.co.uk/2010/07/26/review_optical_drive_lite_on_ihbs112/
Lite-on iHBS112 internal Blu-ray writer
Cheap and fast - cheerful too?
Posted in Personal Tech, 26th July 2010 07:02 GMT
Review Lite-On is certainly pushing the boundaries of optical disc burning at aggressive prices. The iHBS112 is an internal drive that goes beyond the combo by letting you read and write Blu-ray, DVD and CD media in one unit. Its Blu-ray writing speed, 12x, matches the current fastest on the market.
That's not bad for £123.
As a standard Sata drive, the hardware is simple to install, and it worked right away as a data reader and media player under Windows 7 without requiring additional drivers.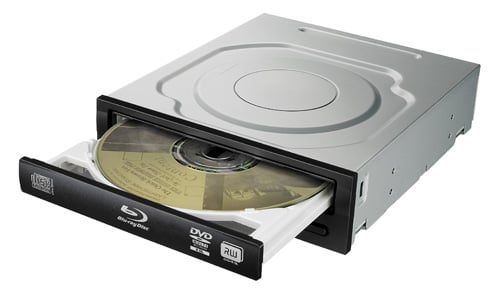 Lite-On's iHBS112: matches the fastest on the market
For burning your own discs, Lite-On supplies a copy of CyberLink's BD Solutions on a DVD-ROM. This software suite includes BD-enabled editions of PowerDVD (movie playback), PowerProducer (movie disc authoring), PowerDirector (movie editing) and Power2Go (data disc burning), along with a couple of disc utilities: PowerBackup and LabelPrint.
Looking at the numbers, the ability to burn BD-Rs ought to be as big a removable storage revolution today as the appearance of affordable DVD-R drives and media was some ten years ago. After all, the iHBS112 makes it possible to write to single-layer, 25GB BD-R media at 12x speed and dual-layer, 50GB discs at 8x.
Now, given all the scare stories you have been reading recently about the real-world longevity of optical discs, do you really want to consign even more data to them, in 50GB chunks? And bear in mind that although Blu-ray raw data transfer speeds are nominally faster than those of DVD, filling a 25GB or 50GB disc is going to take an awfully long time.
This is especially true for large quantities of very small files. I formatted a single-layer BD-R for use with Windows 7's Live File System - which enables ad hoc writing of files, leaving the disc session open - and then dragged a 5.1GB folder containing 23,094 files onto it. The initial copy completion estimate was seven minutes but this was shortly revised to one hour. When I returned to the computer an hour later, the estimate had risen to 13 more hours.
When I finally removed the disc, it was hot to the touch. Ouch.
On the other hand, Blu-ray is an excellent movie authoring and video backup medium. Writing smaller numbers of very large files was a comparatively swift process after the experience above. As any HD camcorder enthusiast can attest, DVDs tend to fill up much too quickly.
The iHBS112 will, of course, also write to DVD-R (16x), DVD+RW (8x), CD-R (48x) and CD-RW (24x), along with a wide range of other writable and rewritable disc standards. It reads BD-ROM discs at 8x.
In addition to the CyberLink software features, Lite-On has tweaked its firmware to improve performance in a couple of areas. A technology called SmartWrite manages the stream of data being recorded, apparently preventing underruns even when you are using your computer for other tasks. Just the same, I recommend not running tasks that hog your resources, such as saving, printing or otherwise processing huge files.
Another technology built into the unit, SmartX, manages the data stream in the opposite direction, adjusting the spin appropriately as you read data from the disc. This apparently makes the drive quieter in operation. The iHBS112 is a quiet drive, that much I can report.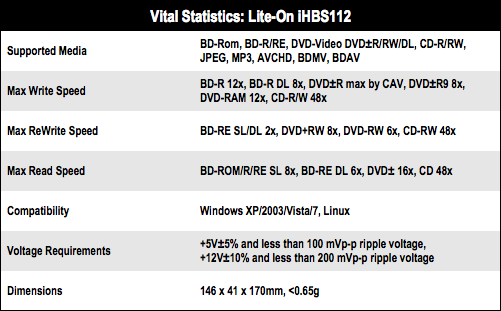 One special feature that I was unable to put to the test was the unit's claimed support for 3D movie playback in conjunction with a 3D HD TV. Lite-On also says the drive can convert 2D content to 3D on the fly.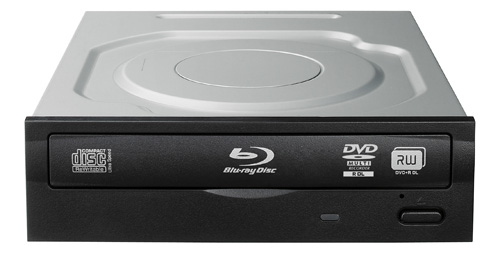 3D compatible, apparently
A notable black mark on the iHBS112's otherwise faultless performance was the troublesome installation of CyberLink's BD Solution suite. The installation of Power2Go was interrupted by the message: 'Error! The product definitation [sic] file lost'. Lost to whom, I wonder. The PowerDirector installer just went bananas, launching itself over and over again until I had 20 of the little buggers running simultaneously but not actually appearing to install anything. Just to complete the annoyance, the improperly installed programs then refused to be uninstalled.
I solved the matter by ditching program remnants, cleaning the Registry as best I could and then installing Blu-ray compatible CyberLink applications afresh from my own copy of the Media Suite installer. That's no help to the average buyer, though, and I am a bit concerned because I've experienced a similar problem with a CyberLink installer once before.
A slightly more advanced version of the iHBS112, the iHBS212, supports LightScribe disc label etching and costs £136.
Verdict
Lite-On's joint venture with Philips continues to pay dividends as far as hardware buyers are concerned. The iHBS112 is a fast, quiet and seemingly reliable BD/DVD/CD burner that is relatively inexpensive to buy and quick to fit. I just wish the bundled software had been as easy to install. ®
More Internal Blu-Ray Drive Reviews...

Samsung
SH-BO83L


PLDS iHES208
BD-Rom combo

Pioneer BDR-203BK
Blu-ray writer

LG BE06-LU10
Blu-ray writer