Original URL: http://www.theregister.co.uk/2010/07/26/review_3d_hd_tv_samsung_ue46c8000/
Samsung UE46C8000 3D TV
Picture perfect?
Posted in Personal Tech, 26th July 2010 12:02 GMT
Review Samsung got the 3D ball rolling earlier this year when its C7000 became the first 3D TV to hit the shops in the UK. However, the more expensive C8000 is the one that really turned my head. Even if you dismiss the 3D option as a novelty the C8000 is simply a superb flat-screen TV.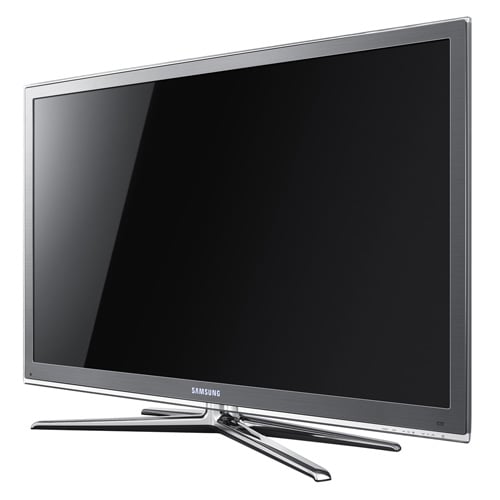 Samsung's UE46C8000: a great viewing experience in any dimension
It's not cheap, coming in at around £2200 for this 46in model – maybe a little cheaper if you shop around online – but the sleek design, impressive image quality, and wide range of features give it the 'wow' factor that sets your credit card a-trembling.
The streamlined LED back-lit panel is a mere 23.9mm thick, and finished off with a stylish metal-and-glass bezel. The whole unit is mounted on an eye-catching silvery 'quad stand', and even the brushed metal finish of the remote control merits an admiring glance.
The slimline design does have one disadvantage, though. The four HDMI interfaces are all normal size, but most of the other ports and connectors have been miniaturized, which means that you have to tear open a big bag full of adaptors – or 'slim gender cables' as Samsung calls them – simply to plug in the Ethernet cable and even the aerial for the Freeview HD tuner. As a result, the back panel does end up looking a bit of a mess, with unsightly black plastic adaptors dangling from various ports.
However, all is forgiven when you go up-front again and look at the screen. Turn it on and the C8000 welcomes you with a happy chime, swiftly followed by a bright and boldly coloured image that really shines when you switch to high-definition content on BBC HD.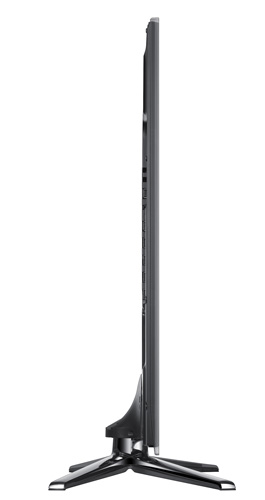 Slimline styling demands various adapters to hook up to miniaturised interface ports
You've got plenty of control over the image too. In addition to presets for specific tasks such as watching movies, the on-screen menu system provides individual controls for settings such as brightness, contrast, sharpness, tint and tone, motion blur and judder reduction. There's also a handy on-screen help display that gives a brief description of each setting for less experienced users.
I even liked the way that Samsung has presented its Internet@TV online services, with an attractive graphical interface that provides easy access to web sites such as YouTube, FaceBook and Google Maps.
The company gets a slap on the wrist for highlighting the BBC iPlayer on its web site, as that particular service isn't available yet, but I was very pleased to be able to watch films online using my LoveFilm subscription (even if the streaming video wasn't great quality).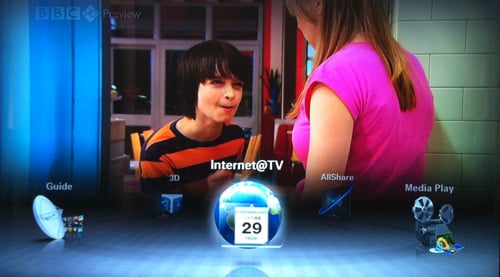 Menu browsing
Happiness levels went sky high when I also discovered that you can timeshift and record – even in HD – onto a USB hard disk (though it spat out my memory stick, declaring that it didn't provide adequate performance for video recording).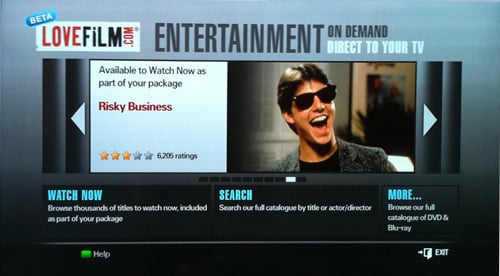 Lovefilm is available, although the streaming quality leaves room for improvement
The 20W speakers produce a nice, detailed sound, and are loud enough for day-to-day use when watching television. However, they're a little thin on bass so home cinema buffs might want to supplement them with something that can do justice to Hollywood soundtracks.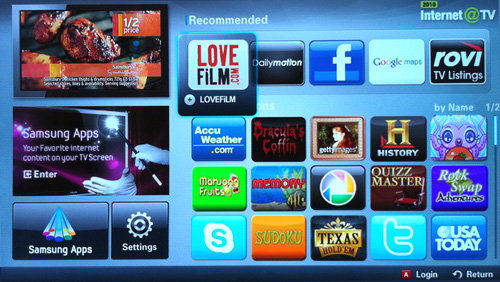 On-line options
At this point I'd have been happy to just sit back and wallow in the C8000's lush 2D performance, but the tantalizing '3D' button on the remote control just wouldn't be ignored. Sadly, the C8000 doesn't include any 3D glasses – although we were supplied with one pair for testing purposes – so if you want to venture into the third dimension you'll have to cough up about £150 extra for Samsung's 3D Starter Kit, which includes two pairs of glasses and a copy of Monsters Vs Aliens on 3D Blu-ray.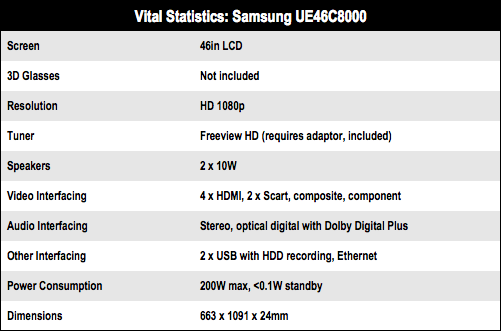 Watching the Monsters and Aliens romp around in 3D is genuinely fun, and the 3D effect does create an effective sense of movement and perspective for those throwing-things-in-your-face moments. However, given the scarcity of 3D content at the moment I was more intrigued by the 2D-to-3D conversion option.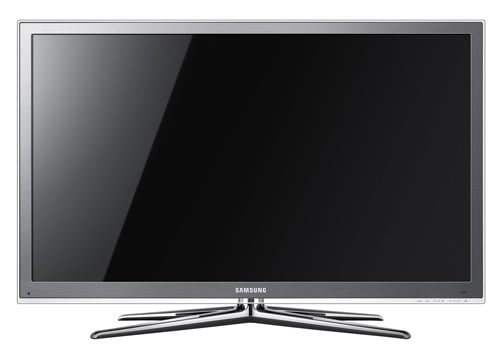 Shortsighted? It's £150 extra for each pair 3D glasses
This is partially successful, creating a kind of 2.5D effect – akin to a pop-up book, in which certain elements seem to sit on a completely separate plane right in the foreground. But watching Wimbledon did reveal a weakness here, as the tramlines on the tennis court displayed a noticeable ghosting.
Verdict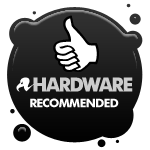 Many people have dismissed the current obsession with 3D as a mere fad – and, to be honest, I'm inclined to agree. However, the C8000 still earns its keep as an outstanding 2D television, allowing you to treat the 3D option as just one extra item on an impressively long list of features. Its image quality is as striking as its aesthetic design, and the attention to detail in features such as the on-screen menus, online services, and USB-recording simply confirm the fact that the C8000 really is a class act. ®
More HD TV Reviews

Group Test
Freeview HD TVs
Sharp
Aquos
LC-52LE700E
Panasonic
Viera
TX-L32S20B
Group Test
3D TVs