Original URL: https://www.theregister.co.uk/2010/07/26/newton_messagepad_120/
Before the iPad, there was the Newton
MessagePad 120 – it didn't suck
Posted in Personal Tech, 26th July 2010 04:16 GMT
This Old Box If any old-tech devotees are more rabid than Amiga amigos, the Newtonians are. So, for those lovers of Apple's pioneering handheld, here's an up-close-and-personal visual caressing of the Newton MessagePad 120, circa 1995.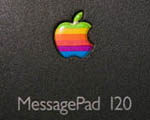 The MessagePad 120 had the longest lifespan of any device based on Apple's Newton platform: from its October 1994 release in Germany (January 1995 in the US) until June 1996. The 120 thus deserves the respect of those of us who remember that exceptional platform, one that improved over time — but not enough to overcome its rough beginnings
The 120 was also the first MessagePad to be upgraded to Newton OS 2.0 (up from 1.3), in late 1995. This significant improvement over the first OS's iterations was sadly ignored by most of the gadget-buying populace, whose minds had already been made up by the media Scheiße-storm over the shortcomings of the original Newton OS.
All in all, the Newton platform made it through seven Apple hardware iterations, from the original Newton, which made its debut at Macworld Boston in 1993 where it begat long lines of fevered fanbois with checkbooks in hand, to the MessagePad 2100, which was taken off life support by Steve Jobs in February 1998.
The Newton platform also took a hallucinatory side trip in the spring of 1997 in the guise of the eMate 300, a Newton-powered laptop aimed at the education market. In this observer's opinion — and I tested it upon its release — the less said about that Giger-inspired oddity, the better.
As a card-carrying fanboi, I owned an original Newton — now referred to as the OMP, for "Original MessagePad" — but try as I might, I never could bend that little thing to my will. My OMP ended its life — quite literally — as a doorstop in a thickly carpeted office conference room.
When disappointed, we fanbois can be oh, so cruel — but we were won over by Newton OS 2.0 and the MessagePad 120.
Like the OMP, the MessagePad 120 was powered by a 20MHz ARM 610, but it had the advantage of being upgraded to OS 2.0 in late 1995, an OS that was was light years ahead of the earlier Newton's publicly shamed first iteration.
Powered by OS 2.0, the MessagePad hit its stride in the much more powerful, 162MHz StrongArm-based 2000-series 'Pads of 1997, codenamed "Q" — but whether the 2000 and 2100 achieved that appellation in honor of Star Trek's multidimensional tickster, James Bond's parts supplier, or a cheesy 1982 movie is lost to history.
Equipped with OS 2.0, the MessagePad 120 was a welcome traveling companion, weighing in at one pound (0.45kg), and measuring 8 by 4 by 1.2 inches (20.3 by 10.2 by 3 cm).
Its black-and-white display — well, black-and-greenish-gray, actually — was far from the iPhone 4's much-vaunted "retina display". It had a resolution of a mere 320-by-240 pixels, wasn't back-lit, and since it wasn't grayscale, which would have allowed for anti-aliasing, individual pixels were clearly visible.
But we're not here to cavil, but to celebrate on old friend — although one that did have a thoroughly annoying tendency to whine. Come along with me through the next few pages for a visual celebration of the pioneering PDA that coulda, woulda, shoulda.
A sexy beast — well, for the 1990s
The MessagePad 120, code-named "Gelato" during its development, was manufactured in Taiwan by Sharp for Apple — well, in those days, Apple Computer. Although the 120 appeared a mere 15-plus years ago, it's interesting to note how far miniaturization and fit-and-finish have improved in the ensuing years.
Check out, for example, the width of the seams and the lack of precision of the MessagePad 120's speaker grille — which, by the way, was a separate piece of plastic that slipped in between the top and bottom body shells, and which in a pre-Jobsian lack of hyper-precise stylishness had a not-quite-matching color.
Another pre-Jobsian touch in the long-gone days of Newtonia was that all MessagePads, the 120 included, allowed users to replace their own batteries with store-bought cheapies. What a concept: user serviceablity, not user infantilization. A rechargeable NiCad pack was also available from Apple.
The MessagePad 120's infrared port was pre-IrDA — that standard wasn't implemented until the MessagePad 2000 and 2100, and the late, unlamented eMate 300. The 120 used the Sharp ASK (amplitude-shift keying) infrared protocol with Apple extensions — and if you want more info about those ancient IR days, check out the Newton Infrared FAQ.
In the paleolithic mid-1990s, even such straightforward hardware adjustments as contrast control were performed through dials, such as on the MessagePad 120. If you talk with service folks from those days, you'll learn that more than one MessagePad owner who thought their device had died was chagrined to discover that their contrast control had inadvertently been dialed back to zero.
More sexiness — and eventually a striptease
The MessagePad 120, like all of its Newtonian brethren from the OMP to the MessagePad 2100, had a 5/12V PCMCIA Type II slot. Ejecting a PCMCIA card — as per normal at the time — was a mechanical affair, accomplished by pushing a knurled tab.
The MessagePad 120 was hardly a multimedia device, so a 2MB PCMCIA card would hold a hefty number of items. Non-bundled applications, as The Dude might say, would "abide" on a PCMCIA card.
A snug li'l rubber cover protected both the MessagePad 120's power-adapter port and its...
...standard Appleonian round, eight-pin, mini-DIN serial port, which supported RS422/LocalTalk connections.
Just to make things difficult — and cheap — Apple didn't put a simple on/off switch on the MessagePad 120, but instead used a "slide-to-start" spring-loaded number. Although I would have preferred a simpler set-up that could have sensed when startup had occurred, I could have lived with this pusher if it had been a bit more positive in its response.
Ah, the FCC-compliance notification. Some aspects of electronic devices do remain essentially the same, even after 15-plus years.
Software and soup
I blush to admit that I'm a hardware geek — but hardware exists to power software, so I need to give Newton apps a nod. There are plenty of places to take deep dives into Newtonian software, but here's a peek at a few items on my MessagePad 120, circa 1995 — all images actual size, by the way.
Oh, and one quick note: the display in these photos isn't discolored — that's merely the shadow of my camera. And, by the way, I shot all the photos for this story using a Nikon D90 with a 105mm Micro-Nikkor lens.
If you have a modern smartphone, take a look at its icons, and see if they bear any resemblance to these on the MessagePad 120. Sure, yours are far more finely detailed and attractively multicolored, but as Zep knew, the song remains the same.
Contact information — which was entered with the MessagePad's stylus using either Newton 2.0's improved handwriting recognition or by means of a soft keyboard — could be displayed in one of six different "business card" formats.
All of the data entered into a Newton device was stored not in files, but in databases known as "soups". Data in soups could be shared among all applications — an advanced concept at the time, and one which made sharing data among apps such as calendars and contacts easy and transparent, but which made discrete file-based development a bit of a hassle.
This latter drawback was alleviated somewhat in Newton OS 2.0, which introduced a less-soupy concept called Virtual Binary Objects that added file-like capabilities.
Choosing a business-card style, as when entering all other types of contact information, popped open a separate entry window. In this example, you'd simply tap your favorite style (which can vary contact-to-contact) then tap the X-box — not Xbox — to close the entry window.
Note, by the way, that the date on my MessagePad 120 is July 2001. The poor old thing can't handle 2010, and pops back to 1976 when you try to bring its time and date settings into the present. Sigh...
Apple's bundled Calculator app was simplicity itself, but if you needed more functions you had a wealth of third-party choices, including specialized calculators for tax preparers, doctors, financial folks, and more.
Yes, dozen of simple games were available for the MessagePad, such as 'Bombs Away', a rather transparent takeoff on the arcade game Missile Command. And no, the MessagePad 120 couldn't play Crysis.
Take it off!
The MessagePad 120 is relatively straightforward to open up, either for simple repairs or just to satisfy nerdy curiosity — PDA Soft provides a clear set of take-apart instructions.
Back in the mid-1990's, however, snap-in wiring connections were more rare than they are today, so breaking an opened-up MessagePad 120 down into its constituent parts requires some soldering-iron dexterity, a skill I don't possess.
So here's my 120, merely opened up, and not fully disassembled — I didn't want to risk murdering my old friend.
Lying face down with its bottom removed, the battery bay (right) and PCMCIA card slot (left) dominate the MessagePad 120's main circuit board. Note that board-component spacing and layout is rather relaxed when compared to that of current handhelds.
Remember that DIN-8 serial port and speaker from a few pages back? Here they are again, en déshabille, flanking the MessagePad 120's seven-volt power input.
The rear-facing infrared port uses a 1.5-by-1cm mirror to bounce the signal up to two horizontally mounted IR sensors and down from its one IR emitter.
When running Newton OS 1.3, the MessagePad 120 had 4MB of ROM; when upgraded to OS 2.0, that ROM doubled to 8MB. These two Apple-branded chips, unlike any other of the 120's circuitry, ride on the handheld's bottom cover. I wouldn't bet my 'Pad on it, but my presumption is that they're the 120's OS-housing ROMs.
The two (ROM?) chips in the previous photo, mounted on the 120's case bottom, interface with the main circuit board mounted in the case top through the two sockets on the right and left of this photo.
As mentioned above, Apple offered an optional NiCad Battery Pack for the MessagePad 120, which was charged through — what else? — an optional MessagePad 120 Charging Station, which was simply a dock into which you could slip your 'Pad or battery pack. Contact was made through two external pads, which then led through the bottom of the 120's case (left) and made contact with small pads on the the circuit board (right).
'This is the end / Beautiful friend'
A Newton 2.0–equipped MessagePad 120 was, as I mentioned above, far superior to the earlier 1.x-equipped MessagePads. Version 2.0 brought such niceties as printed-handwriting recognition, auto-expanding text macros, a new (and faster) Connection Kit for backup to Mac and PC, an Ink Text capability that added cut-and-paste and word-wrap to unconverted handwritten text, and a lot more.
But it was too late. The earlier iterations' foibles — especially their capricious-before-you-trained-it handwriting recognition that was lampooned by such notables as Doonesbury and The Simpsons — had made the Newton platform a laughing stock rather than a cool, forward-looking must-have.
On Friday, February 27, 1998 — not long after his return to power at Apple — Steve Jobs released the news that we Newton aficionados had already known for some time: the MessagePad series was dead.
One final note. When I opened up my MessagePad 120, I discovered the above stamp on the inside of its metallic paint–sprayed case bottom. Note the date: November 4 1994. My 120 was a Newton OS 2.0 model — which wasn't released until the end of 1995.
Either Apple made a pile of MessagePad 120 case bottoms at the end of 1994 and expected another batch to be needed sometime in 1995, or the devices simply weren't selling up to projections and there was a warehouse somewhere in Taiwan that held a lot of unassembled cases for a lot longer than Cupertino had intended. ®
Bootnote1
A little help? On the top of the MessagePad 120's logic board is one prominent chip: a Zilog Z8503008VSC — and I'm at a loss as to what its function is. My guess is an I/O controller, but I assume that some experienced (and ... ahem ... "seasoned") Reg reader might be able to help me out. Here 'tis:
Bootnote2
Care for a bit of Newtonian time travel? Check out the video that shipped with these li'l buggers. Much may have changed since August 1993, but marketing is forever: