Original URL: http://www.theregister.co.uk/2010/07/23/games_review_blacklight_tango_down/
Blacklight: Tango Down
Shoot, is that all you got?
Posted in Personal Tech, 23rd July 2010 19:02 GMT
One of the few things I learnt at university was Pareto's Principle, or the 80/20 rule, which states that in anything, 20 per cent is vital and 80 per cent is trivial.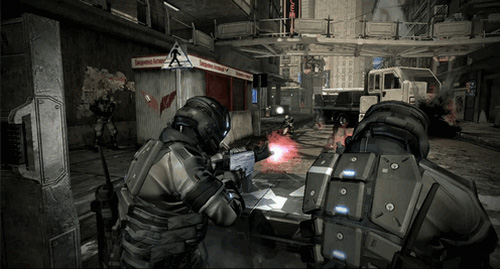 Pedestrian crossing? Doubtful
Originally calculated to describe the distribution of wealth in society - where 20 per cent of a population owns 80 per cent of its wealth - the rule can be applied to almost anything, especially the bidirectional relationship between cost and value.
For example, 20 per cent of the cost of an expensive watch provides 80 per cent of its intrinsic value (i.e. telling the time). Whereas 80 per cent of its cost buys you the other 20 per cent (e.g. water resistant to 200-metres or a stopwatch that displays milliseconds).
I've harped on about this principle for years in a vain attempt to stop my girlfriend preferring expensive handbags over cheaper ones. But, after playing Blacklight: Tango Down, Zombie Studios' budget FPS, I'm beginning to think she deserves that Mulberry after all.
On paper, Tango Down reads 80 per cent fragfest at 20 per cent cost. A tenner buys you 12 maps and seven distinct modes in multiplayer, and four half-hour-long single-player or co-op campaign levels. It also buys a robust levelling and customisation system similar to Call of Duty, which rewards grinding with improved loadouts as you level up through its 70 ranks.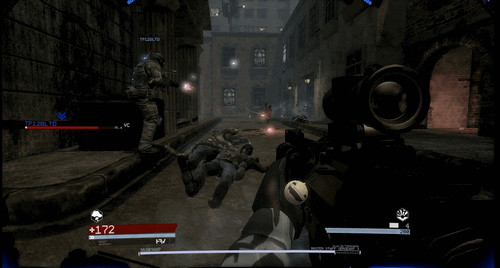 Two down, one to go!
Small development team..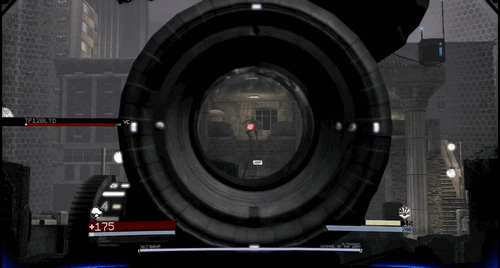 Gone dotty with a gun
In reality, however, Tango Down makes you yearn for the 20 per cent luxury only full-priced Triple-A shooters provide. Graphics are substandard, with polygon counts, textures and lighting effects comparing poorly to even five-year old titles, such as Half Life 2.
If you think that's understandable given the small development team and use of the Unreal Engine, then compare the recent achievements of a single developer in his Terminator mod.
Graphics aren't the only limitations of Tango Down. Enemy AI obviously graduated from the Space Invaders Academy, where prancing left to right and back again while unloading seemingly limitless ammo clips is the default strategy.
The level design, although cleverly reused in well balanced multiplayer maps, reduces the campaign mode to an uninspired trudge through linear paths punctuated by pockets of enemy resistance.
And, although shooters are rarely known for their compelling narratives, trigger happy fans will be dismayed to hear Tango Down's storytelling fails to rival even Andy McNab. The incoherent plot - covert US special forces fight an enemy comprised of rogue US special forces and infected, deranged militia – is, fortunately, well hidden in the game's text-only help menu.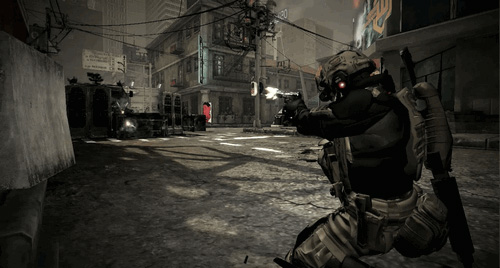 Take out the trash
Multiplayer vs Campaign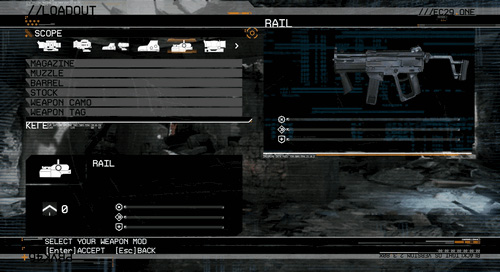 Menu's guns, no hairdryers here
It's clear campaign mode is an afterthought to its multiplayer offering. The Hyper Reality Visor (HRV), which temporarily highlights enemies and supplies through entire buildings, serves little purpose on the campaign's strict linear path, as enemy encampments can't be circumvented. But employed along the multiple paths of multiplayer, the HRV can be exploited to flank or ambush enemies.
And the Digi grenade, meant to obscure enemy sight with its pixelated digital cloud, is redundant in campaign mode, where you can't see into or through it to pick off enemies. But drop one near a node in Domination or next to a canister in the CTF-style Retrieval, and they provide perfect cover.
Multiplayer maps are further proof of Tango Down's core focus. While lacking the types of open, expansive areas seen in some of Call of Duty's or Battlefield Bad Company's maps, the tight maps offer decent variety at fast pace, and provide for varied tactics, from defensive strongholds to hit and run engagements. And the seven different modes are, if highly familiar to veteran fraggers, all worth playing.
Multiplayer presents some problems. The matchmaking system might be superior to one or two big budget titles, but lobby wait times can be inexplicably long. And without dedicated servers, if a host quits in-game, there's a lengthy wait to migrate to another host, which often leads to a domino effect, as more and more players bug out.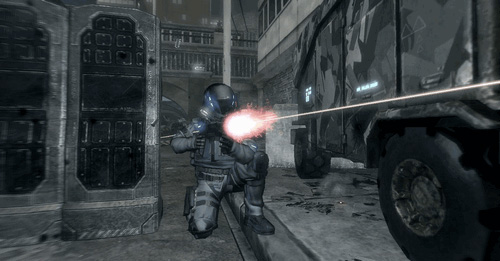 Down on the knee, I'm ready to shoot!
Verdict
If you're looking for a decent single player or co-op campaign then you're best off avoiding Tango Down, even at the low price point.
Luckily, Tango Down's core offering is its multiplayer. And here it exceeds expectations of a budget title. If you've got serious battle fatigue from MW2 or BFBC2 then at £10 Tango Down is excellent value for a title that should see at least a couple of weeks' play.
But while there's bound to be a healthy number of players over the quiet summer months ahead, expect most players to switch back to the Triple-A big guns long before the arrival of COD Black Ops in November.
More Games Reviews

Crackdown
2
Sniper:
Ghost Warrior
Demon's
Souls
Transformers:
War for Cybertron