Original URL: https://www.theregister.co.uk/2010/07/21/review_wireless_music_raumfeld/
Raumfeld multi-room wireless music system
From Wi-Fi to Hi-Fi
Posted in Personal Tech, 21st July 2010 07:02 GMT
First UK Review If you want a wireless music system with a trick remote control you have two options: spend a lot of cash and get a Sonos set up, or spend a lot less and get a Logitech Squeezebox Duet. Both rigs require your music library to be housed on an PC or Nas drive, and with the Logitech you also need some hi-fi kit to hand.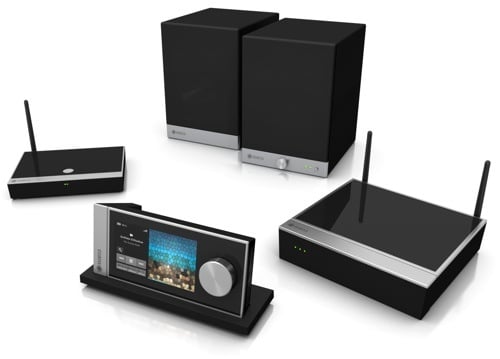 Raumfeld's wireless music rig: sexy kit
Now German audio maker Raumfeld is pitching a third option. The basic Raumfeld system consists of a Base, a Connector, a Controller and a pair of wireless active speakers. In a nutshell, the hard drive-equipped Base handles content, the Controller lets you manage the system, and the Connector lets you link the system to your existing AV kit. The speakers do what speakers do.
Set up is extraordinarily simple: just plug everything in, connect the Base to your router with the supplied Ethernet cable, pair each unit to the Controller - a simple matter of holding down the pairing button on each when the remote asks you to - and you're done.
Then you can copy your music library onto the Base's 160GB HDD through its second Ethernet port or over your wireless network, or access the UPnP/DNLA music server on your PC or Nas, or even connect some external storage to one of the Base's two USB ports.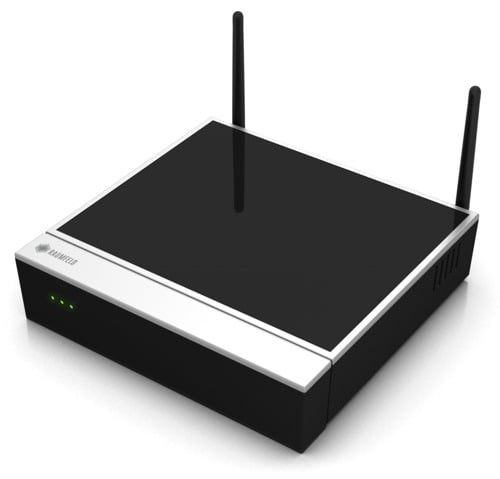 The Base is the heart of the system
MP3, WAV, Flac, Ogg Vorbis, ASF, WMA and M4A/AAC music files can all be handled no matter what the sample rate providing they are DRM free. The Base can tap into shared iTunes libraries.
Aesthetically, Raumfeld has spent the design budget where it makes the most impact. The Base and Connector are just anonymous black boxes, albeit well-made ones, but the speakers - available in black or white - really look the part, especially with the grilles off.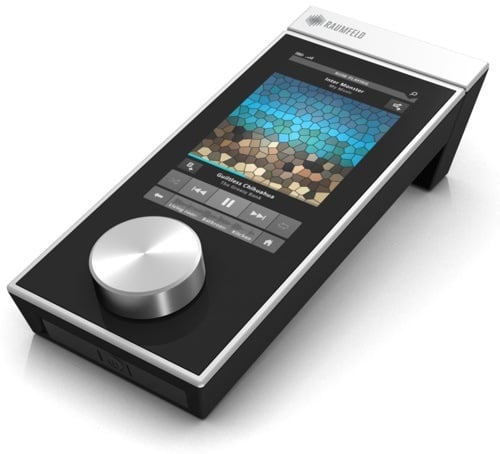 The Remote is cute
The remote Controller is an impressive looking angular affair with a large aluminium volume knob - you can adjust the volume without picking it up - and a 4.5in, 272 x 480 capacitive touchscreen. It presents a twit-proof menu structure and a fast scroll ability that deserves to win an award.
In short, it's wholly intuitive and a joy to use.
Being both active and wireless you can put the speakers pretty well anywhere you want so long as they are within reach of a power socket, though you do have to wire each pair together. For that purpose Raumfeld bundles 6m of quality speaker cable.
The speakers tie into the Base over the system's own, 802.11g wireless network which, like a Sonos set-up, is separate from any WLAN you may already have in place.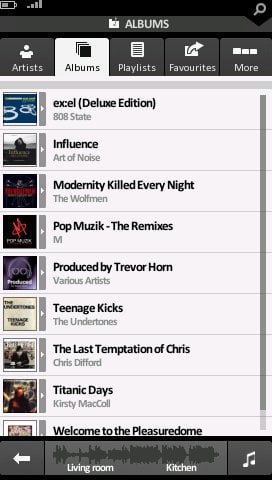 The Remote's UI is intuitive to use and speedy to navigate through
The Controller lets you play different music through each set of speakers, or the same music synchronised through all. The volume for each room can also be adjusted or muted individually. Each speaker has its own volume dial so you can turn it down manually if you don't have the remote to hand. The system supports "up to ten" sets of speakers, says Raumfeld, the exact total being dependent on the wireless environment it's operating in.
With both input and output RCA audio jacks, the Connector works as a two-way device, so as well as allowing you to link the Base to a conventional stereo or home cinema system for playback, you can also use it to tie a CD player, record deck or TV to the Raumfeld system. The Connector also has a S/PDif/Toslink optical audio output.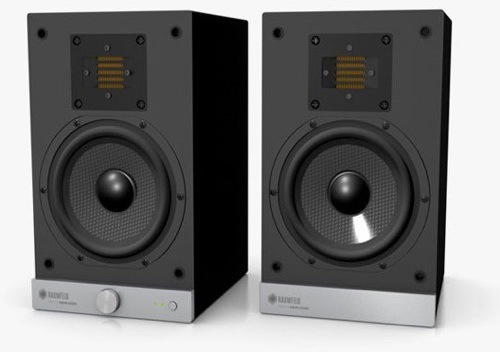 The speakers look great - covers on or off
How does it all sound? In a word, excellent. The active speakers are very fine. The smaller, Model S units are more than adequate for most domestic use and produce a bigger sound than you might expect from the 2 x 15W RMS rating.
The larger, 2 x 30W Model M enclosures on the other hand are in a different league and will do good service in even the largest spaces. They chuck out some serious volume.
That said, Raumfeld obviously reckons it knows better than you how music should sound because there is a complete lack of bass, treble or sound profile controls. So you take your music the way Raumfeld likes, or you lump it.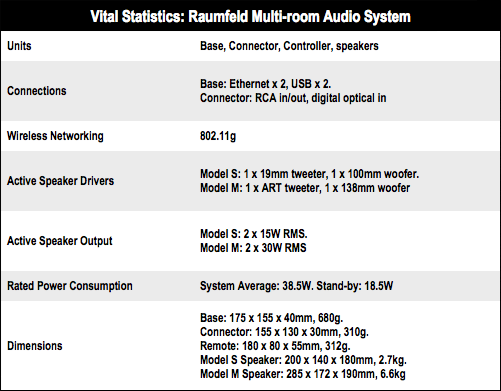 All this kit and convenience doesn't come cheap. The basic system will set you back £1149 with one pair of S speakers or £1212 with two pairs. The Ms will set you back £699 a set, while extra Connectors cost £280 and further Controllers £349 a pop.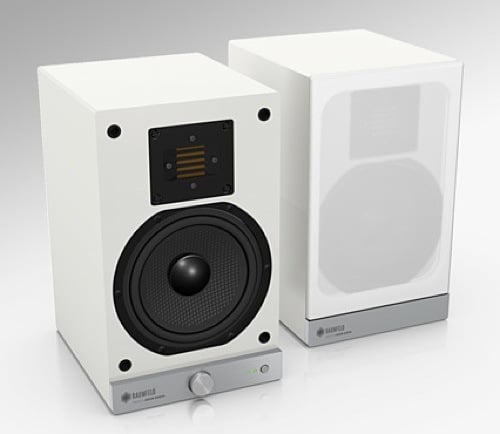 The speakers also come in white
By contrast, a basic two-room Sonos wireless music system with a pair of BU250 bookshelf speakers will set you back £839. That's clearly cheaper, but it lacks the Raumfeld's internal storage.
The trick up Sonos' sleeve is the network mesh it sets up allowing the system to expand ever outwards from the source. Clearly a simple 802.11g basestation-to-clients network won't be able to match that, but the system worked perfectly well in my three bedroom semi - and didn't interfere with my domestic 802.11b/g Wi-Fi network. Raumfeld recommends the use of standard Wi-Fi repeaters as a way of extending your music network's wireless footprint.
Verdict
Assuming you don't balk at the price, the Raumfeld is a very impressive system. It's extremely easy to set up, even easier to use, and produces a very fine sound. The remote control is a superb bit of design, and the bundled speakers - often the Achilles' Heel of all-in-one-box systems - are very easy on the ear. ®
More Wireless Audio Kit Reviews

Sonos
ZonePlayer
S5
Logitech
Squeezebox
Touch
Creative
ZiiSound
D5
Logitech
Squeezebox
Boom