Original URL: https://www.theregister.co.uk/2010/07/21/review_smartphone_sony_ericsson_xperia_x10_mini_pro/
Sony Ericsson Xperia X10 Mini Pro
Keyboard gives the edge?
Posted in Personal Tech, 21st July 2010 12:02 GMT
Review Sony Ericsson reckoned it was on to a winner with its impressive Xperia X10 handset, which in one swoop helped us to forget the pain of flawed Xperias past. Then it squeezed the formula into the tiny palm-sized X10 Mini - reviewed here - which offered smart functionality in a handbag-sized package.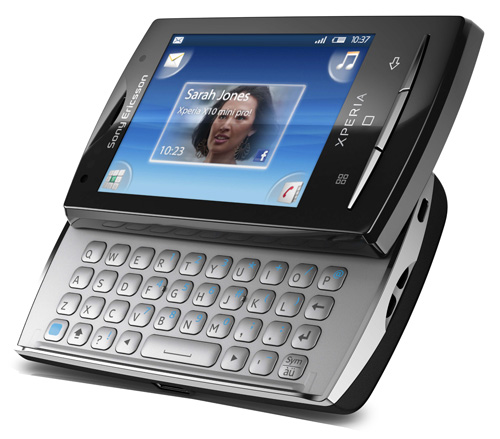 Sony Ericsson's X10 Mini Pro: keys to the kingdom
And now there's the Pro version. The word 'Pro' is just Sony Ericsson's shorthand for a Qwerty keyboard - we've seen it before with the Vivaz and Vivaz Pro - and, sure enough, this is more less an X10 Mini with a slide-out keyboard, though there are a few other differences.
Of course it's a little bigger - 90 x 52 x 17mm as opposed to 83 x 50 x 16mm - but the 2.5in, 240 x 320, 16m-colour capacitive touchscreen is the same, as are the three slivery buttons below the screen for back, menu and home. It doesn't come with the Mini's choice of colourful back covers but it is available in red, black or white livery.
The micro USB power/sync port has slid from the bottom to the side, while the 3.5mm headphone jack - with an additional slot attached, designed for future accessories like an external speaker, apparently - has helpfully moved to the top to nestle next to the power button. Volume rocker and camera shutter button are now black instead of silver but remain on the side.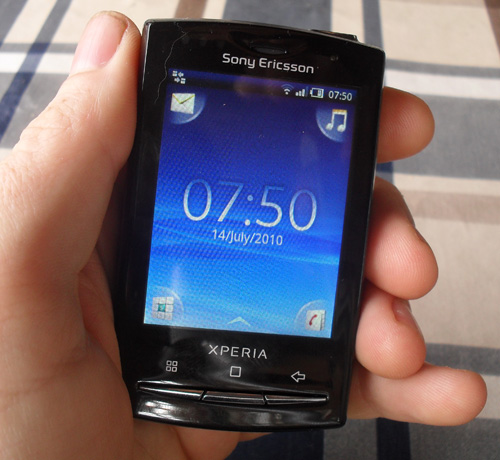 Barely a handful
The back features the same rubberised plastic and the same 5Mp camera lens with LED flash. Inside, there's a conventional replaceable battery – something that isn't available with the even more titchy X10 Mini.
But it's the keyboard that's the big difference. It slides out with a reassuringly solid thunk to reveal 38 keys, nicely spaced, slightly raised and finished in tactile rubberised plastic. They're on the small side, but easy enough to distinguish under the thumbs.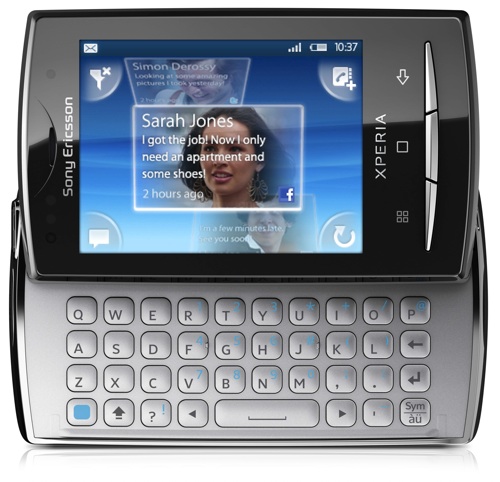 Wasted space: there are too few alternative key functions
Though it feels good, it could have been a little better. Nine of the letter keys have no alternative functions, which seems like a bit of a waste – we could have had some up/down scrolling buttons on there, or a few more quick-access symbols or useful phrases like www or .com.
I'm not quite sure why we need a prompt to change language every time we start to type, having already set our preference, and though there's an option to automatically correct mistyped words, it didn't seem to work on my sample.
Firing up the screen seems to take an unnecessarily long time – a good three to four seconds from pressing any of the three hard keys, and then you have to press the menu key to unlock the screen. Every time.
The X10 Mini Pro runs on a 600MHz Qualcomm processor which seems to do a much better job of zipping between applications once the phone's up and running so perhaps it's just a trait of the phone. It's an annoying one though.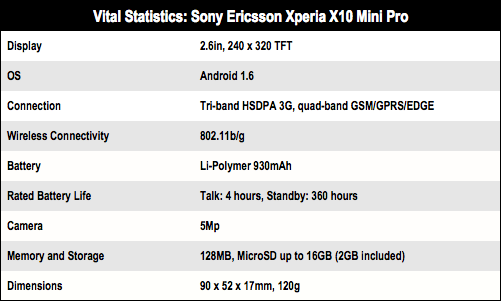 The 5Mp camera takes about four seconds to fire up and offers geotagging, as well as a grand total of four shooting modes: auto, macro, twilight and sports. And along with flash on or off that's your lot – there's not even a digital zoom. The pics it takes aren't bad if you have decent light, though the colours can be a little lacking in vibrancy – this is very much a 'quick snap' camera and nothing more. Video's OK, recording at 640 x 480 pixels and at 30f/s, but while it doesn't let the side down, it's not exceptional.
Sample Shots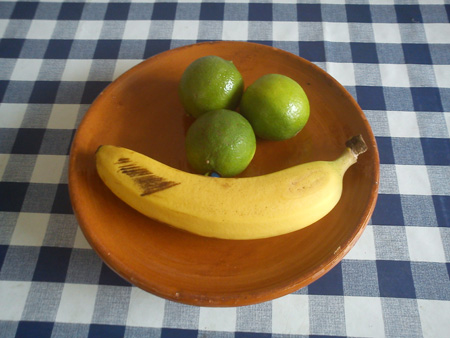 Click for a full-resolution image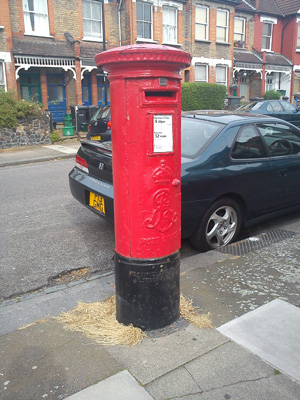 Click for a full-resolution image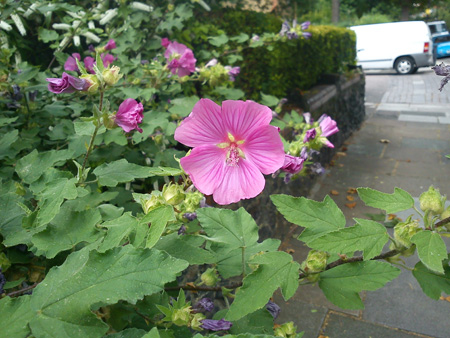 Click for a full-resolution image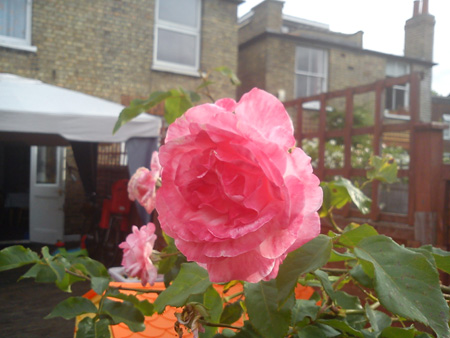 Click for a full-resolution image
You're not likely to be watching much video on the small screen, and if you do, it'll look reasonably sharp, but very, very small, with no option to expand letterbox format films to fit the screen's dimensions. The music player fares better, though the sound of MP3 and AAC files was distinctly bass-light through the supplied headphones. The auto-tuning FM radio worked well though.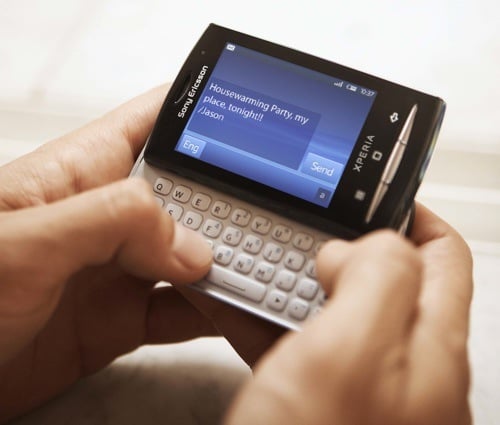 The keys are easy enough to distinguish under the thumbs
Browsing is hampered by the small screen dimensions and the lack of a zoom function, but there are HSDPA 3G or Wi-Fi connections for speed and you can view multiple pages. There's a magnifying window to help you pan around the page.
The X10 Mini Pro runs Android 1.6, but with a few tweaks from Sony Ericsson. There are four home pages, each of which can be furnished with a single widget, such as time/date, Timescape, search, calendar etc.
On my sample there also appeared to be a bit of a glitch in the calling software: usually when I made a call the screen would change, giving me an option to end the call. Sometimes, though, it remained on the keypad screen, which doesn't have an option to cut the call, leaving calls to voice messages hanging with no way to end them.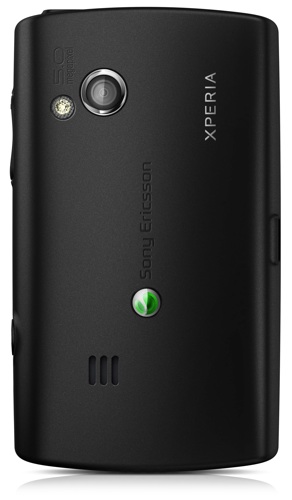 Unlike the X10 Mini, the Pro model has a removable battery under its backplate
Call quality incidentally seemed a little on the quiet side, though it's clear enough.
You can't drag and drop shortcuts and widgets onto the home screens, but each corner also features a different shortcut - dialler, music, messages and contacts - as well as a menu that slides up from the bottom and the usual Android updates list that slides down from the top. It's a decent way to pack a lot of easily accessible info into the diminutive dimensions of the screen.
Extremely pocketable
The Timescape social networking feature we first saw on the original X10 is back and it's still a winner, even in these cramped circumstances. It will pull together all updates from your Facebook and Twitter accounts, as well as emails and text messages into a single linear stream which allows you to thumb between your various updates in strict date order.
The X10 Mini Pro has 128MB of memory on board which you can bump up to 16GB with a Micro SD card, of which a 2GB version comes bundled.
Battery life wasn't very impressive, and I barely got a full day of moderate use out of it.
Verdict
Size is the key factor here, and the X10 Mini Pro is an extremely pocketable smartphone. If you're likely to be doing a lot of texting, it's a clear choice over the X10 Mini and its fiddly virtual keyboard. The Pro has yet another look for Android and makes the most of the screen's small dimensions. While it lacks all the capabilities you'd expect from larger touchscreen phones, it's a very decent effort to cram full smart phone functionality into a titchy space. ®
More Android Smartphone Reviews

Sony Ericsson
Xperia
X10 Mini
Dell
Streak
T-Mobile
Pulse
Mini
HTC
Desire