Original URL: https://www.theregister.co.uk/2010/07/21/farnborough_raptor_eurofighter_ir/
Raptor over Blighty: Watch the stealth fighter in infrared
Tail-balancing 'thermos' jet outclasses Eurofighter
Posted in Science, 21st July 2010 11:25 GMT
Farnborough This week the Reg flying car, killer robot and general military crazytech desk has been attending the Farnborough Airshow. One of the show's highlights this year is the reappearance of the US F-22 Raptor ultrafighter, previously seen publicly in the UK for just one brief Monday display at Farnborough '08.
This time the Raptor, generally judged to be the most dangerous, most capable and surely the most expensive fighter plane in the world, will be appearing every day including the public days this weekend.
One of the Raptor's many high-tech features is its Stealth design. In large part this is about making the plane not invisible, but less visible on radar - a matter mostly of its shape and also somewhat of coatings applied to its exterior.
Another and less well-known aspect of stealth is the effort to reduce an aircraft's infrared emissions, to prevent its being picked up by infrared search-and-track (IRST) systems or the seeker heads of some types of missile.
This might seem impossible on the face of it, as a jet fighter naturally generates colossal amounts of heat in operation. But in fact the latest US Stealth fighters, the Raptor and the newer F-35 Lightning II, can reduce their infrared emissions noticeably under some circumstances - by dumping excess heat into the fuel in their tanks, so cooling their hotter parts and transforming the plane into a "flying thermos bottle" as the jargon has it.
Naturally, heating up a tank full of jet fuel is a dangerous business - a tank of aviation juice is unpleasantly akin to a flying bomb ordinarily, without boiling the fuel to boot. This is just one more reason why stealth planes are so expensive.
As the vid above (courtesy of Flight International and infrared-scanner maker FLIR Systems) shows, the F-22 can't stay stealthy in the infrared while performing an airshow routine - but you wouldn't expect that. The Raptor is performing some amazing stunts above the crowds at Farnborough this week - balancing on its tail supported solely by jet thrust, for instance, which it can do as it can swivel its exhausts (not as much as the F-35B jumpjet, which can hover in a normal horizontal attitude; the Raptor's vectored thrust is for use in air combat, not landing).
Full-power manoeuvres naturally produce flaring infrared signatures: but from some directions, in some parts of the vid, the F-22 does seem to be cooler than you'd expect - even though it probably doesn't have its IR stealth systems turned on. It's an interesting watch, anyway.
Also at Farnborough - 1980s tech at Raptor prices - Italy cuts Eurofighter order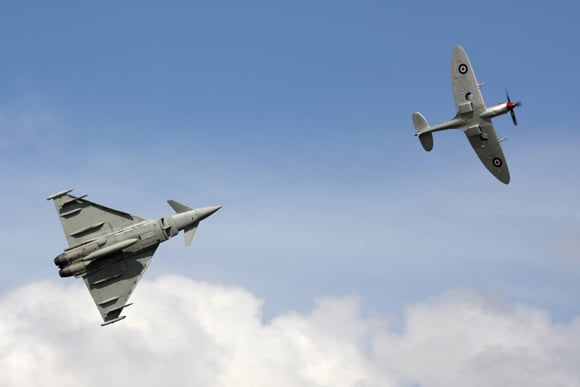 One of these is a truly great British-made fighter plane
Also at the show is the Eurofighter Typhoon, set to cost the British taxpayer somewhere from £20bn to £25bn once modernisation and upgrading for use as a bomber as well as a fighter are complete. The Typhoon currently lacks an electronically scanned radar as sported by the Raptor, for instance. The RAF is likely to receive 160 planes for this, though many will be mothballed as the service does not require and cannot man up nearly so many Typhoons.
The likely useable UK fleet of say 120-30 jets (including some spares to allow for crashes etc; quite possibly fewer than this will be required following the current cuts/review process underway at the MoD) will thus have cost Uk taxpayers £200m apiece or more, well north of $300m at current rates.
That's in the same price range as a Raptor (just 185 Raptors are to be made, which has pushed their unit price up). But the Eurofighter has no stealth, no thrust vectoring, not even a proper radar yet.
It costs like a Raptor, despite the fact that it is being made in much larger numbers, yet by comparison it is obsolete. The cost overruns on the programme, in the opinion of UK Treasury lawyers anyway, have released the UK from its pledge to buy 232 Eurofighters and keep 90+ of them in storage doing nothing. Even BAE Systems now accepts that the remaining "Tranche 3B" UK purchase is not going to happen.
It's no surprise then that Italy's defence minister, speaking at Farnborough, has just slashed his country's order from 121 jets to 96. Evidently his advisors have perceived the same escape mechanism as the British are using.
It's gloomy news all round, in fact, for the assembled European arms makers here at Farnborough: and the Americans are facing similar austerity on their side of the pond, too. But with both sides' armed forces engaged in bloody ground warfare against an enemy without air forces in Afghanistan, and both sides' governments needing to pay for the huge economic rescue handouts of recent years, taxpayers at least will probably be staying cheerful. ®