Original URL: https://www.theregister.co.uk/2010/07/20/review_smartphone_android_htc_wildfire/
HTC Wildfire Android smartphone
The best value Googlephone around?
Posted in Personal Tech, 20th July 2010 13:02 GMT
Review So you like the sound of this Android smartphone business, but you don't want to spend a fortune? Well, the HTC Wildfire isn't the first budget Android blower, but it's arguably the best.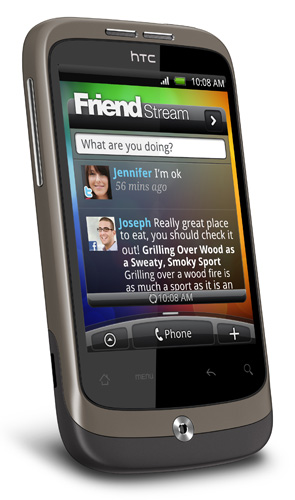 Hot product: HTC's Wildfire
Previously, if you wanted an Android phone on the cheap you had to sacrifice stuff. First to go would usually be the nature of the touchscreen, dropping from the pricier, better-looking capacitive kind – favoured by the HTC Desire, for instance – to the cheaper, less enjoyable pressure-sensitive resistive sort.
With some budget phones, you'd save money but lose Wi-Fi – a crazy cutback in a smartphone. Wi-Fi is here, and so is GPS, the other casualty of cost-cutting. Well, on the Wildfire the screen is not as high-resolution as on pricier phones, but it's not bad, and it's still a capacitive jobby.
Look closely and you can see it's nowhere near as sharp or as vibrant as the latest AMOLED screens on top-end phones. Trading down from an Apple iPhone or Google Nexus One is a change in quality you'd really notice. The Wildfire's resolution is 240 x 320 and, for the most part, that's more than good enough and better than a lot of mid-range phone screens.
The Wildfire is compact without feeling cramped and feels good in the hand. There are various colours to choose from, all with a slightly contrasting back panel. As on the Google Nexus One, there's a row of touch-sensitive icons at the base of the screen (Home, Menu, Back and Search) and underneath them is a recessed optical touchpad to navigate between screens. It's an effective set-up and, again, one that belies the phone's price.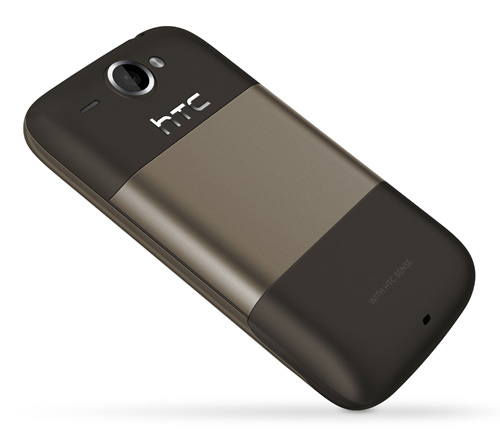 The 5Mp camera is certainly usable, albeit a rather average performer
And since the Wildfire is an HTC handset, you know you're in good company. HTC is known for great build quality and outstanding usability. Android is a highly accessible operating system but HTC adds its own Sense overlay which improves things further. Basic Android has some dodgy-looking icons – like the clock for instance – or limitations on numbers of screens. Earlier editions lacked multi-touch capabilities, but HTC users have had this longer than most rivals.
Sense has other advantages, like the quick way to see thumbnail versions of all the home screens so you can hop between them easily. It's more than just a good way of finding your way between apps. The Twitter app, called Peep, and Sense's e-mail app are both highly effective and simple to use. The virtual onscreen keyboard is the best in class. The e-mail app is especially versatile, letting you display mail by sender, importance and more. Friend Stream gathers your social networking connections together (Facebook, Twitter and Flickr) so your updates are all in one place.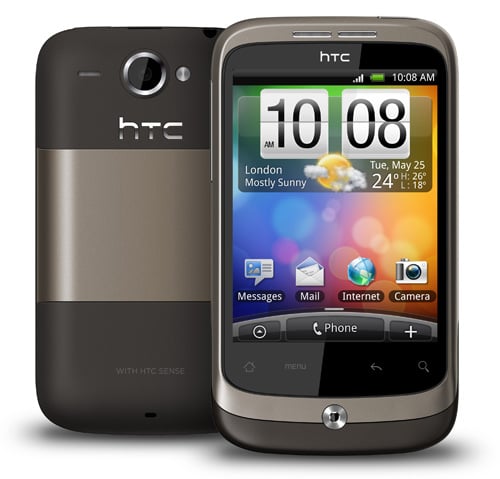 Build quality is up to usual standards
The new addition that came with the Wildfire is an onscreen widget, called App Sharing. Since Android doesn't have the Genius recommendations feature that comes with iTunes, it can be hard to know what apps to download from the 50,000+ available. Especially since, there's no vetting of apps as there is with Apple – whatever you think of that decision.
With App Sharing you click on an app and choose whether to tell everyone about it using e-mail, text message, tweet or Friend Stream. The recipient(s) will get a link, which lets them download the app. It's a simple and effective way to spread the word. Sense isn't perfect, mind. Although the Wildfire has Android 2.1, it takes time to update Sense to the next version, so don't expect Android 2.2 just yet. A vanilla Android phone without the Sense overlay could theoretically be updated sooner.
And Sense doesn't have the fully integrated speech-to-text functions some Android phones have that enable you to speak your destination in Google Maps and let the phone do everything else for you. This isn't a big problem though, as there's a free speech-to-text download available on the Android Market.
There's also no sign of the funky animated wallpapers which Android has made its own, although the truth is they drain the battery like nobody's business and HTC's default background colours are sweet enough. Of course you can add your own background using the 5Mp camera, which I found to be absolutely usable with the usual cameraphone provisions: shutter lag in low light and average rather than outstanding results.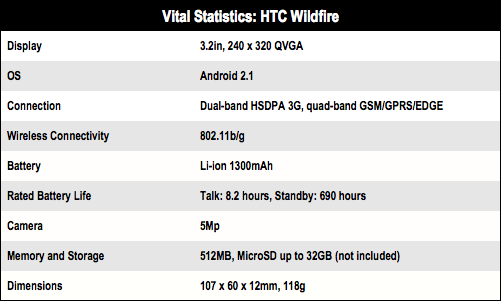 There's also the question of the processor. It's a Qualcomm MSM 7225 528MHz chip, so substantially slower than the Snapdragon 1GHz chip in many high-end smarties. However, there's no real evidence of slowdown or sluggishness. The screen responds quickly and the browser loads swiftly – though not as speedily as the Nexus One, say. Nonetheless, you rarely feel you're being kept waiting.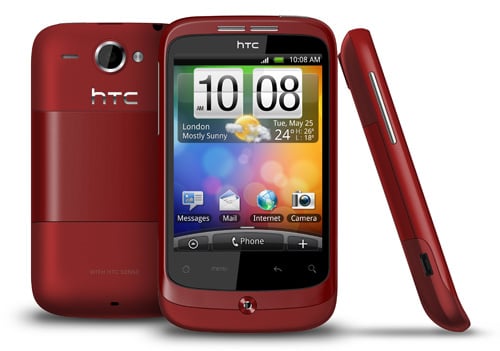 Also available in red
Built-in memory isn't huge – just 384MB – so it's worth adding a micro SD card to bump this up. It'll handle cards up to 32GB.
If you're coming to Android from the iPhone, you may miss the way you can wake the screen from the button on the front of the phone. Press the trackpad button here and nothing happens. Instead you must reach to the top of the phone and press the wake button there. Now, this isn't a hardship – it's really not that far – but if you're used to touching the front of the phone, it's annoying. HTC says it's so you don't accidentally wake the screen and waste battery life.
Mind you, it's a measure of how few the Wildfire's disappointments are, that I'm having to mention this.
Verdict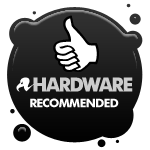 There's a lot to like about the HTC Wildfire, from the low price to the exceptional HTC Sense user interface. The screen is the most low-rent aspect but even though it's definitely low-res, its still usable and at least it's not a pressure-sensitive resistive kind of screen. Beyond that, it looks good, feels comfy in the hand and works well. ®
More Android Smartphone Reviews

Vodafone
845
Motorola
Flipout
Sony Ericsson
Xperia
X10 Mini
Dell
Streak