Original URL: http://www.theregister.co.uk/2010/07/20/review_headphones_creative_world_of_warcraft/
Creative World of Warcraft headphones
Wireless gear for weekend warriors
Posted in Personal Tech, 20th July 2010 12:06 GMT
Review To be honest, I can't think of anything more embarrassing than wearing a badged set of World of Warcraft headphones. Does it really matter what's stamped on the side when you're sat behind a big monitor anyway?
However, Blizzard's all-conquering MMORPG does have about ten zillion subscribers, and Creative Labs has had considerable success with its Fatal1ty range of gaming headsets, so there is some method to its madness.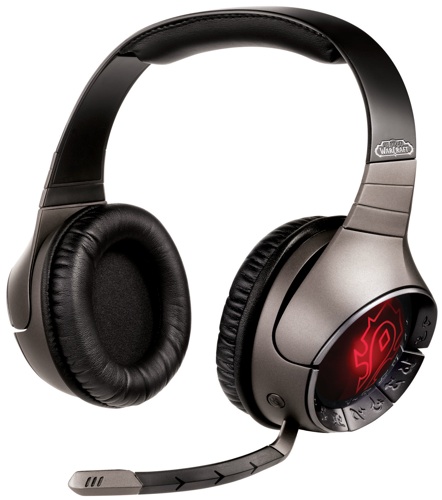 Creative's World of Warcraft headphones: bow down to your inner fanboy
I tested the more expensive wireless version of the headset, which costs £150, but there's also a wired version available for £110. The headset itself is very comfortable to wear, thanks to the thickly padded earpieces and headband - which, to add to your embarrassment, actually looks rather like Cyberman head handles.
The earpieces can be fitted with glowing "lenses" that carry the logos of the Alliance and Horde factions within WoW, and you can even adjust the colour of the glow to suit your fancy. There's also a detachable microphone that you can use for voice-chat during gaming sessions.
Creative recommends a full eight-hour charging period before using the headphones for the first time, and four hours for subsequent recharges, but we actually found that the headphones charged up much more quickly than that. They were fully charged in less than 90 minutes the first time round.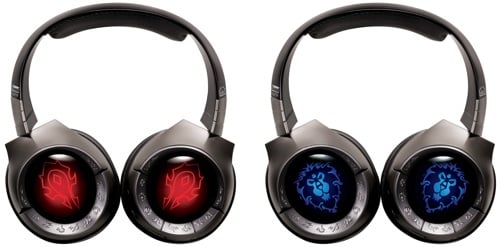 Opt for Horde or Alliance affiliation
Once it's powered up, the built-in rechargeable battery will last for about nine hours of non-stop monster-mashing mayhem.
A small USB transmitter provides a 2.4GHz wireless connection that sends out uncompressed audio, and pairing the transmitter to the headphones is a simple matter of pressing the 'Connect' button on each device for three seconds. The transmitter registers as a standard USB audio device on a Mac or a PC, so you don't need to install any software to use the headphones.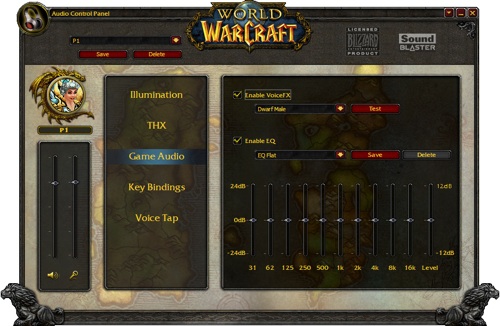 Speak Elf? Tweak this utility and you'll sound like you are
I initially found that higher frequencies sounded a little muffled at lower volumes, but they come out more strongly as you increase the volume, and the overall audio quality was very good – although I still reckon that Sennheiser's RS 160 pair has a slight edge with the clarity of its higher frequencies.
But, in addition to wireless music playback, the headphones also provide some extra features for WoW players. Although you can use the cans without any additional software, Creative does provide an optional control panel program for both Macs and PCs as a free download from its web site.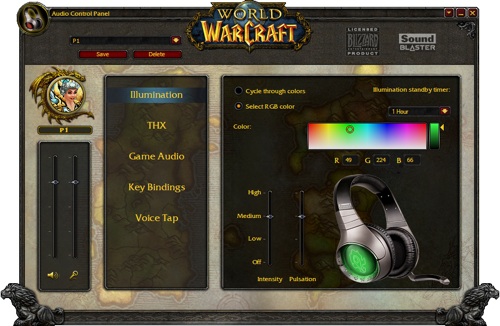 Adjust your set
As well as a providing a full set of equaliser controls and presets for adjusting music output, this software allows you to alter the colour and intensity of the logo lenses, or make them cycle through a range of colours. There's an option for emphasising voice output as you bark orders at your guild-mates, and even a 'voicefx' option that modifies your voice as you speak into the mike to make you sound like an elf, dwarf, or one of the other races found in World of Warcraft.
Verdict
A price tag of almost £150 might seem like a lot for a set of gaming headphones, but it's not unreasonable when compared to similar wireless headsets such as the aforementioned Sennheiser RS 160.
In addition, the WoW headphones also provide some fun customisation options that will appeal to the game's many dedicated followers, so I wouldn't be at all surprised if quite a few guild members find themselves settling in for a long evening of gaming with the World of Warcraft headphones quietly glowing atop their pointy little ears. ®