Original URL: https://www.theregister.co.uk/2010/07/19/ten_essential_premium_ipod_speakers/
Ten... Premium iPod Speakers
Superior sounds up to 11
Posted in Personal Tech, 19th July 2010 11:34 GMT
Product Round-up Audiobores... er.. philes will be the first to tell you that the quest for decent home audio is one best not started with an iPod in one hand and a wad of cash in the other. Apple's DACs may not be quite the full shilling, and the lack of support for Flac hardly helps the company's standing among those who have no gods before sound quality.
For the other 95 per cent of us with sexual partners, the choice of what we use to pipe our iPod through will have far more impact on the end result than the quality of the digital to analogue conversion or file format so long as said files are of a decent bit rate.
To prove that iPod docks don't have to look or sound cheap and nasty, I took a gander at some of the more upmarket iPod sound systems around.
It should go without saying that all the docks on test here sound good - I wouldn't be bothering with them to start with if they didn't - but some sound very, very good.
Most of them aren't bad lookers either. While I'd be the first to agree that sound quality trumps aesthetics, I for one don't want to splash out three hundred plus quid on something that looks like it was glued together in a shed from bits of wheelie bin.
On the subject of price, respected retailer John Lewis reckons that 30 per cent of the docks it flogs cost over £300. So for every seven of you who think paying this sort of money for a speaker system for your iPod is lunacy, three others disagree.
Bose SoundDock 10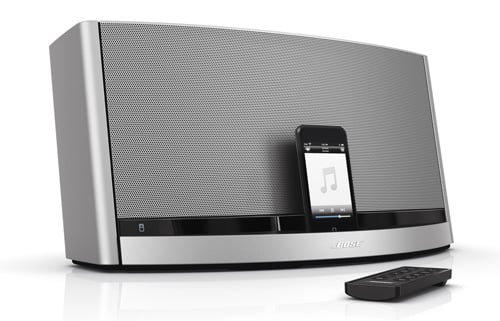 Like Apple, Bose is a brand with some avid fans who are happy to pay more than a little extra for any product carrying the logo. And pay extra we Brits do because in the UK the top-of-the-range SoundDock 10 carries an eye-watering ticket of £699, the best part of £300 more than the US price, $599.
Pricing aside, the SoundDock 10 is an elegant if rather plain - some would say austere - bit of kit, though the initial impression is simply one of sheer size - by heck its a big old lump. The Bose produces an enjoyable sound though it doesn't beat the Zeppelin by any significant margin generating a little less bass in favour of a crisper, clearer and more clinical sound. The SoundDock has no controls on the main unit. So, lose the remote and you'll be left fiddling with your iPod's controls while in situ to manage even the volume.
Reg Rating 70%
Price £699
More Info Bose
Input Sources iPod, 3.5mm stereo, Bluetooth
Speakers 2 x 44.5mm "twiddlers", 1 x 178mm woofer
Power Output Not specified. 100W?
Power Consumption Average: 23W. Stand-by: 4.7W
Dimensions 432 x 244 x 221mm, 8.4kg

Bowers & Wilkins Zeppelin

The default choice in posh iPod docks, the Zeppelin is nearly three years old but age has not withered it one iota. A superb piece of design - though one whose size pushes the meaning of 'bookshelf standing' beyond what most would understand by the term - the Zeppelin is a gorgeous if very modernistic blend of form and function that few are likely to be unimpressed by. Sound quality is top notch: superbly balanced and full bodied no matter what the volume with excellent projection and separation. The stainless steel airship body is built like a brick out-house, though at £400 a pop so it should be. The docking arm is a brilliant bit of design and almost worth the asking price alone, while various sound profiles can be accessed using a special iPod menu that appears when docked.
Reg Rating 95%
Price £399
More Info B&W
Input Sources iPod, 3.5mm stereo, optical digital
Speakers 1 x 125mm bass, 2 x 90mm mid-range, 2 x 25mm tweeter
Power Output 100W RMS
Power Consumption Average: 21W. Stand-by: 4.1W
Dimensions 640 x 208 x 173mm, 7.5kg

Fatman iTube ValveDock Carbon Edition 2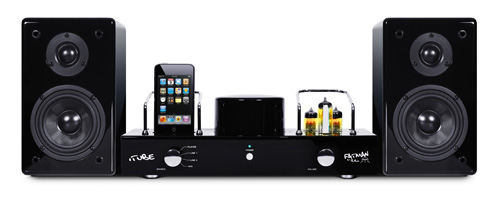 A dock for steam punk fans that eschews all this digital nonsense in favour of good old valves. Looking more like a hand crafted hi-fi separate than a modern dock, the Carbon is dominated by three lovely glowing vacuum tubes and a big round transformer. Without coming over all Bob Harris, those valves do counter some of the coldness and sterility that digital music sources are often accused of producing and makes the Carbon 2 the closet you will get to analogue audio this side of a Linn Sondek and a good LP collection.
By dint of not having its speakers physically attached, the ValveDock can create the the sort of stereo separation the other units on test here can only dream about. A word of warning though, the bundled bookshelf speakers are no better than average, so my suggestion to improve sound and save a few quid is to buy your ValveDock without them and head to Richer Sounds for a nice pair of Wharfedale Diamonds or similar.
Reg Rating 80%
Price £250
More Info Fatman
Input Sources iPod, 3.5mm, RCA phono
Speakers N/A
Power Output 2 x 25W RMS
Power Consumption Average: 18W. Stand-by: 2.2W
Dimensions 374 x 205 x 155mm, 5.8kg

Fidek iBigboy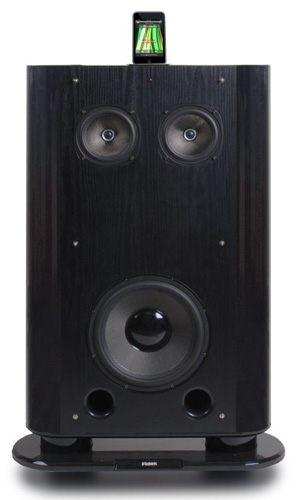 The iBigboy from Honk Kong-based audio maker Fidek isn't so much 'iPod dock as furniture' as 'iPod dock as monumental architecture'. The lads who built Stonehenge would no doubt get wood just from looking at the box the thing comes in. The size of a book case and weighing a massive 24kg, the iBigboy is truly huge and with 240W of amplification on tap so is the noise it can make. Turn it all the way up and you won't just wake the neighbours but the dead too. The 10in sub-woofer will get the joint jumping and the foundations cracking.
The iBigboy can easily fill even the largest room with superb quality sound and is also very competent at lower volumes. It also did a good job when connected to my telly. There's no shielding, though, so slip your iPhone into flight mode or you could end up with 240W of GSM interference - which sounds like a Chinook landing in the garden. If you want to impress visitors with the size of your woofers, the speaker cover is attached magnetically and can be removed in a trice. The full function remote control isn't bad either.
Reg Rating 85%
Price £399
More Info FiDeck
Input Sources iPod, FM
Speakers 2 x 25mm tweeters, 2 x 130mm woofers, 1 x 260mm sub-woofer, 2 x 60mm bass ports
Power Output 240W RMS
Power Consumption Average: 38W. Stand-by: 9.3W
Dimensions 581 x 860 x 220mm, 24kg

Geneva Sound Model L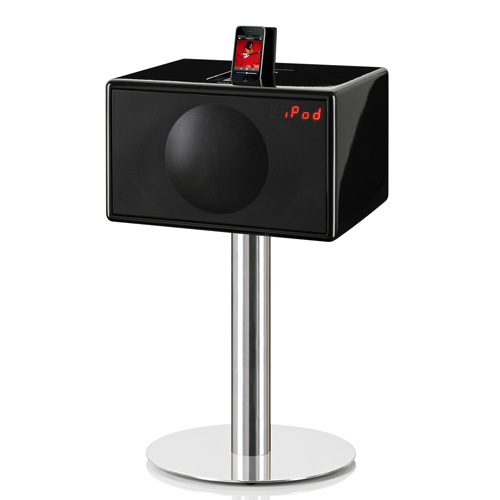 The words unique and gorgeous can be applied to the entire Geneva Sound range each member of which follows the simple design formula of a large wooden cube with a dock on the top. The LED lights hidden behind the speaker grille should impress guests, as will the beautifully crafted and rounded lacquered wood cabinet. The Model L isn't all about looks - the sound it produces is wonderfully expansive, warm and mellifluous. I have always found Geneva Sound players to be especially well suited to the classical repertoire but no matter what genre of music floats your boat, your ears won't be disappointed. In short, the Geneva L is hugely expensive and hugely appealing though sadly the funky 13kg aluminium floor stand will set you back a further £159.
Reg Rating 85%
Price £849
More Info Geneva Lab
Input Sources iPod, FM, 3.5mm, CD
Speakers 2 x 25mm tweeters, 2 x 135mm woofers
Power Output 100W RMS
Power Consumption Average: 16.5W. Stand-by: 1.5W
Dimensions 448 x 291 x 365mm, 17.2kg

Intempo iFi 01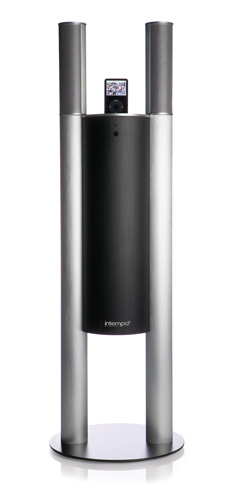 A smart looking floor-stander with a small footprint, the iFi-01 delivers compact 2.1 sound from its two 15W directional speakers and a downward firing 30W sub-woofer. A little self-assembly is required, but once knocked together, it's a cracking bit of object d'art that should grace most modern lounge or office spaces and sounds as good as it looks, especially at high volumes. The absence of any extras beyond a 3.5mm auxiliary jack and mini-USB port for in situ synchronising makes the iFi 01 excellent value for money if all you are concerned with is getting the maximum audio wallop out of your iPod. The remote only lets you control the volume and next/last track, but the addition of buttons to alter the treble and bass goes someway toward making up for that. On the whole, this is fine bit of kit that punches well above its price - Sainsbury's will sell you one for under two hundred quid.
Reg Rating 90%
Price £199
More Info Intempo
Input Sources iPod, 3.5mm
Speakers 2 x 25mm tweeters, 2 x 50mm mid-range, 1 x 133mm sub-woofer
Power Output 60W RMS
Power Consumption Average: 20W. Stand-by: 7.2W
Dimensions 350 x 1091mm, 9.5kg

Parrot Zikmu by Philippe Starck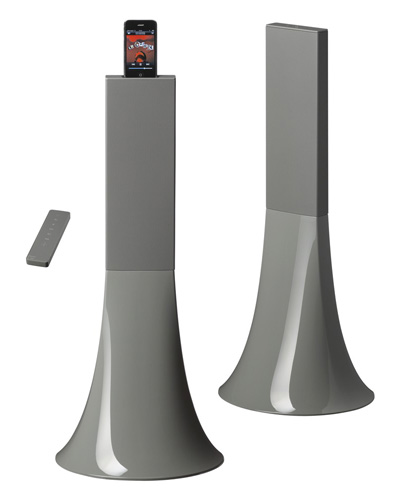 French designer wireless speakers for the very, very well-heeled, the Parrot Zikmu's are phenomenally expensive but also phenomenally good. Supporting both Wi-Fi and Bluetooth music streaming, they can can source music from your PC or phone. Or you can drop your iPod into the dock - the internal DAC essentially treats your iPod like a digital file server. Then you can place the two units up to 15m apart with no wires to trip over because music is piped from one to the other through 802.11b/g network cards.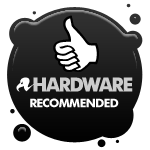 Each speaker contains two flat-panel drivers placed back-to-back and a downward-firing sub-woofer, all of which combine to create a sound that for once really is a truly immersive 360-degree experience. Place the two speakers a few feet out from the corners of a large room and it really is hard to work out where the sound in coming from. Audiophiles will scream heresy, but the rest of us will just think they are cool and grove until dawn to Mylène Farmer while dragging on a Gauloises.
Reg Rating 95%
Price £1000
More Info Parrot
Input Sources iPod, RCA phono, 802.11b/g, Bluetooth
Speakers 2 x 10W flat-panel mid-range drivers, 1 x 30W sub-woofer (per speaker)
Power Output 2 x 50W RMS
Power Consumption Average: 20W. Stand-by: 4.5W (per speaker)
Dimensions 750 x 320 x 290mm (base), 130 x 35mm (top), 3.5kg

Philips Fidelio DS9000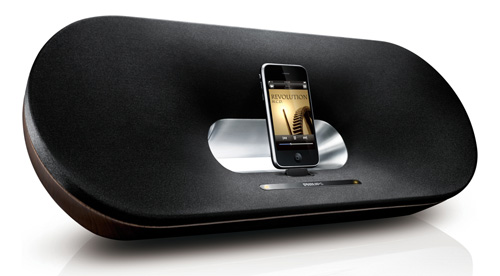 Designing something specifically to outdo the B&W Zeppelin was ambitious but the brand new Fidelio DS9000 actually pulls it off. A superb bit of design replete with interesting curves, real wood and subtle aluminium highlights - many will think it easier on the eye and less visually declamatory than the Zeppelin.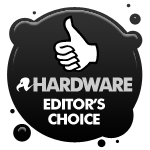 Some will also think it easier on the ear too and personally I'd agree. There may be less punch, but it shades the B&W with its greater sense of coherence and warmth. In short, it sounds just a little more natural than the Zep. If that seems a bit subjective then so be it, but Philips makes much of the benefits of the DS9000's own DAC.
Pleasing design touches abound like the the proximity sensor which makes the unit controls glow when you reach to touch them, the iPhone/iPod Touch control app, and the spring loaded universal dock. It's not quite as flexible though, lacking the Zeppelin's optical input. The DS9000 carries the same RRP as the Zeppelin but I'd be surprised if, given time, you won't be able to better that by at least 30 or 40 quid, which would make the DS9000 a very solid purchase indeed.
The King is dead, long live the King.
Reg Rating 95%
Price £399
More Info Philips
Input Sources iPod, 3.5mm
Speakers 2 x 25mm tweeters, 2 x 100mm woofers
Power Output 100W RMS
Power Consumption Average: 10W. Stand-by: 0.7W
Dimensions 562 x 214 x 216mm, 6.5kg

Pioneer XW-NAC3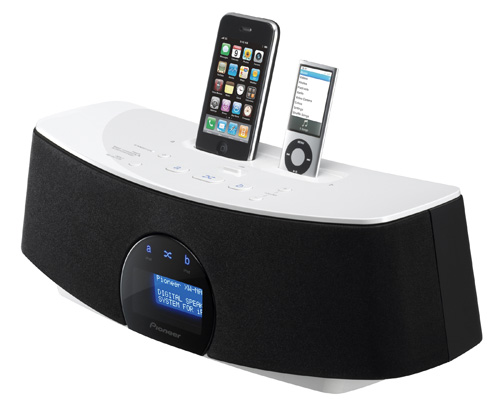 A bookshelf unit with not one but two docks so you can re-charge your iPod and iPhone at the same time - and even shuffle between them for a two-source mix. That's not the only trick up the Pioneer's sleeve: you also get stereo Bluetooth; a USB socket to play Flac, WMA, AAC and MP3 files; DNLA LAN access; and more internet radio stations than you can shake a stick at, including all the BBC Listen Again feeds.
With only 2 x 10W on tap, it's not the loudest unit on test, but the sound is well rounded, with a decent amount of bass and things never get ragged even with the volume turned up to 11. The XW-NAC3 is fully shielded against GSM interference and comes with an excellent little remote control that provides full iPod menu navigation, the information from which can be read of the large blue LCD display. All in all, a device for those more interested in technology than style or out and out sound quality, but still worth a look and a listen.
Reg Rating 80%
Price £300
More Info Pioneer
Input Sources iPod x 2, 3.5mm, Bluetooth, Ethernet, USB
Speakers 2 x 66mm full range
Power Output 20W RMS
Power Consumption Average: 8.5W. Stand-by: 2.1W
Dimensions 410 x 135 x 153mm, 2.9kg

Sony RDP-X80iP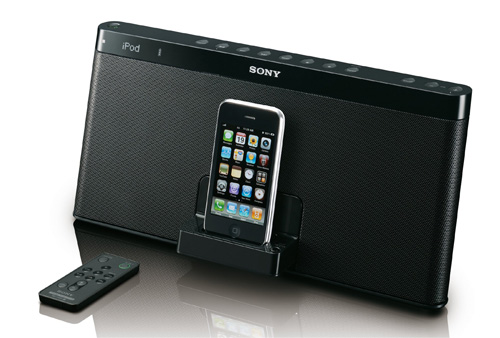 A brand new dock that sits at the pinnacle of its maker's range, the X80iP has a hidden benefit in the form of a rechargeable battery tucked away inside making this the only dock here that can be used where mains cables fear to tread. The styling is a little too Sony generic for my taste - some would call it downright dull - but much is forgiven when it starts to play music. The results are really rather impressive, with plenty of volume on tap and an impressive feeling of warmth and balance.
Externally, the X80iP is distinguished by a rather attractive when active, invisible when not OLED screen built into the top of the unit, and by a lovely damped dock that rotates out from the body. Sony reckons the battery pack is good for seven hours of playback. I found that to be just a shade optimistic: five and a half was the best I managed.
Reg Rating 75%
Price £249
More Info Sony
Input Sources iPod, 3.5mm stereo
Speakers 2 x 75mm full range
Power Output 2 x 20W RMS
Power Consumption Average: 9.5W. Stand-by: 1.8W
Dimensions 356 x 119 x 163mm, 1.9kg