Original URL: https://www.theregister.co.uk/2010/07/19/submarine_tech_hints_at_clandestine_surveillance/
Secret sub tech hints at spooks' TEMPEST-busting bugs
'Other UK gov parties' wanted details suppressed
Posted in Science, 19th July 2010 13:04 GMT
Farnborough British boffins have devloped a cunning new method of transmitting high bandwidth data - plus power - through tough solid barriers such as submarine hulls or tank armour. The tech is being touted as a way of adding modifications to subs or armoured vehicles cheaply, but it seems that there are also other, highly secret, government applications.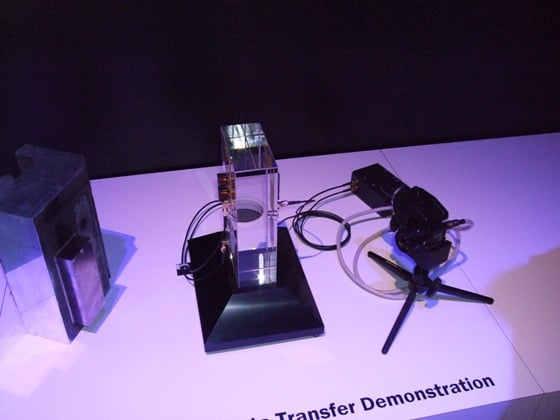 Through glass, submarine hulls... maybe through Faraday cages
The kit is being shown off here at the Farnborough airshow this week - Farnborough being a defence/weapons show as much as it is about aviation. The Reg got the chance to talk to Dr Lionel Kent, co-inventor of the new gear, about his brainchild. He had a demo rig set up, showing a video image being passed through a thick sheet of glass without wires.
"The glass is just to show we aren't cheating," said Kent's colleague Dr David Birkin. "No wires, you see - and it works just as well through a block of solid metal."
Not only does the kit pass data at reasonable-video bandwidth levels, the external end of the connection - the one which would be outside the sub's pressure hull or the tank's armour, or potentially inside a nuclear reactor core - is also powered wirelessly from the human-safe side.
"What's the point in avoiding the need to drill a hole for a data cable if you then have to drill one anyway for power?" asks Kent.
The ability to transmit power wirelessly has also been shown recently by researchers in the States, using magnetic fields oscillating at megahertz frequencies. We mentioned these to Dr Kent, but it seems that his kit is different.
"That approach is limited on bandwidth," he said. His and his colleagues' brainchild was developed at BAE Systems' Advanced Technology Centre beginning in 2006.
So how does it work, then?
"We can't tell you," says Kent. "Other parties have asked us not to make the details public."
Asked who these other parties might be, the two boffins refused to be drawn, though they did confirm that the request for secrecy came from within the UK government.
Through the cabbage patch - or into the secret walled garden?
BAE is choosing to emphasise the technology's uses in submarines, whose steel pressure hulls must normally have hundreds of "penetrations". Each of these is a maintenance and design burden - so much so that the pressure hull must be significantly thicker and heavier at the "cabbage patch" forward of the sub's conning tower/sail, where most of the penetrations are clustered.
Likewise such kit would make it much simpler to let soldiers inside a tank or personnel carrier see out, without compromising their armour by inserting windows or holes for camera feeds. Similarly sensors or instruments inside a reactor core or other expensively sealed environment could be installed more cheaply and conveniently.
None of these applications, though, would seem to call for secrecy regarding the mechanism by which the power and data are carried. One is compelled to speculate regarding other uses for it, which might be frustrated if enemies of the British state knew the details.
Just for instance, it's possible to imagine a bug, camera or wiretap of some sort clandestinely installed inside a building, drawing its power wirelessly from equipment outside the walls and sending its harvest of data out by the same means. Not only would there be no need for giveaway battery changes or concealed wiring; the gear would also be invisible to ordinary radio-frequency type countersurveillance scans.
And better: the BAE gear apparently works right through a ferrous steel submarine hull, so its possible spooky counterpart might just be able to drill through a Faraday cage of the sort frequently wrapped around sensitive rooms, computers or comms gear as a security measure. Such measures - for instance those required to pass GCHQ's "TEMPEST" certification - are designed to block unintentional emissions from one's own gear, usually in the RF spectrum, rather than stopping special installed bugs working on quite different principles.
Dr Kent says that BAE's kit is not yet in service, but there are other labs than BAE's in the UK. In particular the intelligence services are known to have extensive technical shops of their own, potentially well able to develop this sort of kit - perhaps some time ago, in fact.
It doesn't seem impossible that even now MI5/SS, MI6/SIS and GCHQ have equipment similar to BAE's sub/tank datalinks in the field, siphoning information undetectably out of systems or locations considered impenetrably secure by their owners. It also seems plausible, given the request from "other government parties" that BAE not reveal details of their gear, that there is some way to frustrate such methods once you know about them.
The world of bugging and clandestine surveillance - and countermeasures against these - may be about to suffer another technical upset in the near future. ®