Original URL: https://www.theregister.co.uk/2010/07/16/review_gaming_microsoft_xbox_360_250gb_console/
Microsoft Xbox 360 250GB
Leaner, fitter and Kinect ready
Posted in Personal Tech, 16th July 2010 11:59 GMT
Review Five years after its original release, the Xbox 360 finally receives its long expected 'slim' overhaul. Just don't tell Microsoft I called it that. The company's reluctance to use the 's' word is understandable. Sony used it to distinguish versions of its PS2 and PS3 consoles.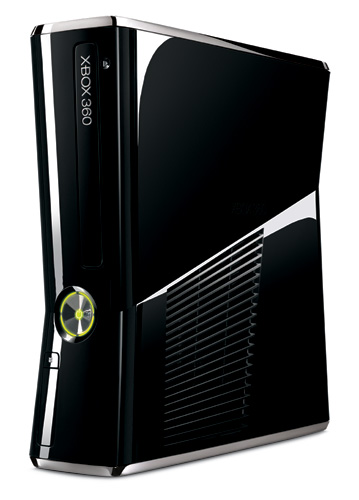 Fighting fit: Microsoft's Xbox 360
Also, further diversification of the Xbox 360 brand could introduce customer confusion over compatibility with Kinect motion-sensing interactivity – consequently, Microsoft is choosing instead to discontinue all other Xbox models. Most importantly, the s-word is somewhat inappropriate for a refresh that not only squeezes every indispensable feature into a smaller form, but adds some major improvements too.
Whether aesthetics are improved depends entirely on taste - one man's J-Lo will always be another man's SuBo. The original was an attractive, albeit safe, console design, whose only fash-paux was to choose off-white matt when all the technonistas of the HDTV world were going for the black piano-finish.
It's no surprise the new console arrives every bit the dust-and-finger-print-loving, miniature Steinway your HDTV always yearned for. But while its glossy black finish and chrome accents are the perfect complement, its flimsy casing isn't. Gripped in-hand the plastic flexes under modest pressure. And I'd guess a relatively small impact would crack it - nowhere more so than at the vent grilles top and bottom, and at the right-hand side, under which is the console's new (and only) 5in fan.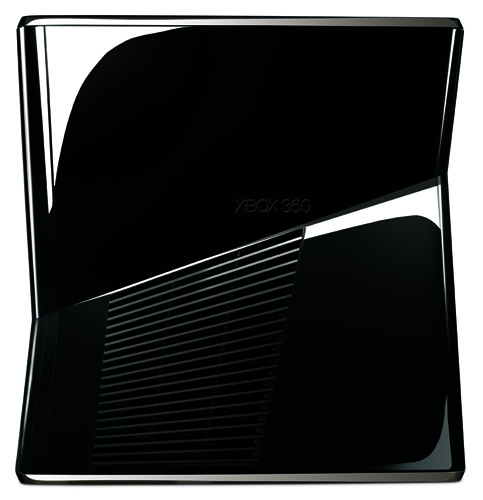 Just one fan is used in the new console, but overheating issues should be a thing of the past
No one buys a console to stroke or squeeze it – at least, I hope not. And a few feet away, tucked beside a TV, its sharp contours and pinched crease look more contemporary than its older sibling's curves, and far more attractive than my George Foreman Grill, PS3 Slim.
The new dimensions don't disappoint either. Volume is reduced by 22 per cent, from 83 x 309 x 258mm to 74 x 269 x 260mm, and weight by 17 per cent from 3.5kg to 2.9kg. It's not quite the 'slimming' achieved with the PS3, which reduced volume by 33 per cent and weight by 36 per cent (from 5kg to 3.2kg), but Sony's lard arse started morbidly obese and gave up Linux and backwards compatibility on its crash diet.

Additional ports extend the console's flexibility
And, yes, before I take a kicking from Sonybois, I realise the PS3 Slim houses its power adaptor, so there's actually very little between the consoles. But, I don't care. I've got both; I love both; and the new Xbox 360 is better looking, despite the dead rat, which, incidentally, is three-quarters the size of the previous monster.
Still, it's what's on the inside that counts, and a glance at the specs and ports highlights major improvements. The Valhalla motherboard is 30 per cent smaller than the Jasper board, thanks primarily to the new 45nm integrated CPU/GPU/eDRAM chip. Also, the integrated 802.11b/g/n Wi-Fi leapfrogs the PS3's 802.11b/g, which won't mean much for online play, but will make the difference when streaming HD content.
Port side, A Toslink S/PDIF optical connector finally adds 5.1 surround sound, and 5 USB ports (2 front and 3 rear) make up for Microsoft's abandonment of the old proprietary memory units. In addition to these and regular Ethernet, HDMI and A/V ports, there's an AUX port ready to connect Kinect (tongue tangler, MS?) and power it, whereas a separate plug is required if using the motion-sensing device with (now) older models.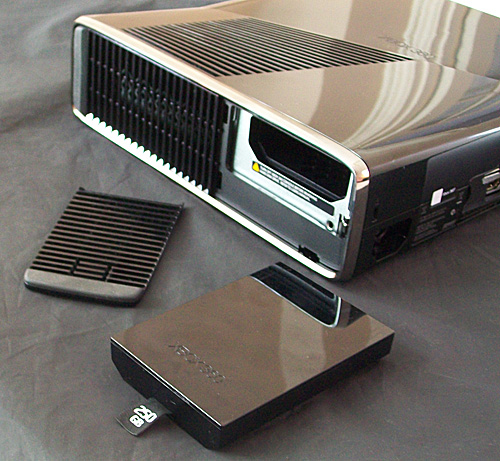 New removable drive form factor
The only contentious introduction is the custom removable HDD (currently 250GB). Located under a flap on the underside of the console (when standing), it might be easily removed and highly portable, but it forces upgraders who want to transfer files to purchase a data migration cable at £14.99, rather than possibly swapping in an older drive.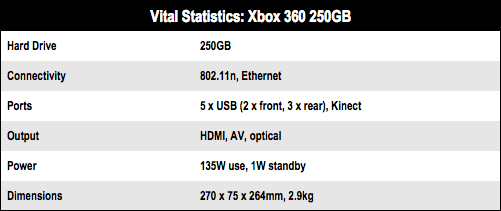 To be fair, migration wasn't at the top of everyone's wish list. That spot was reserved for the plea to dampen the original's near-Scramjet noise levels. Well, MS somehow heard the clamour over the noise, and markets the new console as 'whisper quiet'.

No obvious differences in gaming performance, but integrated Wi-Fi and Kinect's promise, add to its appeal
This unfortunately isn't strictly true. When powering up or at the dashboard the console is indeed whisper quiet, but run a game off a DVD and it's as noisy as ever. Fortunately, the 250GB drive and fast instal times (are you reading, Sony?), means games won't often be run off DVD, so it's not the issue it could have been.
Talking of install times, there's no noticeable difference between the old and new consoles when booting up menus, or installing or loading from DVD. And it goes without saying that all other features, such as graphical power, remain the same.
Verdict
The new Xbox 360 has the looks, features and price point to make it an essential purchase. You could, however, opt for a real bargain over the coming weeks, as retailers sell off discontinued Xbox models. These offers will be tempting for those unmoved by integrated Wi-Fi and one fewer plug for Kinect. But I'd personally pay the money and pick up a new one; or at least wait for the cheaper model, due sometime in August at around £130, which is expected to come with a smaller HDD and without Wi-Fi. ®
More Gaming Gear Reviews…

Top Ten...
Gaming Mice
Bigfoot Networks
Killer 2100
Consoles & Gadgets
Rapid Fire
Sony
PS3 Slim