Original URL: http://www.theregister.co.uk/2010/07/15/review_notebook_packard_bell_butterfly_xs/
Packard Bell Butterfly XS 11.6in notebook
The lepidopterist's laptop?
Posted in Personal Tech, 15th July 2010 13:02 GMT
Review Where does the dividing line between netbooks and notebooks lie? Is an 11.6in screen small enough to dismiss any ideas of true notebook status? Conversely, does having a DVD rewriter lift a portable forever out of netbookdom?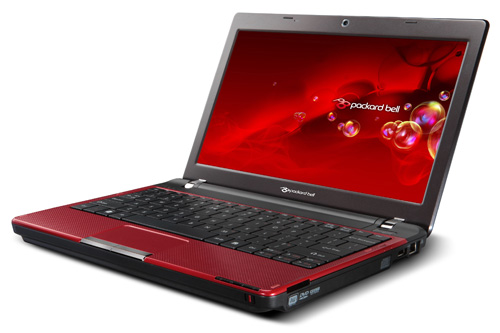 Packard Bell's Easynote Butterfly XS: flighty?
For those who want an ultra-portable, but aren't keen to give up an optical drive, Packard Bell's EasyNote Butterfly XS could be a good halfway house. It's around 30 per cent bigger than a typical 10in netbook. It weighs around 1.5kg, so it's heavier than most, but still very portable.
The larger case gives it room for a full-size keyboard, with a good size and action to each key. Even so, there are some layout compromises, such as the tucked-in cursor keys in the bottom, right-hand corner
Packard Bell has chosen to use red LEDs for most indicators and has, unfortunately, extended this to the colour of the legends on all the dual-function keys, making them near-impossible to read under anything other than full overhead lighting.
The touchpad is integral with the top surface of the machine, though slightly recessed. In use it's sensitive and supports multi-gesture movements under Windows 7.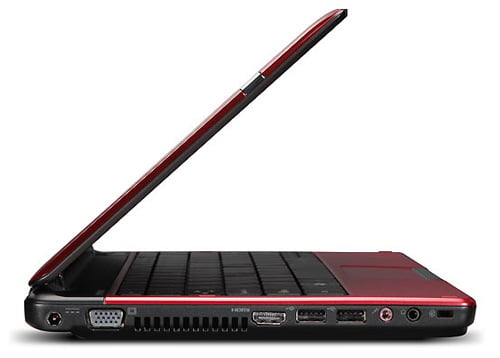 An HDMI port, hurrah
The 11.6in, 1366 x 768 display uses LED backlighting, which cuts power use and still gives bright, natural colours. Even dimmed on battery power, it's still bright enough to view comfortably unless picnicking in the Kalahari.
A quick trip round the edges highlights a small, spring-loaded slider at front-right, which switches the 802.11n wireless on and off. 3G connectivity is built in too.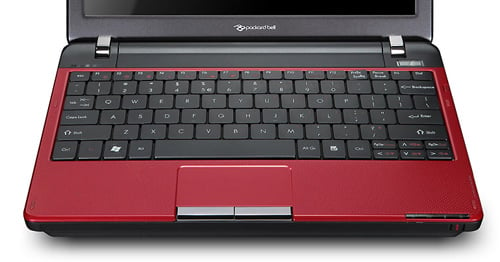 The keyboard is a decent size for such a small machine
There's an HDMI port on the left side, while the 8x multi-format DVD writer is on the right. A nice touch is the eject button, positioned on the top edge of the Butterfly xs case, rather than in the centre of the tray edge.
Inside, there's a 1.3GHz single-core Celeron SU743 processor, which is as much about low power use as it is about breathtaking performance. It's coupled to a GS45 chipset, which includes the GMA 4500M HD graphics accelerator.
There's 2GB of DDR 2 memory which is just enough for Windows 7, and a 250GB hard drive, which these days may be on the low side, though versions up to 640GB are available.
Sound is surprisingly good for a notebook of this size, particularly as there appear to be no speaker grilles on top or underside of the case. The sound appears to come from underneath and, while lacking any appreciable bass like most portables, is clearer than many in the higher frequencies.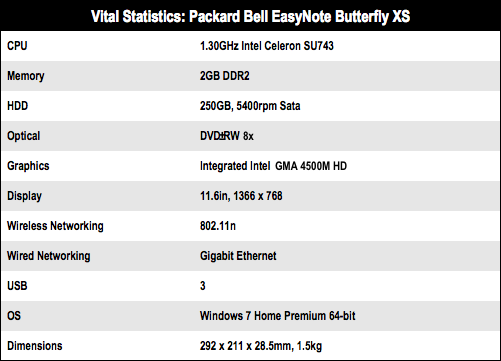 PCMark Vantage Results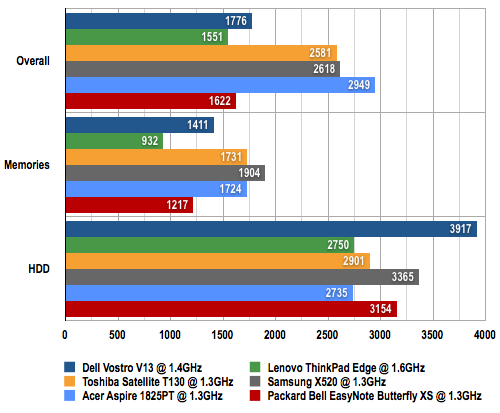 Longer bars are better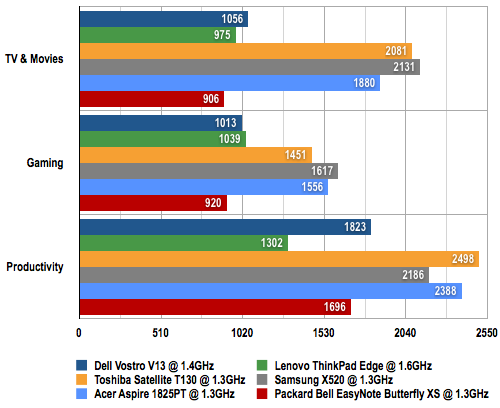 Longer bars are better
Battery Life Results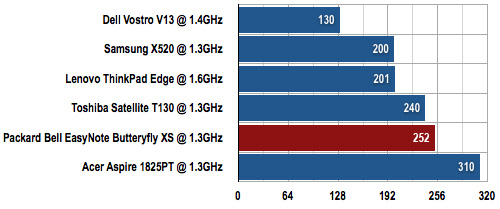 Batter life in Minutes
Longer bars are better
Under PCMark Vantage, the EasyNote Butterfy XS returned 1622 overall, which is an odd mix as it beats, for example, the Turion version of the Lenovo ThinkPad Edge, packing a 1.6GHz dual-core chip, but is sat on by the 1.3GHz Pentium SU2700 in Toshiba's Satellite T130.
Even so, screen playback of an HD clip is clean at 720p and 1080p, with no visible artefacts. There's not a lot of point in playing 1080p video on the XS' screen, but don't forget that HDMI port.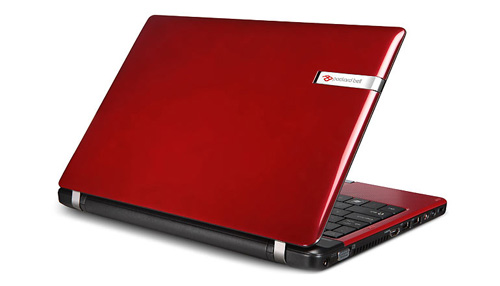 Reg Hardware isn't kind when specifying its battery life test: turn off all screen dimming and hibernation and run a looping standard definition video, full-screen, for as long as the machine has life. Under this regime, the XS lasted just over four hours, which is just about enough for two feature films. Under a more lenient regime, using the notebook for general office tasks, I don't think Packard Bell's claim of seven hours use is far-fetched.
There's a better software bundle with this machine than you get with many of its rivals. There's a full copy of Adobe Photoshop Elements 7, as well as Microsoft Works 9, Nero 9 and PowerDVD 8. They may not light your fire, but they do provide basic tools for everyday use. They all sit on top of 64-bit Windows 7 Home Premium.
Verdict
If you want a small notebook, but need more than a typical netbook can provide, particularly DVD and CD playback, the EasyNote Butterfly XS is a good all-rounder. While it's not going to win any performance awards, it handles 2D entertainment better than the raw figures suggest. ®
More Mini-Notebook Reviews

Acer
Aspire
1825PT
Sony
Vaio P
Samsung
NB30
Dell
Alienware
M11x