Original URL: https://www.theregister.co.uk/2010/07/15/grouptest_all_in_one_inkjet_printers_buyers_guide/
Buyer's Guide: all-in-one inkjet printers
How to make the right choice
Posted in Personal Tech, 15th July 2010 07:02 GMT
Group Test In the home, where print volumes are typically low, inkjet printers rule. You simply won't find colour lasers or laser-based all-in-ones at the £150 price point around which all the printers in this Group Test are offered.
Inkjets also have the versatility to be able to print quality photos as well as strong colours and reasonable black text on plain paper. While the printed output won't equal the clean precision of a laser, the differences are less and less marked as inkjet technology has become more refined.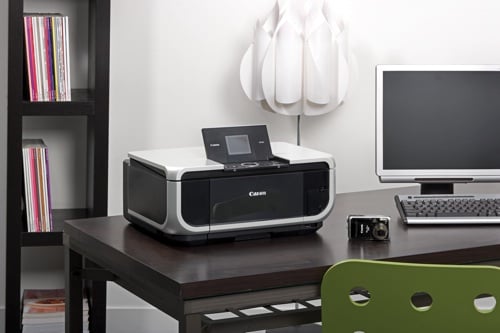 Most printers makers have defined two distinct targets for inkjet all-in-ones: the photo enthusiast and people working from home. Most manufacturers produce two ranges of machines, each targeting these two categories of user, such as Canon's Pixma MP and Pixma MX ranges, and HP's Photosmart and Officejet brands.
The MP and Photosmart ranges epitomise photo enthusiast machines, and usually include memory card readers, PictBridge ports for direct-from-camera printing, and often printing direct from optical media in the higher end models. The more expensive machines often offer more than the base CMYK ink colours, too, to improve reproduction of flesh tones and landscapes.
The home worker machines, such as Lexmark's Home Office and Professional series, may well still have memory card readers, but major on Automatic Document Feeders (ADFs) and fax functionality. Fax may be a dying technology, but there are still plenty of businesses which rely on it for security: things like physical signatures on contracts and other legal documents.
For this Group Test, I've aimed at this latter type of machine. That said, with a price point of £150, not all models have a full array of office-oriented features. Most have ADF and fax, and some have automatic duplex printing, though this can be a double-edged sword, as duplex on an inkjet can be painfully slow. The drying time for the first side of each duplex page can put big pauses in a print run.
There are two types of ink used in inkjet machines: pigment and dye. For many years dye-based inks were seen as the choice for bright colours while pigments were favoured for a more robust result, with improved resistance to water and ozone fade.
Improvements in the manufacture of micro-milled pigments mean that the range of colours available has improved, but so has the longevity of modern dyes, so the differences between the two are not nearly as clear-cut as they once were. Among the machines gathered here, those from Epson and Kodak use pigments, while the Canon, HP and Lexmark printers use dyes. Brother uses pigmented black and dye-based colours.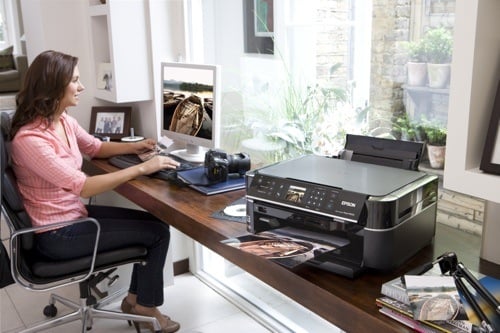 If fade-resistance is particularly important to you, check independent fade tests, such as those produced by Henry Wilhelm, where you can note an ozone fade-resistance of under seven months for Lexmark's Vizix inks on the company's photo paper, and at the other end of the scale, a fade resistance of over 100 years to ozone and over 300 years to light from Kodak inks, when prints are framed behind glass.
A constant complaint of inkjet purchasers is the cost of inks. It's still true that many machines are sold at near cost price, with the return for the manufacturer coming from the consumables, but there have been some moves to reduce overall running costs. Kodak is campaigning heavily on the low cost of its cartridges, which it achieves in part by charging more for its printers.
From my calculations in this group, typical costs for an ISO-standard colour page vary between 5.5p and 13.5p. Bear in mind that the ISO test pages have colour coverage of around 20 per cent. If you print a lot of photos on your machine, the colour coverage will be much higher and you'll get far fewer pages than the published figures suggest.
For example, the area of a 150 x 100mm photo is 1500mm², just under 25 per cent of an A4 page. If you're printing something like house particulars, with photos, you could easily be producing pages with 50-60 per cent coverage and get just a third of the published ISO page yields. ®
Next: Brother MFC-490CW