Original URL: https://www.theregister.co.uk/2010/07/14/review_storage_ssd_kingston_ssdnow_v_plus_512gb/
Kingston SSDNow V+ 512GB solid-state drive
Serious capacity... serious price
Posted in Personal Tech, 14th July 2010 12:02 GMT
Review Reg Hardware has covered plenty of solid-state disks before, but never anything to match the capacity of Kingston's latest high density SSD. Back in January, Kingston announced the SSDNow V+ series, the higher spec members of its family of "value" drives with capacities ranging from 64GB to 512GB.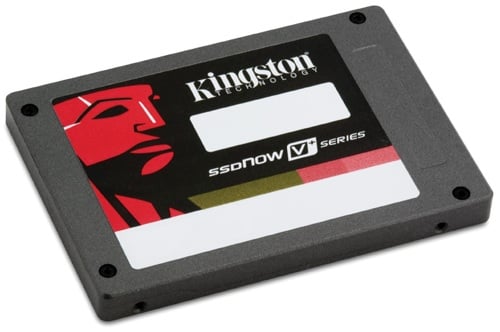 Kingston's SSDNow V+: hits half a terabyte
Targeted at "high-level" consumers, the SSDNow V+ line promises sequential read speeds of up to 230MB/s and sequential write speeds of up to 180MB/s. Kingston utilises the laptop-friendly 2.5in small form-factor and adds support for TRIM in compatible operating systems.
The kit tested in this review is the "desktop upgrade" edition, which includes a USB 2.0 enclosure to help you clone your old drive onto this £1200-odd SSD - yes, that's how much Kingston wants for this boy.
Until recently, SSDs were nothing more than a curiosity to the average Joe thanks to their low storage capacity and high prices. Whilst lower capacity - think 40, 64 and 128GB - drives are now becoming more affordable, they are useful merely as boot drives which allow the user to enhance their computing experience with faster start-up times and reduced application load times.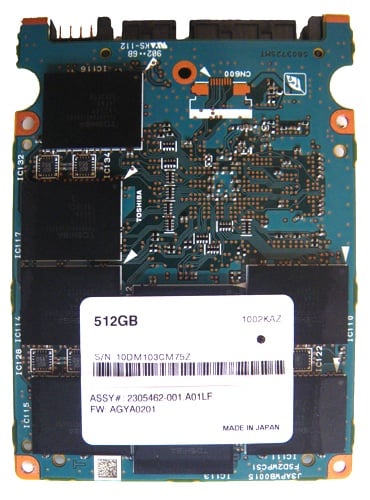 On one side, some of the 16 32GB Toshiba Flash chips
Many people find such capacities to be restrictive, or can't fit a second hard disk - they use a notebook, for example. Laptop owners likewise can't make use of high-capacity SSDs formed by fitting two or more lesser SSDs in RAID configuration within a 3.5in disk housing.
Here's where Kingston steps in with the 9.5mm deep, 2.5in SSDNow V+ series, offering low capacity drives at prices in line with other manufacturers and high capacity drives at, well, more than you might pay for a high-end laptop. Still, you have to start somewhere, and 512GB drives are not yet commonplace.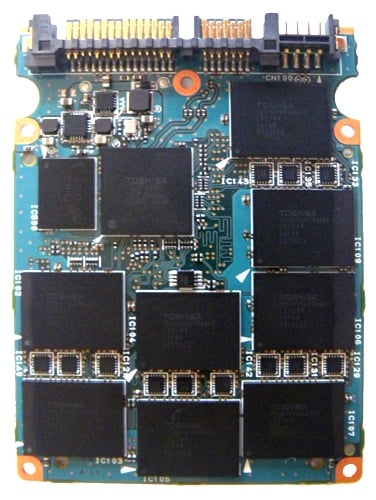 And there's a Toshiba controller too
Now, I'm new to using SSDs, and it was disconcerting to say the least that the familiar whir of spinning platters wasn't present to indicate that the drive was actually working. Having reassured myself about the eerie silence, and using comparison data from Reg Hardware's previous SSD reviews, the benchmarks began.
Before testing the SSDNow V+, I knew there would be a performance increase over my old Maxtor 6V300F0 HDD, but was unsure what kind of practical benefits would be observed. So I timed some common tasks which I found to be rather slow using a conventional hard disk.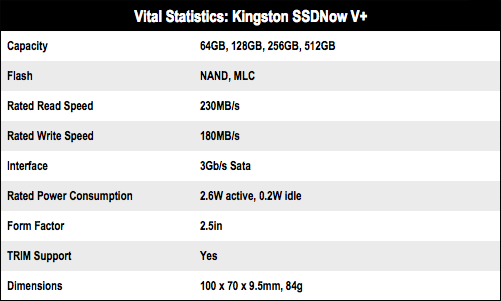 With two 64-Bit Windows 7 installs on my test rig, I measured the time from selection in the Windows bootloader to a functional desktop. Using the SSD, this resulted in a boot 33 seconds faster - a 69 per cent reduction in boot time! Not only did boot time reduce, but shutdowns became near instantaneous with a 73 per cent time reduction.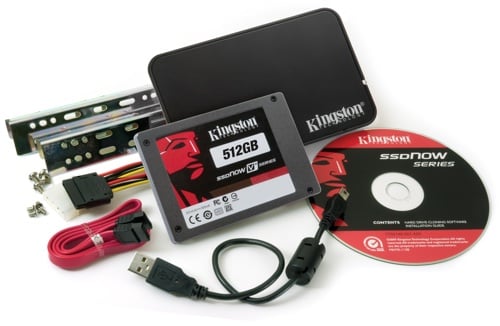 The drive comes with all the accessories you need
As expected, the whole system feels snappier, and heavy duty applications load considerably faster.
As it would naturally be assumed, file transfers within the SSD are also blazingly fast. Those who repeatedly move large numbers of small files in the 2-10MB range should be expecting a time reduction in the region of 83 per cent.
HDD vs SSD
Windows Operation Time Results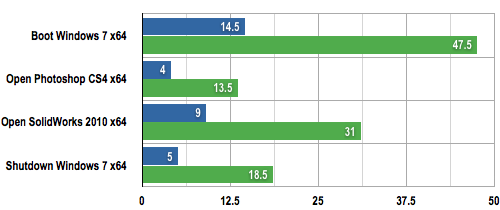 Time in Seconds (s)
Shorter bars are better
CrystalDiskMark 3.0 Results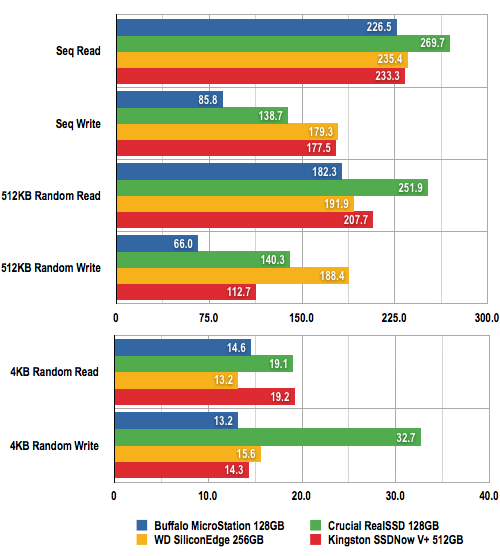 Data Transfer Speeds in Megabytes per Second (MB/s)
Longer bars are better
These results were encouraging as it was clear to see that the Kingston drive was capable of keeping up with Western Digital's new SiliconEdge Blue and beating the Buffalo's MicroStation SSD - a drive, like the Kingston, designed for notebook upgrades.
But it fell behind Crucial's RealSSD C300 - reviewed here - a drive capable of a 6Gb/s Sata link, though here tested at 3Gb/s like the others. More to the point, perhaps, the Crucial drive is cheaper. Kingston wants £665 for the 256GB SSDNow V+. The C300 of the same capacity - Crucial's current maximum - is £552. It's very hard to argue against a £100-odd saving, especially when you get a performance boost into the bargain.
Verdict
I'd love to say that everyone should go out and buy the 512GB model, but I know that most will cringe at the £1270 price tag. Yet the difference one of these drives makes is phenomenal. By all means, if you have the cash and need the capacity, then this 512GB boy the drive for you – for everyone else, I would highly recommend an investment in one of the lower capacity drives - 64 or 128GB - for use as a boot drive in your desktop, or a single 256GB unit in a laptop. ®
More SSD Reviews

Buffalo
MicroStation
WD
SiliconEdge
Blue
Crucial
RealSSD
C300
Intel
X25-M