Original URL: http://www.theregister.co.uk/2010/07/13/review_smartphone_android_vodafone_845/
Vodafone 845
Small size, low cost
Posted in Personal Tech, 13th July 2010 07:02 GMT
Review Vodafone's 845 is right on trend as it is a small format Android handset. Sony Ericsson's tiny Xperia X10 Mini - reviewed here - and X10 Mini Pro have both had a surprisingly good reception, and Vodafone clearly thinks there's something in this compact smartphone lark.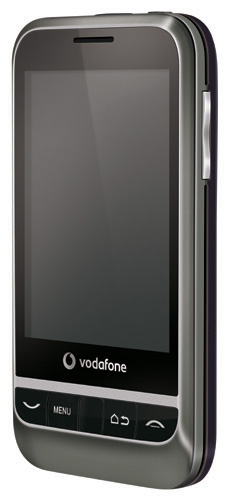 Vodafone's 845: extremely small, extremely low cost
Extremely small - and extremely low cost too. You shouldn't expect the earth from a handset available for free on a £15-a-month contract. But you do get 3G, and the Huawei-made 845 runs Android 2.1 which is more than can be said for Sony Ericsson's aforementioned duo - version 1.6, since you ask.
There is Wi-Fi, GPS and automatic screen rotation too, so the 845 looks like something of a bargain.
Yet while this handset is small, it feels chunky. Given that the screen measures just 2.8in, I'd have liked the overall size to be a little less than its 99 x 55 x 14mm. Sony Ericsson gives over a lot less vertical area to screen surround on its little marvels.
What takes up much of the space is an array of five buttons beneath the screen. On a touchscreen handset, I have to wonder why Call and End buttons are necessary. The menu button for Android context-sensitive menus, and a combined home and back button, are more easily justified.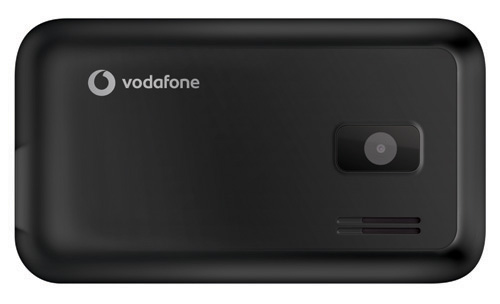 The 3Mp camera does not impress
Sitting in the centre of this quartet is a superb little optical navigation button. It is beautifully responsive though with a touchscreen handset you may again be wondering why it's here. Surely you can sweep and swipe at the screen to navigate?
In an ideal world, yes, but the resistive screen used on the 845 isn't particularly responsive, and I resorted to the optical navigator rather more than I should have needed to. It was very irritating, for example, to try to sweep through the main apps menu only to have an app think it had been tapped and run.

Side
If anything lets this handset down big time, it is the poor responsiveness of the screen. I found it immensely frustrating and a constant irritation.
The HSDPA tops out at 3.6Mb/s. This isn't a deal-breaker, but I'm used to higher from my HTC Desire - reviewed here - and in that context the 845 felt sluggish.
Vodafone has taken the opportunity to pre-configure Vodafone Music and MyWeb, which is part of its 360 service. These are accessed from the main home screen, as are email and contacts. There's a row of four soft buttons along the bottom of the every home screen that take you to the main menu, to messaging, to the dialler - see, I said you don't need those Call and End buttons - and allow you to move between thumbnails of home screens.
You might need that thumbnail view. You start out with a row of seven home screens, but can stack rows on top of each other. After adding my eighth row of seven I got bored. How many shortcuts is one person likely to need?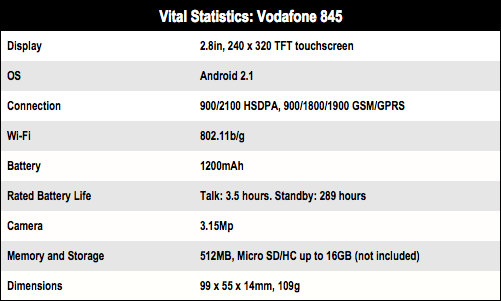 The camera leaves a lot to be desired. Its maximum stills resolution of 3Mp isn't necessarily cause for an immediate sigh of disappointment, but I found its performance ragged.
In amenable conditions it turns out a fair shot. The playground photo is bright, for example. But it has real trouble with lots of outdoor light – the scene with the large trees and white building was shot in bright sunshine and the building is just a dreadful splodge of bright white.
It isn't good at close-up shots – see the flowers. And indoors, with no flash to help the camera out, it needs plenty of ambient light. A final nail in its coffin: the shutter lag is seriously long.
Sample Shots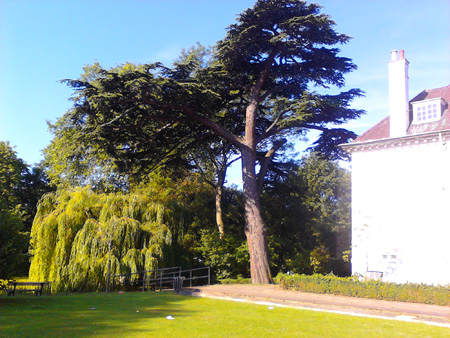 Click for a full-resolution image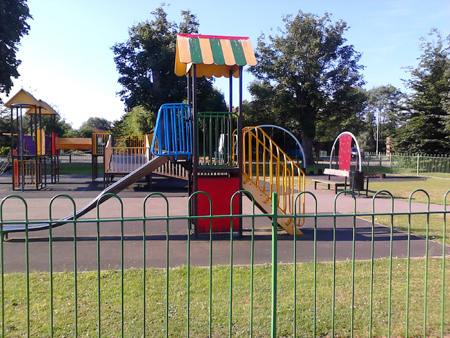 Click for a full-resolution image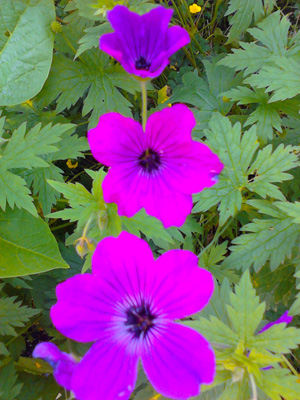 Click for a full-resolution image
Alongside the Android widgets there are "emotion widgets". Not particularly emotional in themselves they augment the Android standards and include a notepad, calendar, clock video player and music player link.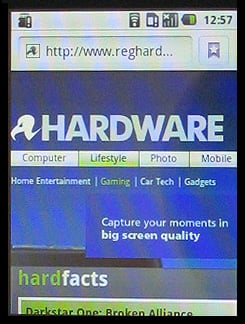 The screen's not really up for serious web browsing
The screen has a resolution of just 240 x 320, making it very much the entry level mark for an Android handset. It is reasonably sharp and bright, but very tricky to see outside in bright sunlight.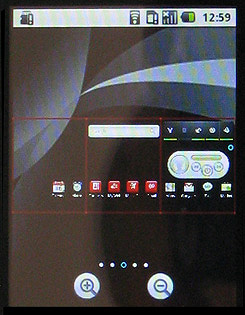 You'll need the thumbnail navigator if you go OTT on home screen creation
It's not really up to serious web browsing, either. With no pinch to zoom support - this is a resistive screen, remember - you are left with zoom buttons which use the centre of the screen as the zoom focus. There's a lot of panning and fiddling to get around web pages.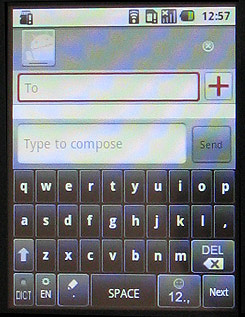 Qwerty is one of three virtual keypads
Entering text is a challenge too, again due to the small screen size, though I can't fault the range of options on offer. In both landscape and portrait orientations, you scroll horizontally to move between a three-characters-to-a-key T9 arrangement, a BlackBerry SureType-style two-characters-to-a-key mode and Qwerty.
Music fans will like the 3.5mm headset jack and FM radio, though I'd prefer the headset jack to be on the top edge rather than the bottom and the flat in-ear buds supplied with the handset are the kind that won't stay in all ears – including mine!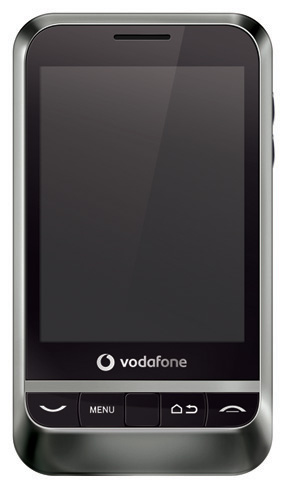 The resistive touchscreen's lack of sensitivity soon irritates
Call quality was fine, with no complaints received from those people I phoned. Battery life could be better, though. The 1200mAh battery got me through a day's use, but barely so, and if you are likely to want Wi-Fi or GPS during the day you'll need to ensure the battery is fully charged before you set off.
Verdict
It would be easy to dismiss the Vodafone 845 as a mediocre handset which simply doesn't do Android justice and leave it at that.
But it does come in at an extremely low cost, and it includes the features which make Android handsets fully serviceable: Wi-Fi, GPS and HSDPA. The HSDPA has limited speed, the others hit the handset's poor battery life hard.
However, the real let-down is the poor responsiveness of the resistive touchscreen and it's on that basis that I'd probably not recommend this handset. ®
More Android Smartphone Reviews

Motorola
Flipout
Sony Ericsson
Xperia
X10 Mini
Dell
Streak
T-Mobile
Pulse
Mini