Original URL: https://www.theregister.co.uk/2010/07/13/review_notebook_apple_macbook_mid_2010/
Apple MacBook mid-2010
White mischief?
Posted in Personal Tech, 13th July 2010 12:02 GMT
Review There's no persuading a committed PC nerd of the unnerdy appeal of Apple's consumer products, so I won't bother. Whatever I write about Apple's latest MacBook, they'll hate it. They can buy computers for far less money that achieve better benchmark results, and serious computers are supposed to look hideous, so case closed.
Move on, nerdo, nothing to see here.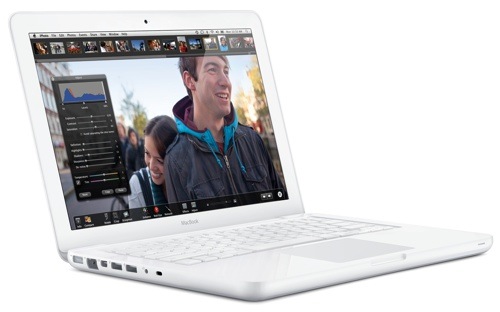 Apple's MacBook: not for the nerdy
If, on the other hand, you quite like the idea of a notebook that's fun rather than furious, comfortable and convenient rather than cold and calculating, and looks cute rather than cacky, the MacBook could be the computer for you.
For the consumer, Apple has held back from its current adoration for boxy, aluminium cases by allowing the new MacBook to continue production in its curvy, glossy white plastic. I imagine this will appeal to owners of previous MacBooks, who will view the latest version as a highly tempting technical upgrade rather than a skin-deep stylistic overhaul.
Many of the clever bits from the MacBook Pro series - reviewed here - have been accommodated in their domestic sibling. The plug at the computer end of the power cable, for example, is a MagSafe connector which is held onto the power port magnetically rather than physically inserted into a socket. Yanking it out by accident is never a problem: the connector and port are virtually indestructible - bar steam rollers, nuclear strikes etc.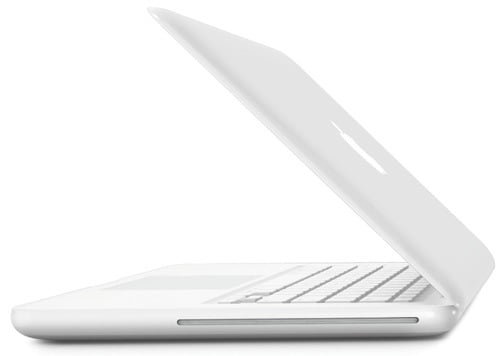 DVD writer included
Open the slim little clamshell – again, held closed with hidden magnets rather than a clumsy, breakable catch – and you're staring at a screen, keyboard and trackpad that look bigger than you expected for what is, after all, Apple's low-end laptop.
Surely a 13.3in display is going to be kids' stuff, I imagined. But sitting in front of the MacBook, I found that its 1280 x 800 screen space is good enough for most things other than full 1080p HD playback, and the quality of the image is excellent. I have used notebooks with brighter screens than this, but few that were so well-defined without having to blast it to extreme contrast hell.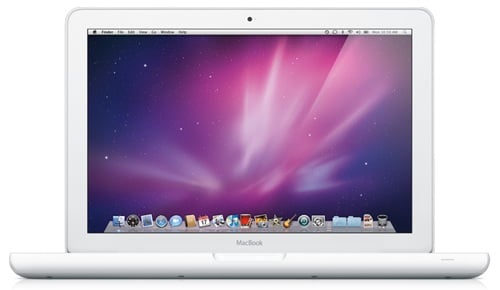 The screen is a delight
A webcam is built into the bezel above the display, with a microphone built into the main body of the case.
The keyboard is exactly the same size as Apple's desktop keyboard – at least, the one without a numeric keypad. I love Apple's light-touch, flat keyboards, so naturally I like the one on the MacBook too. However, if you prefer to hammer away viciously at your keys with the single-minded intent of a long-term self-harmer trying to accelerate the onset of RSI and arthritis, you'll probably not enjoy this keyboard very much.
In front of the full-size keyboard is Apple's new enormous, glass-surfaced trackpad. This is a multi-gesture input device that recognises the difference between one, two, three and four-finger touches and swipes, but what makes it work so well is the instant response to them all in the Mac operating system. There's absolutely no delay or jitter while the OS interprets your gestures.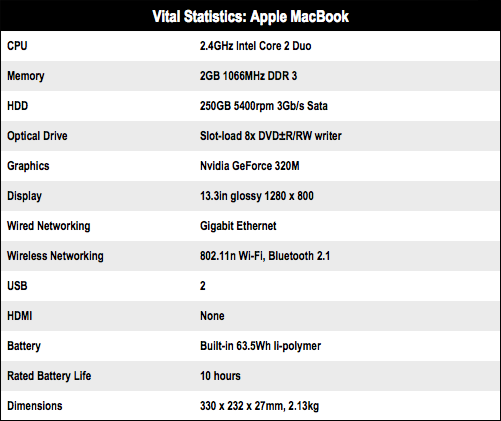 Because of the way the display hinges back over the rear, all connector ports are located on the left-hand edge of the computer, while the slot-loading DVD writer faces right.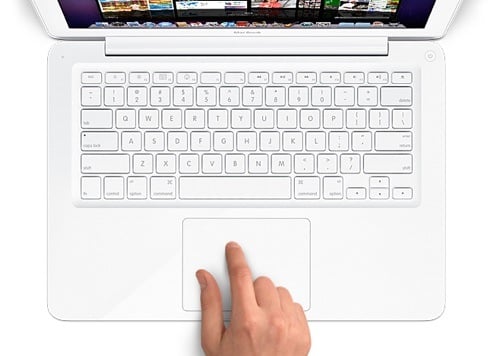 The multi-touch trackpad is incredibly responsive
At first, I'm wondering how Apple managed to design their entry-level notebook to be so slim.
Then I'm wondering if a little bit more effort might have been worthwhile to try to cram in a few more USB ports. There are only two, neither of which are USB 3.0. Hmm, that's not so good for my snappy new home entertainment gear. Oh, there's no HDMI port either. And... hang on, the earphone socket doubles up as the audio-in socket, so I have to rig up a headphone workaround when playing from my music mixing software to an external amp.
What kind of consumer does Apple think I am? Consumers don't need fewer ports than computing pros, they need more of them. Lots more!
That said, Apple has provided a Gigabit Ethernet port and one of its tiny-but-invariably-needs-a-20-quid-adaptor Mini DisplayPort ports. Wireless connectivity is fine too, with Bluetooth 2.1+EDR and 802.11n Wi-Fi included as standard.

Not enough ports, Steve
Apple's other non-pro compromises in the MacBook are spot-on. For example, the Core 2 Duo processor is nothing special any longer, but plenty powerful enough for home stuff, especially since the GPU is good. The shared memory for graphics is inevitable but acceptable. The 2GB of memory - 4GB max - seems fair enough. If you want more on all these counts, buy yourself a MacBook Pro instead.
I also appreciate Apple's willingness to allow the great unwashed to open the case for component upgrades. Flip over the closed clamshell and you can open the base with a crosshead screwdriver, revealing the optical drive, Ram slots, battery and hard drive.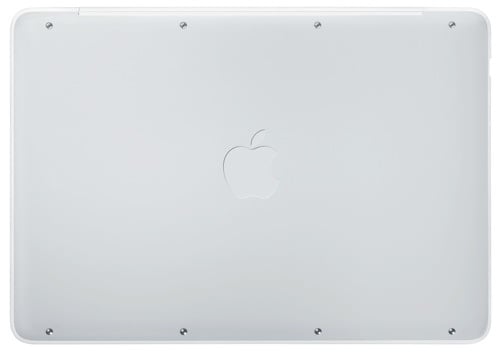 The non-slip base is easily unscrewed to access the laptop's innards
Incidentally, Apple says the battery will last ten hours on a full charge in normal use. Reg Hardware's own intense battery test, based on abnormal use - playing a 45-minute QuickTime movie on indefinite loop at full screen, full brightness and 50 per cent audio volume, Wi-Fi on and connected - saw the MacBook battery last five and a half hours away from the mains.
Power management in the MacBook is good. In normal use, it consumes an average of 23W, rising to 30W while charging the battery at the same time. In sleep mode, it consumes a mere trickle: just 0.6W, rising to 7W if it needs to charge the battery while snoozing.
Verdict
You can sniff at the benchmark results, frown at the 250GB hard drive and rub your chin at the 2GB Ram, but none of this tells you what it's really like to play with an Apple MacBook. It is a terrific notebook computer that is great to use for pleasure and everyday work, and looks lovely being slid in and out of a student's shoulder bag.
It's expensive, but I don't care: if you want cheap, go buy a tombstone. What I do care about, however, is the limited range of I/O ports. Please, sir, I want some more. ®
Thanks to the Square Group for the review unit.
More Apple Reviews

Mac Mini
iPad 3G
MacBook
Pro 15in
iPhone 4