Original URL: https://www.theregister.co.uk/2010/07/12/review_storage_iomega_ego_usb_3/
Iomega eGo Desktop USB 3.0 external HDD
Faster, master
Posted in Personal Tech, 12th July 2010 13:02 GMT
Review As USB 3.0 emerges from its infancy and begins to take strides towards industry standardisation in 2011, more and more manufacturers are keen to launch products which demonstrate their ability to utilise the benefits of the newly revised interface.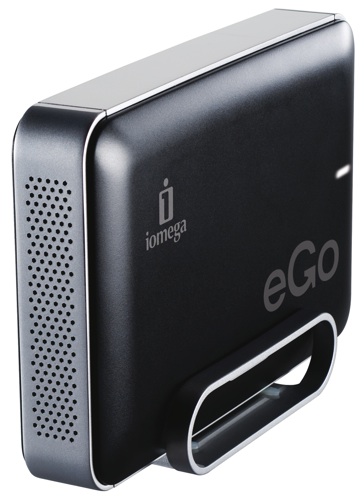 Iomega's eGo Desktop USB 3.0: nippy
Today's contender is Iomega's 2TB eGo Desktop drive.
The eGo housing is a simple two-tone silver-on-grey case constructed of plastic but giving the illusion of aluminium. As I have previously noted when testing other external hard drives, this seems to be something of a trend in the industry.
Another common item included with external drives is a vertical stand which generally does little to prevent your precious datastore from toppling over. Not so Iomega's offering. Although it's far from perfect, it nonetheless makes the eGo possibly the most stable external HDD I've tested.
Iomega appears to have greater confidence in the thermal stability of its products than most of its competitors have of theirs. Whereas most other manufacturers puncture their cases with an excess of thermal vents on every possible surface, Iomega has gone with a single set of perforations on the front.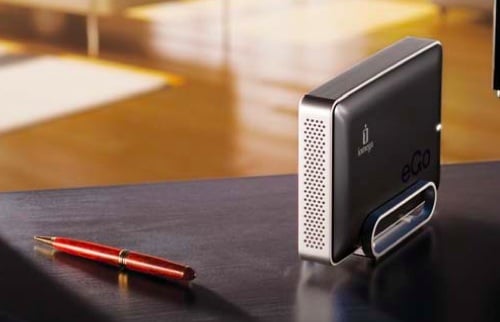 Looks good on the desk
After several hours of use, I found these beliefs to be reasonably founded as the eGo heats up to nothing more than a mildly pleasant warmth when touched. Vibration is also minimal, even though Iomega has used a 5900rpm drive, somewhat faster than the 5400rpm disks used in portable external drives but not as nippy as a 7200rpm drive.
With low vibration levels comes a low noise level too. I would be more than happy to keep the eGo on my desk for extended work periods and would likely leave it running overnight without any real disturbance.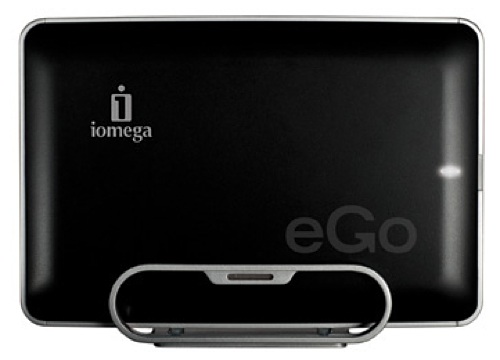 Hard to knock over
Other manufacturers bundle USB 3.0 PCI Express add-in adaptor cards with their SuperSpeed drives, but Iomega doesn't. It does, however, sell a separate PCIe card, model number 34948, that's based on the same NEC D720200F1 controller used in all other adaptors. This is the card I used to test the eGo.
Unlike other USB 3.0 drives, the eGo uses an extended Type B USB 3.0 port rather than the mini USB 3.0 port used by the WD MyBook 3.0 and LaCie's Rugged 3.0. So much for standardisation...
Open up the 2TB eGo and you'll find one of Seagate's 5900rpm, 3Gb/s Sata drives, specifically the Barracuda ST320005N4A1AS-RK. It has a 32MB cache and, once formatted, will yield 1.81TB of true storage.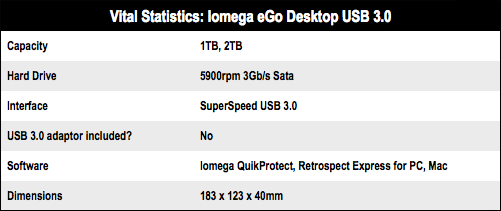 HD Tach reports that the eGo is certainly making good use of the additional bandwidth provided by the USB 3.0 interface, with an average read speed of 95.0MB/s and a surprisingly higher average write speed of 97.6MB/s. Now to break it down further: Crystal Disk Mark.
Here we see more impressive results, showing that the eGo continues to operate around its maximum capacity for the duration of the benchmarks. Even in random write operations, iomega is managing to push the speed beyond that possible with USB 2.0.
CrystalDiskMark 3.0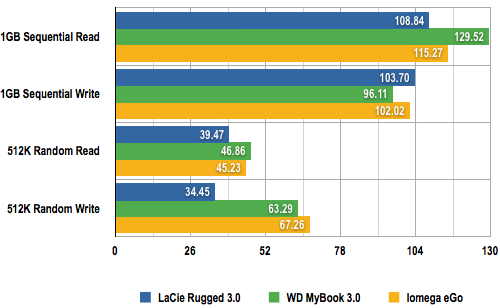 Data transfers in Megabytes per Second (MB/s)
Longer bars are better
HDTach 3.0.1.0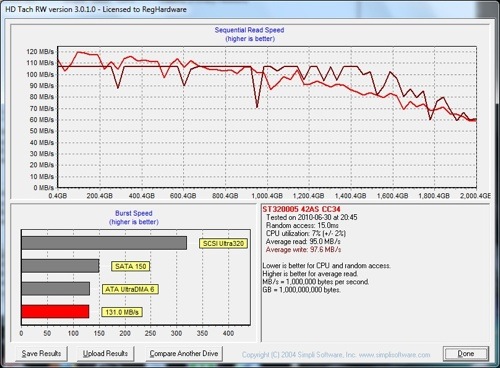 When lined up against other USB 3.0 drives I've tested, the results are a real mixed bag. With the exception of the MyBook 3.0's significant lead in the sequential read tests, both 3.5in drives perform admirably at almost identical levels. LaCie's Rugged drive displays considerably lesser performance in the random operations due to the constraints of its smaller 2.5in form-factor.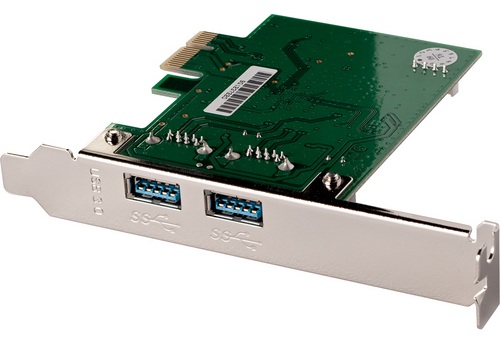 The apply named Sir Not-Included-In-The-Box
It's fair to say that the eGo is nothing spectacular and performs in line with most other SuperSpeed drives.
The eGo is currently available across the pond in the US with the official Iomega pricing of $139 (£93) for the 1TB version and $219 (£146) for the 2TB drive. This puts the 1TB drive in the same price range as WD's MyBook 3.0, but with all other 2TB drives being priced nearer to £200, the 2TB eGo is in a league of its own.
When factoring the prices, if your machine isn't currently equipped with a USB port, don't forget that Iomega doesn't include the necessary USB 3.0 PCIe card. Purchasing one of these separately will push up the price of your investment, but they can be had for as little as £30, still making the eGo a good deal.
Verdict
If you don't feel you need the full 2TB, then you may have some difficulty deciding if the eGo is for you, but we all know that you'll regret not having the extra breathing room – and as it currently stands at a price considerably lower than the competition, the eGo is certainly the answer. ®
More External HDD Reviews

LaCie
Rugged
USB 3.0
WD
MyBook
USB 3.0
Iomega Prestige
Portable 1TB
Buffalo
Microstation
SSD