Original URL: http://www.theregister.co.uk/2010/07/12/games_review_sniper_ghost_warrior/
Sniper: Ghost Warrior
Quick fire insight
Posted in Personal Tech, 12th July 2010 10:02 GMT
Review The closest I've come to experiencing the realities of war has been pad or mouse in hand, crouched behind a virtual crumbled wall, as I strain to line up a head shot on the digital Nazi a few hundred metres away.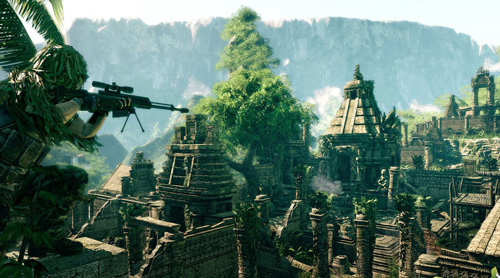 Pop one in your temple
I'm no Sun Tzu or Napoleon, but I have gleaned enough understanding of the subject matter through films, documentaries and games to make one or two credible assumptions.
For instance, I assumed that bullets exited the barrel end of a gun - from which I deduced that I couldn't be shot when it clearly wasn't pointing at me. I also assumed that sniper rifles were incredibly accurate over vast distances - but automatic rifles were not. And, most worryingly, I assumed that if a comrade's head suddenly did a perfect impression of a peach being smacked by a cricket bat, army protocol urged me to dive for cover or, at the very least, sprint away, all the time zigzagging whilst reciting the Lord's Prayer.
The greatest fault of Sniper Ghost Warrior is not the severity with which it tests these long-held assumptions, but that of identity. In trying to place itself somewhere between the realism of Operation Flashpoint and the outrageousness of Call of Duty, the game ended up firmly in mediocreville.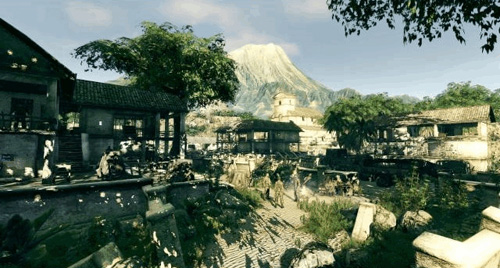 Bunch of boys sweating it out in the middle of nowhere. A little camp?
The first hour..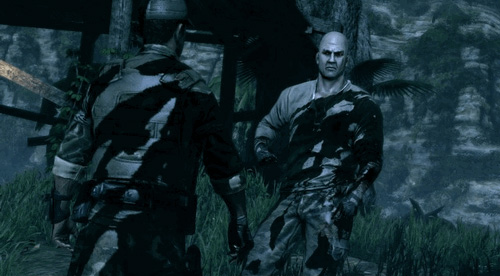 Is that a shadow on your pocket or are you unhappy to see me?
The first hour makes a decent enough impression. Set in a fictional Central American country, the Chrome 4 engine does a good job depicting the lush vegetation of a banana republic, with good draw distances and sharp textures up close. And, although highly familiar to COD veterans, the tutorial and mission briefs help ease you into the game.
The tutorial and mission briefs aren't the only elements to remind you of the COD series, as actual gameplay is reminiscent of the sniper sections of those, and indeed many other FPSs. Wearing a full ghillie suit and crawling through thick foliage, missions often revolve around sneaking past enemy encampments to reach a sniping point from which to take down a predetermined target.
Concentrating on the core specifics of sniping, you're supposed to consider wind speed and direction, target distance and movement when firing. It's a system which promises so much, but fails in its delivery. On Easy and Medium settings, a circular red reticle denotes your bullet's final resting place, so all you need do is concentrate on that and not the crosshairs, and you can ignore all the environmental variables. Even on Hard, there is rarely sufficient wind to trouble you, and very few times when the target is in motion, so only half-an-inch either side of the head invariably hits the mark.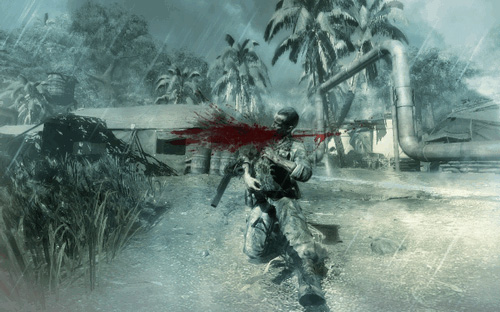 Oops, I think I popped a vein
Don't hold your breath..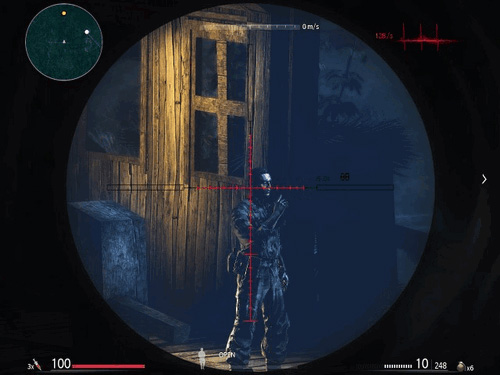 Insight - The future doesn't look good for this guy.
Worse still, the Shift key provides temporary slo-mo when aiming. Intended to approximate the accuracy gained as a sniper holds his breath, it's an incongruous gimmick better left to sci-fi shooters.
Its superfluity here might not be so apparent but for the game's abysmal AI. Even under intense fire, enemies rarely move positions and almost never seek cover, reducing the game to a slow motion turkey shoot.
Evening up the odds considerably, enemy eyesight is good enough to worry Superman into a quick check up at the opticians. There are several bottlenecks where try as you might, you can't avoid being spotted by far off and completely concealed enemies. And someone forgot to tell those enemies that no automatic riffle is effective over 500-metres, especially (as seen through your scope), when they're not even looking in your direction.
These sections highlight another poor feature. For all the great expanse of jungle and mountainous terrain, you are constantly funnelled through the game by invisible barriers. I imagine part of the skill of sniping is in selecting the best point from which to shoot. But Ghost Warrior always selects these spots for you before starting its heavily scripted combat.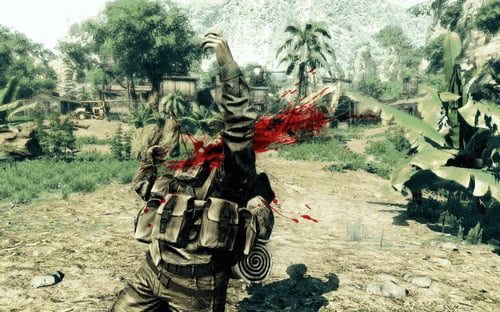 Blood casts no shadow. He doesn't even have a head!
Language barrier..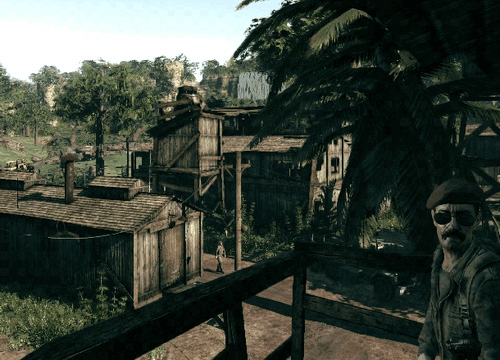 Where did Saddam Hussein keep his CDs?
Talking of scripts, the Spanish spoken by guards is formed of roughly four or five conversations, which are not only reused throughout, but loop continuously during individual conversations, sometimes even after you've killed the guards. Perhaps not too distracting for people who don't understand the language, but for one who does, it was infuriating, and the complete antithesis of Red Dead Redemption's masterful voice acting in both languages.
Creating a compelling multiplayer offering was always going to be difficult for a game so focussed on sniping. But Ghost Warrior doesn't even achieve decent playability, with surprisingly condensed maps, in which limited distances all but negate sniping in favour of automatic riffles and silenced pistols.
Completing the litany of disappointments, frame rates stutter at times in places where you'd least expect them to, with few enemies on screen. And the PC version has only marginally better textures than the Xbox 360 version, although doesn't suffer from the screen tearing that blights that version.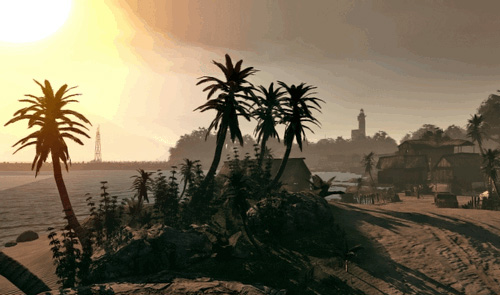 Red sky at night, everyone dies!
Verdict
Sniper Ghost Warrior fails on many levels. Bugs aside, however, it's biggest failure is to convince that sniping merits anything more than occasional cameo in regular shooters.
More Games Reviews

Demon's
Souls
Transformers:
War for Cybertron
Tiger Woods
PGA Tour 11
Singularity