Original URL: http://www.theregister.co.uk/2010/07/12/games_review_crackdown_2/
Crackdown 2
A short sequel to satisfy shooters?
Posted in Personal Tech, 12th July 2010 16:33 GMT
Review The original Crackdown was something of a surprise hit. It didn't come as a surprise that people bought the game in droves – the inclusion of the Halo 3 Beta key ensured Crackdown was always going to fly from the shelves. What surprised many people is that a solid, enjoyable action game was bundled with the Beta key– and one that quickly gained a dedicated cult fanbase.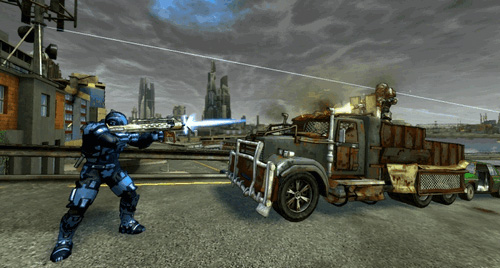 Take this you little trucker!
Crackdown succeeded by being less concerned with telling the player what to do and more with asking what he wanted to do. It was unabashed sandbox, in which prescribed actions were eschewed in favour of player experimentation, where story and mission structure played second fiddle to collectibles and power-ups. And where the absolute star of the show, Pacific City, was an integral focus of the action and game mechanics.
It's no surprise, then, that Ruffian Games has left the basic formula untouched in Crackdown 2. Requiring little refinement to compel a revisit, the digital playground of Pacific City stretches far into the distance, its vibrancy immediately familiar and welcoming. Rooftop races, car races and stunts all return, as do the infamous agility orbs, which, dotted along the rooflines and girders, cranes and radio masts, twinkle with all the allure of virtual cocaine.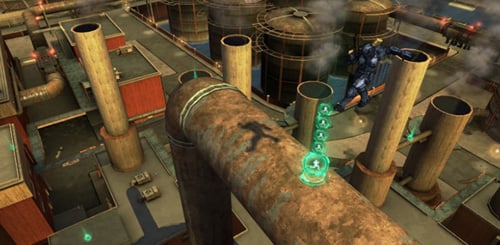 High on the Crackdown pipe
A virus has swept the city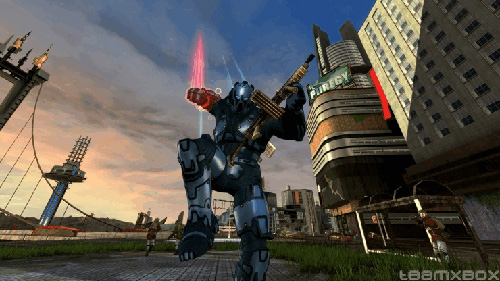 Looks like someone spiked the punch
The city might not have changed much, but its inhabitants certainly have. Gone are the crime factions and kingpins of the original. Instead, a virus has swept the city and turned many of its inhabitants into Freaks: mutants who are at their most dangerous after dark.
In an effort to quell the outbreak, The Agency has constructed a new weapon called Project Sunburst, which will eradicate the contagion with powerful UV light. Complicating matters, however, a terrorist group known as The Cell is hell-bent on sabotaging Project Sunburst for reasons unknown.
That's as much as you need to know about the plot. Indeed, apart from for completionists, for whom explanatory audio files can be collected throughout the city, that's as much exposition as the game offers. After all, Crackdown 2 can be played entirely at your own pace and in your own style.
You could, for example, ignore all the gunfire and car chases at street level in favour of hopping about on the rooftops to collect those agility orbs. Or you could choose to go on a killing spree with guns and grenades, or spend hours hand-braking your car into crowds of innocent bystanders.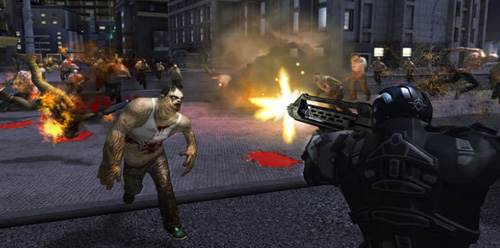 You look like this if you don't put the crack-down
The wide variety of weapons..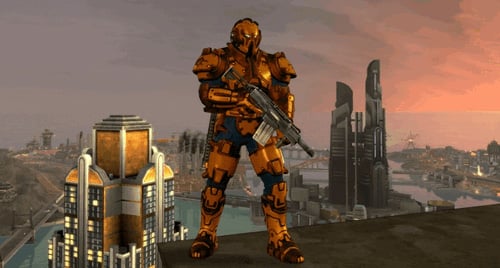 Don't push me, 'cos I'm close to the edge!
But when you do decide to follow the main thread, you'll realise Crackdown 2 is a simple fight for territory, split between Cell strongholds and Freak lairs and outbreaks. Fighting either enemy outside of these set-piece battles does nothing to progress the game. But every kill releases mini orbs that upgrade your other abilities, helping you to drive faster cars or wield more powerful guns and grenades. All of which will come in handy, as set-pieces increase in difficulty.
Although each offers enjoyable combat, there's little to distinguish between Cell and Freak confrontations other than their respective terrain and weapons. Limited AI restricts combat to simple point and eliminate, where only the enemy's superior number provides any real threat. But the wide variety of weapons at least rewards experimentation with some humorous and often outlandish physics, with explosions the real highlight, where vehicles, barrels and gas canisters combine with grenades and rockets to provide some memorable blast-porn.
Played straight through, the game lasts a measly six hours. Allow three players to join you in the new four-player online co-op mode, and the game can end even sooner. But what the game might lose in longevity, co-op more than makes up for in hilarity.
Even though players are free to explore your world as they choose, and able to complete any section for you, it's a helluva lot more fun to stick together, where teamwork and imagination can create some inspired and side-splitting moments, especially when wielding the game's most mischievous weapon, the magnet grenade.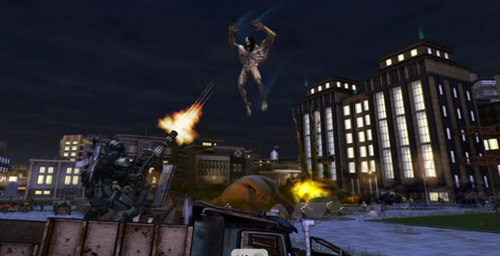 Shootin' up brings you down
Multiplayer..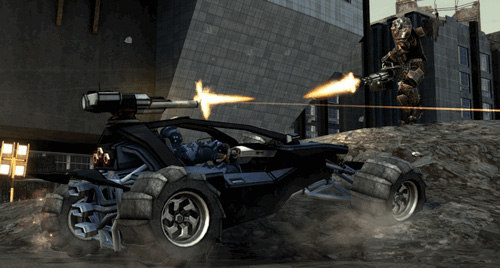 The game gets buggy sometimes
If you're feeling more combative, multiplayer comes in standard Deathmatch and Team Deathmatch, and Rocket Tag. Although presently limited to these three modes, multiplayer benefits from excellent variation in its maps and Crackdown's trademark verticality, which provides unique and moreish encounters. For so simple a premise, Rocket Tag is fiendishly addictive. Armed with nothing but rockets in a free-for-all, your only objective is to capture a single orb and hold onto it for as long as you can. With up to 16-players, holding it for any longer than a few seconds will test your reflexes well beyond most other twitch fragfests.
Verdict
Crackdown 2 is probably not the sequel many had hoped for. Very little has changed in Pacific City, and the new campaign struggles to match its predecessor's, which itself was considered lightweight for an action-adventure game. But Crackdown was never about reaching a goal or destination; it was always about the fun to be had along the way. And in that respect, Crackdown 2 is a worthy successor, especially when there's company along for the ride.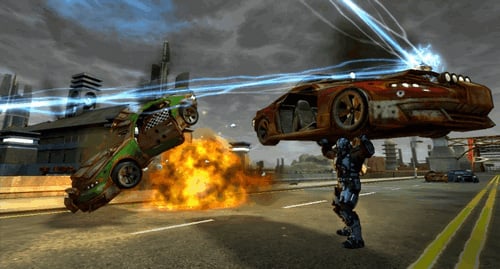 The hitchhiker did all the picking up
More Games Reviews

Sniper:
Ghost Warrior
Demon's
Souls
Transformers:
War for Cybertron
Tiger Woods
PGA Tour 11