Original URL: http://www.theregister.co.uk/2010/07/09/review_speakers_waterfall_niagara/
Waterfall Niagara speakers
How does 25 grand's worth of speaker sound?
Posted in Personal Tech, 9th July 2010 11:02 GMT
Review The UK is slowly trudging its way through an economic crisis and belts are being tightened across the country, so what better time to announce a new set of speakers with a price tag of £25,000?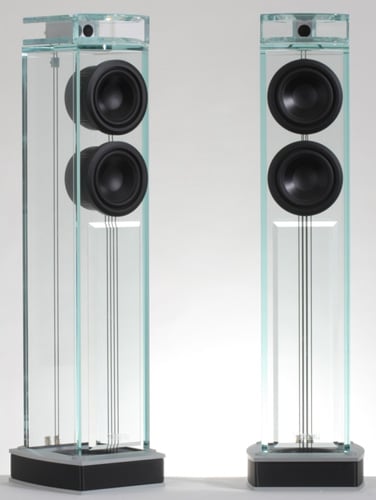 Waterfall's Niagaras: cascade of sound?
Yes, that's right, for a smidgen less than what many people earn in a year, you can pick up a set of Niagara speakers from French manufacturer Waterfall – the amp, CD player and luxury mansion to sit them in must all be purchased separately.
A little uneasy about sending out review samples, I was instead offered a trip down to retailer WiFi HiFi's showroom located in sunny Eastbourne on the south coast. Of course, reviewing products on the basis of a demo in a showroom is never ideal, but given the subject matter an exception was made.
At this point, it's probably also best that I stress I'm not your typical audiophile, but I really was curious as to exactly what 25 grand's worth of speaker actually sounded like.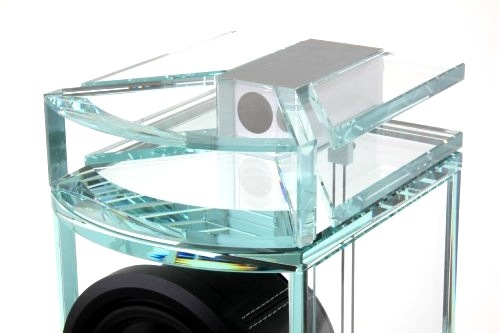 Philip Glass's favourite speakers?
Waterfall doesn't have a warehouse full of these speakers awaiting purchasers. Instead, each set is built to order, with roughly a six-week wait. The cabinet is cut from a single slab of diamond crystal glass, and no expense is spared inside, with the mid-range drivers encased in Nappa leather - the colour of which can be specified upon order.
It's no surprise that the speakers themselves look absolutely stunning. The subtle tint produced by the 15mm thick glass enclosure instantly caught my eye, and when put under a spotlight the clarity of the material shines through.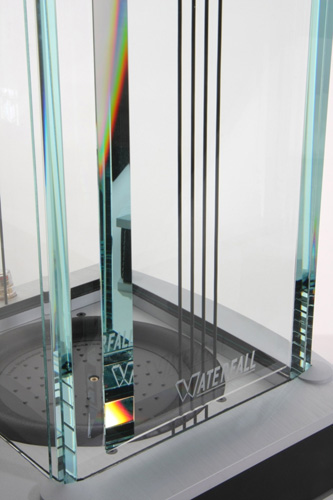 The wiring runs up the inside of the casing from the bass driver
The internal wiring is neatly laid out like a vertical stave from a music score, and there's not a screw or blob of glue in sight.
At the very bottom of each unit sits a downward-facing 200mm passive Atohm bass driver. Travel up the colossal cabinet, which stands 1.2m tall and weighs a whopping 60kg, and you're greeted by pair of 175mm custom-built mid-range Atohm drivers.
At the very top sits a horn tweeter with a frequency range of 1500Hz to 28,000KHz – so as to avoid interference, this section is completely decoupled from the main enclosure and has its own crossover.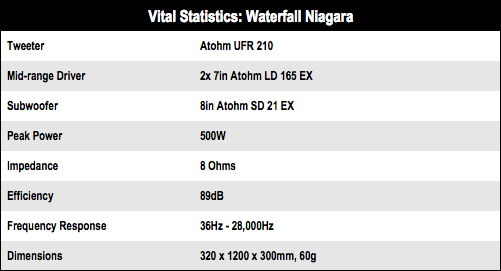 Expensive materials and top-notch equipment is all good and well, but I had my fears as to how the glass cabinet would affect audio quality. With Santana's classic Black Magic Woman loaded and the Niagaras attached to a Marantz PM-7003 amp, it didn't take long to realise that these were no ordinary speakers.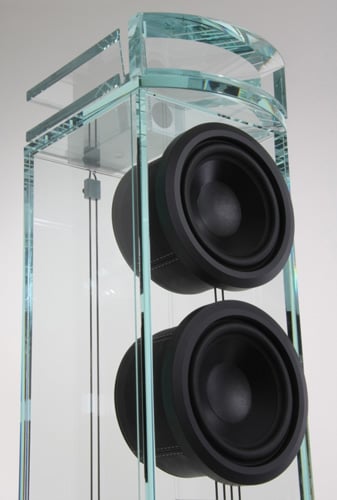 Custom-made 175mm mid-range drivers, yesterday
Immaculately defined and totally enveloping, the Niagaras were outstanding – the punch and clarity afforded to the timbales and conga drums was particularly noteworthy.
The sales rep then suggested I listened to John Campbell's version of Down in the Hole, and when the vocals kicked in it was immediately obvious why. Campbell's voice boomed out from the speakers with such deep and gravelly texture it almost took my breath away, perfectly demonstrating what the Niagaras are capable of.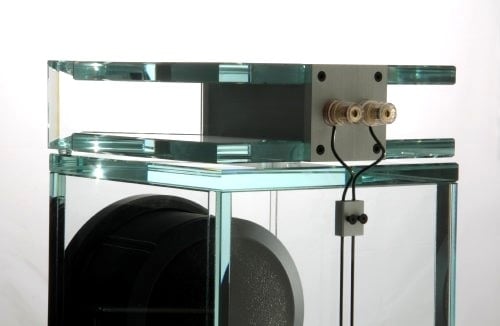 The music goes in here
Next up was something a little livelier in the form of the Red Hot Chili Peppers. The Niagaras had no problem in dealing with the clamour of guitars in All Around the World, while its ability to handle more subtle tones was demonstrated in Road Trippin' and Otherside.
Almost as if each instrument was being played through a separate speaker, the audio was totally immersive, and I occasionally had to leave the sweet spot to check it was actually being emitted from the glass-clad Niagaras.
Given the price tag, it would have been woefully disappointing if I could pick up any serious faults in the audio. That said, the bass wasn't quite as thundering as I was hoping for, but given that the 200mm woofer drivers are passive this is no great surprise.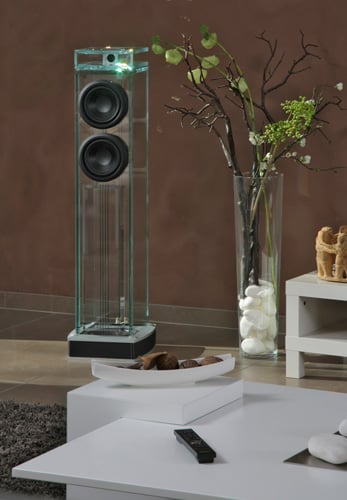 "Your speakers are ready now, Mr Rooney"
If you don't have 25 grand to spare, the more affordable Waterfall Victoria Evos are worth a look. At £2650, they're not exactly cheap, but they do have a similar design – albeit cheapo green glass as opposed to the diamond crystal extravagance on the Niagaras. I had a listen to them while in the showroom and while they didn't have quite the same presence – both visually and audio-wise – they're still extremely impressive.
Assessing the Niagara's value for money is tricky. There's no denying they're expertly made using the highest quality material and produce stunning audio, but does that justify the ungodly price tag? Clearly nobody on a normal wage would ever consider them good value, but if you happen to be an over-paid Premiership prima donna, their sheer 'wow' factor is probably worth that amount alone.
Verdict
Would I recommend you buy them? Well that all depends whether you have an obscene amount of money. If you're prepared to accept that the lion's share of your £25,000 is going on the physical appearance as opposed to the sound quality, you won't be disappointed. Everyone else should look, admire, then walk away and cling on to the theory that the best things in life are free – or at least a little less than £25,000. ®
More Audio Reviews

Arcam
Solo
Mini
Creativ
ZiiSound D5
Cambridge Audio
Azur 650BD
Ten Essential
Travel Speakers