Original URL: https://www.theregister.co.uk/2010/07/08/ten_essential_ios_travel_apps/
Ten Essential... iOS Travel Apps
Are we there yet, 'Pad?
Posted in Personal Tech, 8th July 2010 07:02 GMT
Product Round-up Well, the footy's over and Wimbledon was the usual damp squib for the Brits, but at least the holiday season is here at last, so we can head for sunnier climes and drown our sorrows in cheap Sangria for a few days.
Of course, the well-armed Reg Hardware reader wouldn't set foot outside the front door without a good selection of mobile gadgets tucked in their backpack, so why not take the opportunity to check out the latest iOS apps for travellers? The GPS and compass features built into the latest iPhone models make them ideal for maps and navigation aids, and even for some of those new-fangled augmented-reality apps. And while you might not want to carry an iPad in your backpack there are some useful iPad apps that you can use to plan your trip before you leave home.

Acrossair Augmented Reality Browser
There are a number of augmented-reality apps available, but the free Acrossair plugs into multiple geo-databases and provides a really wide range of information. As well as standard tourist info it includes the Stella Artois Bar Finder, a gig finder, and even an eBay option that lets you see things that local people are selling on the auction site. The interface is a bit clunky – like many augmented-reality apps you have to point it right up into the air in order to see the labels that are overlaid on your camera view, but you can use your finger to 'drag' the labels down and make them more readable.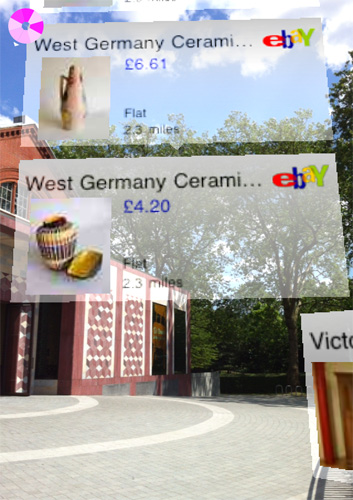 Hotels For iPad
There are plenty of hotel-booking apps available, but this one is free, it's iPad-only, and I like the art deco design on the main page so it gets my vote. The app is simplicity itself – you type in your destination, hit the 'search' button and it sorts through a database of more than 86,000 hotels worldwide to see what's available. You can further filter the results by price, user ratings, or narrow the search down to particular areas within a city. The developer, BluMediaLab, also makes a similar app called Hotels Near Me, which runs on the iPhone, Android and Blackberry devices.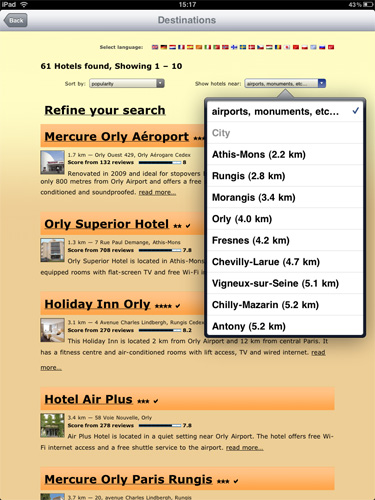 Reg rating 90%
Price Free
Download iTunes
More info BluMediaLab

Lingolook Flashcards
There are more comprehensive phrase-book apps available, and even apps that use online translation services to provide on-the-spot translations. The Lingolook apps are much more straightforward – they simply include hundreds of 'flashcards' listing common words and phrases. You can tap on a phrase to hear it spoken aloud, and if you have trouble with the pronunciation you can just hold the card up for others to read. They'll never make you fluent, but the Lingolook apps will come in handy if you just want to buy a sandwich at the airport. They're available in several languages, including French, German, Italian and Japanese.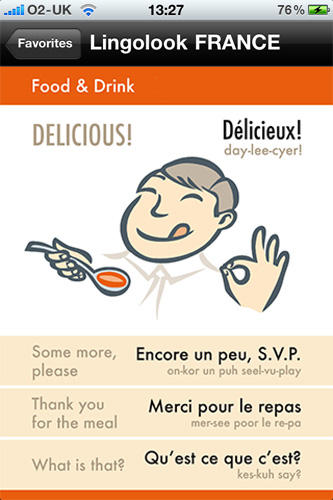 Lonely Planet Guides
Lonely Planet has one of the biggest ranges of city guides and foreign-language phrasebooks, with more than 100 apps priced between £2.39 and £3.49. They've also got a free Travel Guides app, which acts as a mini app store that allows you to browse and buy the complete range at your convenience - though the promised discount for in-app purchases turns out not to exist. When you download the Travel Guides app you also get the full San Francisco guide and Mexican Phrasebook thrown in for free, so you can get an idea of the format and style of the Lonely Planet range before forking out any cash for the other guides.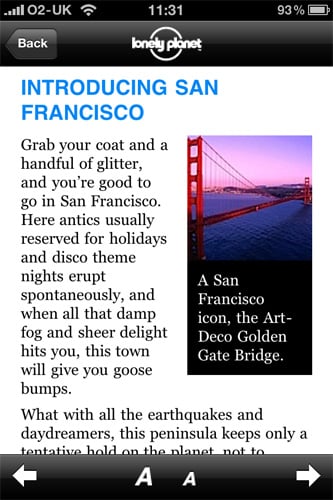 Reg rating 85%
Price £2.39-3.49
Download iTunes
More info Lonely Planet

Mobile Streetmaps
They could be a bit more detailed, but the Mobile Streetmaps series from Dubbele can come in handy if you want to avoid roaming charges on your iPhone when you're abroad - Google Maps uses bandwidth, don't forget - or if you don't have 3G mobile broadband on your iPad. The maps are downloaded and stored on the iPhone/iPad itself so the data is available even when you're offline. You can locate individual streets, or set the map to display the locations of museums, banks and other services. You can also create markers to help you find your way back to parking spots or other locations that you need to remember.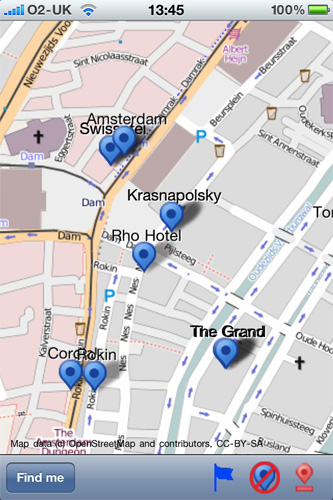 TomTom GPS
The TomTom map apps are a bit on the pricey side, but they're well designed and TomTom has wasted no time in updating them to take advantage of iOS4 multi-tasking. If you receive a phone call while you're driving, the app will temporarily mute its spoken instructions but continue to display the map on the iPhone screen so that you don't take a wrong turn while you're taking the call. The map data is stored on the iPhone, so you don't need to pay for 3G roaming when you're using it abroad. It takes up a lot of space, though – almost 2GB for the £53 Western Europe map that we tested.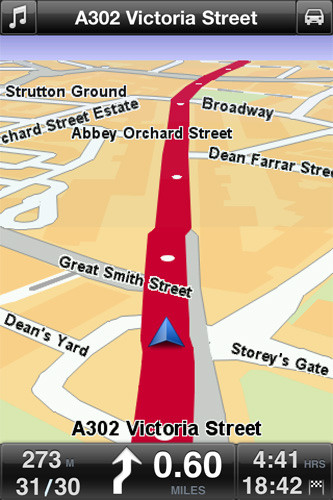 Urbanspoon
You could pay £5.99 for the fancy Zagat restaurant guide, but the ad-supported Urbanspoon is free - and a lot more fun too. The app mainly focuses on restaurants in the US, but it covers a number of other cities as well, including London, Birmingham, Sydney and Vancouver. Just give your iPhone a shake and it will pick a nearby restaurant at random. Alternatively, you can browse restaurant listings by price, type of food, and even by specific mealtimes, such as breakfast or lunch. It can filter out franchises and restaurant chains, and also provides ratings and reviews from other Urbanspoon users. There's an iPad version too.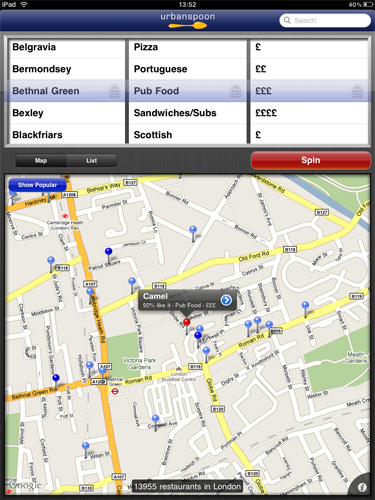 Reg rating 85%
Price Free
Download iTunes
More info Urbanspoon

Yelp
Yelp's got a bit of everything. It uses location services to provide lists of nearby restaurants, hotels, banks, sports and leisure facilities, and just about anything else you might need when you're travelling. It even lists sales and special offers – such as the £5 pancakes at My Old Dutch in Holborn on Mondays. You can browse local maps or use the filter options to narrow your search by price, distance, or user ratings. There's even an augmented reality option that overlays location info on the camera screen, though, to be honest, you get a much clearer idea of locations and distances from looking at the ordinary map view.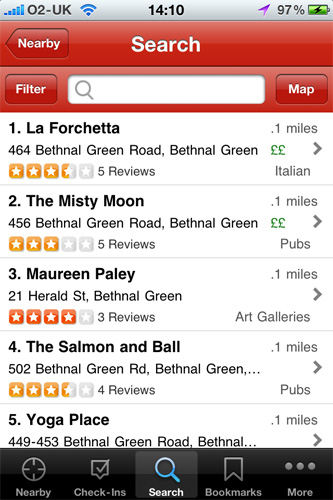 2010 World Factbook
The World Factbook is actually compiled and maintained by the CIA, and provides historical, political and economic information on 266 different countries. The Factbook is freely available on the CIA website but there are a number of apps that package its content in a format that is more suitable for mobile devices. I like this version from Fuzzy Peach as it presents the info very tidily – especially on the iPad version, which uses the extra room to display a list of countries on the left-hand side of the screen while using the rest of the screen to display pages of information, and small pop-up graphs and charts.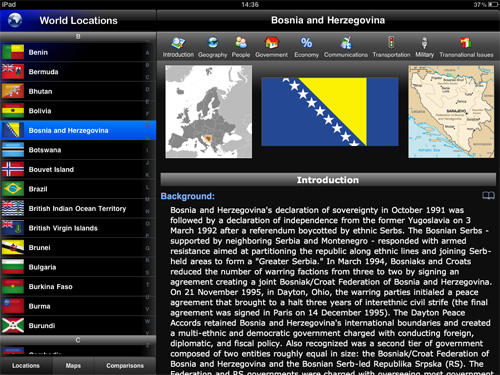 Reg rating 85%
Price £0.59 (iPhone) £1.19 (iPad)
Download iTunes
More info Fuzzy Peach Software

1000 Ultimate Experiences
This Lonely Planet app is disappointingly light on content – in fact, the original price was slashed within days of its launch after a barrage of criticism. It's really just the iPad equivalent of a glossy coffee-table book, representing each of its 1000 destinations with an on-screen 'postcard' that provides a picture and a small chunk of text - and the very occasional video clip. However, the app's one stroke of genius is that it organises its 1000 destinations into interesting categories such as 'best party city', 'best adventure holiday' and even 'best places for a cuppa'. That makes it very good for dipping into and getting ideas for planning future trips.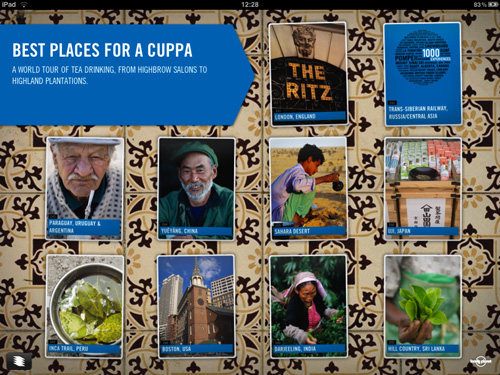 Reg rating 75%
Price £2.39
Download iTunes
More info Lonely Planet