Original URL: https://www.theregister.co.uk/2010/07/08/review_smartphone_motorola_flipout/
Motorola Flipout
Fun phone for Facebookers
Posted in Personal Tech, 8th July 2010 13:02 GMT
Review You can't deny Motorola's creativity – a square phone, huh? And if you find an iPhone just too big, the new Flipout is certainly compact - it's 66mm square - and will fit into the tightest pocket. This means the screen isn't huge, but at 2.8in it's certainly usable.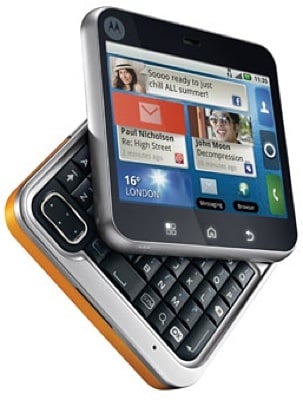 Motorola's Flipout:
Touch the Google Search box on the home screen and a virtual keyboard appears which fills most of the display. But you don't need to do that because if you press your thumb on the bottom corner, the screen swings round to reveal a very usable physical Qwerty keyboard.
The flip action that gives the phone its name is a satisfying mechanism that swings the screen back and forth well. If there's a problem, it's that for a really enjoyable flip, you have to remember to hold the closed phone with the screen in portrait orientation. Then the keyboard is usable when the screen is flipped.
It's a small thing, really. The keys are narrow and tall rather than square, but because each one is shaped like a little barrel, they fall under the thumbs well.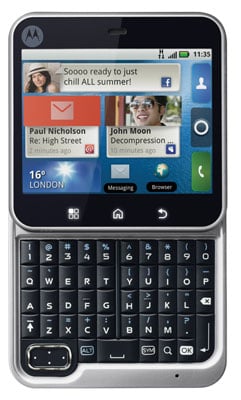 The keys are small but surprisingly useable
Better still, the shape means there's room for five rows of keys where many landscape keyboards on phones make do with four or even three. This means there's a separate numbers row, instead of making you press extra keys to input digits. Excellent. In fact, the only disappointment here is that the navpad at the base of the keyboard is slightly fiddly.
This is an Android 2.1 phone, so there are seven of the tiny homescreens to choose from. It's a capacitive touchscreen, so you don't need apply pressure but it won't work with a stylus or through gloves. Compared to some touchscreens, I found this one occasionally unresponsive – occasionally, I had to press twice before the home screen swung into action, though the familiar pinch-to-zoom multi-touch works well.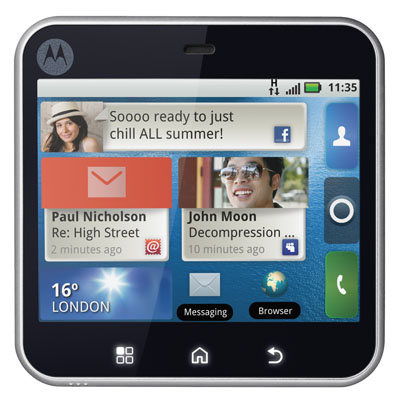 With all the social networking widgets, the small screen gets very busy
Mostly, it's a whizzy handset that handles its tasks fast enough – you're rarely kept waiting for it to catch up. It has a 600MHz processor, so not matching the speeds of the Nexus One - reviewed here - or other phones sporting the 1GHz Qualcomm Snapdragon chip. However, there are fewer pixels to manage on this small screen.
Quite a lot fewer actually – the screen resolution is just 320 x 240, and you can tell. It doesn't look bad, but compared to the HTC Legend or the iPhone 4 with their spectacular hi-res displays, it looks a bit low-rent. Colours are muted and underwhelming.
The Flipout includes MotoBlur, the accomplished social networking aggregator which collects your Tweets, Facebook updates and messages together, putting them into adjacent widgets on screen. Add in a button for your contacts, another to take you to the apps and a shortcut to the dialler, all of which appear on the right edge of every screen, and you'll see that the main home screen is chock-a-block.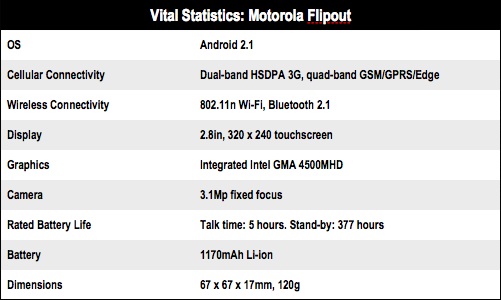 You can reduce the number of widgets you display or move them to other panels, but MotoBlur is a big part of this phone so it's best to keep them together. You can configure these "Happenings", as Motorola calls them, but even so, it's a busy screen.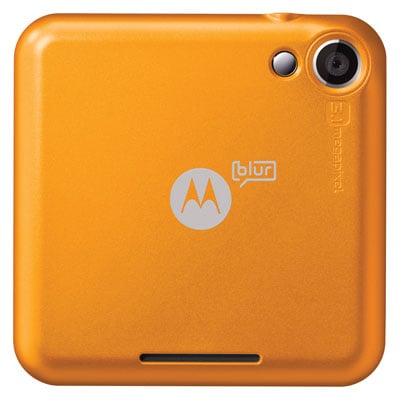 Don't expect much from the Flipout's 3.1Mp camera
There's only one camera on the Flipout, so no video calling then. The one on the back is only 3.1Mp with no flash, so image quality is far from outstanding but will do for snapping friends to include in an email but not much more.
Motorola-specific widgets you can add to the screen include on/off toggle buttons for Wi-Fi - 802.11n, no less - GPS and aeroplane mode. Music playback is often poor on mobile phones but at least Motorola has included a 3.5mm headphone jack so you can pick your own cans. There's also a second microphone on the Flipout which measures ambient noise and subtracts it from the sound picked up from the main mic, ensuring better call quality for the person you're talking to.
As well as configuring each screen to your satisfaction, you can personalise the phone by swapping the back cover – I tested a handset with a pleasant orange back, though you can also choose from a fetching lime green and deep maroon.
Verdict
The Flipout is an original and strikingly different phone with a pleasingly small form-factor and enjoyable swing-out screen. The display isn't high resolution and can appear cramped. The processor occasionally makes the phone seem slow. But for all its faults, it manages to be tiny without compromising too often. It's a cool little phone which looks good and is fun to use. ®
More Android Smartphone Reviews

Sony Ericsson
Xperia
X10 Mini
Dell
Streak
T-Mobile
Pulse
Mini
HTC
Desire