Original URL: https://www.theregister.co.uk/2010/07/07/tyrannos_transformer_tx/
FLYING CAR, full hover, fairly quiet, offered to US Marines
Nippy VTOL hatchback gets 19 mpg in flight
Posted in Science, 7th July 2010 21:57 GMT
Who remembers the "Transformer TX" flying-car project, intended to equip the US Marines with a small four-seat vehicle able to drive about on the ground like a jeep, hover like a helicopter, or fly like a plane? The first team to publicly offer a contending design has now stepped forward.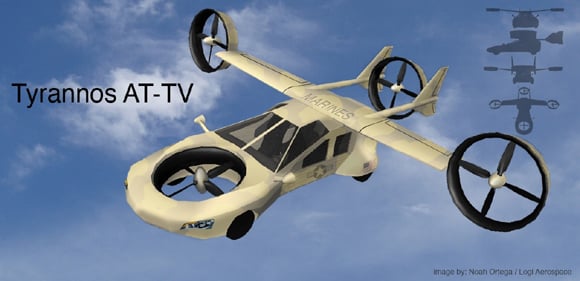 Is it a car? Is it a plane? Is it a helicopter? I think we all know the answer
That design is the "Tyrannos" from Logi Aerospace, allied with other companies and organisations including the South West Research Institute and Californian electric-vehicle firm ZAP.
The Tyrannos is nominally intended to provide Marines with the ability to leapfrog over troublesome roadside bombs, mines, and ambushes while remaining able to drive on the ground as they normally might. However, it promises to be much quieter than ordinary helicopters in use and far easier to fly and maintain.
If the Tyrannos can do all its makers claim, it really does have the potential to become the flying car for everyman.
By now, regular readers of Reg sky-car coverage — familiar as you are with the limits of ducted fans, wings, batteries, and other relevant technologies — will be wondering how all this can be done.
Is there, perhaps, a miraculous new power source or energy-storage method? No: the Tyrannos' prime mover will be a 185-horsepower supercharged racecar engine, not even a gas turbine (which would offer more poke for weight but also shorter life, more cost, added maintenance burden, and a lot of noise). There is a hybrid-electric transmission, but nothing outrageous in the way of batteries, as required in some all-electric designs.
Despite this limited amount of power, the Tyrannos design — as you can see in the pictures — includes quite limited amounts of thrust-disc area. Normally such small lift discs would require vast, brutal amounts of power to lift an aircraft vertically into the sky. But somehow, in the Tyrannos, they don't. Why?
Here we come to the vehicle's main special sauce. The Tyrannos doesn't have ordinary ducted fans, but special "shrouded propellers" developed by engineer Rob Bulaga at his firm Trek Aerospace, also part of the design alliance.
The idea of a shrouded prop is that the duct wrapped around it is not merely an inactive doughnut. Rather, as air is sucked in at the top for a vertical takeoff, a stream flow develops both on the inside and the outside of the duct, which then acts as though it were a wing cutting through stationary air to develop lift — even though it is for the moment stationary with respect to the ground. This acts to supplement the thrust produced by the downward-pointing fans.
According to Bulaga, his ring-wings actually deliver half the lift during takeoff, rather than 10 per cent at most as is common among ducted-fan systems. Thus you only need half as much thrust disc area as a helicopter does to lift the same weight. Smaller props are lighter, which in turn means that the electric motors need less juice to spin them and thus are themselves lighter. This means in turn that the craft's whole structure can be lighter, as well.
Goes at 240 mph flat out, or stationary hover
This virtuous design ripple, according to the Tyrannos team, means that they can get away with less than half the empty weight and a third of the thrust area required under normal design assumptions.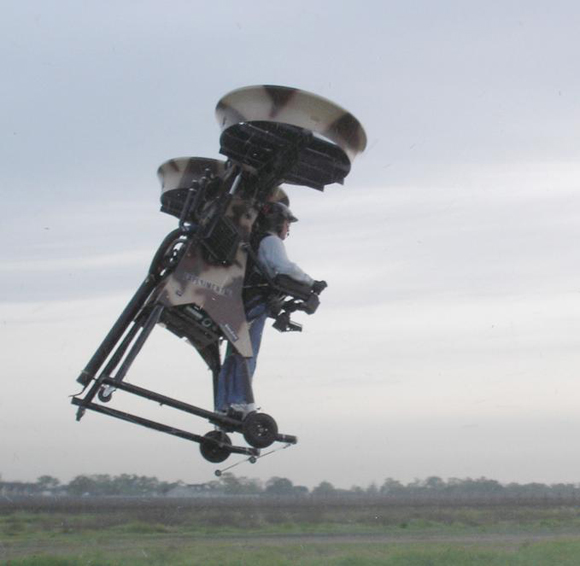 Shroud fans in action. The ring wings are as important as the actual whirlers.
The other main cunningness, according to Logi, is the main body's lightweight carbon structure, which is roughly the size of a normal car without the tail booms and wings, yet weighs half as much while still possessing "the crash strength of a NASCAR racecar able to crash safely at 200+mph".
The snag of having so light a vehicle is that the loaded weight might be anything from 1,900lb to almost double that — 3,750lb — depending upon how many people are aboard and how much fuel and cargo is carried. This is an impossible challenge for a normal vehicle suspension system, which is where Californian electrocar firm ZAP comes in. They will supply a cunning active suspension that's able to deal with road and offroad driving even though the vehicle is at times double its lightest operational weight.
All this, according to Logi's calculations, adds up to a vehicle more than physically able to meet the demands of a true, movie-style flying car.
VTOL flight? Yes. The Tyrannos should be able to lift off straight up from the top of a 10,000-foot mountain with four people and baggage (say 1,000lb) provided its battery pack is fully charged up so as to add its grunt to the engine running at full power. Once off the deck, forward speed will generate lift from the wings, meaning that the engine has spare power for recharging the battery at cruise speeds up to 155 mph.
If required, battery power can be used for sprint flight at up to 240 mph. If there's 180 feet of room for a slow rolling takeoff (a piece of three-lane road would be ideal) the Tyrannos can get airborne or land with another 750lb of stuff on board — there's a hatchback and the rear seats can fold down for hauling cargo or medevac stretchers.
The 16-gallon fuel tank offers a flight range of over 250 miles, or if you need to ferry it a long way it's possible to put a supplementary tank in the back and go up to 1,600 miles with a single operator aboard. (As we'll see, this operator needn't stay awake for most of such a 10 or 11-hour flight.)
On the ground, the Tyrannos can fold its wings back along the tail booms — if necessary going at up to 25 mph while doing so — and switch over to its wheel-mounted electric motors. It can cruise on the road at 55 mph, or accelerate for a short time to 100 mph using battery power to supplement the engine.
With four-wheel drive, active suspension, and nine inches of ground clearance, the designers expect the Tyrannos to offer reasonable offroad performance — particularly when one considers that it would usually be possible to hover over any really tough bits. Alternatively, the option is there to dismount the wings and tail booms as a single unit, leaving a much more compact car for ground driving.
But won't the neighbours moan about vertical takeoffs in the street?
As you'd expect, ground travel is more fuel efficient than flying — the Tyrannos should get more than 650 miles out of a tankful of military JP-8 on the road.
In the event of losing engine power in flight, the Tyrannos can set down safely on battery power alone. If one of the four lift fans is lost, its opposite number will automatically throttle down and be used purely for stability control: the two fans on the other axis have enough grunt to manage a safe landing. In the event of losing two fans or some other total disaster, the Tyrannos will deploy a parachute that still ought to get its passengers down in reasonably good order, with minimum destruction to anything underneath.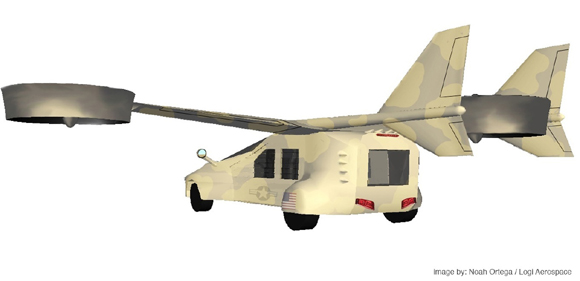 Plenty of room in the back with the seats folded down — handy for the cross-Channel booze cruise.
That all sounds excellent for the US Marines, of course, but we still aren't yet at the flying car for the rest of us. Noise regulations, for instance, are a huge barrier to aircraft operations — especially anywhere a lot of people live, which is by definition where people tend to want to go.
Even here, though, the Tyrannos is a strong contender. According to Logi, the engine "has a muffler system comparable to an SUV", and indeed engine noise can be temporarily eliminated altogether by use of battery-only operation (maximum 70 miles travel on the ground or 30 in the air). On the ground this means almost totally silent (and pollution/emissions free) "stealth mode" operation.
In the air the fans would still be noisy, but they are claimed to be "half as loud as comparable free propellers". Landings and takeoffs would require the engine running as well, but car engines aren't that big a deal. The Tyrannos — if not allowed to make vertical takeoffs in residential areas at night, perhaps — would at least be able to fly a lot nearer to town centres than normal aircraft before completing its journeys on the ground.
But there are other reasons why we don't all have our own light aircraft already. Just getting a basic pilot's licence requires more than 30 hours' flight time and the mastering of some quite difficult skills: flying a normal plane — let alone a chopper — is quite difficult. Then an extra instrument rating allowing a pilot to fly in cloud or rain and enter busy airspace is sufficiently expensive and time-consuming that on the whole only professional pilots bother to obtain one.
These are also problems for the US Marines, in fact. It isn't that the Marines don't have plenty of pilots, but they are all very highly-trained officers with years of flight school behind them. The idea is to use the Transformer TX like a flying jeep, to give basic air mobility to ordinary rifle companies which contain only a handful of officers — and those few without wings on their chests and fully occupied as commanders.
No joystick here - just shift into 'F' and press 'up'
But not to worry: the Tyrannos team have thought of that. The vehicle is intended to be able to quite literally fly itself, and indeed if it is chosen for the Transformer TX programme it will have to do so without anyone on board (primarily in order to make the flight tests less expensive).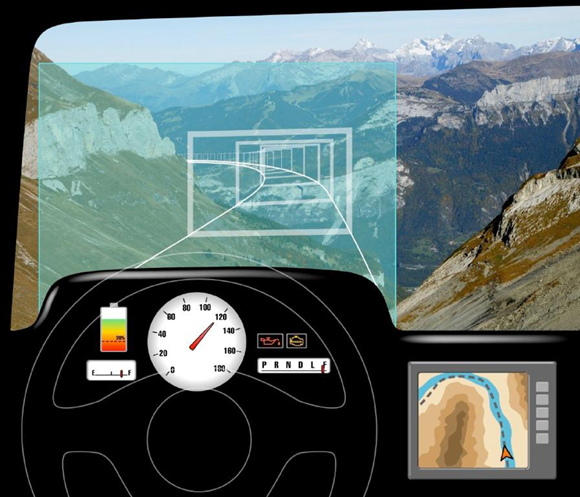 Just bend the flightpath to where you want, and step on it.
Flying in military or other special airspace where autonomous UAV operations are allowed, it will be legal to simply select a destination on a digital map, amend the suggested route if desired, and press a button. The Tyrannos will take off, fly to the chosen coordinates and land, completely hands off. (This sort of thing has already been shown to work in the real world by another US Marine project involving robotic supply helicopters.)
For operations under human control, the Tyrannos will be enormously easier to fly than a normal plane, chopper, or tiltrotor. There's no joystick, rudder pedals, throttle, or collective: just a steering wheel, accelerator, brake, and shift lever — like in a car.
The differences are that the shift's only active settings are "drive" and "fly", and the wheel has "up" and "down" paddles on it. The operator — not a pilot — sees a projected flightpath on the windscreen, which can be bent left or right, up or down using the wheel and paddles. The accelerator and brake make the plane proceed along the projected path. To hover, simply brake to a stop, then go up or down vertically using the paddles.
The active suspension also measures the aircraft's weight while on the ground, and the controls will limit the operator to manoeuvres that are actually possible: no hovering if too heavily loaded or if there isn't enough battery power, for example.
The same display, navigation, and control kit will allow minimally-trained operators to fly through clouds or rain following a pre-set or uploaded safe route, either entirely automatically or by following a corridor projected on the heads-up windscreen display.
According to Logi Aerospace:
The vehicle can actually climb, dive, roll, pitch, accelerate and decelerate much faster than we allow it. We simply limit it with the guidance system so that from the operator's perspective, it seems to do everything a car can do, and more, while always acting like a car.
The Tyrannos is projected to be able to fly at up to 11,000 feet above sea level (with battery-boosted excursions as high as 14,000), but the designers suggest that this capability only be used for operations in highland and mountain regions. In general the sky-Hummer would operate at around 1,000 to 2,000 feet above ground, keeping it clear of most normal aircraft.
All this, according to the system's inventors, would allow the Marines to largely dispense with years-long flight school for Tyrannos operators: any lance-corporal having done a brief course would be able to fly a Tyrannos, just as he or she might drive a heavy truck or other specialist vehicle.
Soon: 'Highway' takes on quite a literal meaning
The military are in general allowed to do what they like, of course, but everyone else has to obey the regulations of the civil aviation authorities. Initially, Logi Aerospace suggest, the Tyrannos would be handled by the American FAA as though it were a helicopter.
This would mean tiresome and expensive licensing and training to be allowed to fly one in most US airspace, but Logi hope that in the near future the feds might be persuaded to designate dedicated low-level sky highways for Tyrannos-style automated shroudprop craft, complete with virtual cloverleaf off and on descent/ascent "ramps" to suitable landing/takeoff sites. These would be accompanied by a new class of licence, allowing air-car operators to fly their craft manually or on automatic along these routes, which would be in largely empty low-level airspace and easy for regular aircraft to keep clear of.
Tyrannos operators would be able to avoid collisions with each other much as drivers do, as they would be in a very similar situation. It would be a relatively simple matter to make sure they were aware of each other even in clouds: suitable location-beacon tech has already been trialled.
Further into the future, perhaps following the introduction of much more automated air-traffic control (a thing which the FAA is pushing towards anyway, and which has again already been demonstrated) it might become legal to use the fully robotic controls without a qualified operator aboard.
Other common objections to flying cars are cost and maintenance issues. Though a current light aircraft doesn't contain any technology radically more sophisticated than a car — indeed often it is quite old-fashioned compared to some modern cars — it is vastly more expensive to run, largely owing to stringent maintenance and safety regulations.
There can't be much doubt that a Tyrannos would cost more to buy and maintain than a Humvee, but it's worth noting that Logi expect to deliver a flying prototype within the modest Transformer TX funding of $43m — peanuts compared to what it costs to develop a normal military flying thing, and indeed not much in the context of a major motor company's car development budget. The Tyrannos crew also insist that much use is made in the design of off-the-shelf, highly reliable light-aircraft and car components, which should push down running costs. A supercharged racecar engine should be cheaper to look after than a gas turbine or even a normal aero piston engine.
It's still fair to say that a Tyrannos looks as though it would initially be beyond the financial reach of most, but if it does actually see service with the Marines en masse, costs would fall for a subsequent civil version.
That seems to be a clean sweep: hovering and VTOL, quietness, redundant safety, decent road performance. If it works to spec — and that's an awfully big if — the Tyrannos is potentially a real, working flying car.
Reader beware, however. The Transformer TX project is being run not by the Marines themselves but by DARPA, the Pentagon crazytech agency which won't even touch a project unless it is extremely unlikely to succeed.
"Give us ideas that probably won't work," that is DARPA's motto: and the Tyrannos team assembled their design specifically to DARPA requirements. And, let it be noted, they have yet to satisfy even DARPA's very relaxed rules on what kind of ideas should get taxpayers' money spent on them.
All that said, though, this one looks well worth keeping an eye on. ®