Original URL: https://www.theregister.co.uk/2010/07/07/review_laptop_acer_aspire_1825pt/
Acer Aspire 1825PT 11.6in touchscreen notebook
At last, a Tablet PC done right?
Posted in Personal Tech, 7th July 2010 12:02 GMT
Review Some years ago, I made a fool of myself by describing Microsoft's ultimately doomed Tablet PC concept as a good idea. My saving grace was that I wasn't as dim as all the Tablet PC manufacturers, who chose to overprice their own products out of existence.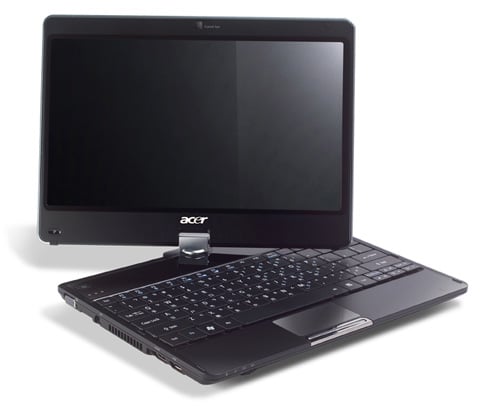 Acer's Aspire 1825PT: if only Tablet PCs had always been specced like this
Things might have been very different if affordable touchscreen notebooks such as this Acer Aspire 1825PT had been around at the time.
The 1825PT is designed to be small enough for one-hand portability but with full-notebook power: a dual-core processor - Intel Core 2 Duo SU7300, since you ask - 4GB Ram and a 320GB hard disk. Only 285mm wide, it features an 11.6in display - that doesn't sound much, but it has a native resolution of 1366 x 768 pixels - and a pretty decent keyboard.
Its star attraction, though, is the swivelling display panel that can be folded back onto the keyboard with the screen facing up. Since it's also a Windows 7 machine, this means you can use it as a handheld tablet, using intuitive touch and swipe gestures in combination with Windows' on-screen keyboard. As you turn the notebook around, the display orientation rotates automatically in 90° jumps.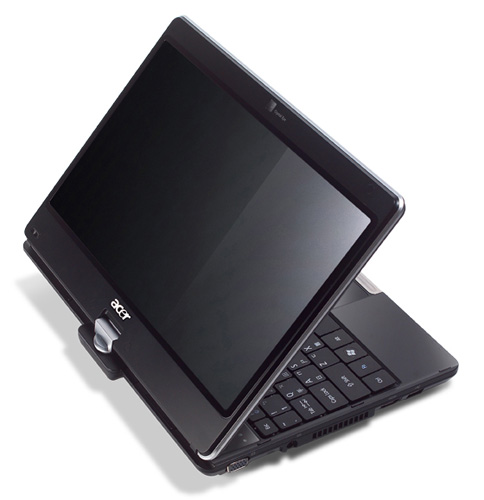 Tablet convenience but with some power under the hood
Make no mistake, this is a great way to use a portable computer, not least for those needing a convenient way of browsing technical manuals and accessing reference material on the hoof. That said, the screen responds only to finger touch - the 1825PT is not a pen tablet - which limits it in certain ways. Anyone who has tried to complete electronic forms by dabbing their clumsy fingers over tiny tick boxes will know what I mean.
More of a problem, however, is the angle of visibility of the LCD screen itself. While the left-right angle is acceptably wide, the top-down angle remains narrow. This might not have been a problem if it wasn't for the fact that, once swivelled into tablet mode, the computer is likely to be used in portrait orientation. In this mode, even the slightest tilt left and right causes the screen image to turn very dark or very pale.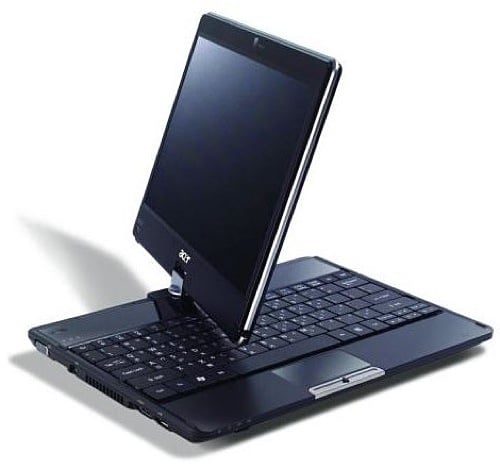 Tilt'n'swivel
That said, since Acer seems to have nailed the left-right angle, you could rotate the screen horizontally around its pivot just a little and use the notebook to deliver close-quarter presentations. Colleagues and customers will feel much more comfortable sitting next to you rather than have to huddle in to your shoulder in order to view the screen.
On that note, the glossy display is bright, beautifully clear and satisfyingly contrasty. Acer should be congratulated on cramming a decent widescreen resolution into such a compact area. The built-in stereo speakers are not particularly loud but they wouldn't need to be.
Despite the compact design of the Aspire 1825PT, it still manages to find space for some essential I/O ports, including external VGA, three USB and - oh joy! - HDMI. Unfortunately, the one thing that's missing is potentially the most annoying in its absence: a CD/DVD drive.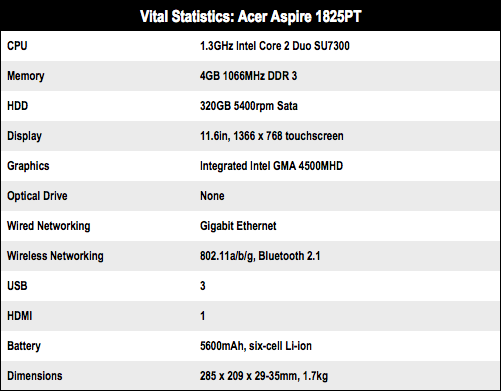 Test Results
PCMark Vantage
Overall, Memory, HD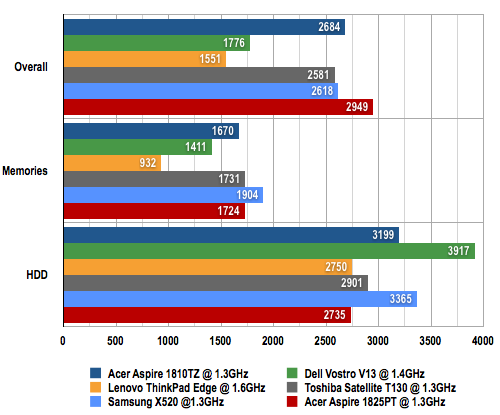 Longer bars are better
TV, Games, Productivity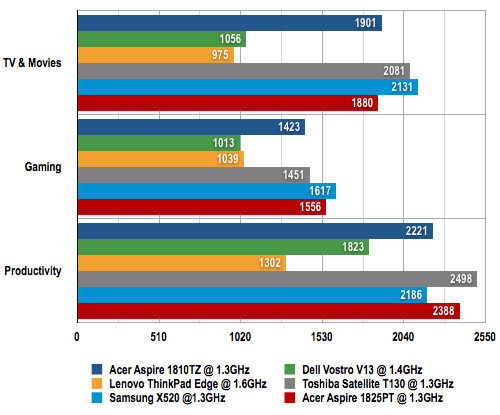 Longer bars are better
Battery Life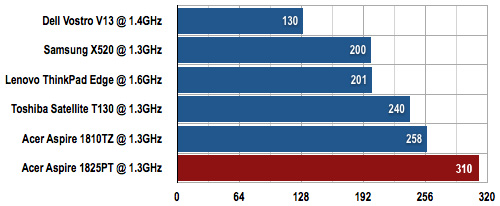 Battery Life in Minutes
Longer bars are better
I'm all in favour of a cloud computing future and all that, but for the present, if I have hard disk troubles, I will probably need a Windows 7 restore disc. Acer doesn't supply one with the 1825PT, and even if it did, how would you use it without a drive? Acer's documentation says that I should make my own restore disc straight away using an external optical drive. Well thanks, that's another £66 I didn't realise I'd have to spend.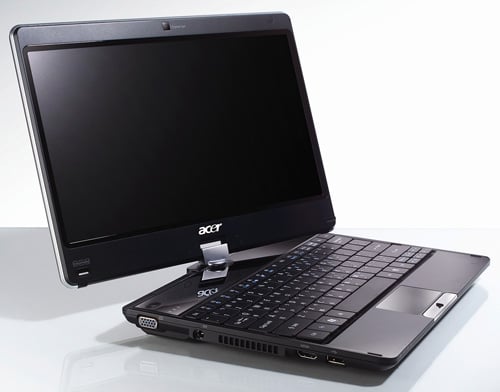 Well built and versatile
I have another complaint. When being used in conventional notebook mode, the Aspire 1825PT tends to rock backwards when you are using touchscreen gestures. You might say this is only to be expected in a lightweight notebook, but it doesn't feel so light after holding it for five minutes in one hand, I can assure you. It weighs as much as two and half iPads.
The weight is mainly due to the big battery. Acer says it should last eight hours of normal use between recharges. In our standard Reg Hardware lab test - showing a 45-minute video on continuous loop - the Aspire 1825PT kept going for five hours ten minutes before switching safely into hibernation.
Of course, the iPad will play video for almost double that, but it's not yet ready to take its place alongside full-size notebooks as a productivity machine. The 1825PT, on the other hand, is.
Verdict
This is a well-built notebook with reasonable performance compared with general PCs but really quite powerful for its diminutive size. The tablet-mode swivel screen is versatile and genuinely useful for portable applications that make use of Windows 7 touchscreen functions. The notebook's lack of a CD/DVD drive is understandable but annoying just the same, so make sure you buy an external USB optical drive if you don't already own one, otherwise you risk losing your installed copy of Windows 7 forever. ®
More Touchscreen Notebook Reviews

Dell
Latitude
XT2 XFR
Samsung
NB30
Toshiba
Satellite
U500-1EX
Dell
Studio 17