Original URL: http://www.theregister.co.uk/2010/07/07/game_reviews_demons_souls/
Demon's Souls
Impossible is nothing, you haven't tried Demon's Souls yet!
Posted in Personal Tech, 7th July 2010 14:02 GMT
Review Just a few hours into From Software's already infamous RPG and I couldn't stop thinking of Lemarchand's Configuration.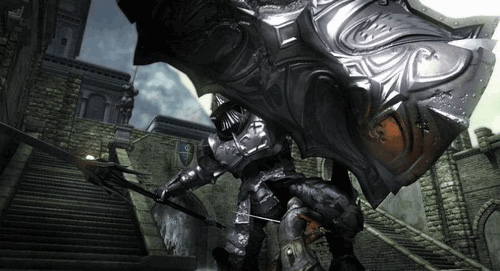 It's dangerous round the block
For those unfamiliar with the name, Lemarchand's Configuration was the puzzle box in Clive Barker's Hellraiser. Legend had it that those who solved the puzzle were rewarded with unimaginable carnal pleasure. But in one of those classic 'be careful what you wish for moments', the device opened a portal to a hellish realm, in which a race called the Cenobites practised a sadomasochism that even Max Moseley would find unpalatable.
It's this equivalence of pleasure and pain that so intrigued me about Demon's Souls. Since its release a year ago in Japan and the States I'd heard of a difficulty so crushing as to rank alongside Super Ghouls and Ghosts and Ninja Gaiden Black. But, just like the victims of Lemarchand's Configuration, the temptation proved too great. Sword in one hand and shield in the other, I ventured forth into the foreboding gloom of the cursed land of Boletaria.
Forty-five-teeth-gnashing-palm-sweating-expletive-riddled-hours later I can confirm Demon's Souls is indeed one of the most difficult games ever made. But it's also one of the best - a seminal game that has triumphed in its ambition to bring a paradigm shift to dungeon crawling.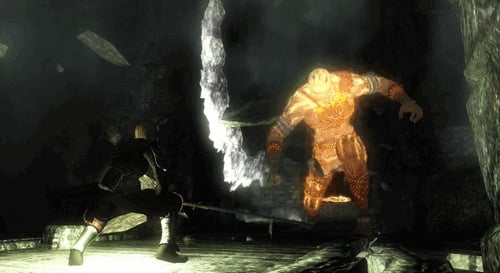 I'm glowing to kill you
The game at first feels impossible..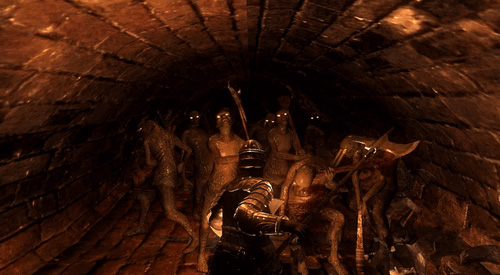 Carp tunnel syndrome?
Securing a foothold in the game at first feels impossible. In Boletaria's melancholy world, death is often quick; occasionally instant. A single blow from one of its ghoulish denizens will leave you dangerously close to death; from another it will kill you outright. Narrow winding staircases, rickety timber walkways and towering ramparts present ever-precarious platforms on which to do battle. Progression here is measured not in areas and abilities, but in metres and enemies.
Every careless mistake is punished mercilessly; every hasty decision regretted. Again and again your death returns you to the start of a level - occasional shortcuts the only succour from the otherwise inexorable slog ahead.
The feeling of dread is worsened by the game's economy. Released by felled enemies, soul points are Demon's Souls' only currency, used to upgrade attributes and purchase and repair weapons. But die and you lose them all. Only by reaching the location of death at the very next attempt can you recover these lost soul points.
You'd be forgiven for quitting after just a few hours, so relentless and unfair are the game's early levels. But stick with it and you soon realise it's not your character who's levelling up, but you yourself. Enemy weaknesses and attack patterns are learnt through careful study, as are the combination of weapons and magic rings needed to bring slim but appreciable increases to your chances of survival.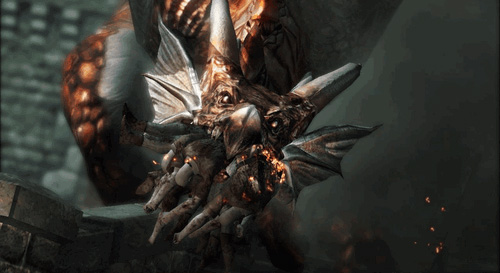 Drag 'em dragon!
Revolutionary new feature...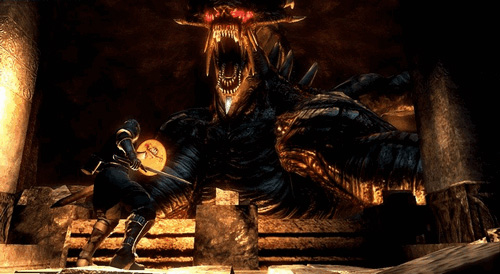 Say arrrrrghhhh!
Success also requires other, less obvious strategies. It's essential to use scenery to your advantage when combating the game's massive bosses, as a small recess in a wall, the wheels of a wagon, or even the ribcage of a dragon's skeleton can all offer temporary sanctuary from powerful foes. Farming souls on reruns of levels boosts attributes ahead of the upgrade curve. And exploration of every nook and cranny rewards improved weapons, armour and magic rings.
To aid your quest, Demon's Souls introduces a revolutionary new feature in its online mode. In-game messages can be left by players to provide hints for others, such as 'Beware the trap ahead', or 'Look out behind'. It's an excellent system which tempers the challenge and makes you feel like you're not alone. And, even though its possible to leave misleading or downright false messages, a system of recommendation ensures only the best hints are followed without question.
Another feature of Demon's Souls' online persistence is Blue and Black Phantoms, which help or hinder progress. Blue Phantoms are the ghosts of other players, summonable to assist you at times of difficulty, whereas Black Phantoms are other players invading your world in a bid to kill you and harvest your soul points.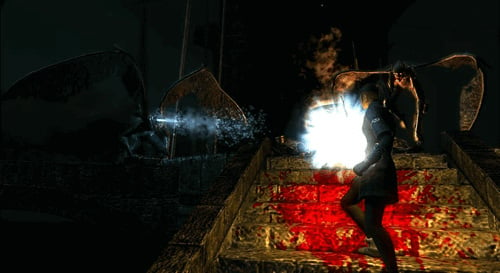 Wassup blood?
One of the best RPGs of this generation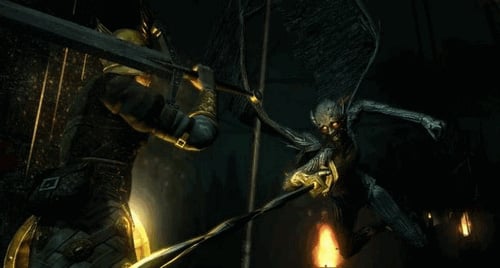 Stick it to the man
In a game that so regularly frustrates, Black Phantoms are insult heaped upon injury. But, just like all the game's other enemies, they can be defeated. And they serve to remind you that perseverance isn't enough in Demon's Souls, only perfection will do.
It makes you feel you've been nothing but a spectator in other RPGs, as you cut an omnipotent swathe through their worlds, with death cheapened to mere inconvenience. Demon's Souls' greatest success is in breathing new life into death, to afford it real consequence once more, and to make the player fear it above all else.
And what more fitting reward for finally completing Demon's Souls than the chance to replay it through on a higher difficulty setting. But if that doesn't wet your sadomasochistic appetite, then how about the rumour that the game can be played through seven or eight times, each time with the difficulty raised by a further 20%?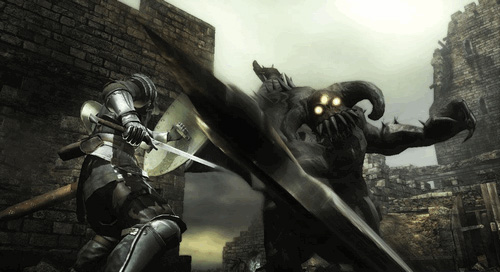 As dodgy as they come
Verdict
Demon's Souls is one of the best RPGs of this generation and one of the best reasons to own a PS3. It comes highly recommended not despite its difficulty, but because of it. No other current-gen game can rival the severity of its test or the feeling of accomplishment in its mastery.
More Games Reviews

Transformers:
War for Cybertron
Tiger Woods
PGA Tour 11
Singularity
Prince of
International
Cricket 2010