Original URL: http://www.theregister.co.uk/2010/07/06/review_router_belkin_play_max/
Belkin Play Max dual-band wireless router
Router booster?
Posted in Personal Tech, 6th July 2010 07:02 GMT
Review The Belkin Play Max has ideas far above its station as a plain old wireless internet router. Its extra song'n'dance talents include a Nas service for USB-attached drives, a media server and a BitTorrent download assistant. But all this depends on your setting it up as your main connection to the internet. And I stumbled on some serious shortcomings in this department.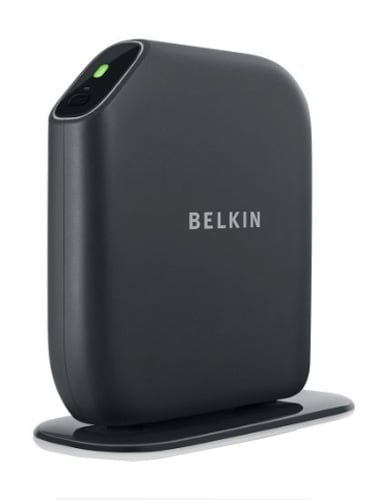 Belkin's Play Max: beginners'
The hardware looks good. With 64MB of Ram and 8MB of Flash, it's build around a single high-end Broadcom router system-on-a-chip that packages up simultaneous dual-band radio - 2.4GHz and 5GHz - with the basic router functions and adds two-port USB support for use as a Nas device. There's also a Broadcom Gigabit switch to handle the single WAN port and four LAN ports.
The Play Max appears to be aimed at the total newcomer. I'm not sure I'd recommend loading all that extra song'n'dance functionality on a beginner. But as a starter package, the product does the job. Use the bundled Ethernet cable to connect its WAN socket to your existing cable or ADSL modem, stick the CD into your laptop, follow the simple instructions and wirelessly, painlessly, you quickly end up with a working, secure, net-connected network.

Gigabit Ethernet included, plus USB for printer and drive sharing
Subsequently, you can connect other machines simply and securely - in the case of Windows 7 PCs, for instance, just by pressing a button on the front of the Play Max. Older Windows laptops normally only operate at 2.4GHz, but I found my MacBooks were able to use the 5GHz band as well.
One sophisticated optional feature I haven't seen before in a router of this class is the "cafe-style" guest account. Once this is fired up, anyone finding the Belkin Play Max in wireless range gets offered a guest portal web page. If they can enter the password you've previously set up, the router grants them internet access, hotspot-style.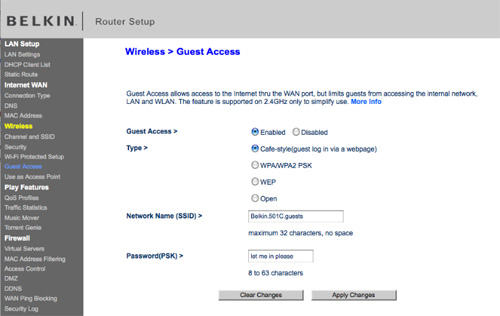 Guest access is easy to allow
Visitors don't gain access to your LAN, as it's on a different subnet - by default 192.168.169.255 instead of the main network default of 192.168.2.255.
And as long as your demands on the router aren't much more than this, the Play Max delivers. Now you can reach across your network for any storage or printers attached to the Play Max's two USB ports. The Play Max will also serve movies, music and pictures to UPnP-aware client devices like the Viewsonic VMP74 media player, reviewed here.
To feed the service, you can power up Vuze, the free software Bit Torrent app that Belkin includes on the installation disc. Vuze runs on your Mac or Windows machine, but its new "offline downloading" feature - still in beta - continues downloads on the router when your client machine is shut down.
Unfortunately Vuze, the commercial transmogrification of the the once great Azureus, now comes laden with ads that, for example, invite you to BeNaughty.com - "meet naughty people who live close to you". Don't like this? Upgrade to Vuze Plus for an extra 25 quid.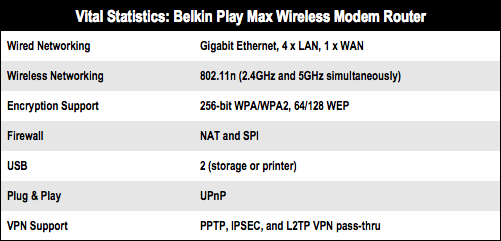 Like any standard internet router, the Play Max includes a DHCP server to allocate IP addresses to connected machines. Equally standard is the port-forwarding arrangement - Belkin calls it "virtual servers" - that allows individual machines on your LAN to behave in certain respects as if they're directly connected to the internet.
Gamers, torrent downloaders - in fact many users except the complete neophyte - come to depend on port-forwarding.

This list is the your official source of information about the IP addresses the Play Max has allocated across your LAN. Sadly only a few of the connections are usually present, even after hitting the Refresh button several times. Four wired LAN devices are missing from this list. although they may turn up at some random time later.
But here's the catch: port-forwarding depends on the client machines always having known IP addresses. To guarantee this, the DHCP protocol includes a feature called "DHCP reservation". But the Play Max doesn't offer DHCP reservation. When the router is power-cycled, it can't guarantee to deliver those same IP addresses back to its LAN clients. This messes up the port forwarding, and so stuff stops working.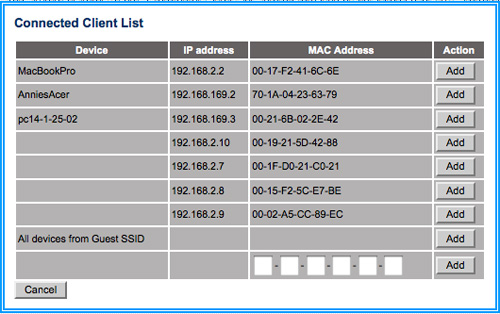 Access to the complete DHCP Client list is actually possible - if you dig deep into the Access Control menu. The missing machines do appear here, but without their assigned names the Play Max can't resolve their IP addresses.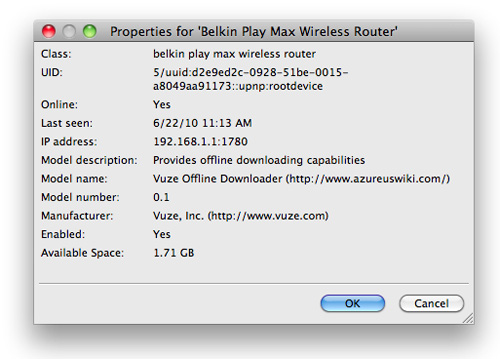 Although Belkin's own software loses track of the Play Max in AP Mode, Vuze's "offline download" feature does suss out its IP address
Yes, you can set up static IP addresses on all your LAN machines. Doable, but hardly "It Just Works" territory. A more promising idea seemed to be to substitute a plain internet router that actually does know how to handle DHCP properly, and use the Play Max as a secondary device, retaining its wireless, torrent downloading and media serving functions.

When configured other than the main router, the Play Max didn't connect with an Internet time server. With no option for manual time-setting, the Play Max falls back into Life on Mars mode and date stamps any files its saves accordingly.
It's easy enough to switch it into access point mode, or you can just leave the WAN port unconnected. But it seems that Belkin's software team hasn't thought this through: the Belkin Router Monitor app provided for your Mac or Windows machine to control all the song'n'dance functionality stops working in AP mode. It needs to know where on the LAN the Play Max is to be found. It looks for a device named "router" - and can't find it!
Surprisingly, although Belkin's own software loses track of the Play Max in AP Mode, Vuze's "offline download" feature does suss out its IP address and transfers downloads to the Play Max if the client version of Vuze goes offline.
Belkin tells me a firmware fix is promised RSN, so it's good to know they're paying attention.
Verdict
The Belkin Play Max is potentially useful hardware, and easy to set up as a basic wireless router. But the impression that the software was patched together out of a bunch of open source functionality without properly thinking it all through doesn't exactly inspire confidence in the device. ®
More Networking Reviews

Bigfoot
Networks
Killer 2100
Iomega
iConnect
Elgato
Netstream
DTT
Cloud
Engines
Pogoplug 2