Original URL: http://www.theregister.co.uk/2010/07/06/review_gadget_irobot_roomba_581/
iRobot Roomba 581 robot cleaner
Dust devil?
Posted in Personal Tech, 6th July 2010 12:02 GMT
Review As readers of my Samsung Navibot review will know, I'm not much of a person for housework, and tend to leave it for special occasions. So, it was with something of a sense of relief that I received iRobot's Roomba 581 to test.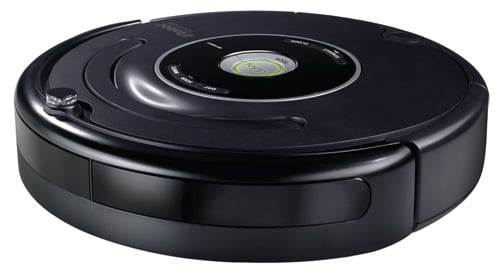 iRobot's Roomba 581: dust-loving droid
The 581 is currently the most top-of-the-range Roomba you can buy over here. It comes complete with three "lighthouse" units, used to set up no-go zones, or to force it to finish one room before going on to another. The pack also includes spare brushes, a wireless remote control, charger and docking station, so there's everything you need to get going, and keep it maintained too, for £50 or so less than the most pricey Navibot.
As with the Navibot, the Roomba includes a scheduling function, so you can tell it to start cleaning automatically at specific times on different days, and there are also manual programs, including "spot cleaning" and the ability to drive it around from the remote - though sadly no drinks tray to clip on the top.
Unlike Samsung's robots, the Roomba doesn't have a camera to monitor its movement. It starts in an outward spiral, and then appears to move around almost at random – but still covering the whole room. A small light indicates when dirt has been found, and the robot works a little more intensively over that area.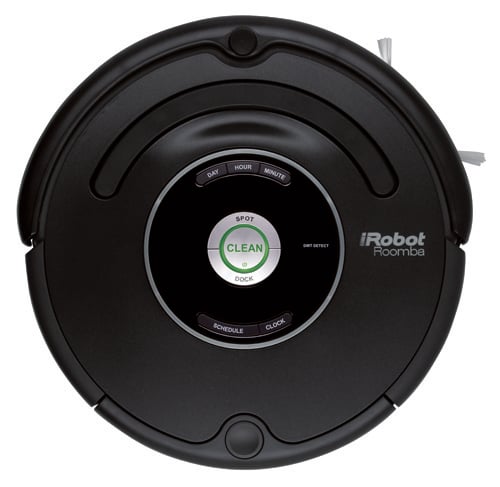 Not as lippy as Ro-Jaws
On balance, it's probably a bit better at getting into odd shaped areas and round furniture legs than the Samsung is.
All that said, it did seem to take a bit longer to find its way back to base than the Samsung took, and on one occasion almost barred me from my flat, having run out of charge just behind the front door. When there's a problem, the Roomba tells you, saying things like "Clean brushes", which saves having to refer to a manual and is less lippy than Ro-Jaws.
As the before and after photos show – and I know you've been looking forward to them – the Roomba does a pretty good job, even with the messiest of homes. It had no difficulty with cigar ash, cat hair and the other detritus that I inflicted upon my flooring, though as with the competition, for a really deep clean, you'll still need to rely on a more traditional vacuum, preferably one wielded by an old dear who comes round once and week and "does" for you.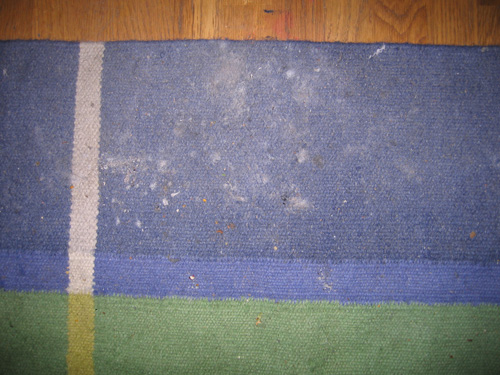 Everyone's entitled to a Monica Lewinsky moment...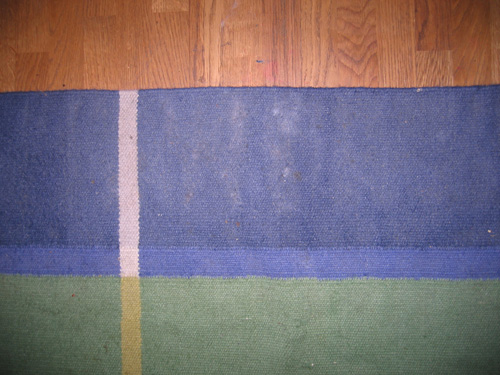 ...but the Roomba managed to pick up most of the wayward cigar ash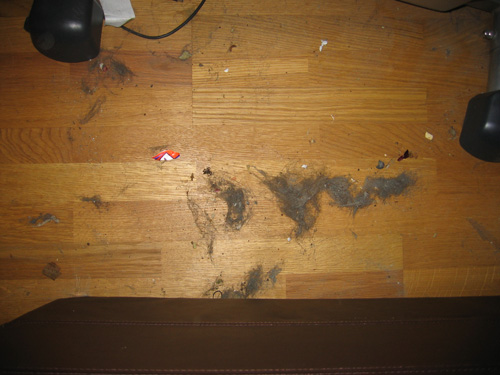 Cat hair accumulates in seldom-visited corners...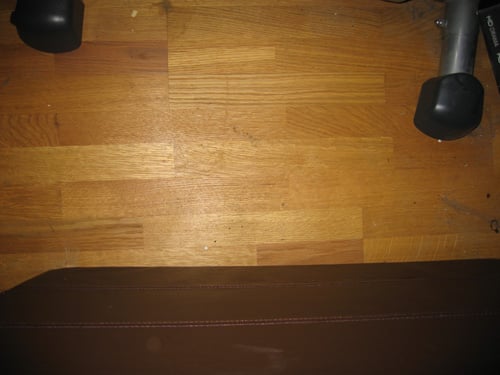 ...but even with those obstacles in the way, Roomba sucked it all up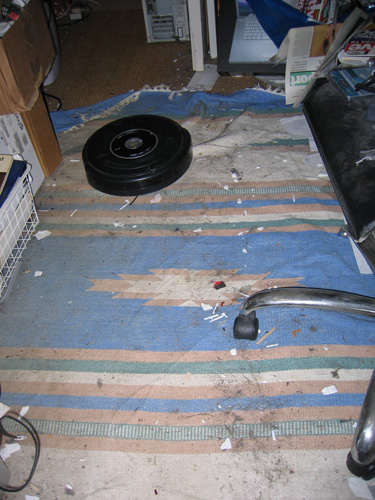 The office doesn't get cleaned very often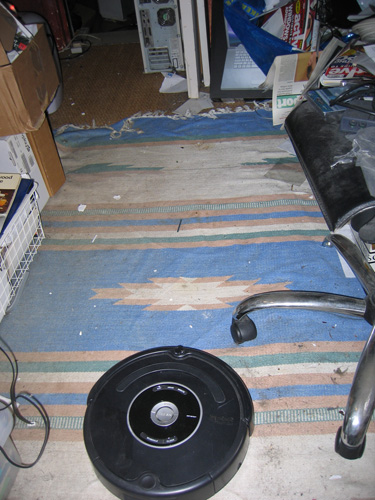 Even polystyrene packaging was picked up, along with the dirt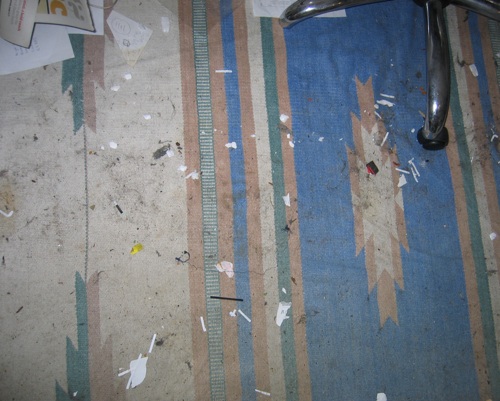 Another view of the office carpet: before...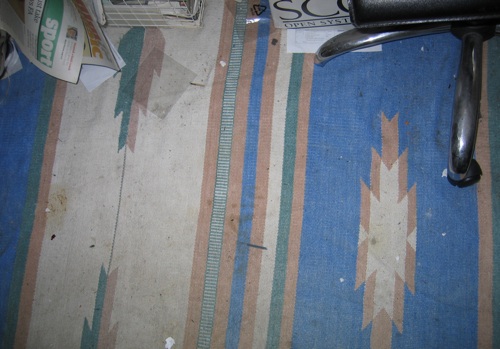 ...and after the iRobot's attentions
One area in particular where Roomba seems to score over the Samsung is in getting caught up with cables. It proved much better and avoiding entanglements - Imperial or otherwise - and generally less prone to capturing objects and then just stopping.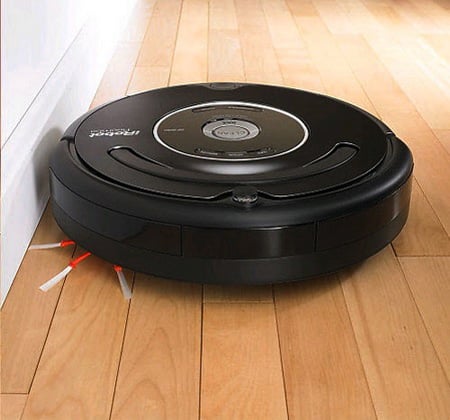 Your plastic pal who's fun to clean with
It took a piece of rope to completely call a halt to proceedings, otherwise the Roomba was able to carry on moving around with a piece of cement underneath it, or dragging bubble wrap behind it, presumably in an attempt to imitate a Wirrn larva. It also managed to negotiate bedroom obstacles like the barbers' chair - now a standard Reg Hardware benchmark obstacle - without getting stuck.
Considering you get three beacons to help guide it around the flat, as well as spare brushes, and it's less likely to get stuck during your scheduled cleaning, the Roomba 581 does a pretty good job, for less money than Samsung's equivalent.
But like all robot vacuums, you'll probably still need to do a manual clean from time to time, especially if you're particularly messy.
Verdict
It may lack the hi-tech camera-based mapping of the competition, but the iRobot Roomba 581 cleans well, comes with a good set of accessories, and makes a good job of avoiding cables and other traps. Great for grubby gadget fans, but still a bit expensive for most of us. ®
More Gadget Reviews

Samsung
NaviBot
Leica
Pinmaster
Dyson
Air
Multiplier
WowWee
Rovio