Original URL: https://www.theregister.co.uk/2010/07/06/opensuse_11_3_review/
OpenSUSE 11.3 delivers spit, polish and niggles
Tabs, windows and hiccups
Posted in Software, 6th July 2010 23:15 GMT
The latest version of openSUSE hit final code last week and is not due for official release until July 15, but The Reg is here to give you a tour of its pros and cons.
The free operating system has been somewhat maligned for its association with Novell, the Linux company that partnered with Microsoft and is now touting itself for sale, so it's perhaps unsurprising that the release comes on the heels of a new mission statement that seeks to create a bit of distance between openSUSE and Novell's commercial projects.
The project's community statement calls for the creation of an openSUSE Foundation to help foster a more open, active community of contributors.
Although Novell technically only sponsors the openSUSE project, three of the project's five board members are Novell employees, and historically openSUSE rarely strays too far from the stated goals of Novell's commercial SUSE Linux Enterprise Desktop (SLED) distribution.
Clearly, the project would like to be seen as more than a proving ground for SLED — and with Novell busy on the MeeGo netbook distribution, there seems to be little resistance to openSUSE's assertion of autonomy.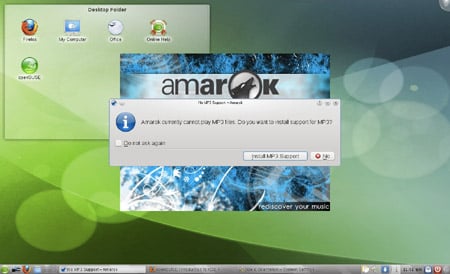 Amarok reminds you that codecs are missing, but installing them is anything but automatic
Given that the latest openSUSE includes the Fedora-developed open Nouveau driver to improve support for Nvidia graphics cards (shipping with Fedora 13), an RPM-based package manager, and a similar commercial derivative coming from it, the openSUSE project is clearly taking some inspiration from the Fedora project.
But while the other changes — assuming they happen — could end up transforming openSUSE into something a bit more like Fedora, for the 11.3 release openSUSE still feels primarily like a typical openSUSE release. And that's both a good and a bad thing, based on the final-release code I tested.
One way that openSUSE differs from Fedora, Ubuntu and other popular distros is its love of KDE. Last year the openSUSE developers formally announced that KDE would be the default openSUSE desktop.
However, despite the emphasis on KDE, openSUSE remains one of the most desktop-agnostic Linux distros. The 11.3 release offers the same live DVD as previous release, including the GNOME, KDE and XFCE desktops, as well as just about every package under the sun. The only difference is that the DVD now selects KDE by default during the install.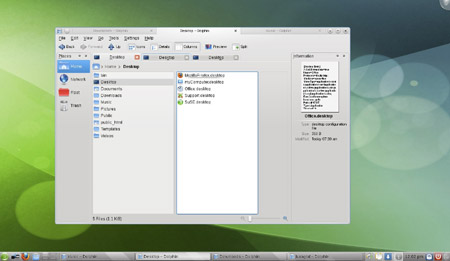 Grouping windows streamlines your tasks and workflows
If you haven't got the bandwidth (or time) for the 4.7GB DVD download, there are live CDs with either GNOME or KDE.
While Linux installers have improved across the board, openSUSE's live install process has been always been a step above most distros. With an option to auto-partition your system with separate partitions for root, system, and home, as well as to automatically apply any available updates before you boot into your new desktop, openSUSE 11.3 is one of the smoothest installations I've done.
Underlying openSUSE is the latest Linux kernel, 2.6.34, which was still a release candidate when I tested the second openSUSE 11.3 release canidate. Hopefully it will have reached final release stage by the time openSUSE does likewise. Among other improvements, 2.6.34 adds some basic support for more recent Radeon graphics cards.
I tested both the GNOME and KDE desktops and found that, unlike Ubuntu, where the Kubuntu distro feels a bit behind the GNOME version, in openSUSE the KDE desktop is definitely the focus.
Truth in advertising
If you'd like to try openSUSE 11.3, I highly recommend installing the KDE desktop. Not only is openSUSE shipping with KDE 4.4.4, but there are several potentially nice customizations, including the KSuseInstall app that purports to automatically fetch needed software — Amarok codecs, for example.
Unfortunately, KSuseInstall is sometimes more hassle than help. For example, when Amarok starts up it will helpfully remind you that openSUSE doesn't ship with MP3 codecs installed. That will kick in the KSuseInstall app, which will tell you it can automatically install them. Sadly, it can't.
You'll need to go through a total of six dialog boxes and one YaST module to add the necessary repositories before you get the MP3 codecs installed. Of course, the hoops aren't openSUSE's fault — they exist because of legal issues — but to offer what appears to be a one-click install tool that turns out not to be seems a bit like false advertising. The truth is that no Linux distro can make installing MP3 codecs a one-click process — and it's probably high time they stopped trying.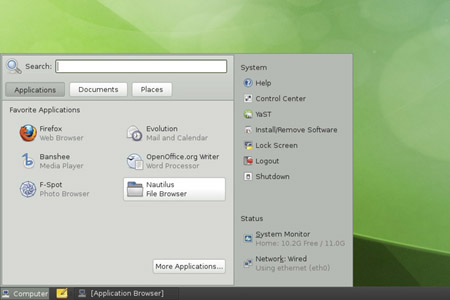 The Slab interface doesn't live up to its potential
Aside from some hiccups with KSuseInstall, KDE 4.4 brings a few nice new features, such as the ability to group multiple windows in a single window. Billed as way to streamline your workflow, window groups make it possible, for example, to bind together a Dolphin window, terminal session, and chat client all in the same window.
That's great news for power users, but it also means that it's easy to end up with tabbed windows within tabbed windows — potentially very confusing for newcomers. Luckily the window groups feature is hidden away in the right-click menu so unless you go looking for it, it won't get in your way.
While KDE may be the focus, GNOME is still around, and according to openSUSE's own statistics roughly a quarter of users install the GNOME desktop. Although openSUSE may be using KDE as the default, it hasn't neglected GNOME, though the GNOME version of openSUSE feels vaguely KDE-like, with only a single bottom toolbar by default and the "Slab" menu.
The Slab menu functions much more like the "start" buttons in KDE or Windows 7. Fans of Linux Mint will be familiar with what's possible with Slab: easy access to everything in your system from one, unobtrusive panel.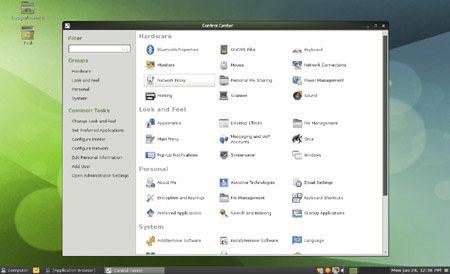 Control center delivers quick access to GNOME settings from a single panel
However, the openSUSE version of the Slab menu is not nearly as powerful as what you'll find in Linux Mint. In fact, aside from a three-button interface that lets you see a limited number of apps, recent documents, and the usual Places menu options, the Slab doesn't have much to offer.
In Mint, searching, clicking the "more applications" button, or any other Slab buttons will load the new content within the menu. In openSUSE, clicking those buttons will just open a new Nautilus browser window on your desktop, making the Slab menu of dubious value.
No matter which desktop you opt for, one place openSUSE really excels is the number of included packages. On the GNOME side you'll find extras like the Liferea RSS feed reader, gFTP, and even the XChat IRC client. OpenSUSE also includes the helpful GNOME control center that gives quick access to just about every GNOME setting available, all from one convenient panel.
Overall, openSUSE 11.3 does a decent job and packs the usual extras you would expect from a project that feeds into a commercial, enterprise Linux distro like SLED.
However, there are lingering niggles and some further polish is needed. Hopefully, openSUSE can finally solve these on its way to establishing its identity clear of Novell. ®